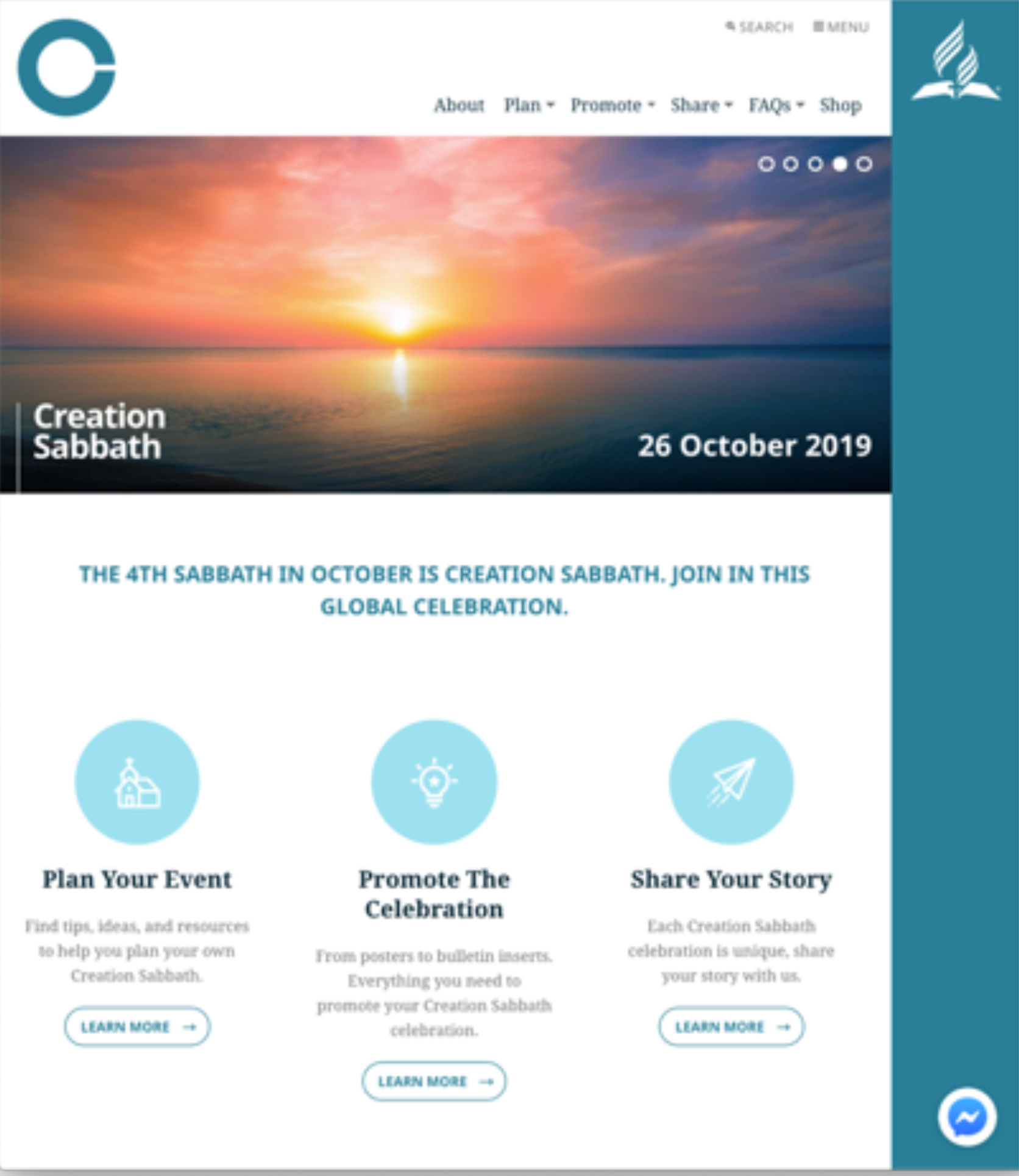 In time for Creation Sabbath on Oct. 26, 2019, the updated creationsabbath.net website incorporates numerous improvements designed to help users develop fun, effective, and life-changing Creation Sabbath programs in their churches, communities, schools, hospitals and other institutions. "It's beautiful, easier to use and completely redesigned; I'm really thrilled with how this redesign has developed," says Timothy Standish, senior scientist at the Geoscience Research Institute. "We are doing everything we possibly can to help those who want to be a witness in their community, sharing the everlasting gospel as Christ has called all Christians to do. This updated webpage will help advance this mission."
UX design consultant Sharon Prest-Ullom led the project team comprised of designers at Types & Symbols LLC, videographer Mark Paden, and web developer Clayton Kinney. Upon visiting creationsabbath.net, the first impression is crisp and fresh, but for those who are looking for tools and resources for celebrating Creation Sabbath, the improved ease of use will be immediately apparent. In addition to the Geoscience Research Institute chat function, links take users directly to resources for planning an event and promoting it once a plan is in place. These range from ideas that have been used by others to resources such as videos, posters, and sermons that can be incorporated into a vibrant celebration of the event that God commanded us to remember every Sabbath (see Ex. 20:8-11).
An important improvement to the Creation Sabbath website is the opportunity for institutions and churches to register their event. This means that others who are looking to participate in a Creation Sabbath celebration will be able to find churches, schools, hospitals, and other institutions where they can join the celebration. Every institution that is doing something is encouraged to register what they are doing so that this can be shared and promoted as widely as possible. Not only will this help draw visitors to these events, it will also encourage other institutions to be part of Creation Sabbath 2019 on October 26.
"Creation Sabbath isn't about doing some standardized program, it is about taking advantage of the opportunities offered in every community where Christian institutions exist. That means a one-size-fits-all approach will not work, but that each community can be witnessed to in a way that is most effective given the location and culture," said Standish. For example, a church in Vermont, U.S., may choose to celebrate the beauty of autumn and God's blessings in providing sustenance for the coming winter. A church in Chile, Los Lagos Region, may be experiencing and celebrating spring. The Creation Sabbath website exists to encourage any Christian institution to use this opportunity to share Jesus Christ as our Creator and Redeemer.
For more information, visit creationsabbath.net.