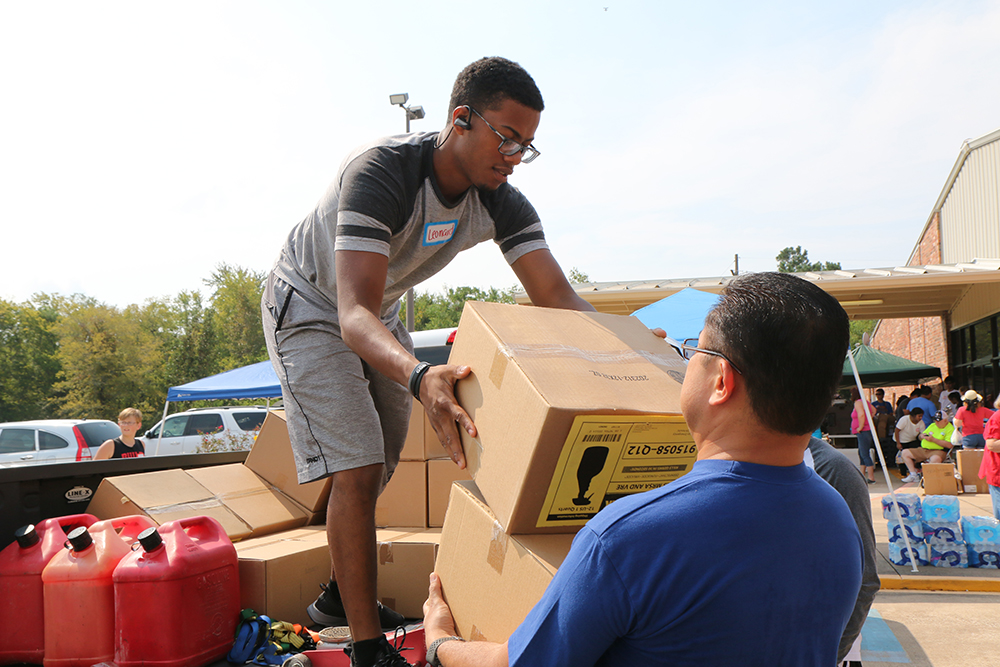 What if our Adventist churches across North America began a conspiracy? 
What if we decided in harmony with all the other churches across Bermuda, Canada, the United States, and the islands of Guam and Micronesia that we are going to love our cities as Jesus did?
What would happen if we ventured outside the walls of our churches, asked people about their needs, and did something transformational for individuals and communities?
What if our local churches conspired together to respond to disasters in the community (fires, earthquakes, storms, tornadoes); to feed those who are hungry; to clothe those who are underclothed; to mentor children after school; to minister to prisoners and their families; and to visit and pray regularly for those in the community who are sick?
What if we helped others within our walls too? Local churches could offer free marital counseling for married couples and free premarital counseling for engaged couples; free parenting classes; donate space, free of charge, for community events and celebrations that are consistent with Adventist faith and practice; provide manicures and pedicures for battered women; celebrate Communion with those who are homeless and bring them in when it is cold; lead toy drives during the holidays.
Churches could stand against modern slavery and the abuse of women, children, and seniors (not a silent church); teach free financial management classes; hold free fitness classes; promote and facilitate the adoption of children; and find practical ways to minister to often-neglected immigrant families, including the refugee community.
What if the local church connected with governmental leaders and worked with them to support good causes regardless of their party affiliation; hold a reception for community business owners and pray for their success; cosponsor and organize concerts with popular musicians in some of our beautiful historic buildings rather than having these buildings closed to the public most of the time? We could organize and sponsor celebrations during special days and recognized holidays such as New Year's Eve/Day, the Super Bowl, Valentine's Day, Easter, Mother's Day, Father's Day, Independence Day, Memorial Day, Labor Day, Thanksgiving, Christmas, and others; or partner with city and other organizations to serve as volunteers in such events as marathons, fairs, and festivals.
Some of our churches are doing some of these things, but more is needed.
What would happen if our churches opened their doors more often? Other denominations who don't have our beautiful and powerful message keep their doors open all the time.
What if we distributed flyers in our communities, not just those with beasts on the cover, but also those offering the few services mentioned above and others? What if we did this, not just for a day, or for a season right before the evangelistic meetings, but on a regular basis as a lifestyle?
What do you think would happen? Consider these three points.
A relevant church is never empty. Jesus was surrounded by people constantly. He did not preach to empty pews. There's a reason He was always surrounded by a crowd.
A relevant church reaches and reclaims its community. Jesus did that on a regular basis. He went to the synagogue, sat and read, then went out to reach and reclaim His community.
A relevant church retains its members. When people are active and happy doing something good, something they enjoy, they don't leave. The total opposite happens: more people come—youth, young adults, adults, and children —It can be viral. Jesus went viral. That's why our church is here today—because of what He did.
It's time for a conspiracy of compassion and hope in our Adventist churches in North America!
— Jose Cortes, Jr. is the NAD's Ministerial Association church planting and evangelism director.
Snapshots of Compassion
These are responses shared on social media with the North American Division about activities that members engaged in during the 2019 Day of Hope and Compassion. While this is a special designated day in April, the NAD encourages members to act compassionately all days. 
As church member Bob Helm shared on Facebook, "The intent is not to brag, but to spur one another on to performing compassionate ministries and doing good. If you read Paul's letters, he speaks several times about the offering he was collecting for the poor in Jerusalem and Judea. He even talks about how much the Macedonians had contributed and urges the Corinthians to do the same."
Cindy Joy Webb says, "My Sabbath School class has decided to do a 'card ministry,'reaching out to our elderly who are no longer able to attend church. I hope it will branch out into our community soon, too."
Roberta and Bob Robbins: "In particular, [our way of showing compassion] has been financial help for people who are recovering from drugs, making meals daily for a cancer patient, caring daily for an elderly person, making friends with the unfriended, sharing our faith by actively casting a life line to people who feel hopeless. We never know exactly who God will guide into our lives and how we will be called to help, but we always hope with God blessing our efforts an eternal difference is made and thus, someone is rescued. 

My [sic] grandmother often sang a song with the words 'Bright in the corner where you are, someone far from harbor you may guide across the bar.'Daily accepting the transforming power of 'the Light of the World,'Jesus, we pray we will be a guiding light for others."
Rosezanne Marcus: "Pathfinders visited one of our elderly members who is sick and the Adventurers visited people in a local nursing home. We sang songs and prayed with them."
Kelly Amick: "Our women's ministry will be volunteering at a local soup kitchen once a month and more often as the opportunity arises. They can only do it twice a week because of funding. But many of us work full time and so we are doing what our schedules allow.. . . We have to go into our community and met people where they are. Just like Jesus did."
Kathy Cole Yancey Beats: "We have chickens and use very few eggs so I make bread and we take farm fresh eggs and homemade bread to several families. We get to visit and pray with them. We also hand out books/booklets of hope and Jesus' love with some money tucked inside to people in need. We also open our home to the young adults (ages 18-39) for special meals and fellowship. God is so good to us that we want to share His blessings with others."
This Summer
In August 2019, Pathfinder Clubs across the division have signed up for Compassion projects at the International Pathfinder Camporee - Chosen 2019 in Oshkosh, Wisconsin! Please pray for the Pathfinders, counselors, staffers, and chaperones's as they show the community of Oshkosh the love of God and the compassion of Jesus with practical acts of kindness!