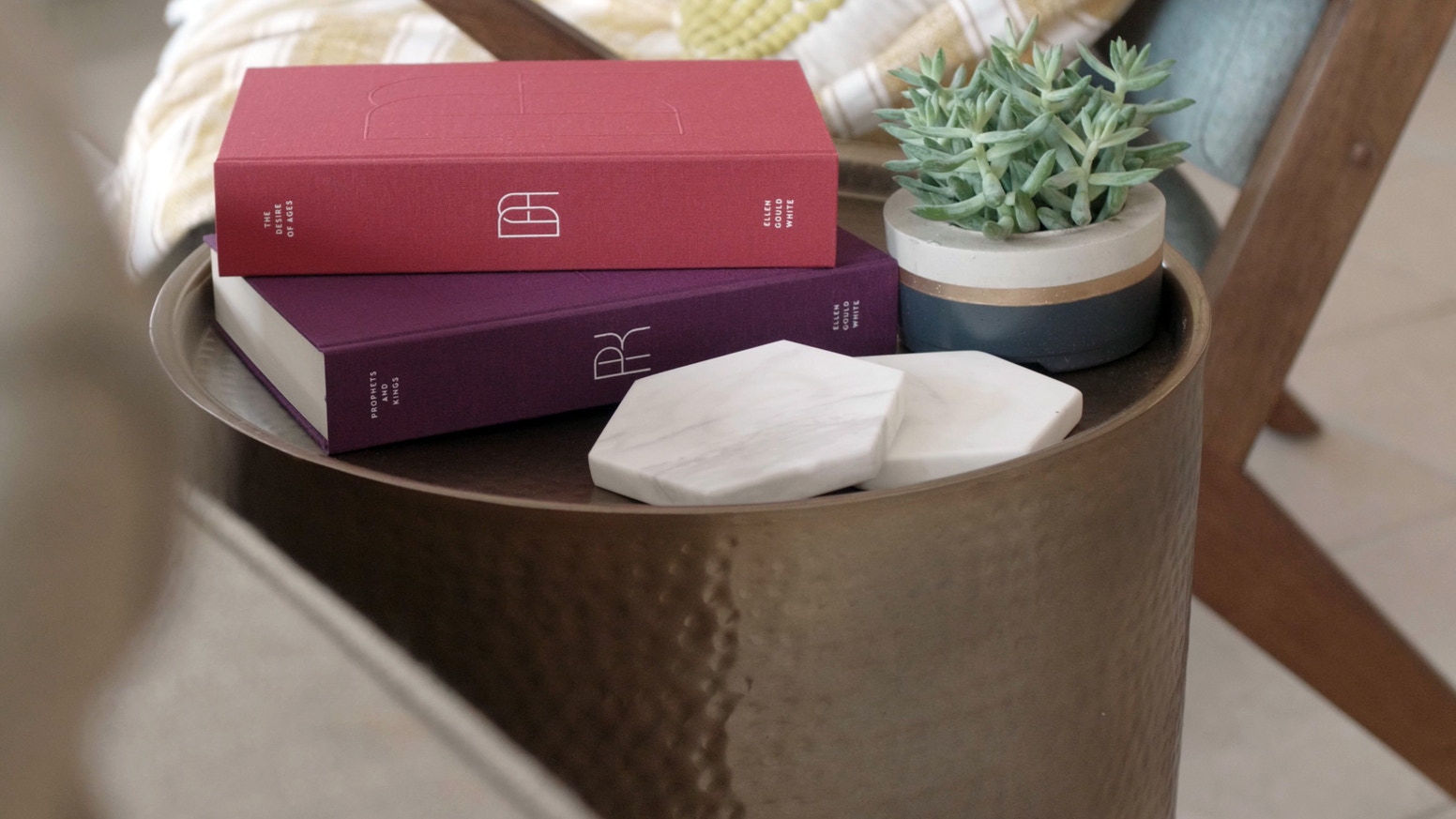 Types & Symbols, a creative studio that designs Adventist experiences, is partway through a Kickstarter campaign, launched Oct. 1, 2018, to fund The Conflict Beautiful, a new, beautifully-designed, hardcover edition of Ellen G. White's Conflict of the Ages series. "We are thrilled to have finally launched this project," said Mark Cook, project lead.
Speaking on the motivation for the project, Cook said, "Up until a few years ago I held a completely inaccurate view of Ellen White and her writings. I thought she was negative and critical, and her writings were another set of rules we needed to follow. But once I opened her books and started reading for myself, I was blown away by her persistent focus on God's loving character. We think a fresh, high-quality design, can help communicate the value of her words, and we can't wait to make these books a reality."
The studio created this project as an independent initiative, and then launched the Kickstarter campaign. Kickstarter is an all-or-nothing funding platform for creative projects, which means that project creators only receive funds if they meet or exceed their goal. The goal for The Conflict Beautifulis $144,000, what is needed to cover the minimum production volume required to print and bind these books.
As of today, the project has reached a little more than 20 percent of that goal through the pledges of more than 130 backers. The campaign ends on Nov. 15.
The studio, which has created materials for a range of Adventist ministries, including the current design of Adventist Journey, Adventist Review, Adventist World, and Libertymagazines, is excited about sharing White's writings in beautifully-designed books. "Anyone that loves Jesus and the Bible is in great company with Ellen White, and will receive a huge blessing from reading her work," said Cook.
The text of the Conflict of the Agesbooks is in the public domain, but Types & Symbols took the initiative to meet with the Ellen G. White Estate when they were first developing this project. Cook said, "We have maintained communication with them at different points of the project, but, officially speaking, there is no approval or oversight from the White Estate."
Inside the Books
Asked about their reason for designing a print book when many people use digital reading materials, Types & Symbols shared that one major reason is the experiential quality. "The experience of reading a beautiful, physical book for focused, long-form reading is different and, we think, preferable, to the experience of reading from screens," said Cook.
"Digital tools can be helpful, and preferable, if you're trying to gather specific quotes, support an argument, or quickly look up a quote someone else shared. But for the process of actual reading, research [shows that] experience is significantly better with physical books."
Types & Symbols shared that some updates to the language will be incorporated into The Conflict Beautiful. While they deeply appreciate the original 19th century language, they want to create the best reading experience possible. One minor change, for example, is replacing a few specific words whose meaning hasn't aged very well. They've also decided to use the New King James Version in place of the King James Version in all cited biblical passages. "We are currently working through flowing the text in, and will provide a full report on changes once we are through," Types & Symbols explains on their FAQs page.
Project Timeline
The overall design intent for The Conflict Beautifulis complete, and Types & Symbols is now in the process of meticulously updating biblical passages cited within White's books.
As mentioned, Kickstarter campaign has launched to fund the initial production run. The goal is to have production files completed by November, and books delivered by the first quarter of 2019.
About Types & Symbols
Types & Symbols was founded in 2015 by Mark Cook and Ivan Ruiz-Knott. Since its beginnings it has always had a goal to develop self-initiated, design-centric projects. With the inclusion of Bryan Gray (partner as of January 2017), Brett Meliti, and Ellen Musselman, the team has been able to invest additional resources into this project and more fully pursue this vision.
CLICK HERE to learn more about the project.