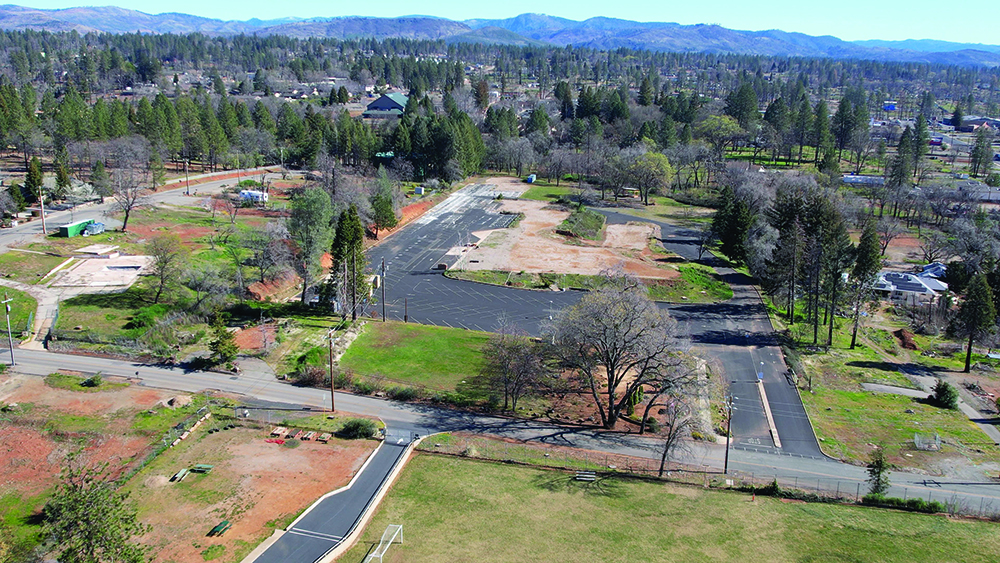 As I sit at my computer, reading over notes from an interview with Joelle Chinnock, an Adventist Community Services leader, the steady thrum of water from the gray sky catches my attention. I glance outside. The rain drips from the overflowing gutter, spilling unabashedly on the verdant plants below the window. The torrent serves in stark contrast to the warm, dry, and windy weather of Chinnock's home, the ridges high above the Feather River Canyon, where the scorched but healing town of Paradise, California, sits along the Sierra Nevada foothills.
It's been three and a half years since the Camp Fire devastated Paradise and several nearby communities in 2018. The fire, which has been attributed to two ignition points sparked by Pacific Gas and Electric Company (PG&E) power lines, tore through the town in about four hours, destroying more than 18,000 structures (including about 14,000 residences) and killing 86 people.
The last of the debris from homes and buildings and charred trees was hauled away in the fall of 2021. A few skeletal frames of houses on concrete slabs perch on the ridge community, the new wood gleaming in the reconstruction process. For many in Paradise, including Chinnock, rebuilding is slow but steady. So is the healing.
The Evacuation
"November 8 started out like any other day," recalled Chinnock, explaining that the entire area had been experiencing a drought for several years. "We'd been warned that week of potential power outages, that PG&E was potentially going to be cutting power if the winds got too high or conditions got too unfavorable. But I don't think any of us really took it super seriously because we'd been through it before."
That morning, Chinnock went for her usual walk along a bike path. As she made her way back she looked up and saw some smoke. Everything else was clear. Chinnock texted her husband Geoff. He said there was a fire eight miles away—news of small fires along the ridge was common. So Chinnock continued walking but soon, the smoke cloud had gotten considerably bigger—and darker. Something's not quite right, she thought as she arrived at home to see her son off to school on his bike. She waved to him as he rode away to school, less than a mile from home. Ash began to fall from the sky. Within 15 minutes she got a phone call from him. "Mom, they're evacuating the school. I'm coming home now," he said.
Then her husband called, saying, "I'm coming home. Start packing up the stuff. We're going to get out. This is moving a lot faster than anyone expected."
The family of six all started packing. "We were quickly just throwing things in," Chinnock said. "I grabbed photo books, a little bit of food, some basic clothing, and we threw that stuff in as fast as we could." Trying to calm her family's anxiety as they prepared to leave with their truck and camping trailer, Chinnock looked up. The sky was black.
"We have dusk to dawn lights on the outside of our house and those had come on. That's when I realized this isn't like the other times we've been through a fire and had to evacuate. We gathered briefly on our lawn and had a prayer. And then my husband asked me to drive the truck and trailer out while he went to make sure his parents got out. And while it was a terrifying experience, God was in the chaos of it all and I could feel His peace. It took us two hours, moving slowly, bumper to bumper, and the kids and I went out on the last road from Paradise that, at the time, didn't have flames on it. At one point we saw them in the distance over on Skyway but we never actually had to drive out through flames."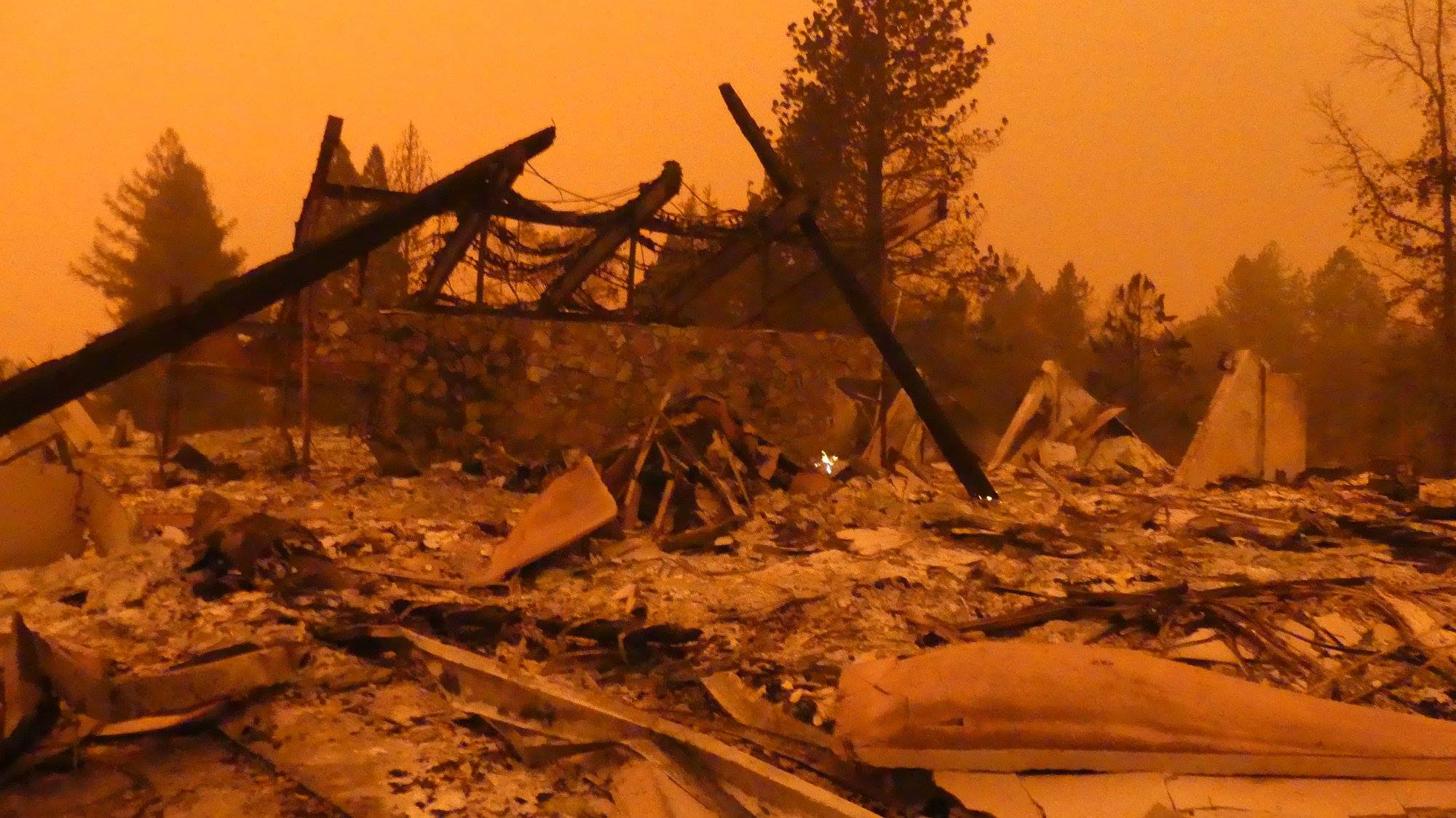 Chinnock lost contact with the rest of her family. She found out later that not only did her husband make sure his parents were evacuated, he stayed as long as he could at the house, hosing down the roof and securing a few other things, before he drove out a different road, escaping through the flames. These actions may have helped save their home. "We did have pretty significant damage to the outside, and we had to gut the interior of the house. But the structure itself was saved," said Chinnock.
The Chinnocks, like many of the other evacuees, found shelter in nearby communities down off the ridge in places such as Chico, Durham, and Sonora.
Her first thoughts after the harrowing experience included, Have we lost everything now? What will this mean to friends and church members, and our church and our community? The vastness of the loss was overwhelming.
"We were lucky in comparison to many," noted Chinnock. "We have friends who really didn't think they were going to make it out. And some people from the community didn't make it. We heard stories of needing to get out of the vehicles, leaving them on the side of the road and running because it was gridlock and the flames were coming. But we also heard about the heroism of people coming back in and helping others get out."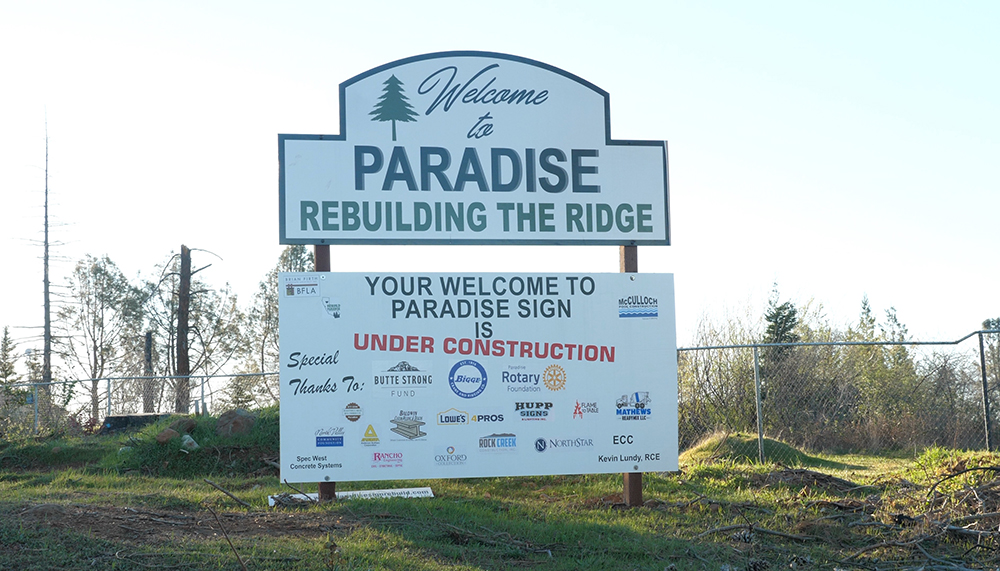 After the Fire
"It's a day we will never forget—ever," Chinnock said. "We will always mark time now with 'before the fire' and 'after the fire.' I can't go back to the person that I was before. And I don't want to go back. In that pain you are either forced to grow or not—and to see what God has done through what happened. More than ever, you develop this feeling that if you help someone else you will be helped too."
As the rain falls, I think about how to tell the story of Paradise. The story of Joelle Chinnock, the story of resilience, of faith and compassion.
I remember the last few moments with Chinnock after the interview. She and I looked out behind the community service center she manages for the Paradise Seventh-day Adventist Church. It's a warehouse location that served as a food bank for many months (including at the height of the COVID-19 pandemic) and now also helps give high-quality, almost new, donated furniture to anyone in need. A way to continue the healing. She points to the small neighborhood below as the arid heat of the day shifts into a cool, dry evening. A few homes dot the hilly area plainly visible through sparse vegetation. "You see some people have come back and are rebuilding. But many are gone. And before the fire, you couldn't even see any of these homes through the tall, thick forest cover. All that's gone. But some of it is coming back."
The town's population was about 27,000 before the 2018 fire. The measured revival of Paradise is evident as the population grew to more than 6,000 by January 1, 2021, from a low of 4,600 on the same date in 2020, according to the California Department of Finance. The Paradise church membership and Paradise Adventist Academy student population have also shrunk comparatively. But here too, are signs of growth as plans for a new church building finalize (the entire church complex, and some of the school buildings, were completely destroyed by the Camp Fire).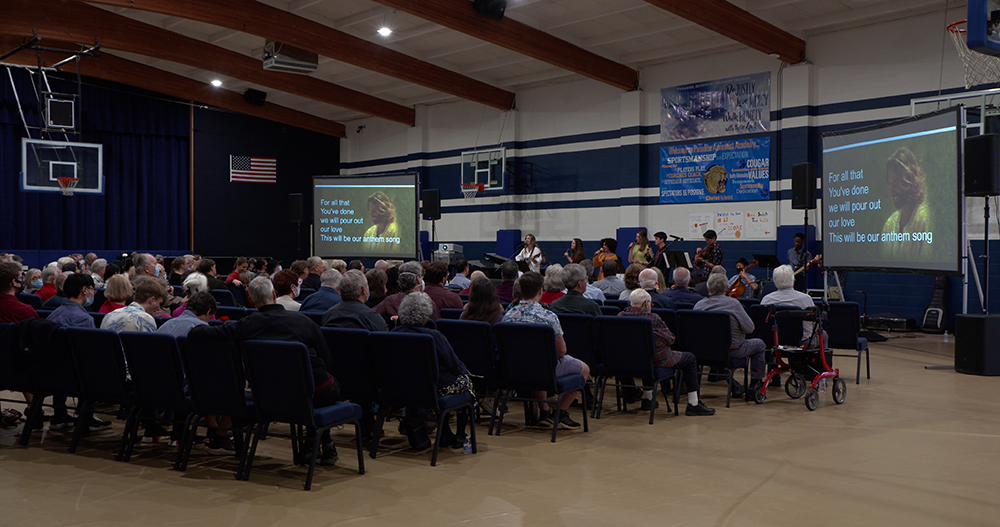 "We're still feeling the shockwaves. We're still seeing them," Chinnock shared. "Every day we meet people who come in here and their struggles are so real. You have more suicides that happen, more heart attacks, more family problems, marital problems. You hear reports of abuse toward children. You have loss of jobs as a result of the fire, mental breakdowns too. And yet through that we see a smile on a face again, and hear someone say how this program impacted them—if we can play one little piece in someone's healing journey then it's worth it. Right?"
She added, "There's never a day that you wake up and you're like, 'Jesus, I've got this. I don't need you today.' Every day I wake up I tell Him, 'I don't got this today. I don't. It has to be You.' And He's faithful and He does. He's got it."
— CLICK HERE to read how Adventists in Paradise came together to help the community, and what the place is like in 2022.