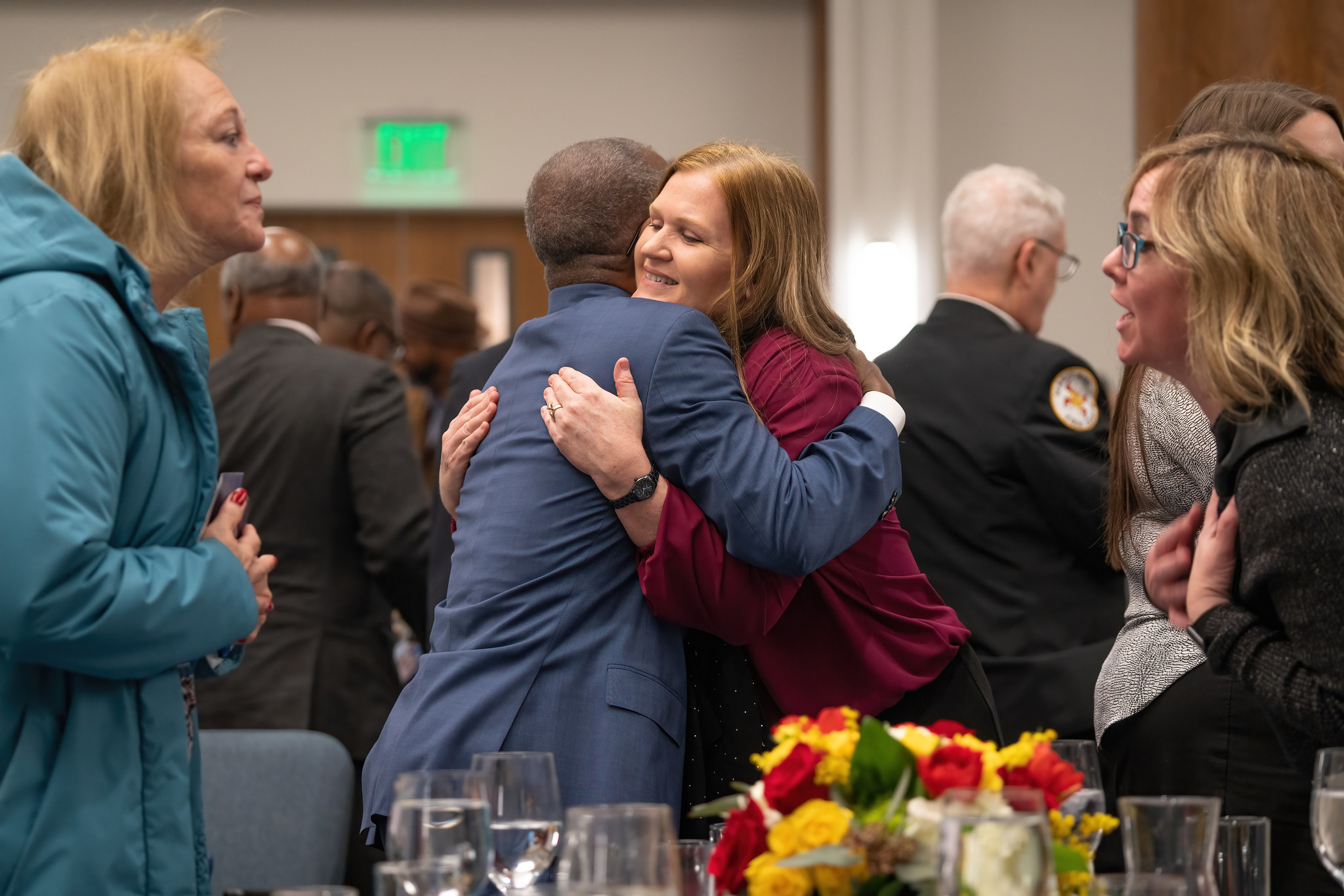 "We ask, oh God, to keep hope alive in our lives because where there is no hope, there is no need for faith. Not only do we ask that you might help us to hold on to hope, we also ask that You might help us to see the beauty in diversity. We ask, oh God, that You might help us not to let what's different about us continue to divide us. Then, lastly, God, we just ask that you might help us not just to gather for prayer, but help us to leave committed to action, action so that we can participate in making what we're praying about become a reality in our world." This was the prayer of Rev. Robert Turner, senior pastor of the St. John Baptist Church in Columbia, Maryland, at the Religious Freedom Prayer Breakfast hosted by the Seventh-day Adventist Church in North America (NAD).
On Jan. 17, 2023, approximately 100 people from diverse faith traditions gathered for the fourth annual breakfast. The event, held again in person for the second year in a row, recognized Jan. 16 as National Religious Freedom Day in the U.S., and included prayer for the blessing of the meal served, elected officials, the community, the nation, global health and healing, for peace, religious freedom, and for unity of spirit. Representatives of several religious groups prayed on these topics, including participants from Adventist, Jewish, Muslim, Church of Jesus Christ of Latter-day Saints, Baptist, and non-denominational Christian faith traditions. Several NAD leaders and local church leaders participated through prayer and music.
During the prayer breakfast welcome, Orlan Johnson, director of Public Affairs and Religious Liberty for the NAD, gave a warm greeting to guests, provided a brief summary of the program, and shared the significance of the January date for the event, emphasizing the historical framework printed on the event's program.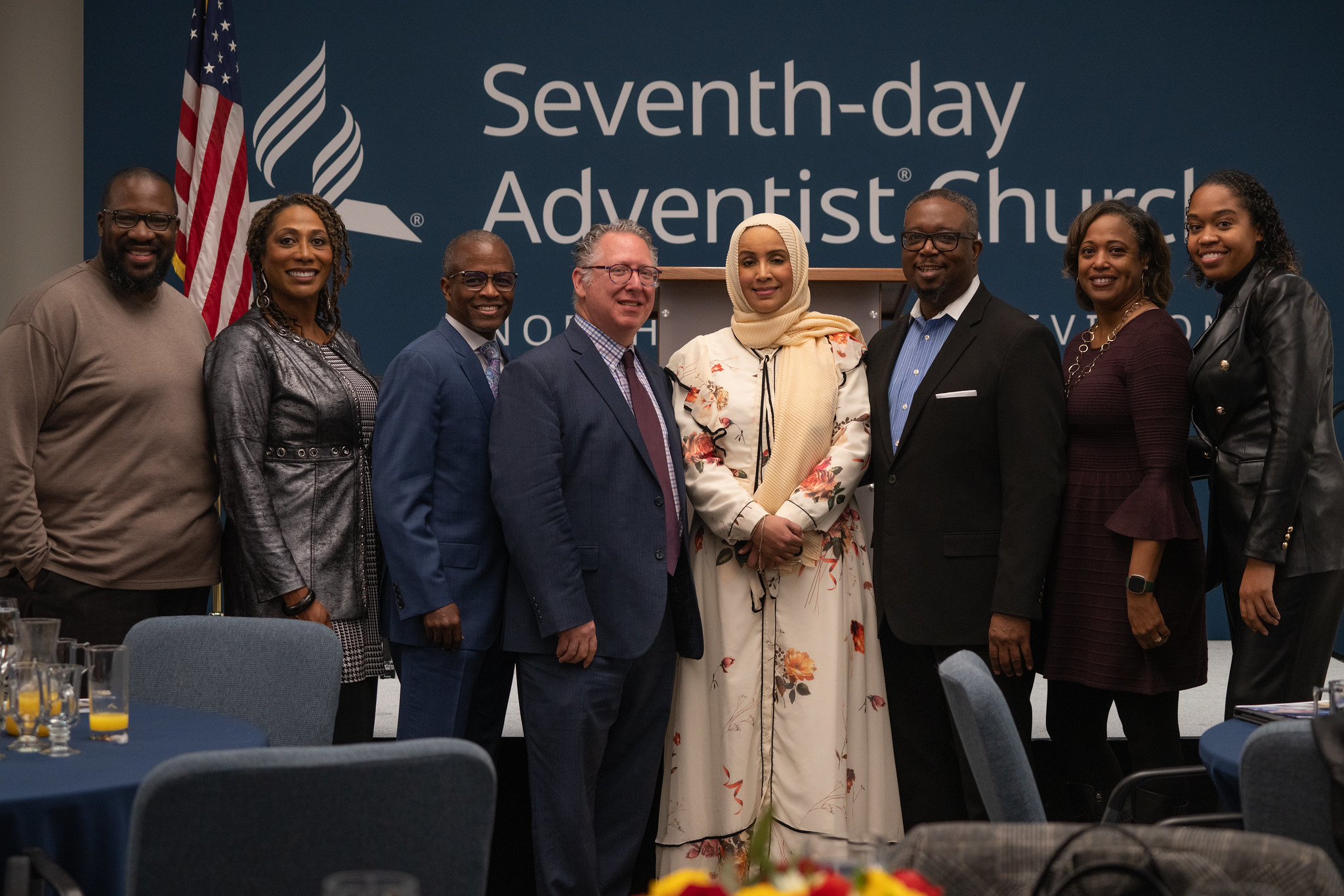 Johnson stated that "many Americans take our religious freedom for granted, despite that fact that nearly 80 percent of the world's population do not have the freedom to worship and practice their faith in whatever way they deem necessary and that religious freedom is a global concern, not only a national one."
Johnson also went on to describe a recent, heart-felt encounter he had with Wes Moore, the incoming new governor of the State of Maryland. During the encounter the governor shared how, after the unexpected death of his father when he was 3 years old, the Takoma Park Seventh-day Adventist Church family provided food, love, and support to Moore's family in their time of need and how that act of kindness helped to shape much of his future career choices such as becoming the CEO of the Robin Hood Foundation, New York City's largest poverty fighting organization, and creating the primary slogan of his run for governor to not leave any man behind.
Rabbi Craig Axler, from Temple Isaiah in Fulton, Maryland, offered the special remarks for the event, which again attained a fuller attendance after a scaled-back breakfast in 2022.
After starting with a joke that contained some sad truth about discrimination in the 1950s, Axler, during his remarks, talked about the film Shared Legacies, which tells the story of cooperation and alliances between the Jewish and African-American communities from the times of the early Civil Rights struggle, all the way from the 1960s to today.
"Minority religious communities in the United States have similarly been engaged in the struggle to make sure that this promise of protection of and from religion genuinely applies and extends to all," Axler said. "I'm grateful as a rabbi, as a reformed Jew, to live in a nation that both protects my free exercise of religion and protects me and others from the imposition of religious beliefs or practices that are not my own. Navigating and determining where those boundaries are, what is the appropriate public exercise of private faith, can be particularly difficult. Nearly every current issue of the day — issues where you and I may have deeply different or completely consonant spiritual and religious beliefs — touches on this."
He continued, "Part of the beauty of our American system is we all have the religious freedom to go out and to advocate, and to protest and to lift up, to influence and, ultimately, to seek the compromise that creates us a fairer, more just nation."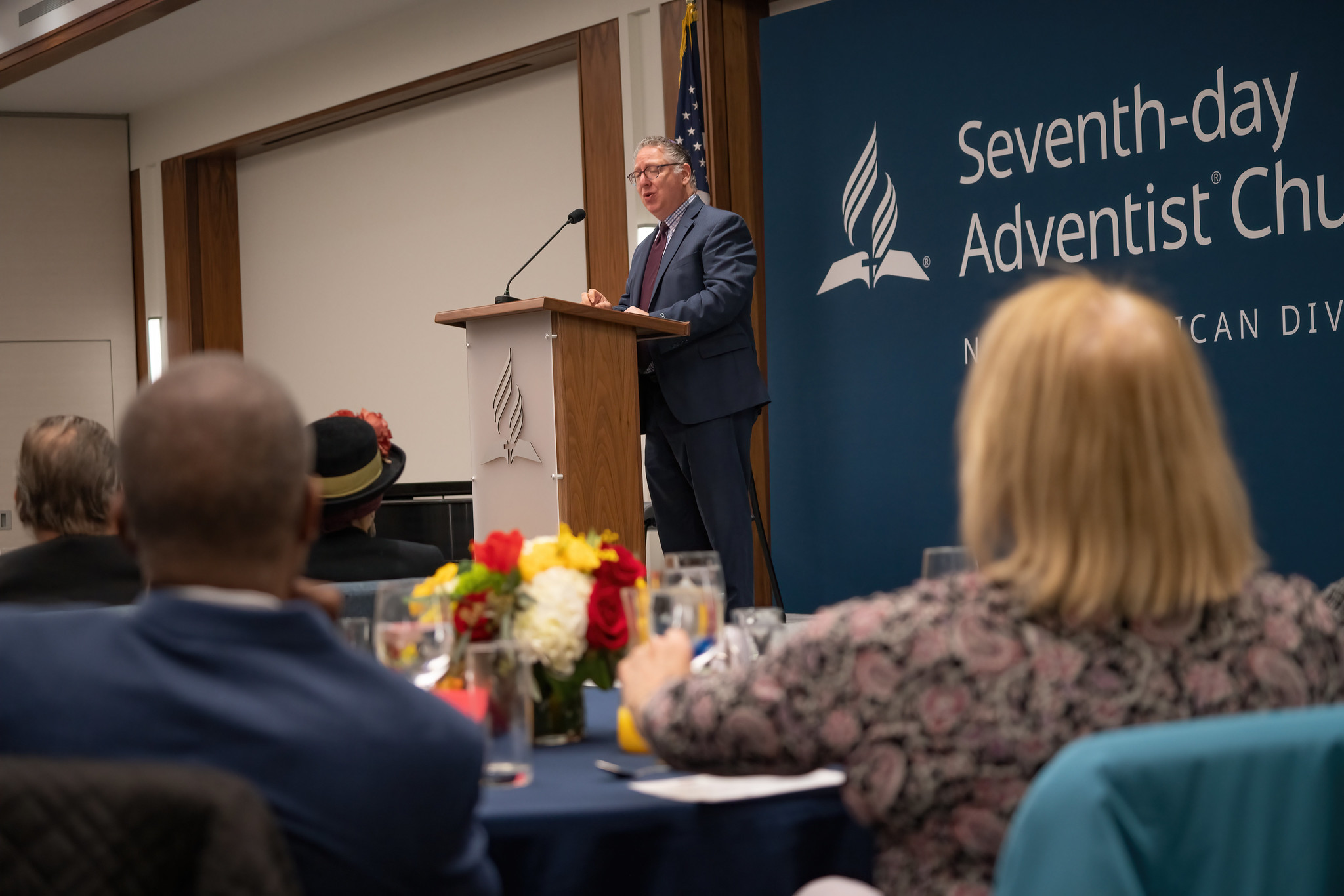 Prayer Time
Seven special prayers were offered during the event. The prayer for religious freedom was given by Calvin Watkins, an NAD vice president. Watkins gave thanks for the right to love and worship God and freedom to share that love with others.
A prayer for the community followed from Rev. Mary Ka Kanahan, from Saint John United Church.
"God of protection, please be in our midst as we come together as Your body to lift up our country. Protect our country from the division that challenges our ability to live lives pleasing to You. Defend the vulnerable and voiceless, and bring justice to those who have suffered injustice. Realign and unify Your people as we cry out to You for our land. … Please be in our midst. ... We don't know what tomorrow will bring. Help us to rest in You, relentlessly trusting in Your sovereignty and plan. May we persevere, bringing all of our anxiety to You," said Gilda Roddy, associate director of NAD Adventist Chaplaincy Ministry, during her prayer for the nation.
As he prayed for elected officials, Rev. Galen Carey, vice president of government relations for the National Association of Evangelicals, said, "Oh, sovereign Lord, whose glory fills the earth, we command our nation to Your merciful care that we may be guided by Your providence and dwell securely in Your peace. Send down on those who hold public office the spirit of wisdom, charity, and justice that with steadfast purpose, they may faithfully serve in their offices to promote the wellbeing of all people."
Turner offered a prayer for global health and healing. He asked for God to help those who have been burdened during the pandemic. "We lift up COVID-19 to You," he prayed, "because if there is ever an ultimate Healer that can deal with this difficult pandemic, we know you can. You are an able God."
He continued, "Not only do we lift up this pandemic, but there is another condition that is crippling so many lives on this planet. It's called hate, prejudice, injustice, violence. … Not only do we pray for peace, but we ask, oh God, that You might help us to hold on to hope. Help us to never lose hope, because hope is the switch that activates our faith."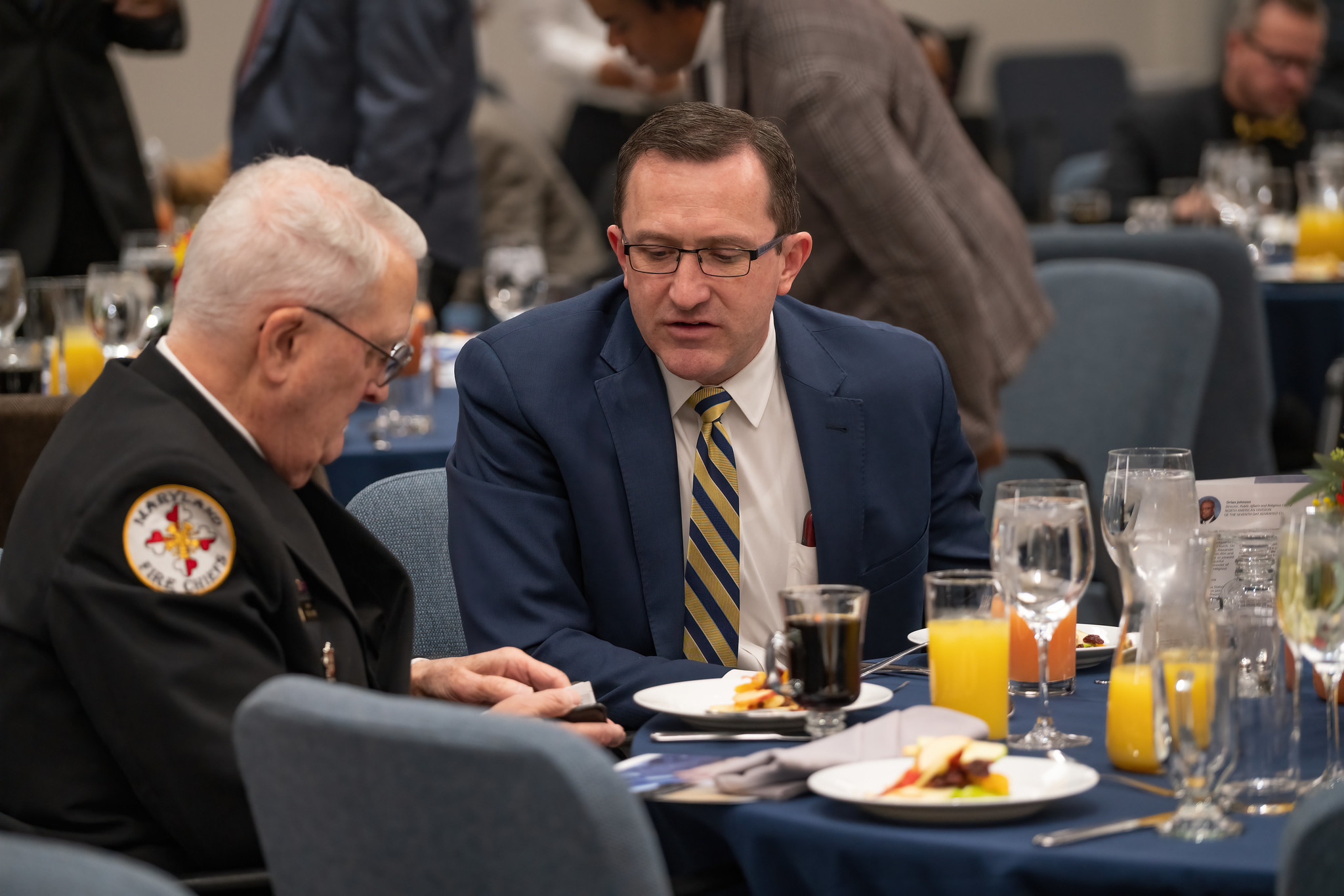 A prayer for peace followed from Father Volodymyr Stellac, parish leader for the Ukrainian Orthodox Church of the United States of America. Stellac addressed the situation in Ukraine, first explaining that he came to the United States more than 20 years ago by way of "winning" a green card lottery. Already a priest there, he came into the U.S. with a unique perspective — and has "loved every second of being here."
"But I never thought that my brothers and sisters back home would experience such an unjust, unfair, and tragic war," he said. "The Ukrainians … want to be free, and because freedom should not be from any one person but from God, … I would ask you to please join me in prayer. I do pray every day for peace in the world, for peace in Ukraine, for peace anywhere."
He prayed, "God of all people and nations, show us the way of peace that is Your overwhelming presence. We cry out to You for peace. Protect those who only desire and deserve to live in security and safety. Comfort those who fear for their lives and the lives of their loved ones, and for those who are the weak. Oh, God, we pray for all the faith leaders and the faithful who strive for peace on Earth and goodwill towards man. We ask You to bless and protect everyone here present, their leadership in the blessed commitment for peace. … We ask You to bring us peace here, in Ukraine, everywhere in the world. We ask You to bring us peace of the mind, the soul, and in the whole world to make us whole."
After a stirring performance of "You Raise Me Up" by singer Jim Williams, the event closed with G. Alexander Bryant, NAD president, praying for unity of spirit.
"We ask for unity not uniformity," said Bryant. "As we leave this place, bring us a spirit of unity in our work, in our relationships, and in our lives."