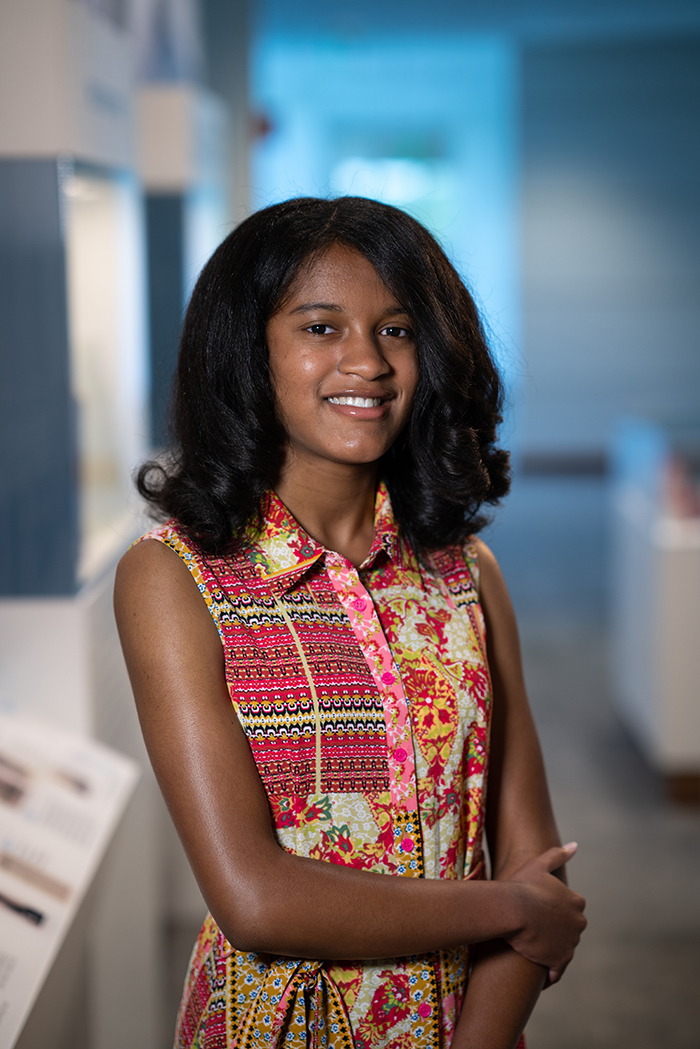 At 17, Charis McRoy* is Guide magazine's youngest columnist by several decades. That doesn't, however, mean she has any less to say than her more experienced counterparts.
When Lori Futcher, Guide's editor, and Laura Samano, managing editor, met McRoy at the 2019 Pathfinder Camporee, they knew they'd found someone special. They prayed with McRoy then and there about her potential future work with the magazine.
"When we assign stories or start columns, we match them up with authors who are passionate about the topic," Samano explains. "We encourage each other to ask for the Holy Spirit's guidance before anyone starts writing, so prayer was our first step."
As Samano and McRoy, who lives in the Baltimore, Maryland, area, talked and got to know each other better, it became clear that McRoy had a solid handle on the Bible, and a deep love for Jesus. Guide was on the lookout for young, talented, passionate writers, and McRoy seemed to fit the bill perfectly. 
"Charis had a lot of ideas for her column, and she is very articulate and responsible," Samano shares. 
McRoy's first column ran in Guide's March 13, 2021 issue, under the header, "Making the List." And that is, essentially, what McRoy does in every column.
"My lists are usually spiritual in nature," McRoy points out. "I often take them right from the Bible."
Her lists have included topics such as "why Jesus is the best BFF," "interesting foods mentioned in the Bible," and "Great Godly Superpowers," to name a few. And as she celebrates one year as a columnist for Guide, McRoy says she has learned a lot from the experience thus far.
"It's been an enriching experience, but certainly a fun one," she says. "I've had to learn to write succinctly, for example, because there is a particular word count I have to stick to in order for my column to fit within the print space available, but still drawing out lessons in what I'm writing. I've also been able to grow my creativity by producing original — and interesting! — content each month."
During their first conversation about McRoy's column, she and Samano discussed the process of writing for Guide. 
"I emphasized the need for her to pray about topics and take note of things that happen in her life that could lead to something for her column," Samano says. "A highlight of my experience with Charis so far is the moment in that first conversation when I realized she has a relationship with Jesus and loves the One Guide points to."
Samano adds that she and McRoy communicate regularly, mostly via text and email — sometimes with memes or Mr. Bean gifs. 
"She's a very fun person!" Samano shares. 
As with most publications, writers for Guide magazine produce content months ahead of the publication date, so McRoy had to wait nearly nine months to see her first article in print. 
"It was hard to wait, I'll admit, but finally holding that first issue with my name in print brought me such a feeling of satisfaction and excitement," she recalls. "It was probably one of the highlights of my writing career."
McRoy is one of a few monthly columnists for Guide, and she feels her content is a good addition to the lineup, which otherwise includes sports- and nature-focused columns. 
"My column is a little different in that it's not dedicated to one single subject matter," she points out. "It's based more on the Bible and all the interesting people and things in it."
Making and reading lists is something McRoy herself actually really enjoys, which makes developing content for her column fun. She points out that lists seem to be fairly popular in a lot of mainstream media outlets, as well, so they're something people gravitate toward, as they are easy to read and often very helpful.
Lists aren't all McRoy is good at, however; she is already a published author of a book called The Star: A Peek Inside Esther's Diary. Until she connected with Samano, McRoy thought she would simply stick with book-writing as a career. 
"I never really thought of being a columnist," she admits, "but I truly enjoy it, and hope to continue doing it for quite some time."
* Charis McRoy is featured on the July/August 2021 Adventist Journey magazine; click here to watch the video interview. And check out McRoy's column, "Making the List," monthly in Guide magazine.
— Becky St. Clair is a freelance writer who writes from Angwin, California.