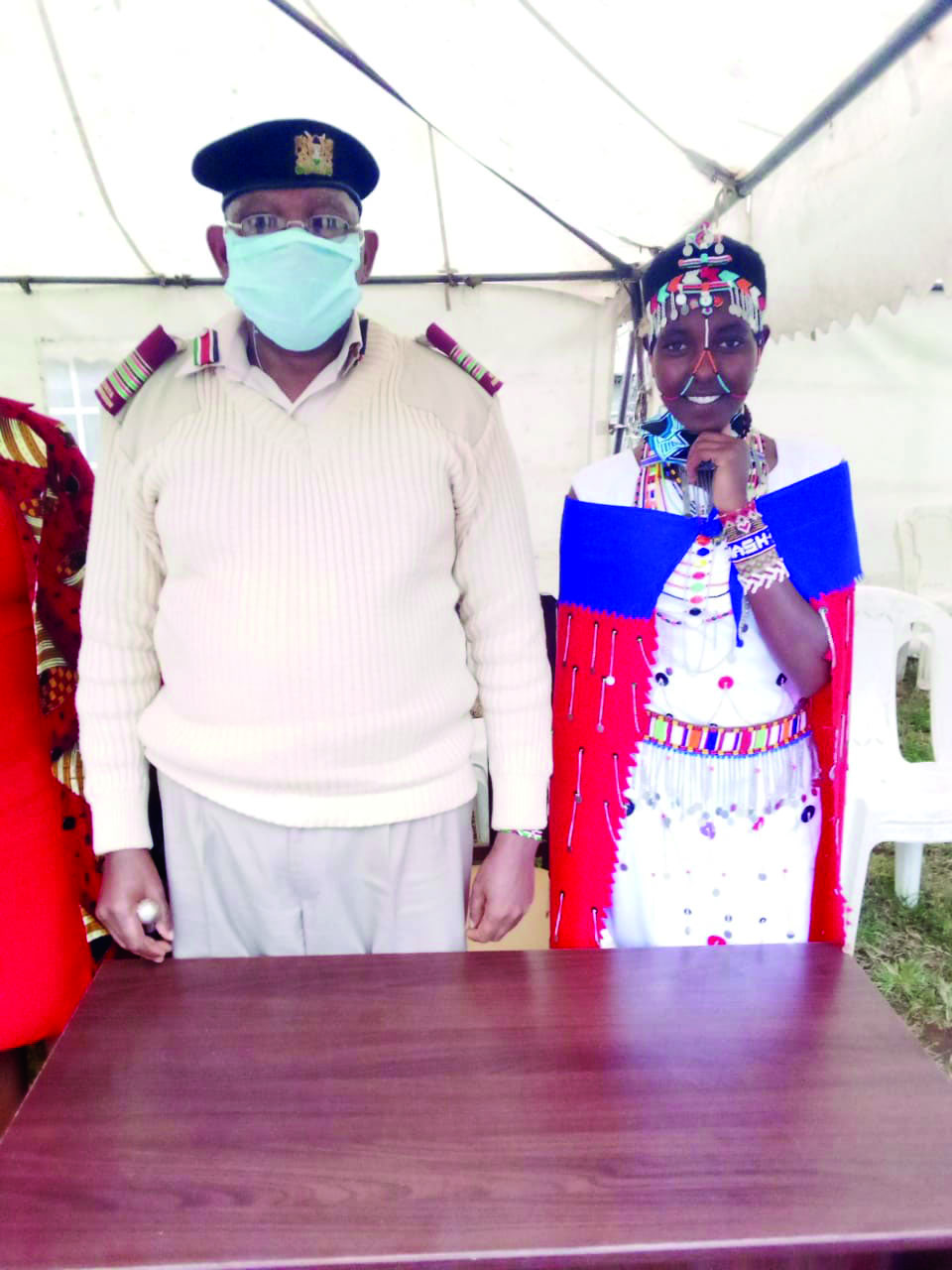 "In the years that we were full-time missionaries in Kenya, I fell in love with the Maasai people," says Jan Latsha, founder and director of the Maasai Development Project in Kenya, near the border of Tanzania and the Maasai Mara, a wild-animal reserve. "Their colorful dress and lifestyle fascinated me. Some of the women and I became good friends. We spent time together under the trees near Maxwell Academy, where my boys attended. I taught the women to read using the Maa Bible when I didn't really understand their language. I began to learn Kimaasai as I taught them the sounds and words. Writing for their language was developed in only the past 30 years."
In 2010, about two decades after beginning her work with the Maasai in Kenya, Latsha started a refuge, or home, for girls escaping female genital mutilation (FGM) and early marriage. She also organized a corps of lay pastors who have led many Maasai to come to know Jesus and join the Adventist Church. Jan lives in Spokane, Washington, United States, most of the year, raising funds for "the Project," as the locals call it, and organizing mission trips to Kenya. She visits the Project in Kenya at least twice a year and keeps close tabs on what's happening the rest of the time via telephone and e-mail. Lay pastor James Nanka manages the home and the work of the lay pastors in her absence, together with the administrator of the Project, Ogoti Kenani, who lives in Nairobi.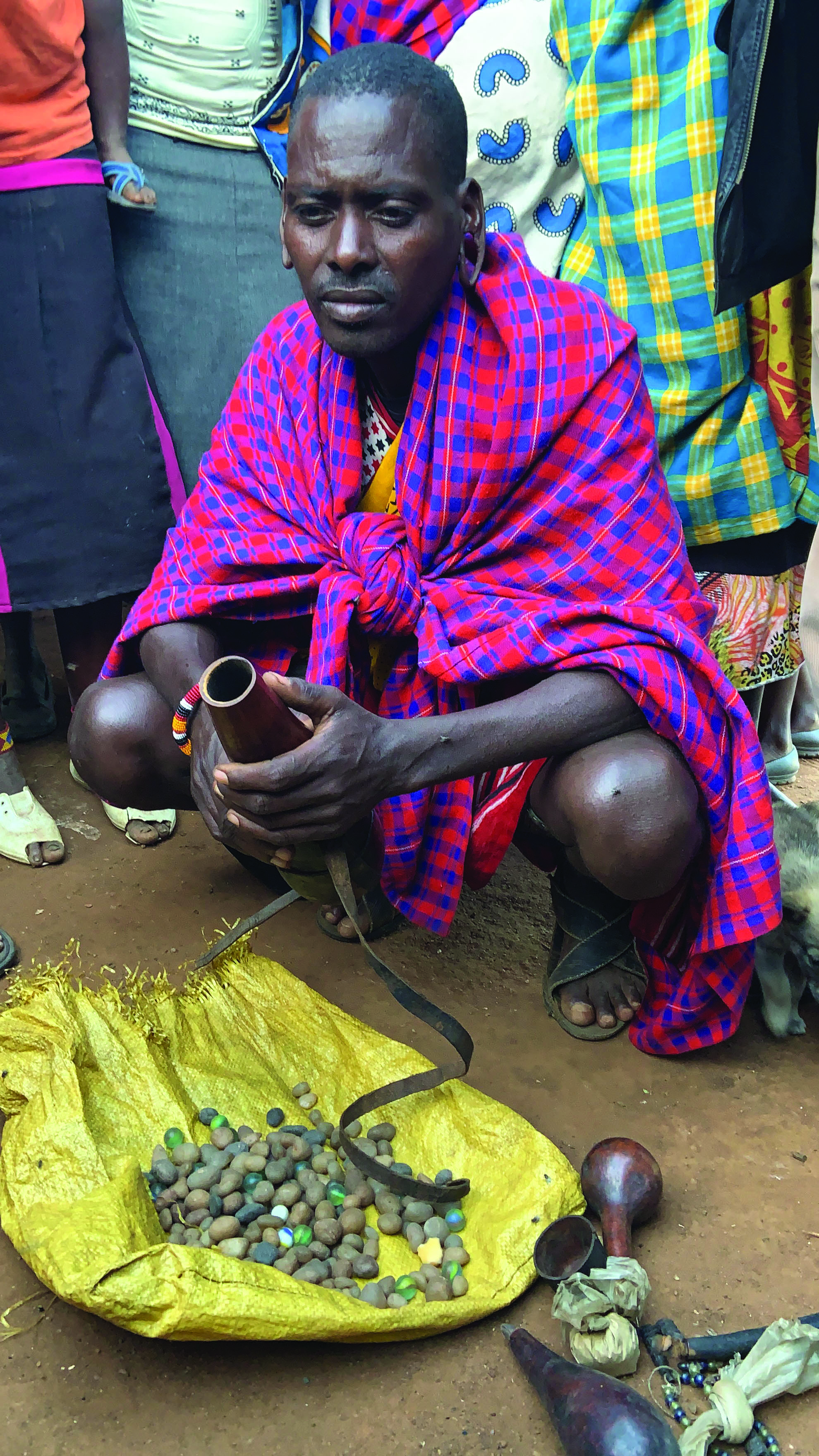 A Providential Visit
When at the Maasai Development Project Education Centre (MDPEC) in November 2018, Latsha, Nanka, and lay pastor Korio Samson set out to visit a Maasai elder who was attending Samson's branch Sabbath School. When the group arrived at the elder's house, he wasn't home. "Why don't we visit his neighbor?" Latsha suggested. While they were greeting the neighbor, two men drove up on motorcycles. While the group was visiting and praying with the neighbor, the two men walked into the house and listened to the conversation and prayers. Then one of the men said, "We need a church in our village. Please come to our village."
"I will contact our lay pastors and arrange for a visit tomorrow," Latsha answered.
Latsha, Nanka, Samson, and two other lay pastors went to the men's village the next day. They visited with the two men's families, who expressed interest in learning more, especially about the Sabbath. The Adventist group then surrounded the men and their families and prayed for them.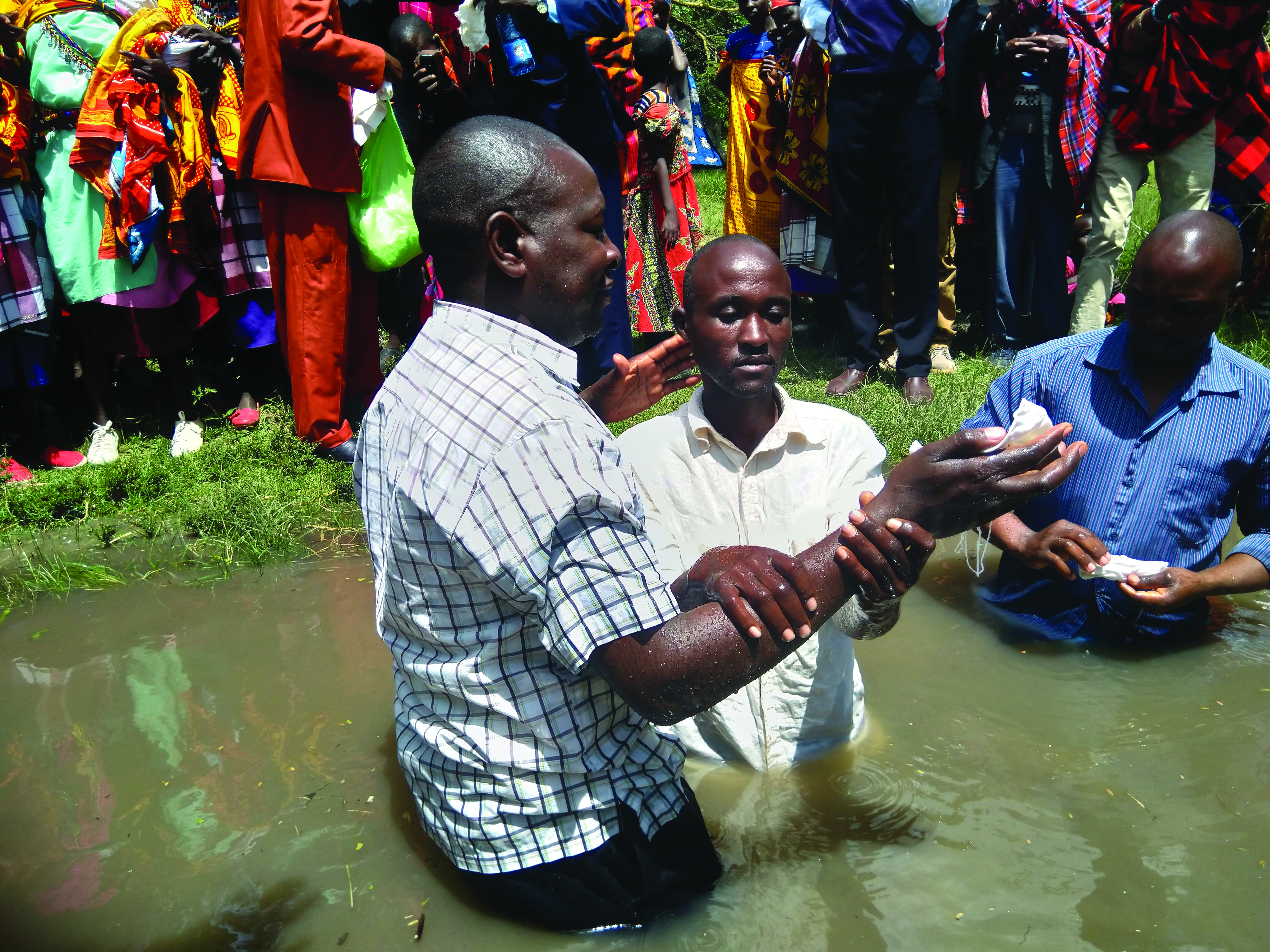 Changed Lives
On Nanka and Stephen's second visit to the men's village, they found 28 people waiting to learn more about the Bible and Jesus. At the end of the meeting the people pleaded, "Please stay! We have so much more to learn."
One of the men, who was a sorcerer, asked Jesus to take over his life. He destroyed all his implements of sorcery and was soon baptized.
When Latsha returned to Kenya in March 2019, they found 22 villagers who had been studying the Bible asking to be baptized, including another man who was a sorcerer. There is now a branch Sabbath School in that village, and the people are continuing to share their faith with others.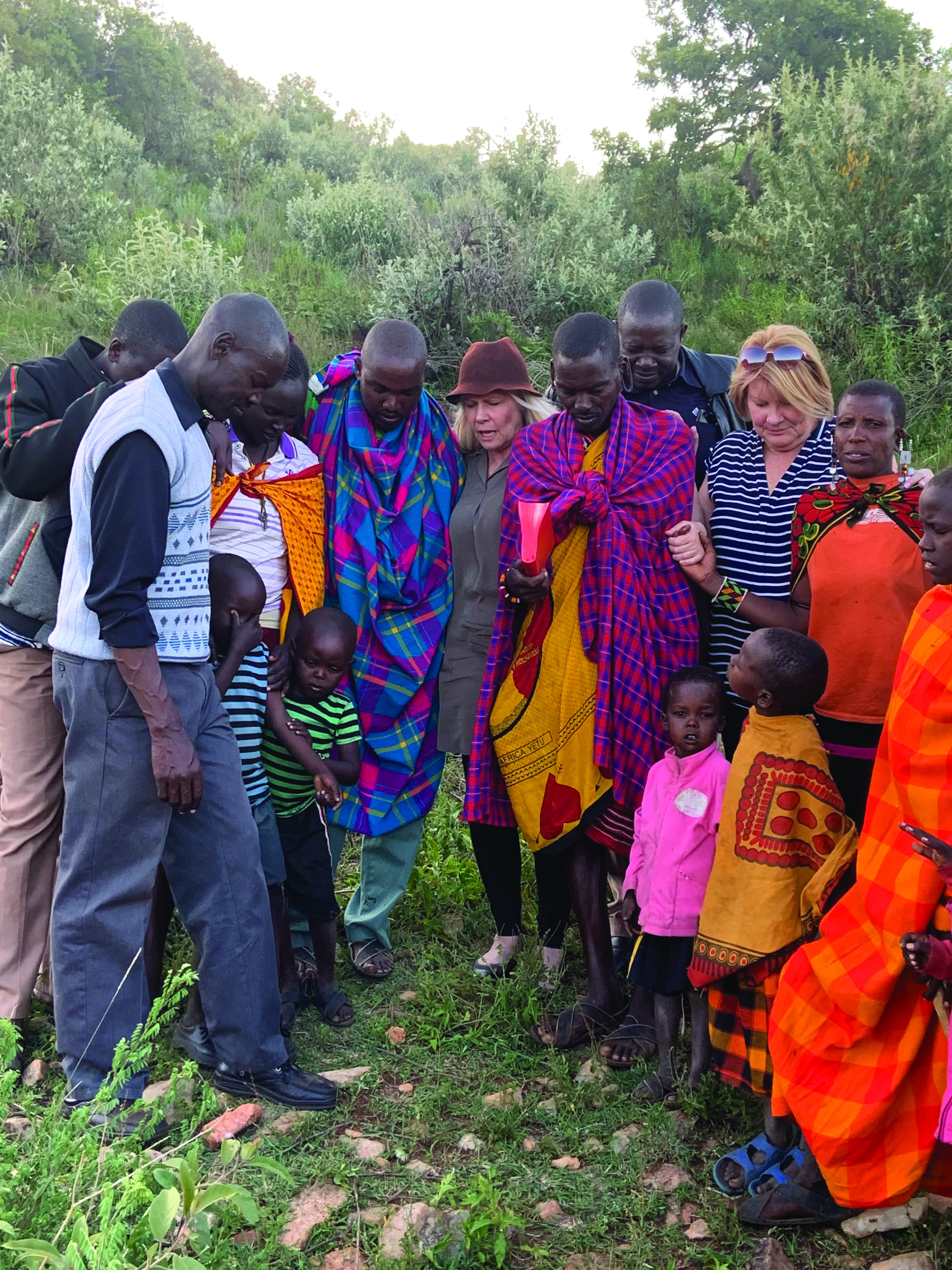 Nanyokie's Story
In Kenya the practice of FGM was routinely performed at puberty, but FGM and marriage before 18 are now illegal. Many families, however, continue to marry off their daughters at ages as young as 7 to men who are often as old as 40 or 50 and sometimes already have several wives. The girls' fathers receive a dowry, usually of cows and goats. Those who stay at the rescue home, which can house up to 70, are kept safe from this practice. Younger girls attend the nearby public primary school. After graduating from eighth grade, they go to an Adventist boarding school in another region of Kenya. On school vacations they return to the Project. Some of the girls have finished higher education. One is a teacher; another is a baker; and a few have returned to help at the MDPEC.
Nanyokie is one of the girls who was rescued and lives at the home. Her father died when she was 6. She was one of seven children, and her mother was the younger of two wives. After the death of the father, Nanyokie's oldest half brother, Michael, became head of the family.
Michael arranged for Nanyokie and her sister to be circumcised and married.
"The cutting was very painful, and we could not show any pain, or our family would be disgraced," Nanyokie says. Six months later her sister was married.
Michael then arranged for Nanyokie, not even 10 years old at the time, to marry one of his friends. "He was a very old man," says Nanyokie.
About three months after she was married, Nanyokie was carrying water home to wash clothes when a young woman, who was a teacher, saw her.
"Little girl, you should be in school," she said.
"No, I am married," Nanyokie answered.
"I can't believe a child as young as you is married," the teacher said. "Come with me."
The woman took Nanyokie to the police station, where the tribal chief was called.
"We must arrest this girl's parents, her husband, and his family," the police said.
The woman asked instead if Nanyokie could go to the Project's rescue home, and explained to them the school's mission. The police chief called the Project manager, James Nanka, and told him about Nanyokie.
Because Nanyokie was so young, the county agency for the welfare of children granted guardianship of Nanyokie to the Maasai Development Project. She went to live there.
"I was given a bunk in a room with about 10 other girls," says Nanyokie. The beds looked really comfortable and had clean sheets and soft blankets. At supper we all sat together, enjoying our maize [a type of corn] and beans."
Nanyokie attends the nearby primary school and after graduation will enroll in an Adventist boarding school. The COVID-19 pandemic has caused some delays, but Nanyokie maintains a positive outlook. "I want to be a lawyer, for the sake of female African children," she says. "I wish to tell them about the beauty of being educated. Education, not culture, is the key to life."
"Education is so important for my people," Nanyokie continues. "Girls must go to school as well as boys. The Maasai people need to work together to protect the girls and women so all of us can have a better future.
"I thank God for leading me to a better life!"
Visit www.4mdp.org for more information about the Maasai Development Project.
— Kirsten Roggenkamp, who lives in California, is a retired academy teacher and a coauthor of several books.