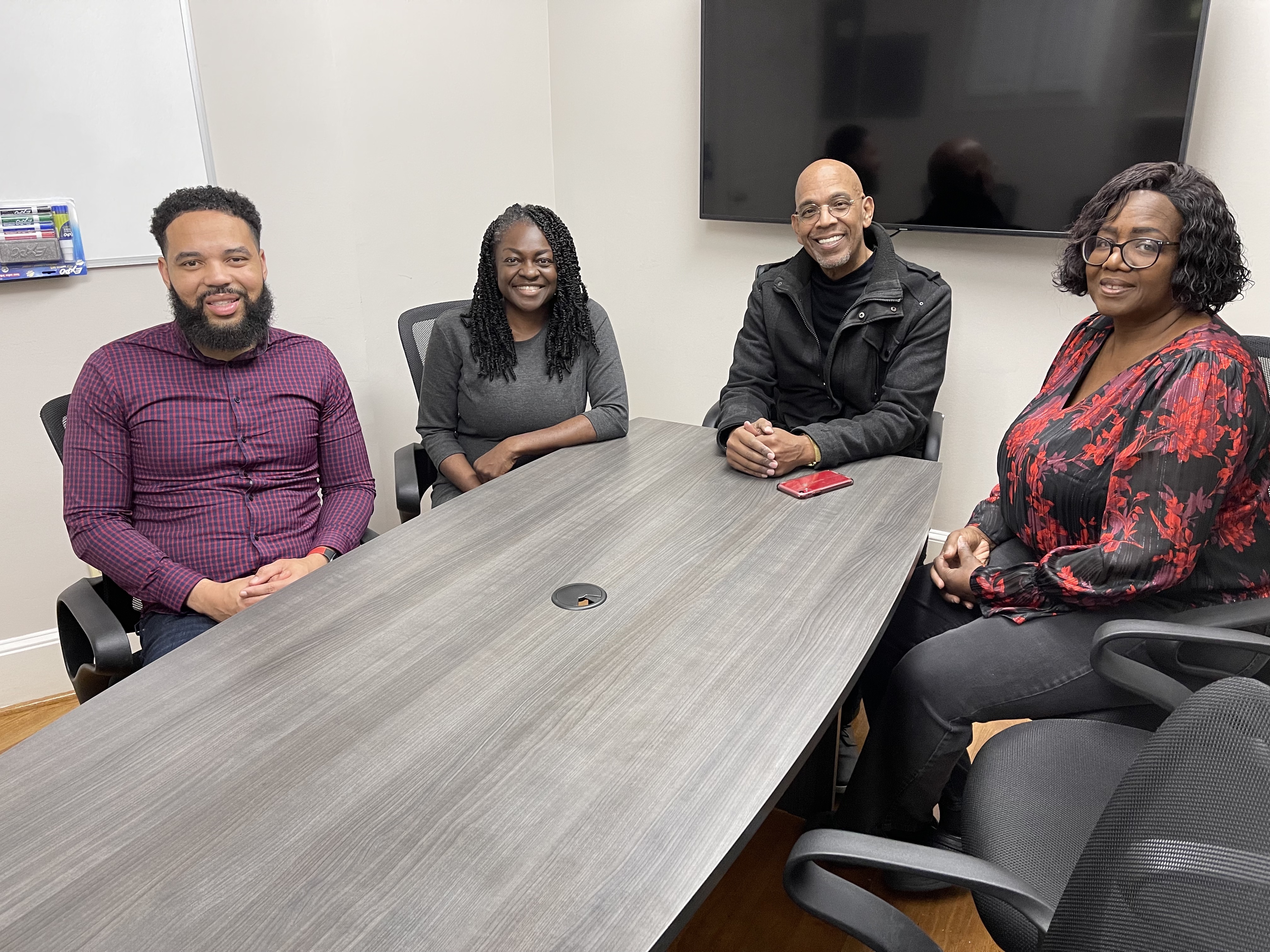 In 2016, when Emil Peeler became senior pastor of the Capitol Hill Seventh-day Adventist Church, he asked God, "How can I best serve this community?"
The answer: Capitol Hill Counseling and Resource Center. Located in the heart of Washington, D.C., its unassuming white brick exterior belies the transformational services offered within. This center has helped thousands battle mental health issues, realize their full potential, stop smoking, fight chronic diseases, adopt a healthier lifestyle, and much more.
Open since October 2019, it features a church-owned 501(c)(3) non-profit counseling center staffed by nine licensed Christian mental health professionals of diverse backgrounds. Tanya Taylor, a licensed clinical social worker with decades of experience, is the counseling center program director. Its other arm is a resource center offering healthy living coaching, nutrition workshops, life coaching, life skills workshops, and youth mentoring and empowerment; the resource center also has four counselors, including a licensed clinical social worker and three pastoral counselors, who offer short-term counseling services. The counseling center accepts insurance, with a sliding scale for the uninsured. The resource center services are free, under the umbrella of the church's community services department, with Karen Hayes serving as resource center program director.
Step inside the center, and you'll immediately feel at home. It is a bright, casually elegant space, designed with calm, peaceful, neutral tones. Throughout its open reception area and eight rooms for group and individual meetings are wall decals offering such wisdom as "the key to success is action" and "be the change you wish to see in the world."
Across the street is the stately, 1,000-member Capitol Hill church, whose leaders' and members' desire to "be the change" helped bring Peeler's vision to life.
Meeting Community Needs
Peeler and other church leaders realized that typical means of outreach, such as a food pantry or clothing giveaway, would be less impactful in their surrounding neighborhood. Josh Pierre, attorney, first elder of the church, and member of the Capitol Hill Counseling and Resource Center board of directors, explained, "Members of Congress and Cabinet members live in the vicinity; and in the last 10 to 15 years, property values surrounding the church have grown exponentially … to at least seven figures. So we asked, 'What can we offer that would be needed even in an extremely affluent neighborhood?'"
"In our original, [whole-church] vision-casting meeting in 2016, our congregation prayed to create an environment of relevance in our community and touch the people where they were hurting," Peeler said.
With much prayer and research, the answer was clear. "We discovered that [high-quality] therapy was one of our community's values," said Peeler, yet local mental health services, particularly those founded on Christian principles, were scarce.
"The Lord inspired us to look into mental health and other services that align with our core beliefs, including health justice[i]," Pierre said.
Our current mental health crisis has underlined that wealth and status do not preclude mental illness. The year 2022, for instance, was marked by the shocking deaths by suicide of several celebrities, including Stephen "tWitch" Boss, a dancer and DJ on The Ellen Degeneres Show, singers Aaron Carter and Naomi Judd, and Miss USA 2019 Cheslie Kryst. And with 1/5 of adults in the U.S. experiencing mental illnesses each year, these issues are ubiquitous.[ii]
Church leaders also found that mental health issues are even more pronounced in Washington, D.C. Mario Broussard, director of counseling and lead counselor, Capitol Hill Resource Center, stated, "The D.C. area has a higher percentage of mental illness, particularly anxiety-related disorders, than the national average." Opioid abuse, often rooted in unresolved mental health issues, is also elevated. Peeler cited some of D.C.'s unique stressors as "the pressure to get ahead, everybody trying to outdo one another, and being moved out [due to escalating cost-of-living]."
Offering Christ-Centered Counseling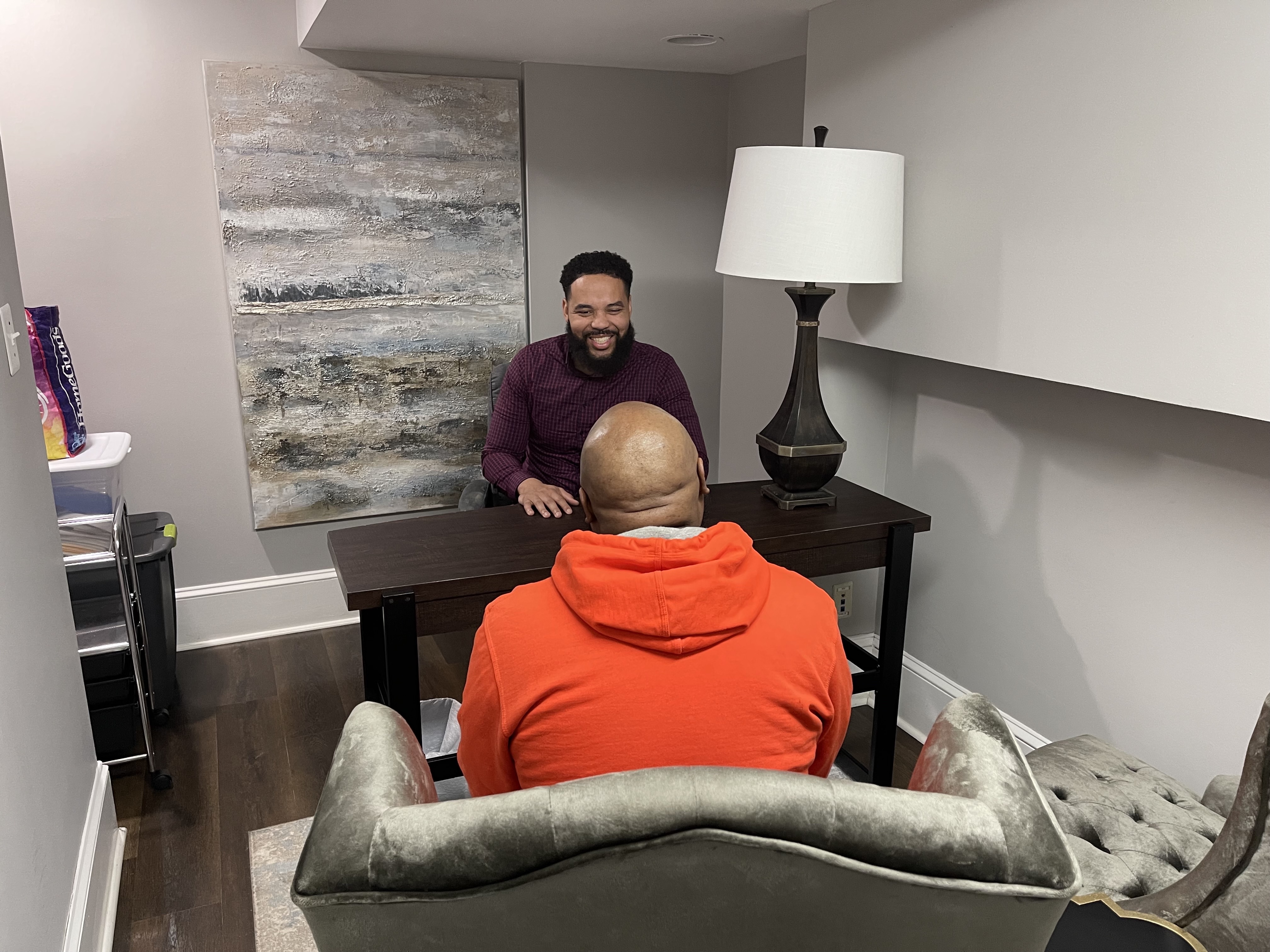 When the building across the street became available a few months after vision-casting, Peeler assembled an ad hoc committee of seven professionals from the church to create a plan for its purchase. Weeks later, the committee presented the vision of opening a counseling and resource center to the church, with a unanimous "yes" vote.
The jovial Peeler smiles even more broadly when sharing how they acquired the building. The building's $2.5 million price tag exceeded their church-approved budget of $1.85 million, yet, in faith, they put in a few bids. All were ignored, and Peeler grew discouraged. One day, after prayer meeting, he and the resource center's health coach, Anelise Antunes, spilled salad Antunes had prepared for him and his wife on the church steps. After they finished cleaning, she looked up and, seeing someone move into the building's top floor AirBnb, asked, "Pastor, who's moving into our building?" She spoke in faith, as if what they'd prayed for was already theirs.
When the pastor hesitated to investigate, she "went across boldly" and spoke to the owner, then challenged Peeler to return with her. He did. Then, a miracle. After speaking with the owner, they met with her husband at a local restaurant, and five days later, purchased the property for $1.9 million.
"It was on the market for seven months, and they had not [budged on price]. That was the Holy Spirit," said Peeler. Gesturing toward the lobby, he added, "And that's why I call this Anelise Hall."
To date, the counseling center has held more than 2,000 sessions, 90 percent individual counseling and 10 percent family counseling. Its diverse clientele includes children ages three and up, teens, and adults. Most clients present with anxiety or depression; the majority are also millennials (25-40 years old). Initially, the center offered in-person services but pivoted to teletherapy during the pandemic; they are transitioning back to a hybrid model. Director Taylor noted another pandemic-related change: "Being home all together increased stress within families. And we saw a lot of anxiety over what was happening in the world. Client intake increased greatly."
All the counselors, including Mario Broussard, who offers free short-term counseling in the resource center, draw from their faith, personal, and professional experience to meet clients' needs. The visibly empathetic Broussard recounted one especially tough case. A couple had experienced a stillborn after a healthy pregnancy and home birth with a doula. Grappling with the loss of their child and feeling they hadn't received adequate service, he said, "they were obviously distraught."
"It was terrible. They could barely speak at times. But we walked through the grieving process together. My goal was to validate their thoughts and feelings, empower and equip them to view each other as a resource for healing, not as enemies of each other [as often happens in these situations]," he continued.
Broussard, a licensed clinical social worker and ordained elder with pastoral experience, was well-equipped to assist. He also tapped into his experience losing a child at an early age with his wife. Broussard now thanks God that, while painful, his experience allowed him to speak from a real, lived experience versus just offering theory. "The couple reported that the session was very beneficial. They were non-Adventist and were told that I was a qualified counselor and minister. They were [initially] skeptical as to whether I would relate to them in any way, [but] it was a powerful session."
He also counseled a young widow who later sent Peeler a long email expressing how "amazed and grateful" she was for Broussard's support. "The blessing for me," Broussard noted, "is I'm able to not only provide those services from a clinical perspective but also present Christianity as a practical institution. The [common] perception is that Christianity is [irrelevant] in the world. Being able to say, I can practically walk you through this clinical experience, but it's from someone who claims to know and walk with Jesus Christ oftentimes [makes people think], 'Wow, there's something about this Christianity that I maybe need to explore.'"
Broussard added, "Aside from physical health and nutrition, mental health has emerged as one of the most relevant tools for evangelism. Jesus gave us the blueprint [Christ's method]. When you meet individuals' needs, then they want to know what else you're about."
Taylor concurred, "As a social worker, I think this is the closest job to what Jesus did. For the longest time, we'd see church members affected by different things, and we'd just say, we'll pray about it. But as Pastor Peeler said, [in Capitol Hill's month-long mental health series last year], we can pray, and we can have therapy. And with prayer and therapy, we have helped many, many people."
Helping People Live their Healthiest Lives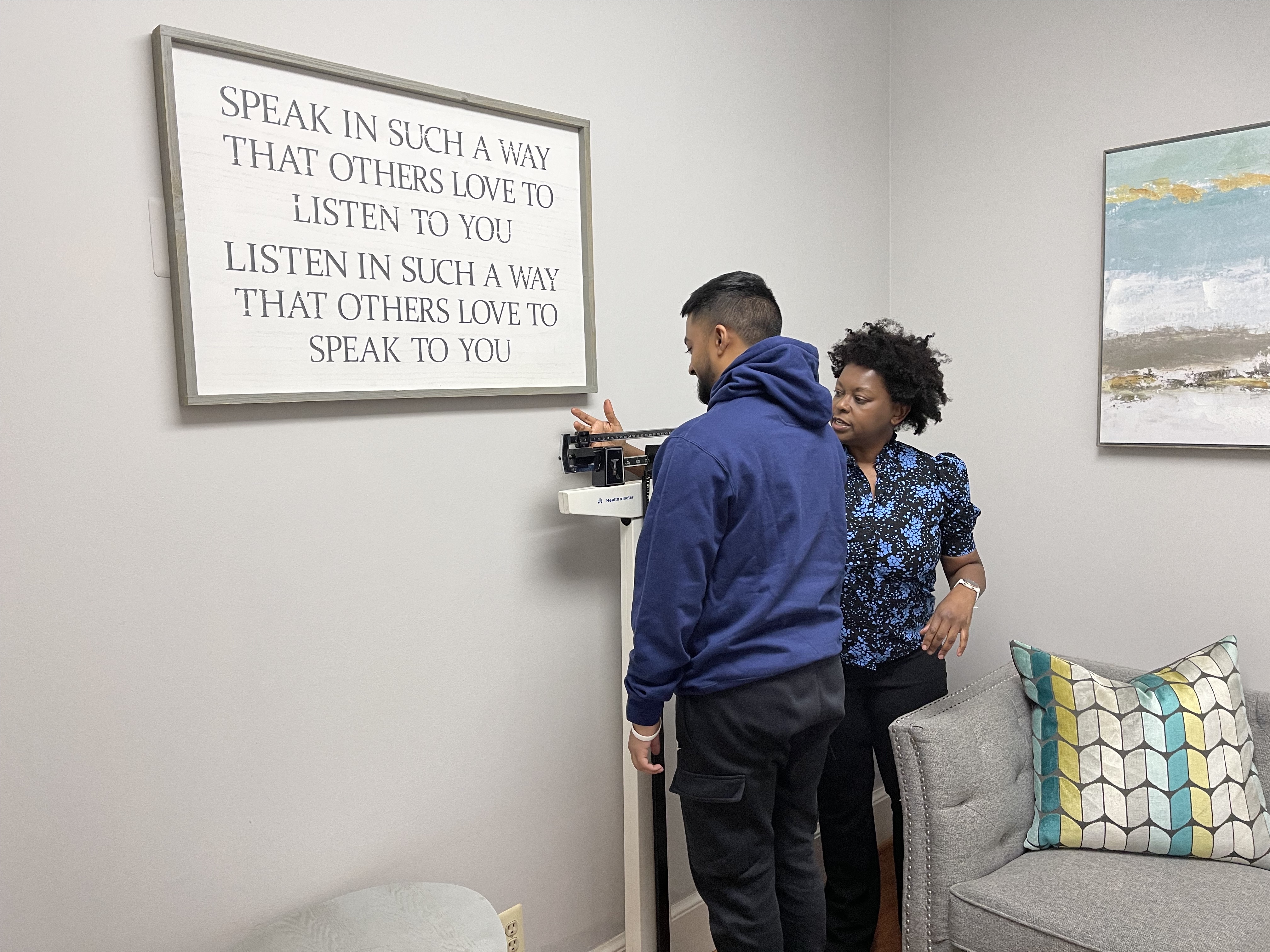 Elsewhere in the resource center, the energetic Antunes, a wholistic health coach and nutritionist, has facilitated several well-attended nutrition and fitness classes for the community; these include health chats every first Monday and a food as medicine cook-along class every third Monday. She noted, "Because we are now doing [the classes] virtually, we have people from all over the world."
Their most successful program was a four-part series on the Blue Zones, where people read the Blue Zones book, watched documentaries, and discussed practices allowing people groups, including Seventh-day Adventists in Loma Linda, California, to live longer and better. "It was an amazing way to introduce the church in a non-church way," Antunes said. "We had people asking about the church, wanting to understand a little bit more, so, we offered to send them books."
For Antunes, mental wellness and wholistic health go hand in hand. "There's a direct connection between what we eat, mental health, and overall health … and fitness is a stress-reliever," she said. Her aim is also to make the church's health message more tangible for Adventists and non-Adventists alike. "Everything we do [in health coaching] is inspired by our health message and backed by science. That's why it's successful."
The center's resource portion was partially funded by a grant from the General Conference of the Seventh-day Adventist Church, as an urban center of influence. Ellen White conceived of centers of influence as wholistic urban ministry centers connecting the church to the community. The growing number of global urban centers of influence tailor their activities, from lifestyle education to reading rooms to restaurants, to community needs.
"Since Pastor Peeler challenged us in our vision-casting, we've really tried to examine, what are some needs in our community and how can we meet them? And the Lord has blessed our efforts," said Pierre. He noted that, after being a runner-up years past, in 2022, the Washington City Paper voted Capitol Hill Church the best house of worship. "I think a big part of that is people have noticed the impact this church has made in the community."
Today, the church works hard to ensure the community knows they can address certain issues. Thus, the center is regularly promoted during church services, on the church's website, via Eventbrite, flyers, word of mouth, and the Psychology Today database, where it stands out for its Christian-focus.
"Our motivation is alignment: — alignment with God and His purpose for our church leaders today, [which is ever-evolving]," said Peeler. Moreover, he hopes that, as they obey God, "others are inspired to do whatever God is telling them to in their individual contexts."
He also noted, "Once we stepped out in faith, 99 percent of the pieces to organize came from our church; our health coach, our initial counseling team, the organizational structure, our attorneys, even the realtor helping us secure this building. We have a rich, resourceful [church] community."
Antunes added, "And now the center is a bridge to the [local] community."
She continued, "[Other churches] should look at what they have in their pews, in terms of talent…" Peeler interjected, "What's in your hand?" Antunes concluded, "…to serve the kingdom and their community."
---
[i] According to the CDC, health justice is "the state in which everyone has a fair and just opportunity to attain their highest level of health."
[ii] https://www.cdc.gov/mentalhealth/learn/index.htm.
Best Practices for Church Leaders Seeking to Reach their Community
Pastor Emil Peeler, senior pastor, Capitol Hill Seventh-day Adventist Church, gave this advice:
Have a heart for your church being outside the walls. Your church is more than what happens inside on Sabbath morning. If you don't [have that desire naturally], ask God to give you a heart like His.

Challenge yourself and people to get out of their comfort zone. We often have a "come" mentality. Come to my church. Come hear my choir. Come hear my preacher. But the gospel coalition was 'go'. We only "come" so we can be deployed to "go."

Organize your people so you're aligned in purpose. God gives leadership the vision, but He provides people with talent and abilities to ensure that the vision is [executed].

Once you're organized, mobilize. Conditions will never be perfect, but leaders must lead, and people must trust the vision. Mobilize, and God will give you the faith to continue the journey.
Click here to find out more about the Capitol Hill Counseling and Resource Center.