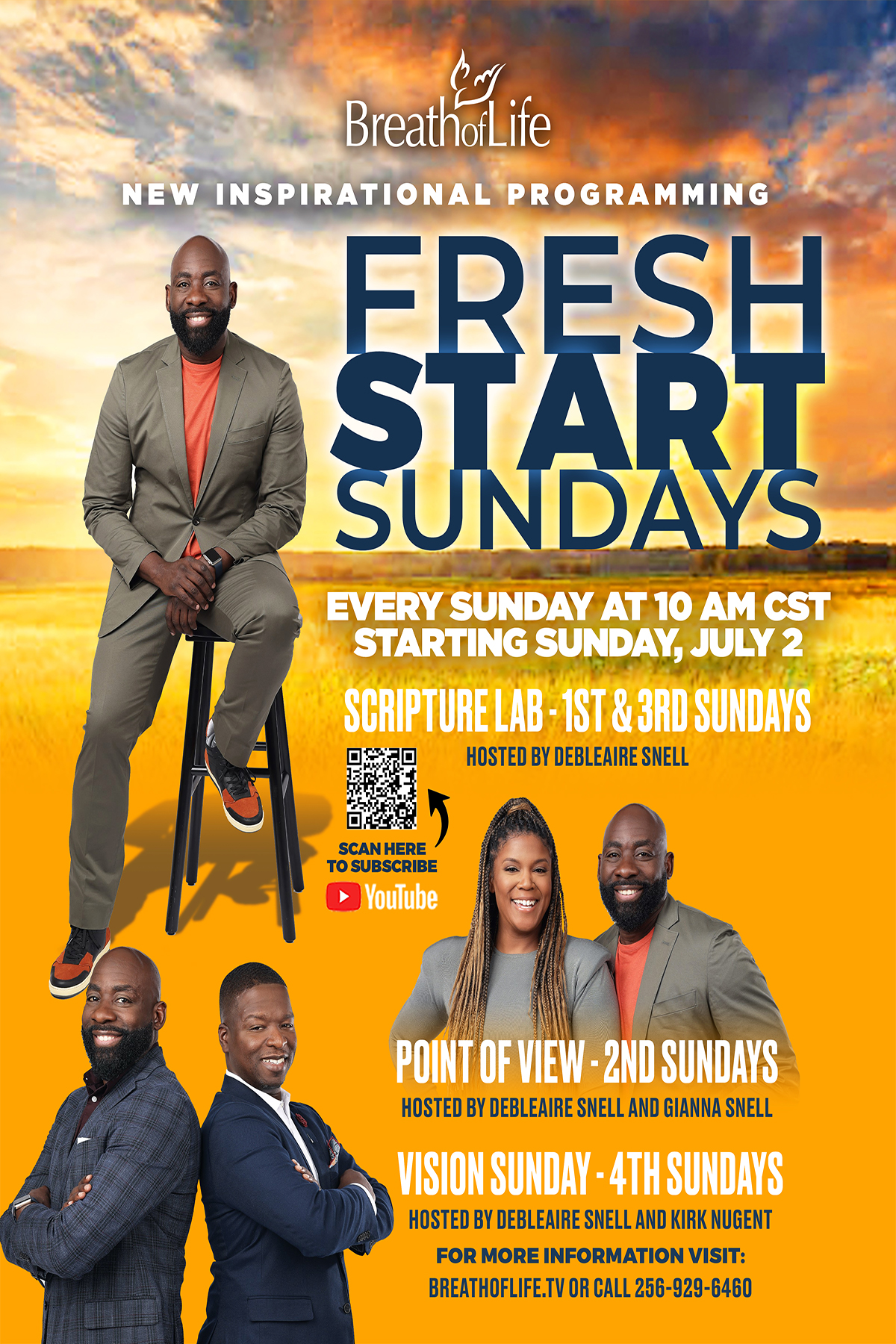 On Sunday, July 2, 2023, Breath of Life Ministries will launch a new YouTube series called "Fresh Start Sundays." Each Sunday, at 10 a.m. CST, viewers will receive a spiritual boost for the new week.
"A lot of people dread Mondays and loathe the start of the new week. We wanted to create a platform for people to get inspiration as they begin each new week," said Pastor Debleaire Snell, speaker/director for Breath of Life. "We also wanted to create a credible forum where people could get additional spiritual nurture and have a trustworthy space where a biblical worldview would be espoused around marriage, leadership, and doctrine."
"Scripture Lab" is the show that will kick off each new month and air on the first and third Sundays. This show's host, Pastor Snell, will break down complex biblical doctrines and answer some of life's toughest questions using the Word of God.
"Point of View," a relationship show featuring Pastor Snell and his wife, Gianna, will air on second Sundays. Together, they will share and discuss different points of view commonly held by men and women. This show features experts in relationships, dynamic panel discussions, and real conversations.
"Vision Sunday" is for dreamers, entrepreneurs, visionaries, and ministry leaders. Hosted by Pastor Snell and Pastor Kirk Nugent, media pastor at Oakwood University Church, this show features interviews with successful individuals and teams who will share lessons on leading a vision-driven life. This show will air every fourth Sunday.
The "Fresh Start Sundays" series was recorded in Breath of Life's brand-new studio and is a fresh initiative for the ministry. Each show's average length is 60 minutes. Since they'll air on YouTube, viewers can comment on and share the programs in real time. The hope is that Fresh Start Sunday will not only bless the body of Christ but also be a first stop for someone searching for encouragement, hope, or faith.
"This new series of shows has something for everyone," said Snell. "Our hope and prayer is that viewers will leave encouraged and filled with strength for the new week and that this will be a new avenue for the message of Christ to reach the world."
To watch the shows, visit Breath of Life TV's YouTube channel, https://www.youtube.com/@breathoflifetv, and click "Subscribe."