There are many reasons why young adults become student missionaries (SMs), often pausing their college work, and their regular lives, to serve for a year or two in a place far from home. And as these five SMs' year-long assignments drew to a close, they shared their stories — what they've learned about themselves, their relationship with Jesus, and what it means to serve others.
A Small World—Evan McGraw, junior Business Administration major, Pacific Union College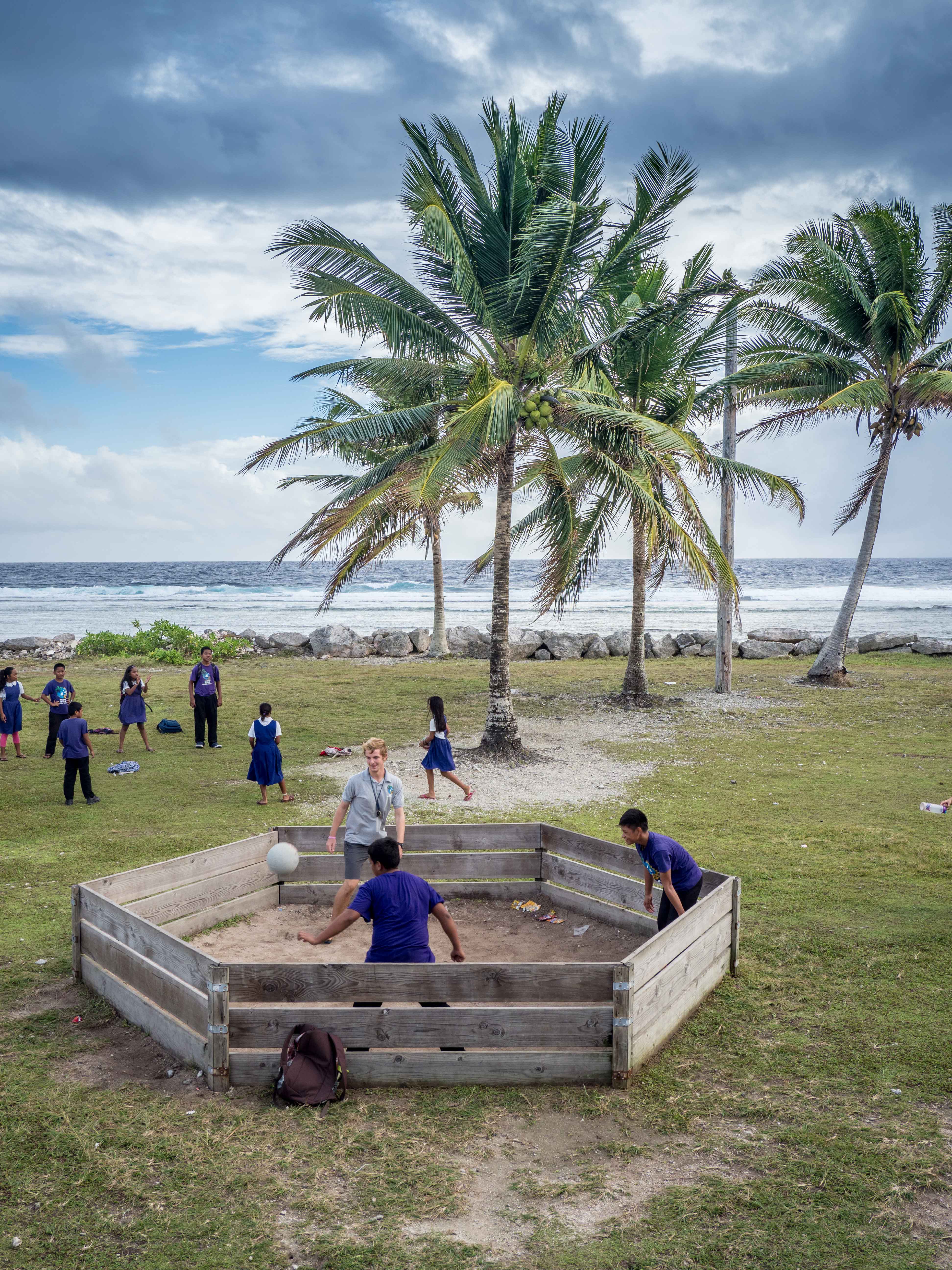 Gusts of wind swirled through the concrete hallway as we approached the upstairs classroom where Evan was straightening desks, tossing discarded sheets of paper into the trash bin, and ushering students out of the class. Promising to see the students later for the basketball game—or at school the next day—Evan shut the door, clipped a mic to his shirt collar, and sat down.
"I've always known I wanted to be an SM. I have always loved the ocean and the beach, and I knew I wanted to go to an island," says Evan as his gaze drifts outside to the ocean water breaking on the rocks of the coastline. "I did some research and found an accounting teaching job here." After several mix-ups, however, Evan was assigned high school social studies. He prepared for the task only to find, upon his arrival to Majuro Seventh-day Adventist School in Delap, that no one was teaching accounting. Evan was assigned both.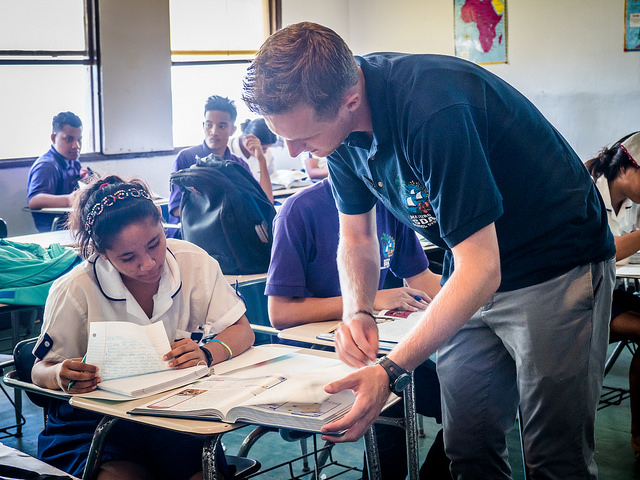 "It's exciting because I get to teach what I wanted to originally and I've been learning lots of Micronesian history, and Pacific Island geography, in order to teach," Evan explains. "The challenge with teaching has been with understanding the culture, which is both Westernized with pop music and professional sports such as the NBA, and modest at the same time. Also, the students find it hard to contain themselves sometimes, but when it comes to school work they can be unmotivated. Getting them to sit still, be quiet, to do their work has been the main challenge."
The Delap campus is in the center of the city, near a large hospital, the U.S. Embassy, and civic buildings, so the student missionary teachers don't have to go far to get any supplies they'd need. The church and new radio station are adjacent to the school and faculty living quarters, which, for Evan, creates a small, sheltered world.
"It's really cool, that you can just put your life on pause," says Evan. "Once you settle in, you have time to think about the stuff at home, to reevaluate and make sure you're on the right path. You have time to organize your thoughts, and find a path you maybe wouldn't have found if you were just at home doing normal things."
Evan has shared the highs and lows of teaching with his fellow SMs, and experiences such as snorkeling and swimming with dolphins, and helping with school worships, Friday evening vespers, and Sabbath services. "This year has been a growing up process," Evan says. "I've been able to work on leadership skills—doing presentations in class is going to be a piece of cake now."
Evan explains that one of his reasons for spending a year in Majuro was for the adventure. "I also wanted the personal growth and as an SM, you feel that call to just go help people. You have the drive to go do something different, and you want that real spiritual pick-up."
100 Percent—Lindsey Crumley, Sophomore, Southern Adventist University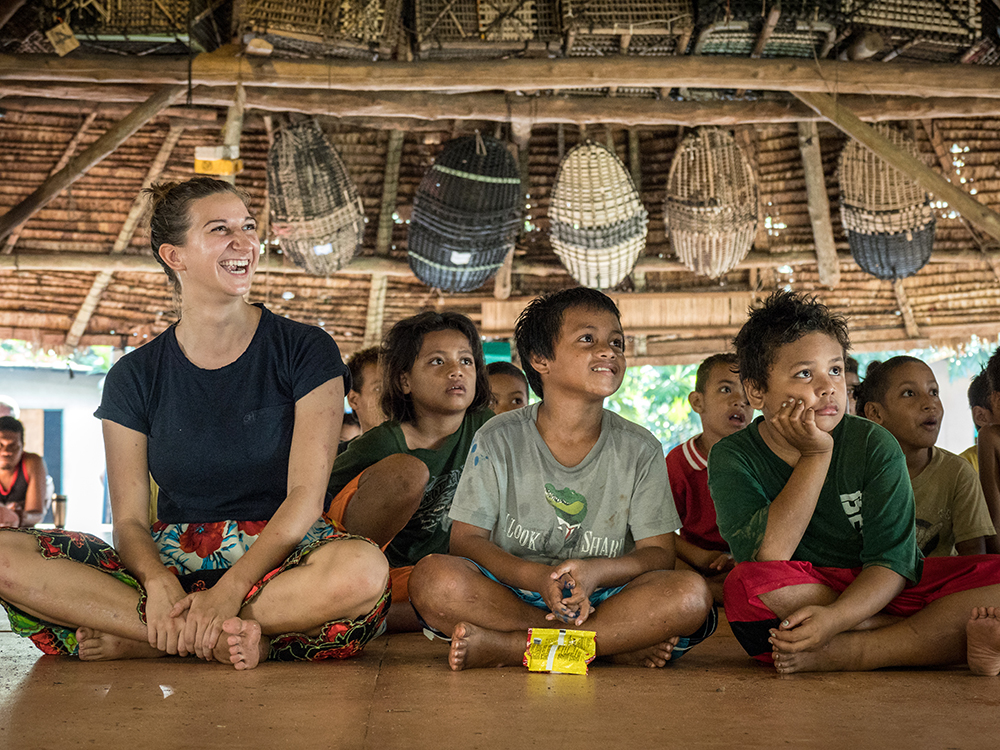 The gray clouds were pregnant with rain, but after a few days of living with the deluges in Pohnpei we gauged our time and set up the interview with Lindsey outside. She and I perched on the steps near the creek that runs the course of the campus, along one of the elementary school wings. Lindsey was always interested in mission work and always knew she'd be an SM. After high school, she joined Adventist Colleges Abroad through Southern and went to Universidad Adventista del Plata (River Plate University). Then she tried to find a mission assignment.
"After a year in Argentina, I wanted to do mission trips in South America. My time there deepened my walk with God, and really prepared me. But the doors kept closing and closing and closing. I was beginning to lose hope," says Lindsey.
Lindsey continued to pray, and felt that God was telling her to keep trying. She contacted a friend who was an SM in Pohnpei and he told Lindsey about several mission trips, but none of them panned out.
Then Lindsey went hang-gliding on a visit to Brazil. "I was like, Should I really be doing this? This is money that maybe I should be saving for something else," shares Lindsey.
"And I was talking about it with God and He said, 'This is your moment to decide. Are you going to jump 100 percent completely in and trust me, are you going to jump off the edge and trust that I'll catch you—or are you going to hang back?' And I realized that was a parallel for coming here."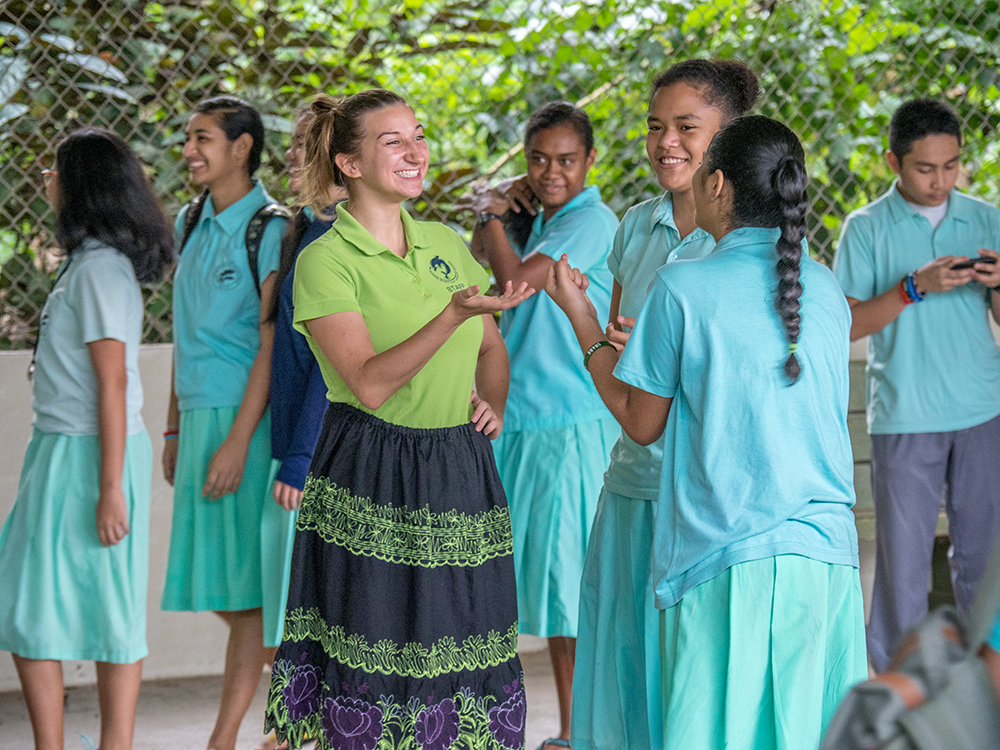 It was less than two months before the start of summer classes at Pohnpei Seventh-day Adventist Mission School and Lindsey didn't have any money, or any way to get to the mountainous island. "I want to be in a situation where I had to trust God all the way. And so, I did. I took that leap and He caught me and the money came through, the flights came through, the tickets came through. After the summer, I fell in love with it and couldn't just leave."
A position opened and Lindsey was able to teach high school English for the 2017-2018 school year. She has students who hardly speak English, others who understand well, some students who are boisterous, and others who' rather sleep through class. But each school day, those students have worship with Lindsey—and she connects with them. And later, some of those students come to her for help.
"I had a couple students who came to me after the first month or two of school and were going through terrible depression and were suicidal. And I had to 100 percent lean on God through that for what to say, when to say it, how, and when should I put them to Him and when should I be talking to them," says Lindsey. "I definitely don't feel worthy to be here. That is a situation that is so far over my head, I've had to put it 100 percent in His hands."
Lindsey may pursue global communication at Walla Walla University. She still wants to be involved in mission, but in planning and creating programs. "I love this kind of work. I want to be a tentmaker, a Paul. I want to run around the country to different cities and just help those churches and to be able to minister to those people. I'm looking for a degree that will help me change the world. I'll take the leap of faith and see where the Lord is leading."
Career Path—Madeline Ringering, junior Elementary Education major, Walla Walla University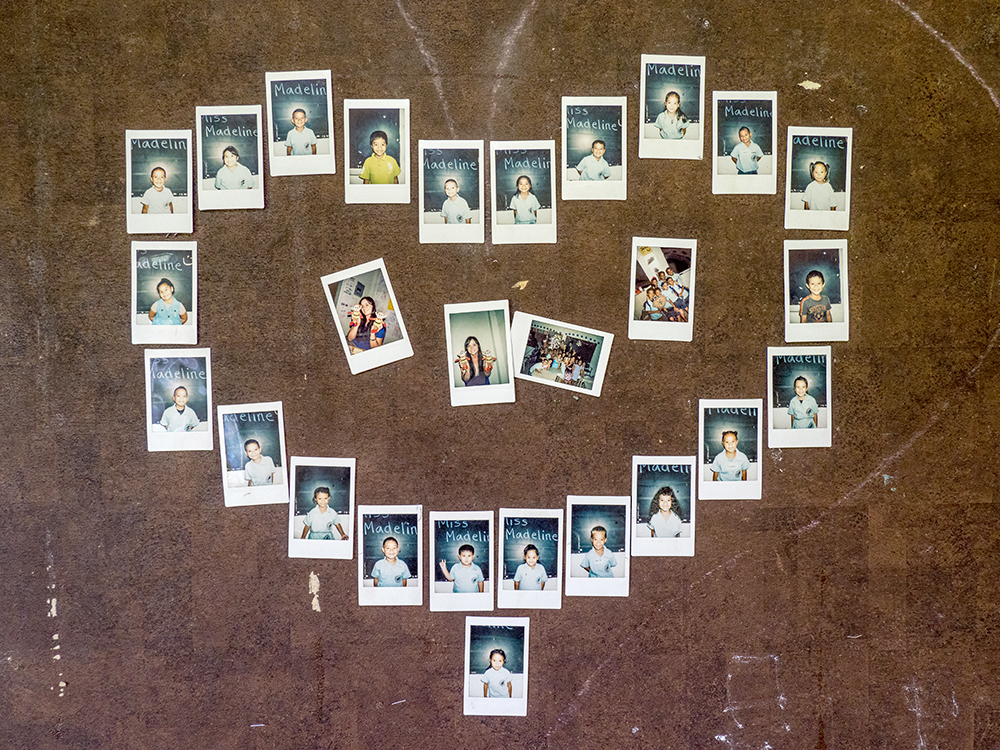 Wide wooden planks serving as benches under a roofed seating area near the staff and faculty apartments at Pohnpei Seventh-day Adventist Mission School gave us protection from the tropical sun. Taro, the spunky, little black campus cat, weaved around Madeline, pressing her head to the SMs hand. Grabbing the cat, Madeline gently put her on the ground and explained how she—the SM—likes the hot weather and loves the people.
"I'm more of a summer girl," says Madeline. "It's very different than Washington. And it's not just the weather. I call this my island home. The people are so respectful, they're more loving to visitors—and they're not in a rush. It's definitely island time, and just a lot of love."
As a sixth grader, Madeline went to a basketball tournament with her older brothers. SMs who had recently returned gave their testimonies. "I heard those testimonies for years and wanted to be an SM too. Finally, after two years of college I felt like God was telling me I was ready."
Says Madeline, "It's my first time away from home without any of my family members. I was anxious coming here, but I felt a peace once I got on the plane. God really wanted me on this plane, I thought."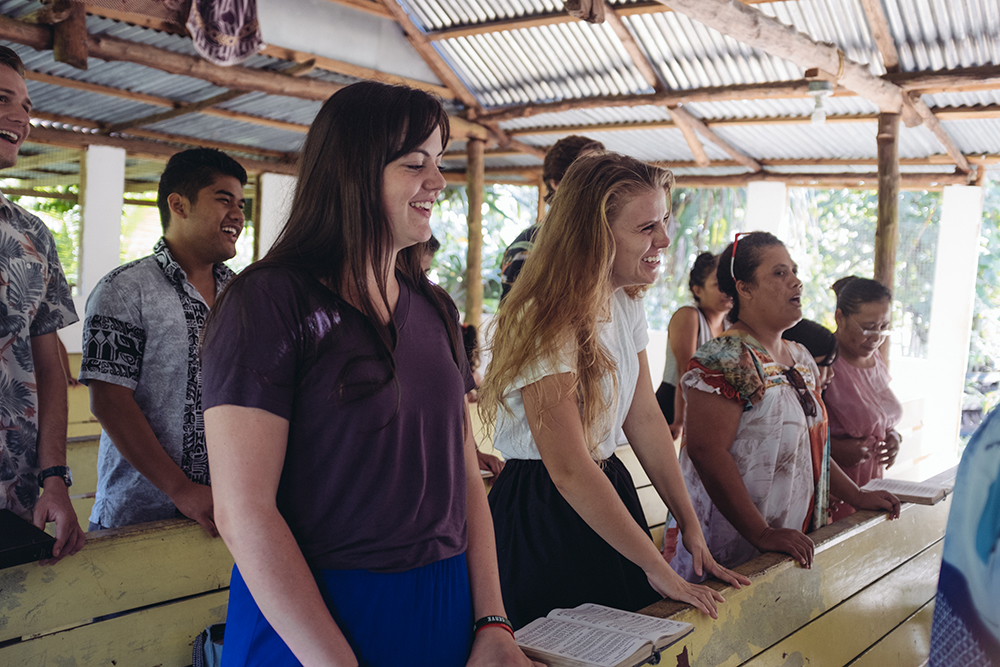 After almost a year teaching first grade, Madeline blinked back emotion when asked about her class.* "I absolutely love them; sometimes I feel like they are my kids," Madeline says. "I have 22 of them, the biggest class in the elementary [school]. They are such a blessing and I love teaching them classwork, and teaching them how to pray and more about Jesus. . . . It's fun to watch the bulb light up in their brain, knowing I helped that happen."
Teaching her students has helped Madeline too. "I know I am on the right career path. I feel that I'm doing something—helping change [the kids], and helping them grow."
That isn't to say that there aren't tough days on the island, when the SMs deal with frustrations. "Some people struggle and are negative, and it could be running out of water or food, dealing with the bugs, or challenging times with students," Madeline explains. "But we pray a lot. At staff worship in the morning, throughout the day with my students. . . . I feel like my walk with God has become a lot stronger. I'm more optimistic in life. And I just feel God all around."
Where Loves Come In—Hannah Gregg, junior Graphic Design major, Union College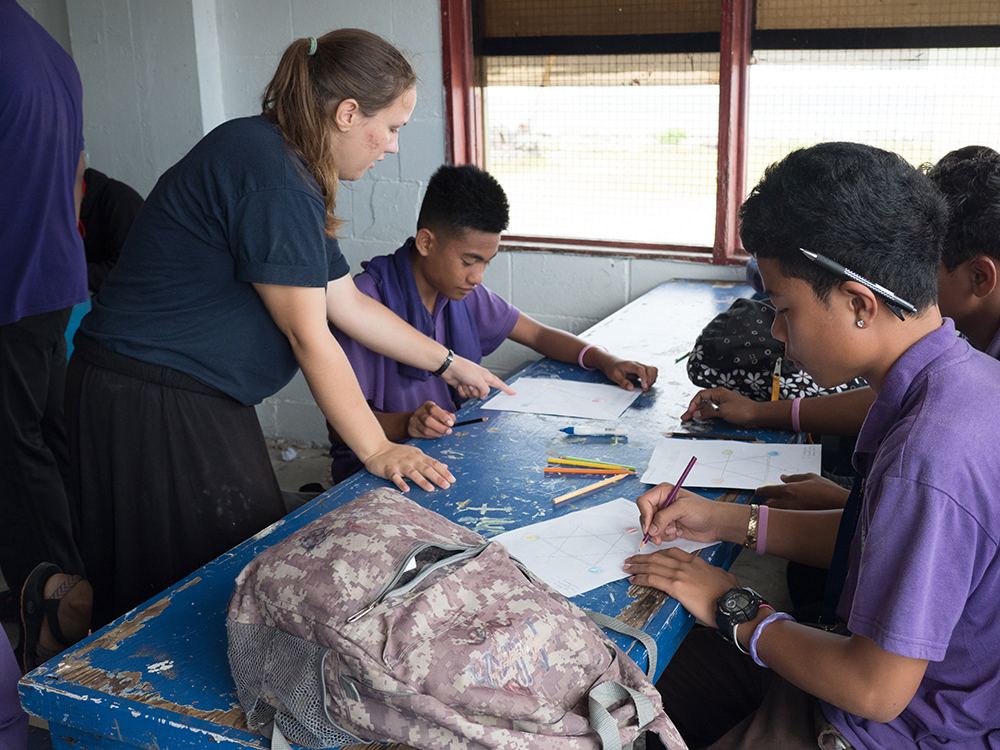 A strong, dry wind whipped around us as we sat outside the lower level elementary school classrooms at the Delap Majuro Seventh-day Adventist Mission School. Hannah, serving as the art teacher, had just finished classes for the day and, after seeing 400 students throughout the week, a break on the bench was welcome.
"Majuro wasn't my first choice," says Hannah. The SM wanted to be a student missionary in her freshman year but a serious knee injury caused her to postpone those plans. Hannah kept applying; Majuro was near the bottom of her list. But her other choices were not working out and after lots of prayer she talked to a professor. He told her she should apply for the art teacher position, which she did, and was accepted the next day.
"I never considered teaching art—coming here was a God thing," Hannah says. "And so far, I've been around a lot of great people. The other SMs I've met have really changed the way I think about myself and the work around me."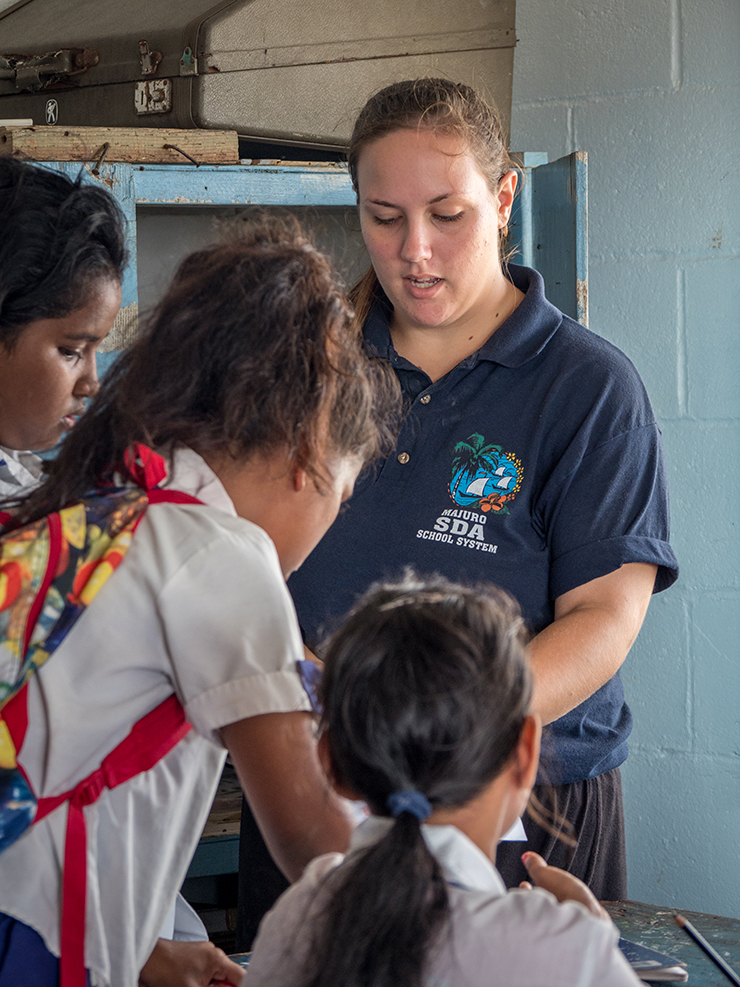 Bonding with the other SMs in the program has helped prepare Hannah for teaching art and being a support for the students, K-12. While the younger children just love art, and get excited about what she's teaching them, some of the older students have confided in Hannah about being victims of bullying and other problems. "I have no idea what these kids have gone through, they are things I won't ever understand, but it's been cool to be able to talk to them and help them in some small way.
"I do struggle with my faith, and my life in general. It's good for a person to be in situations where it's hard and then realize we can't do anything on our own. . . . I've been praying a lot about that too. God is always there, and I recognize it.
"I say this a lot: I think I'm learning more about myself than my students are learning from me." Hannah adds, "We're going to make mistakes. We're human. We're not perfect even if we really want to be, and that's where God comes in, where love comes in. As I tell my students their work doesn't have to be perfect, I've been learning the same lesson."
Rooted in Mission—Alex Chang, Biochemistry/Pre-Medicine major, Pacific Union College
"I've had the opportunity to be on eight different mission trips, and all of that has been leading up to this year abroad in Pohnpei," says Alex. "Missions is really in my blood."
Alex's great-grandfather, who became a pastor, was one of the first Adventist converts in China. His grandfather was a long-time missionary in Southeast Asia, and later a pastor in North America. His father is one of the mission trip coordinators for Alex's home church in California. "It's been a fulfilling to be here," explains Alex, "I feel like I'm connecting to my roots."
After developing a keen interest in mission work in high school, Alex felt God leading him to spend a year as an SM after his junior year of college. "God planted His seed in my heart, and I was impressed to come."
Alex is a high school Bible teacher at the K-12 mission school where more than 300 students attend. And he doesn't regret a moment of his time in Pohnpei. "A lot of people who go be student missionaries are excited for the adventures, and they're excited for all the cool outdoor activities they can do wherever they're being sent," shares Alex. "And while that's definitely a big part of it, my favorite thing is actually the students.
"I really was not prepared for how much I was going to love these students. I wasn't prepared for just loving every moment of being with them in the classroom, having the opportunity to really talk about God for six hours a day with them. It's ended up being the best year of my life I've experienced so far."
Alex continues, "I have a favorite quote: 'God doesn't call the qualified, he qualifies the called.' It's been special to see the way that God opens doors; the opportunities He gives me and all the SMs around me to be involved in the students' lives, to be involved creating new programs for them, and to really make deeper relationships and deeper connections in a place halfway across the world."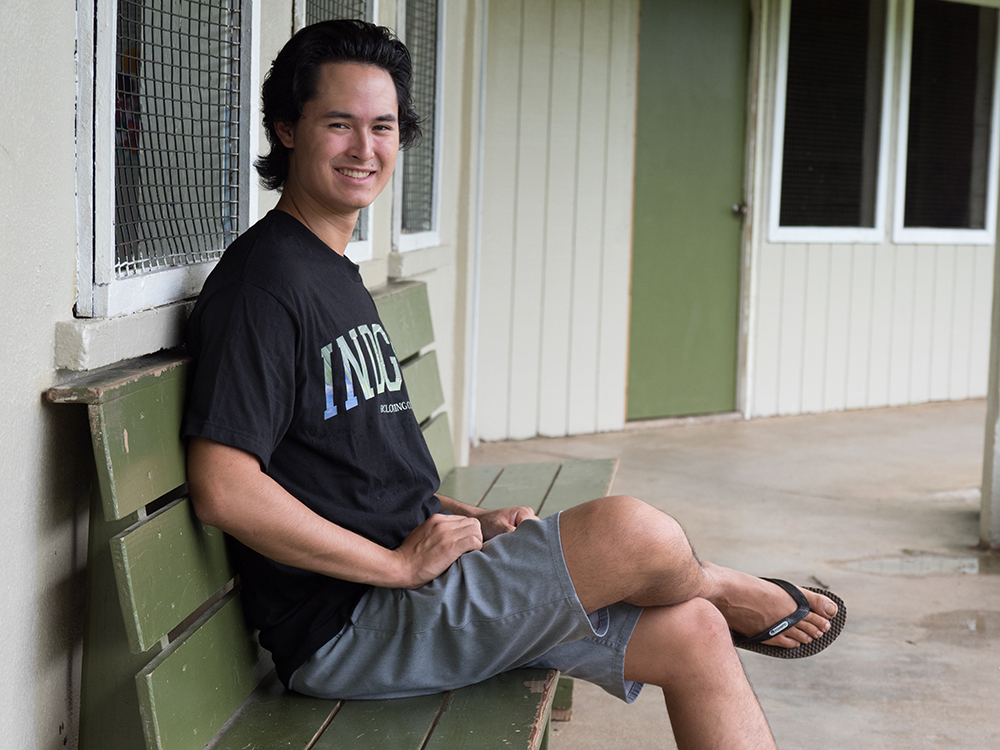 Leaning forward, Alex has advice: "Everyone should be a student missionary at some point in their life. There's definitely a paradigm shift that comes from being a student missionary. When your life is dedicated to service, when your life is focused on others, when your life is focused on sharing Jesus with other people, it changes your life. You don't go home the same. You go back home someone with a lot more experience serving the Lord. You come back as someone who has seen the awesome ways that God has worked. You've seen prayers answered."
Alex, and these other student missionaries are living the Great Commission (Matt. 28:19-20). These experiences not only help others, they change the SMs. "Give God that year of your life, and He will take that space and time and really bless it," says Alex. "He will help you grow, and you will see the awesome ways that He works in your life, as well as the lives of the people around you."
* Since our interview, Madeline Ringering has decided to continue as an SM for one more year. She plans to teach second grade next year, staying with the same group of students.
— Kimberly Luste Maran is editor of NAD NewsPoints.