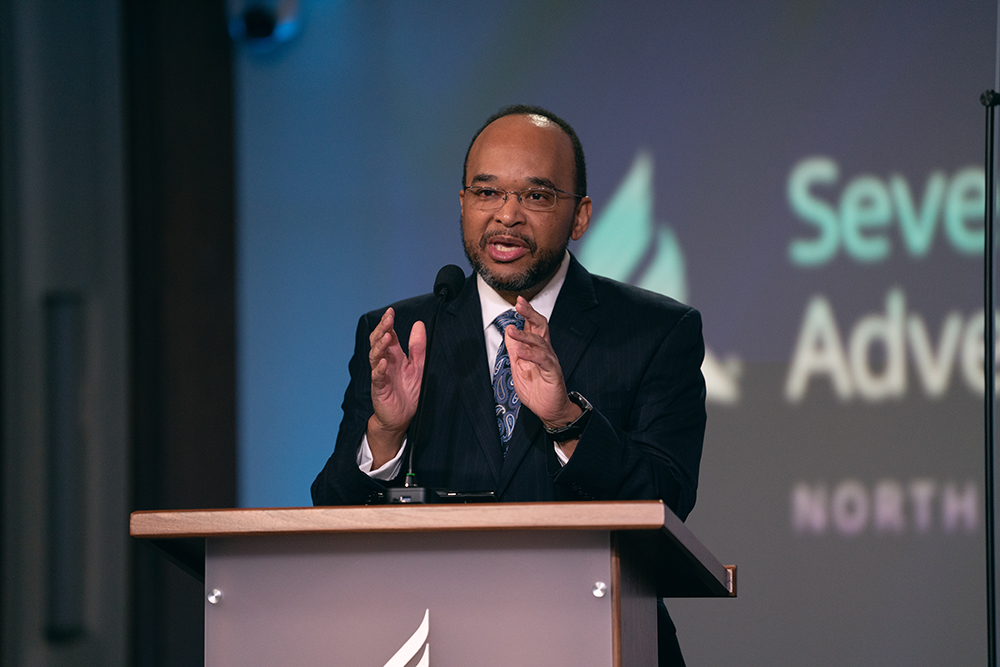 The fifth day of the North American Division's year-end meeting on Monday, Nov. 1, 2021, opened with an inspiring rendition of "Victory Belongs to Jesus" presented by the students of G.E. Peters Elementary School in Adelphi, Maryland. Maurice Valentine, NAD vice president for media, followed with a devotional talk. Valentine spoke on the story of the lame man of the Bible being healed, then leaping for joy and telling everyone he met about his Healer.
"My prayer is that each and every one of us will have that joy," he concluded. "That we [will] want to share the love of Jesus throughout the North American Division."
The treasurer's report came next. Led by NAD treasurer Randy Robinson, the presentation also included various reports from committees and the General Conference Auditing Services, as well as the Adventist Church in Canada and its finance committees.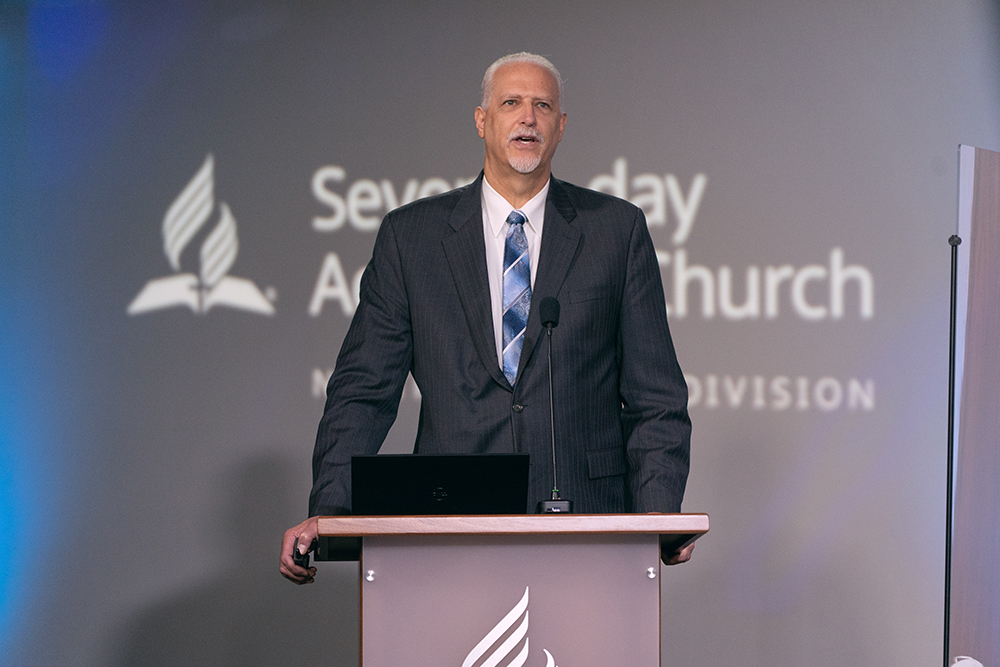 Focusing again on the NAD's vision for the next four years — multiply, media, and mentorship —G. Alexander Bryant, NAD president, pointed out that we can do more together than we can individually. The hope, Bryant said as he introduced the discussion topic for the day, is that churches, conferences, and unions across the NAD will cooperate and collaborate in finding ways to more effectively use media.
Brent Hardinge, new director for Adventist Information Ministry (AIM), shared the ministry's mission for 2022, which centers around incorporating a customer relationship management (CRM) system that will allow the church in North America to seamlessly and effortlessly connect individuals who express interest in Christ and the church with those who are devoted to following up on them.
"COVID has shown us that the time for digital missions is not in the future," Hardinge said, "it is now."
This was followed by a brief meeting of the NAD Corporation, which was defined and explained by Karnik Doukmetzian, general counsel for the NAD, as existing for the purpose of allowing the NAD to function in legal situations, such as opening bank accounts and holding titles to property (such as their building). The purpose of the meeting was to vote in newly-elected members and officers to the board of directors, which was moved, seconded, and approved via electronic vote.
The Digital Realm
Throughout the day's meetings, various representatives of church ministries shared statistics demonstrating how prevalent use of the Internet, apps, and texting is, thereby indicating that these areas must be prioritized by the church. 
"The digital realm offers the biggest platform to share Christ that the world has ever known," pointed out Adam Fenner, director of Adventist Learning Community. "We just need to be intentional about how we do so."
Fenner then presented a list of ideas and opportunities for the NAD to be involved in digital ministry and digital discipleship, after which Valentine introduced video presentations from all seven of the NAD's legacy media organizations: Faith for Today, LifeTalk Radio, La Voz de Esperanza, Jesus 101, Voice of Prophecy, Breath of Life, and It Is Written.
Switching gears, the next segment of the meetings was presented by Kevin Lampe and Greg Dunn of Kurth Lampe Worldwide, specifically focused on branding. Topics included denominations as brands; the Adventist Church and external media; the difference between branding and marketing; the science and art of persuasion, the power of collaboration, and social media thought starters.
"How do people see the Adventist brand?" Dunn asked. "People need a better and clearer understanding of who we are and what 'Adventist' means, and we have the ability to shape that understanding, particularly through the use of media."
The panel then fielded questions about video baptismal study guides, search engine optimization (SEO), how to control what people see and hear about the church online, and how various entities within the NAD can be better informed of what others are doing so everyone can have better access to resources that already exist.
Dunn shared that their intention is to spend the next couple of months with NAD administrators putting together a deliberate and intentional process to get the Adventist brand in front of more people across the NAD territory.
A brief presentation by Julio Muñoz and Kimberly Maran, associate directors of the NAD communication department, included a set of three intense 30-second videos centered on the theme of "Rest." The videos were meant to be representative of how ideas can be executed in effective ways to speak to issues most people are dealing with.
"This is just one idea," Muñoz said, "but it gives us an idea of what is possible when we collaborate."
Another segment of time was dedicated to inspiration from breakout sessions centered on questions posed earlier in the meetings about branding, total member involvement, media, discipleship, and others. Each union shared briefly what their groups discussed.
"We're not asking people to reinvent the wheel," Bryant explained; "we're just asking everyone to consider the common ground we all have, and how we can come together to share our united message with our individual networks."
Near the end of the day's session, attendees were asked to vote on their top responses for the following questions, all taken from discussion points shared by unions earlier in the day:
How can we increase member involvement in the mission of the church?

How can we increase disciples in the church?

How can we multiply our impact/influence on the community?
Top responses included: Be intentional about building relationships; engage and empower young people in the mission; focus on the needs of the community; and educate laity to interact with others digitally; among others.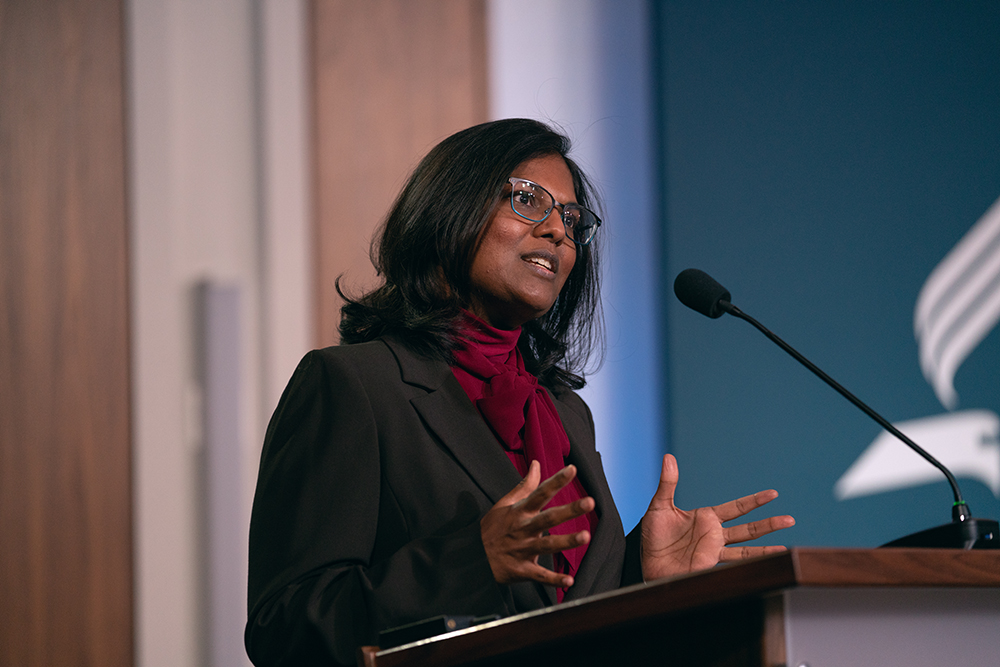 Mental Health
Angeline Brauer, NAD Health Ministries director, closed the day's session with a presentation on mental health and wellness. She stated that "the NAD is restoring mental health and wellness."
"It's a bold statement," she admitted, "but I'm confident in making it because I know we serve a faithful and powerful God who has called us to serve this very need."
During the pandemic, Brauer pointed out, the number of people experiencing mental health issues increased dramatically. 
"The church has a holistic approach and message for those who are struggling," she said, sharing a list of resources and upcoming events centered on mental health and wellness.
Preview of the Last Business Session
Bryant closed the session with an overview of what would be discussed at the following day's session, and a request for intercession.
"We ask for your continued prayers for God's spirit to be poured out upon the church, and us individually," he concluded. "Pray that God will give us the wisdom to know how we can best reach the people and tell the people in our communities about the love of Christ. He has promised us His Holy Spirit; we just have to be open to receiving it."
Closing prayer was offered by Arkeisha Lewis from the Southern California Conference.