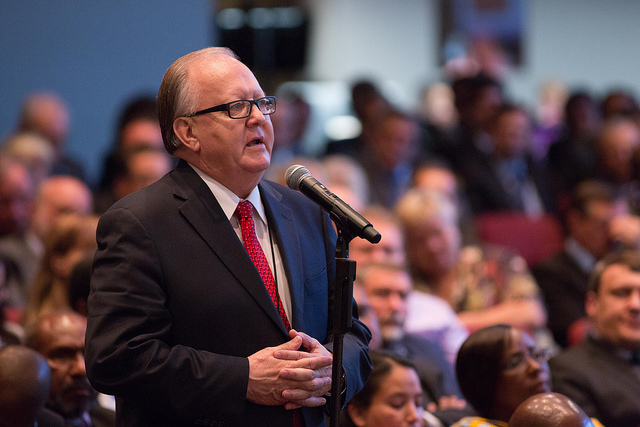 Oct. 9, 2017, Silver Spring, Md.: At Annual Council meetings this afternoon, about six hours of discussion on the 14-page "Procedures for Reconciliation and Adherence in Church Governance: Phase II" ensued after the document was read aloud.
If the document was voted/approved, all GC executive committee members registering for the 2018 Annual Council (and annually afterward) would be requested to sign the compliance statement that is part of the document.
According to an Adventist News Network/Adventist Review news article, the document outlines the second phase of a process of reconciliation voted during last year's Annual Council that sought to initiate standard procedures for maintaining church unity in matters involving non-compliance. Areas addressed include Fundamental Beliefs, voted actions or working policies of the church. Phase I, voted at the 2016 Annual Council, sought to provide a "pastoral" approach involving dialogue and a greater understanding among those involved.
In the news report, the Phase II document is described as emphasizing the executive committee's commitment to "preserve the governance and organizational structure of the Seventh-day Adventist Church on all levels" in the context of "godly forbearance, Christian charity, and redemptive grace." Introductory paragraphs also highlight a commitment on the part of the GC executive committee to "the continued forbearance and discussion process," which offers "additional time to find solutions." 
The document is divided into two sections: section A describes noncompliance and introduces section B, results of noncompliance outlined. Ellen G. White quotes from The Desire of Ages and Testimonies series comprise two pages of the document as well.
After the lengthy discussion lasting past 7 p.m., a vote to accept a motion to refer document back to Unity in Mission Oversight committee was taken. With a vote of 184 yes, 114 no, the document now goes back to the committee. A vote on the document will wait until the next Annual Council in 2018.
—NAD Office of Communication
CLICK HERE for the ANN/AR news report and a link to the document; CLICK HERE for the NAD Flickr photo album of the business session.