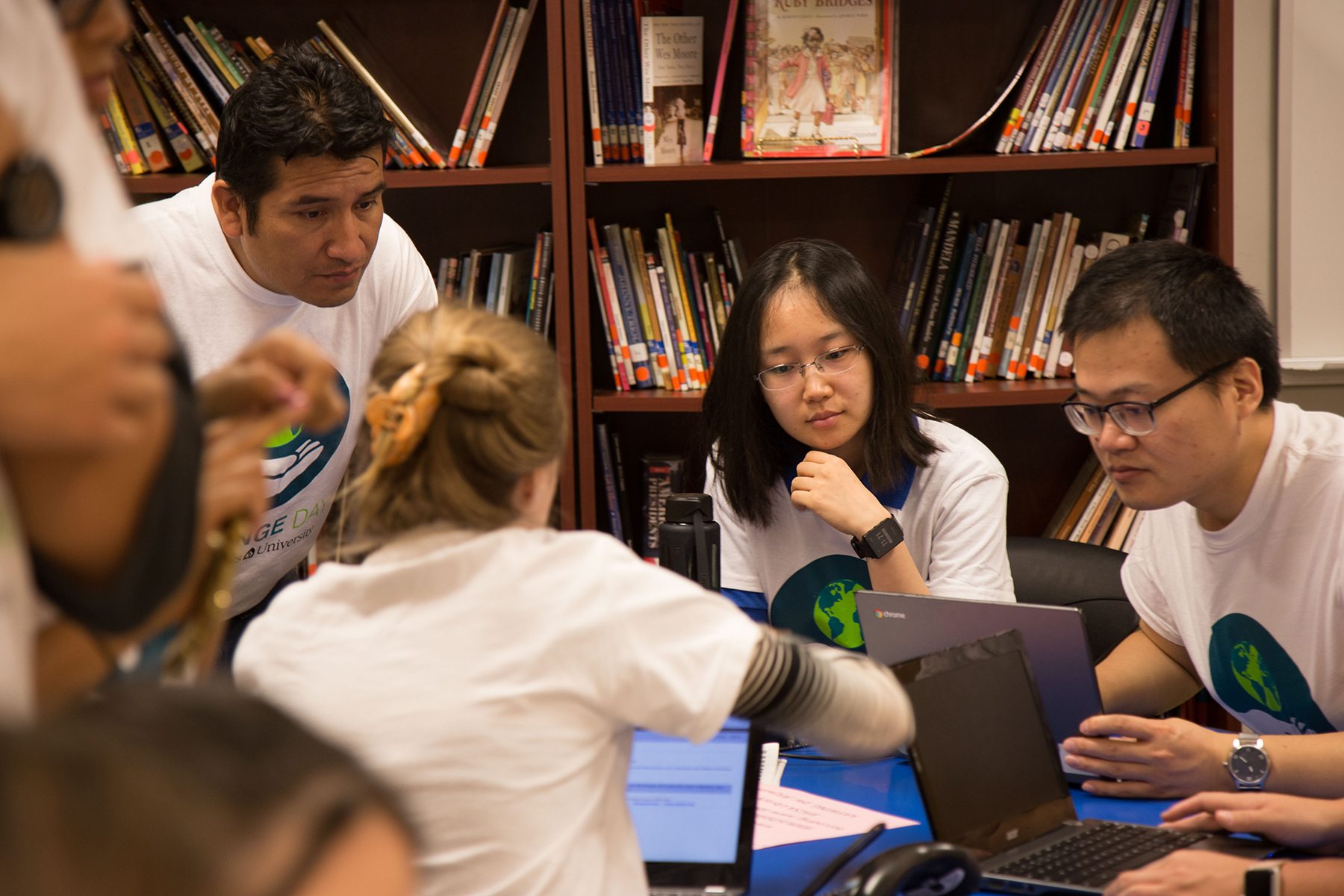 On Sept. 13, 2018, Andrews University held its second annual Change Day. Approximately 1,400 Andrews University faculty, staff and students worked at 70 sites across seven neighborhoods and two counties.
Andrews classes were canceled and many offices were closed until 3 p.m. to give the campus community an opportunity to join in service. Participants gathered at 9 a.m. on the Andrews flag mall to eat breakfast and have worship before traveling out to their various project sites.
Vicki Wiley, executive assistant to the dean of the School of Education, shares what it was like to start off Change Day. "It's great to feel a part of something so big as Change Day, where we know we're making a difference in the community and being changed ourselves," she explains. "Seeing hundreds of faculty, staff and students all over the flag mall at Andrews all wearing the same shirts is empowering! Then as we head out to our places of service we feel like we're an army of people serving God in practical ways."
Project sites included the YMCA in Niles, the Curious Kids Museum, Habitat for Humanity, the Eau Claire District Library, Shamrock Park and the Benton Harbor Public Library. Tatiana Correa, a second-year MDiv student at Andrews University, coordinated a group of 25 volunteers who led diversity training for second and third graders at the Hull International Academy in Benton Harbor, Michigan. "We talked about what diversity meant, where we came from, and the beauty of being different," she reflects. "Their smiles and interesting questions made the day fun and one to remember."
Other participants completed various tasks including cleaning headstones at the Silverbrook Cemetery in Niles, shoveling out animal stalls at the Berrien County Youth fairgrounds, cleaning out the storage facility and packing donated food at God's Abundant Food Pantry, and helping in the classrooms at Mars Elementary School. Some also washed windows, removed undergrowth, picked up trash, organized classrooms and painted buildings.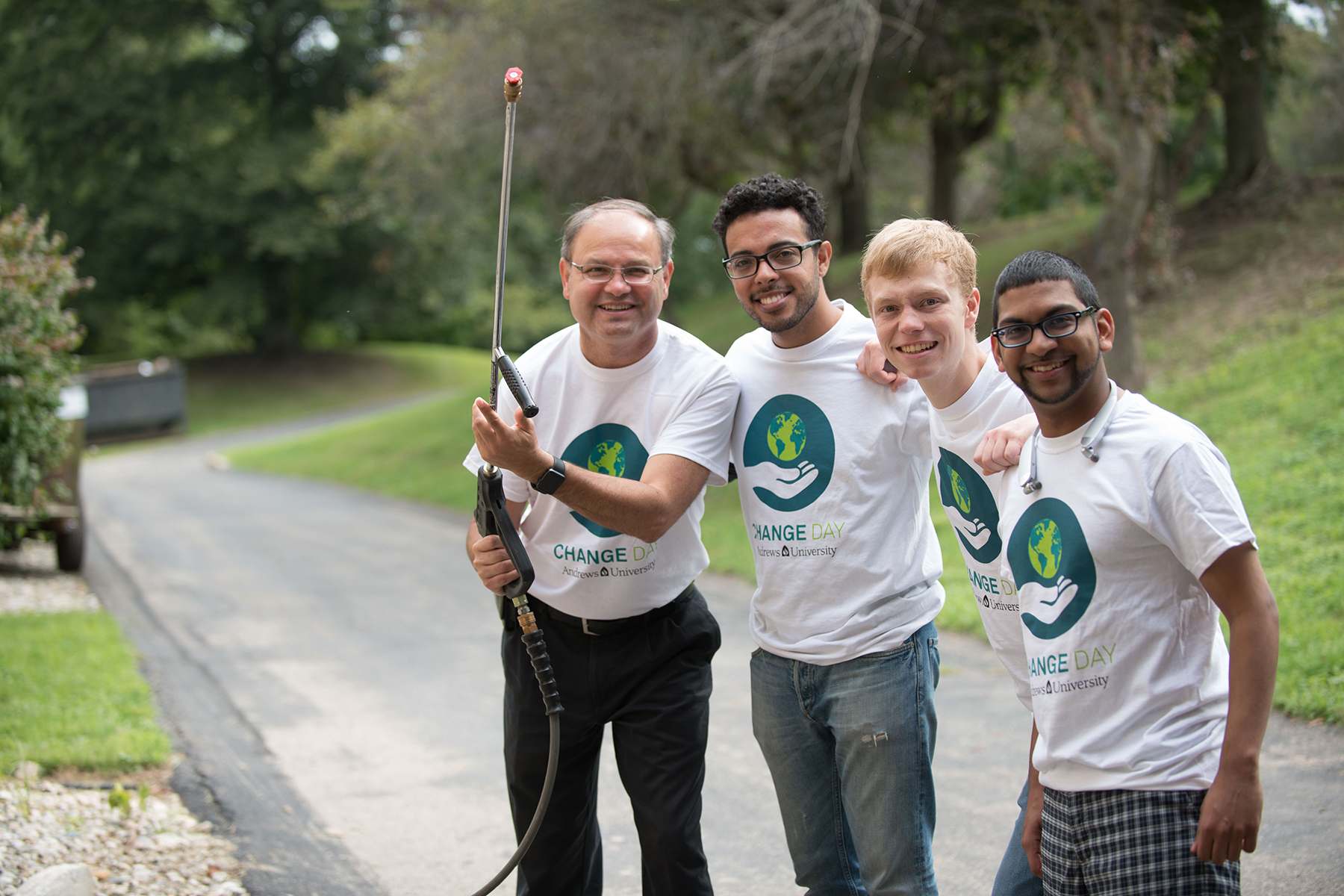 Michael Nixon, vice president for Diversity & Inclusion at Andrews University, says, "I led a team at the Coloma/St. Joseph KOA Campground site for the second year in a row. One of the most rewarding parts of the experience was having Mark Lemoine [Campground owner] take our brand-new team — I was the only holdover — to the site of our project from last year so that he could show us the dramatic difference we made to that part of their grounds. It was a reminder to me that we never know how far even one good deed will go in transforming the lives of others and the spaces that they occupy. I look forward to going back to the KOA site next year to continue contributing to the needed projects there as well as checking in on how our previous work has blessed the lives of those who visit each year (last year they had visitors from all 50 states as well as 11 different countries)."
The inspiration behind Change Day comes from Andrews University's mission to "Seek Knowledge. Affirm Faith. Change the World." Last year Andrews held their first Change Day on September 14, 2017. On that day over 1,500 participants worked at 63 sites across Berrien County on projects ranging from painting a mural in a school to cleaning beach areas and parks to offering hundreds of high-school students information about career choices. Each Change Day is a way for Andrews University to give back to the local community through service.
Teela Ruehle, assistant director of Service & Missions and Change Day coordinator, summarizes her response to Change Day. "It was an amazing experience to be able to connect with our community and provide help where it was needed, from pulling weeds to painting schools. It was such a good reminder that serving others and volunteering is not just beneficial to one person or group, but it helps all those involved grow to be better individuals. I can't wait for Change Day 2019!"
Founded in 1874, Andrews University is the flagship institution of higher education for the Seventh-day Adventist Church and offers more than 200 areas of study including advanced degrees. Its main campus is in Berrien Springs, Michigan, but the university also provides instruction at colleges and universities in 19 countries around the world.
— Hannah Gallant is a student writer for Andrews University Communication.