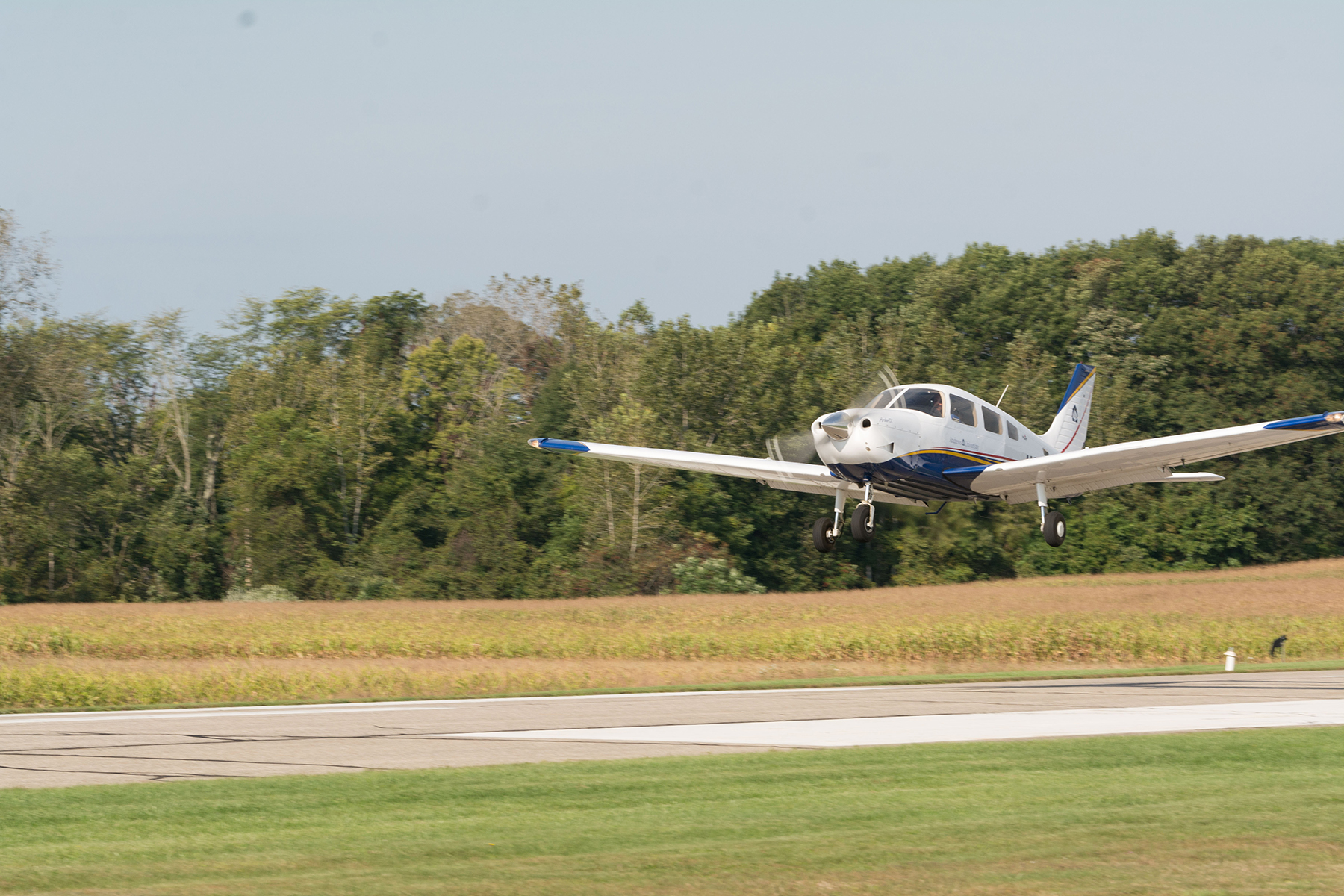 The flight hours required for students in the Andrews University department of aviation to qualify for an airline pilot license, or Airline Transport Pilot Certificate (ATP), were reduced as authorized by the Federal Aviation Administration (FAA) from 1,500 to 1,000 for students in bachelor's degree programs, and from 1,500 to 1,250 hours for students in an associate degree program. The reduction saves 500 and 250 hours respectively of related cost and training that students are usually forced to acquire after completing their undergraduate programs.
The university received a Letter of Authorization from the FAA on Oct. 19, 2018 stating that Andrews is authorized to "certify graduates for a restricted privileges Airline Transport Pilot Certificate (ATP) with reduced aeronautical experience." According to the FAA, the restricted privileges ATP certificate will allow students to be hired by airlines as co-pilots until they obtain the industry's standard of 1,500 flight hours.
"We are the only Adventist flight program to have this reduction in flight hours—it saves approximately a year's worth of time for our students between their graduation and working for the airlines," said Duane Habenicht, airpark manager and chair of the department of aviation.
Andrews University's authorized majors include bachelor's degree programs in aviation management with a concentration in flight, aviation flight and maintenance, and aviation with a concentration in flight; and its associate degree program in aviation with a concentration in flight.
"Most of our students, if they go through our program the way it's designed, are able to graduate with 700–800 hours of flight time completed," continued Habenicht. "Graduates would need an additional four–six months of additional flight time before taking the airline exam, though a few especially ambitious students have completed all of their hours before graduation."
According to a mandate by Congress, students pursuing a basic airline pilot license must complete 1,500 hours of flight time to be eligible to take the airline pilot exam to receive the certificate. At the request of airlines, a few amendments were developed, including an exemption stating that students completing a four-year certified university bachelor's program would only be required to complete 1,000 flight hours, and students completing a certified associate program would only be required to complete 1,250 flight hours if the university's aviation program was authorized by the FAA.
Five years ago, Andrews began the process of becoming a certified flight school, first completing private and instrument requirements, then completing commercial flight requirements last fall. Andrews submitted certification paperwork and the FAA evaluated all classes taught as part of the program to be sure certain criteria were met.
"Our goal is to provide our flight students with state-of-the-art training that culminates with pilots that demonstrate outstanding quality in the industry," said Ralph Trecartin, associate provost and dean of the School of Business Administration. "This latest Letter of Authorization from the FAA is equivalent to a seal of approval. It shows that we are accomplishing our quality goals. While we focus on quality, we are also concerned with the costly nature of aviation training."
Trecartin also emphasized the ability for aviation students to give back to those around them. "Our mission is to help train students for ministry and service to others," he said. "It is our hope that many of our students will choose to receive certifications in both aviation maintenance and aviation flight. We believe that our students can live lives of dedicated service to others whether in the most advanced airlines or in the most primitive airfields of the world."
Founded in 1874, Andrews University is the flagship institution of higher education for the Seventh-day Adventist Church and offers more than 200 areas of study including advanced degrees. Its main campus is in Berrien Springs, Michigan, but the university also provides instruction at colleges and universities in 19 countries around the world.