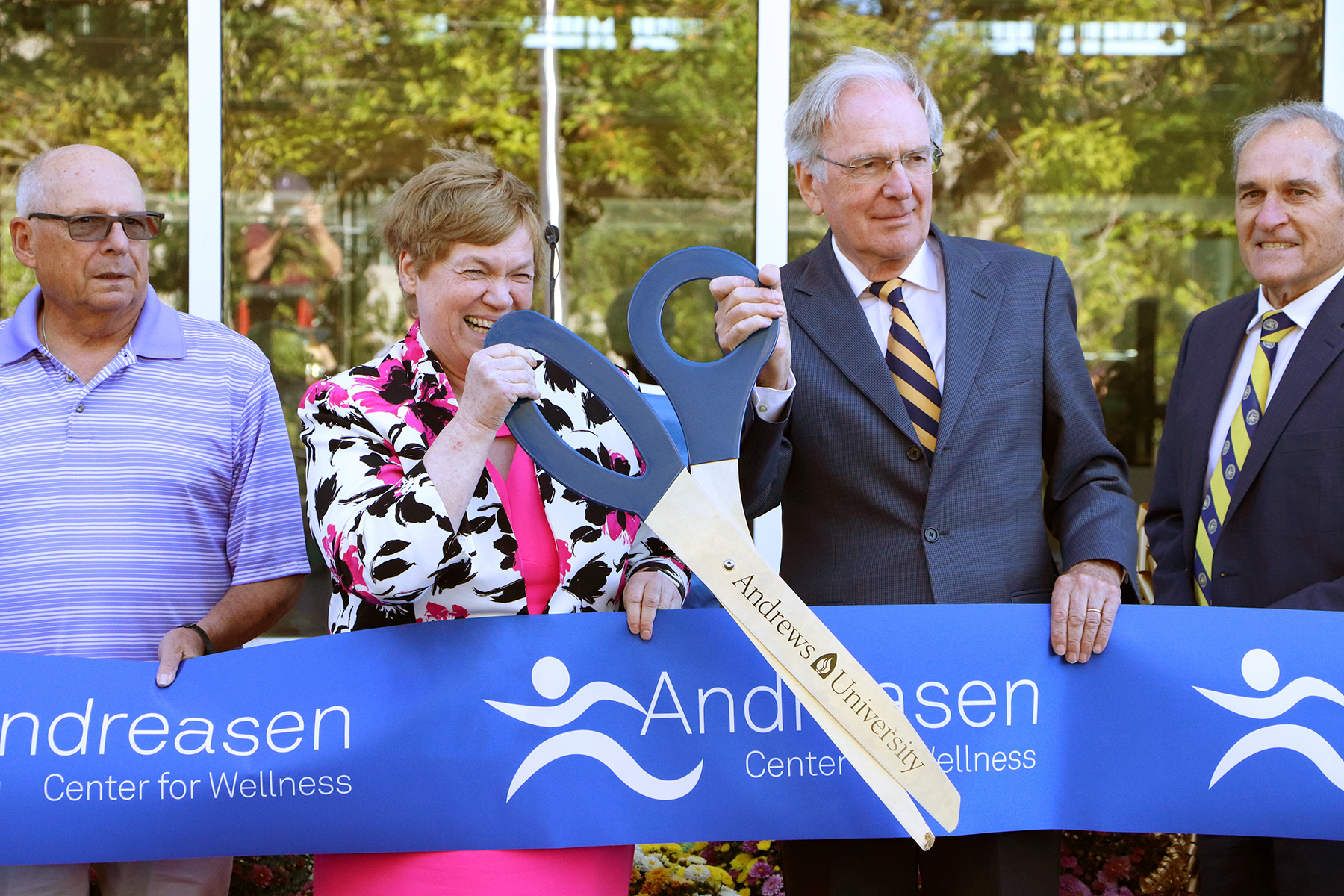 Hundreds of individuals from the Andrews University community gathered in front of the Andreasen Center for Wellness for the Ribbon Cutting Celebration that took place on Thursday, Sept. 26, 2019.
The Ribbon Cutting Celebration featured music by Cardinal Number, remarks from Andrews faculty, staff and students, and comments from Michael Hildebrand, Oronoko Township president.
"This is about a building that we hope will bring everyone together, both [those on campus and] the community," said Andrea Luxton, Andrews University president, as she spoke at the ribbon cutting. "As people work out together and talk together — we really hope this will be a place that will further link Andrews University both with itself and its wider community." Luxton encouraged those in attendance to take a copy of the gift book Rest and Redemption by Niels-Erik Andreasen, published as a special edition by the Andrews University Press. She also noted there would be plaques recognizing donors as well as room names representing various locations around the world that Andrews students call home.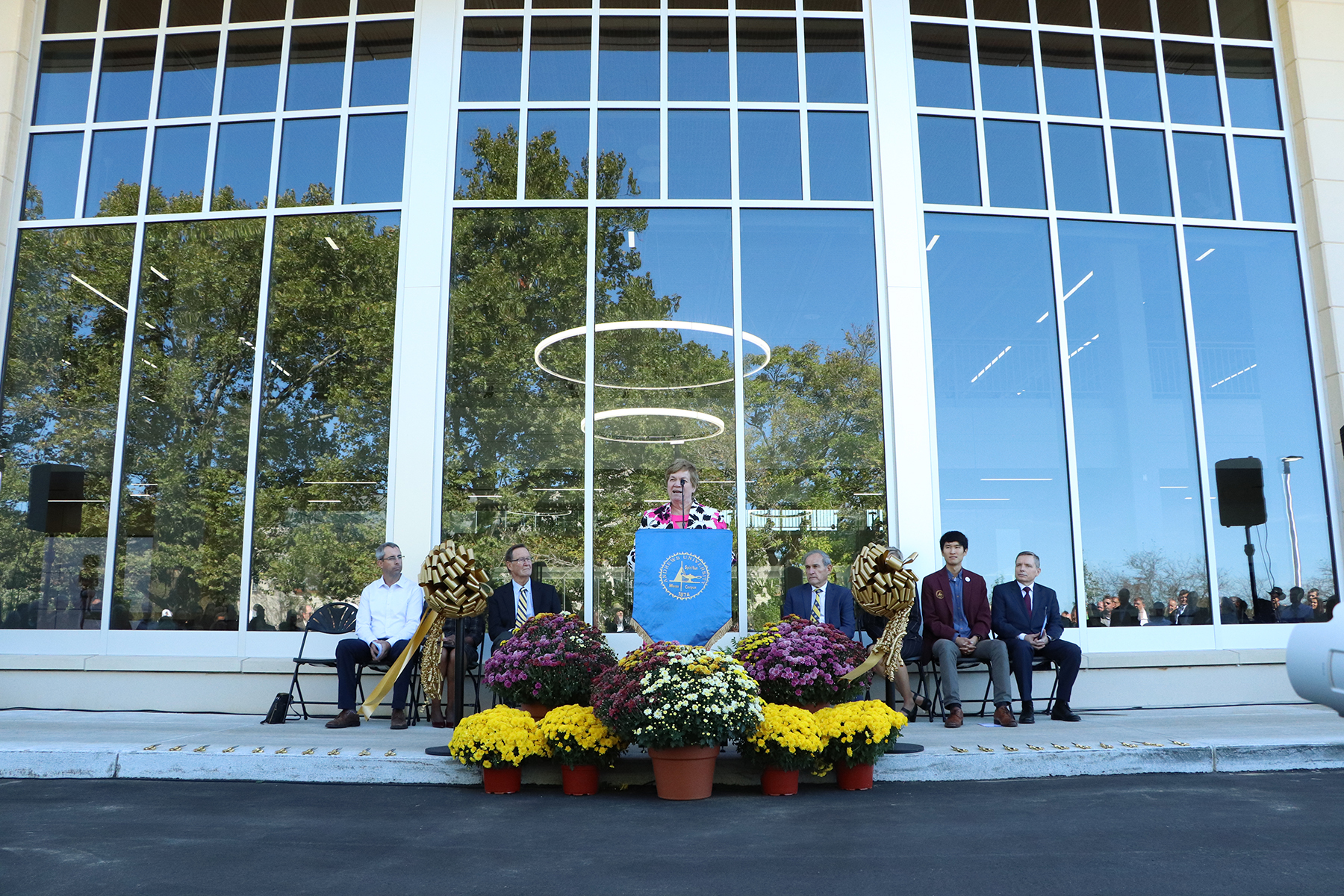 David Faehner, vice president for University Advancement, opened the event by welcoming those in attendance. He recalled the groundbreaking of the Andreasen Center for Wellness 18 months prior and noted that 1,400 gifts from many people had added up to provide the building. He also recognized Niels-Erik Andreasen, the Center's namesake, who served Andrews for 22 years.
In his remarks, Niels-Erik Andreasen, president emeritus, said, "This center is attractive and inviting, bright inside and out, spacious and filled with exciting opportunities designed to keep us well and in good health. It is making the University a good place for students, faculty, staff, friends and neighbors to meet, a second 'hello building' on our campus, and I am pleased and honored to provide it with its name."
Dominique Gummelt, director for University Wellness and executive director of the Andreasen Center for Wellness, reflected on the purpose of the center, saying, "It is the mission of the University Wellness initiative to help every person live their life to the fullest potential, and as we have started on this journey, the new Andreasen Center for Wellness will provide a new massive pathway to make our desires for wellness become a reality." 
"Thank you to each and every one of you that has made it possible to create a successful wellness initiative at Andrews University, and I kindly ask you today to pray for us, our team, our campus, as we move forward to becoming world changers through the power of wellbeing," she said.
"Our University Wellness Team believes that we are 'Made to Thrive,' and we are excited to provide this new facility with unique, state-of-the-art amenities and opportunities! We would love to welcome you as a part of our thriving community," added Gummelt.
It is the vision of the new Andreasen Center for Wellness to provide a place where members can live wholly; intentionally explore concepts of wellness; learn deeply; and purposefully engage the campus, local, and global community together in living healthful lives connecting body, mind, and spirit.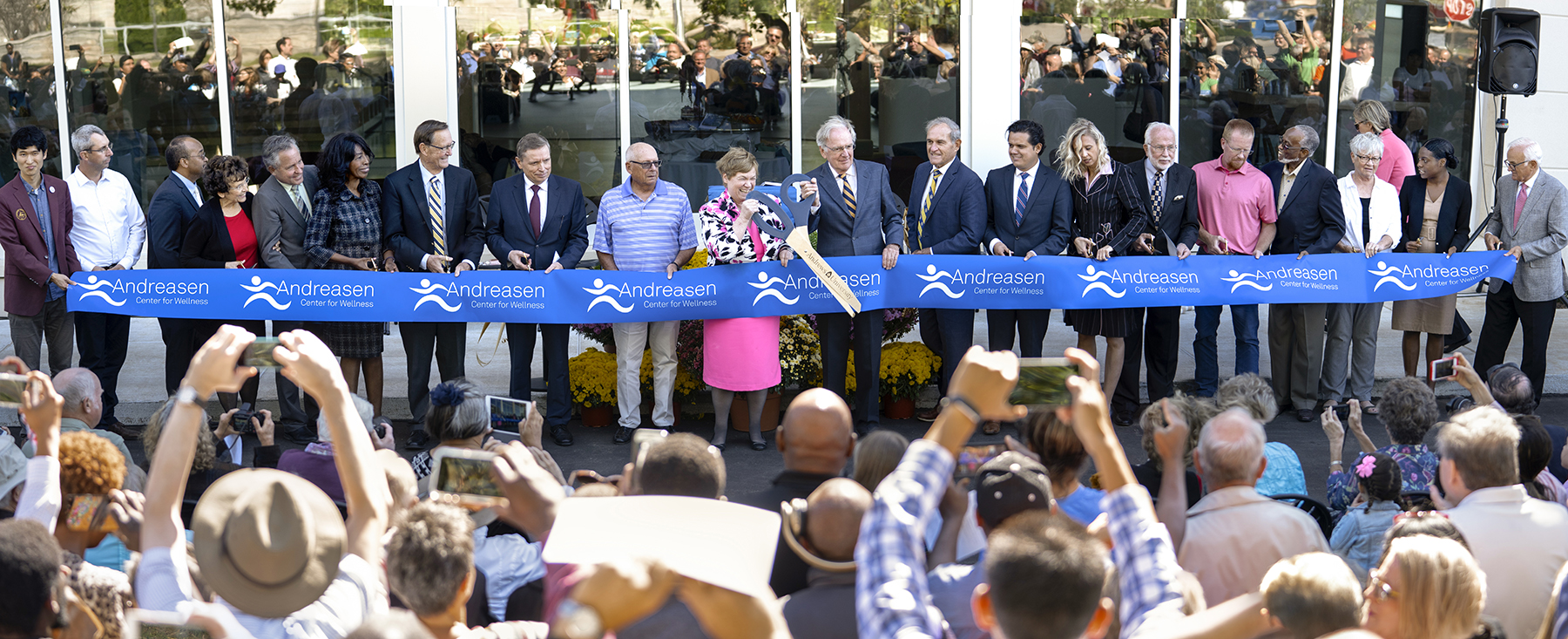 Inside Tour
The "Grand Open House" was scheduled for Sept. 29, and the center will officially open for business on Monday, Oct. 6. The open house included tours of the Andreasen Center for Wellness as well as opportunities to participate in group fitness demos, sample food from Le Café, receive free literature, sign up for memberships for The Wellness Club at the Andreasen Center for Wellness, and more.
The center features both a wellness club and a recreation center. All Andrews University students will have access to both spaces and programming while all Andrews University employees, family members, and community members who choose to become members will have full access to the wellness club.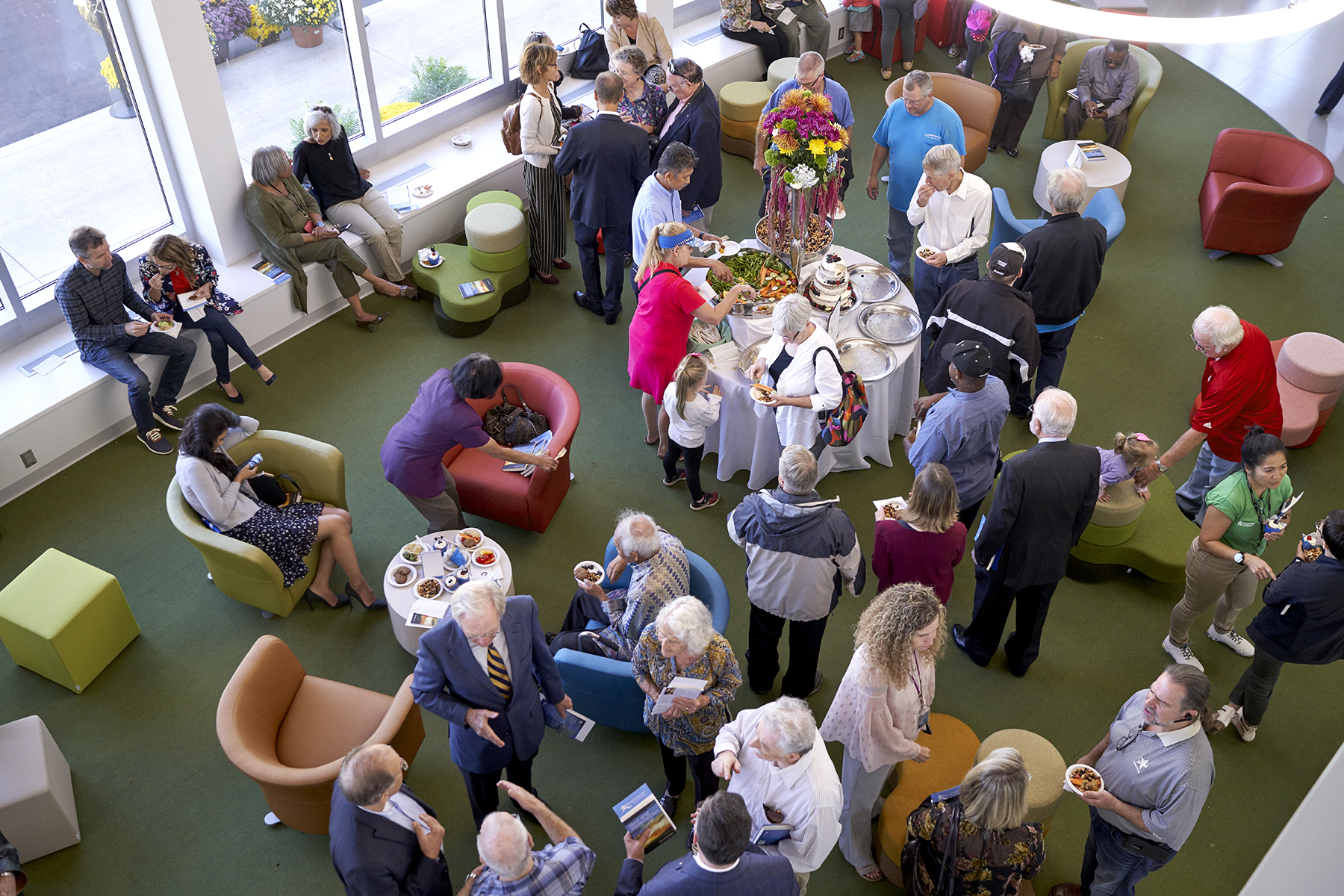 The wellness club includes several suites and areas for members. Within the indoor fitness suite, members can access a variety of amenities such as the 1/11th-mile track; cardio, functional fitness, and weight training equipment; free weights; and two group fitness suites. The outdoor fitness suite includes a walking path, a sensory retreat, a European-style patio with water fountain and an outdoor classroom called "the ellipse." For those who prefer to swim, the aqua fitness suite will have an indoor saltwater pool. Nearby, members can enjoy an indoor hot whirlpool, dry sauna, a sunroom retreat, an infrared lighting cove and more in the "Healing Oasis." Additionally, wellness club members have access to the commons, Le Café and International Boulevard with its classrooms, conference room, wellness HQ, massage therapy (relief chiropractic), the Serenity Place and other fee-based services.
The recreation center includes three multipurpose sports courts, a full-size basketball court, home and visiting team locker rooms, an athletic team office suite and an athletic training room. These spaces will be used by the Office of Athletics in the Andrews University Division of Campus & Student Life to provide a variety of sports and recreation programming such as intramurals, open recreation, athletics and Student Life events.
To learn more about the Center, please visit andrews.edu/wellnesscenter.
— Hannah Gallant is an Adventist University Communication student writer; Gillian Panigot is Andrews University media communications manager & FOCUS editor.