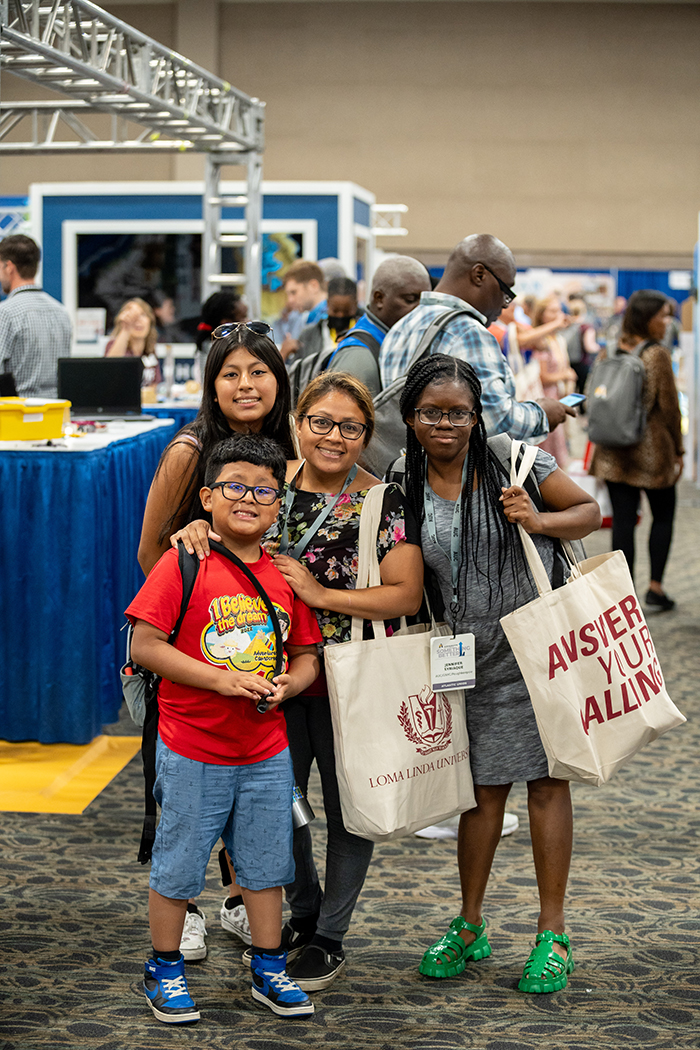 ARTICLE UPDATED Sept. 11, 2023, 11:47 a.m. ET
At 2 p.m. on Monday, August 7, 2023, the North American Division Educators' Convention Exhibit Hall doors opened. At the "Something Better" convention kickoff event, students, educators, and administrators flooded the Phoenix Convention Center for a chance to browse the 150 exhibits offering endless tools, ministries, organizations, and resources, each designed to support the needs of Adventist education. Along with small personal hand sanitizers, refreshment stands for attendees dotted the walkways between booths.
For three days, attendees were able to explore a wide variety of exhibitors providing high tech options, classroom aids, new curriculum programs, and a look at the higher education offerings in the division.
Tertiary institutions such as Southern University and Loma Linda University operated booths to share their department programs, including Master's Degree and STEM programs such as EXSEED with Loma Linda offering a 360 camera at their booth, allowing students and teachers alike to learn about the new programs. 
Adventist Learning Community (ALC) was a prominent presence in the exhibit hall with a seating area and information on their programs, courses, and podcast network. In their mobile podcast studio, educators could book a recording session and a spot where they could be recorded for a segment answering the prompt "Why I Teach."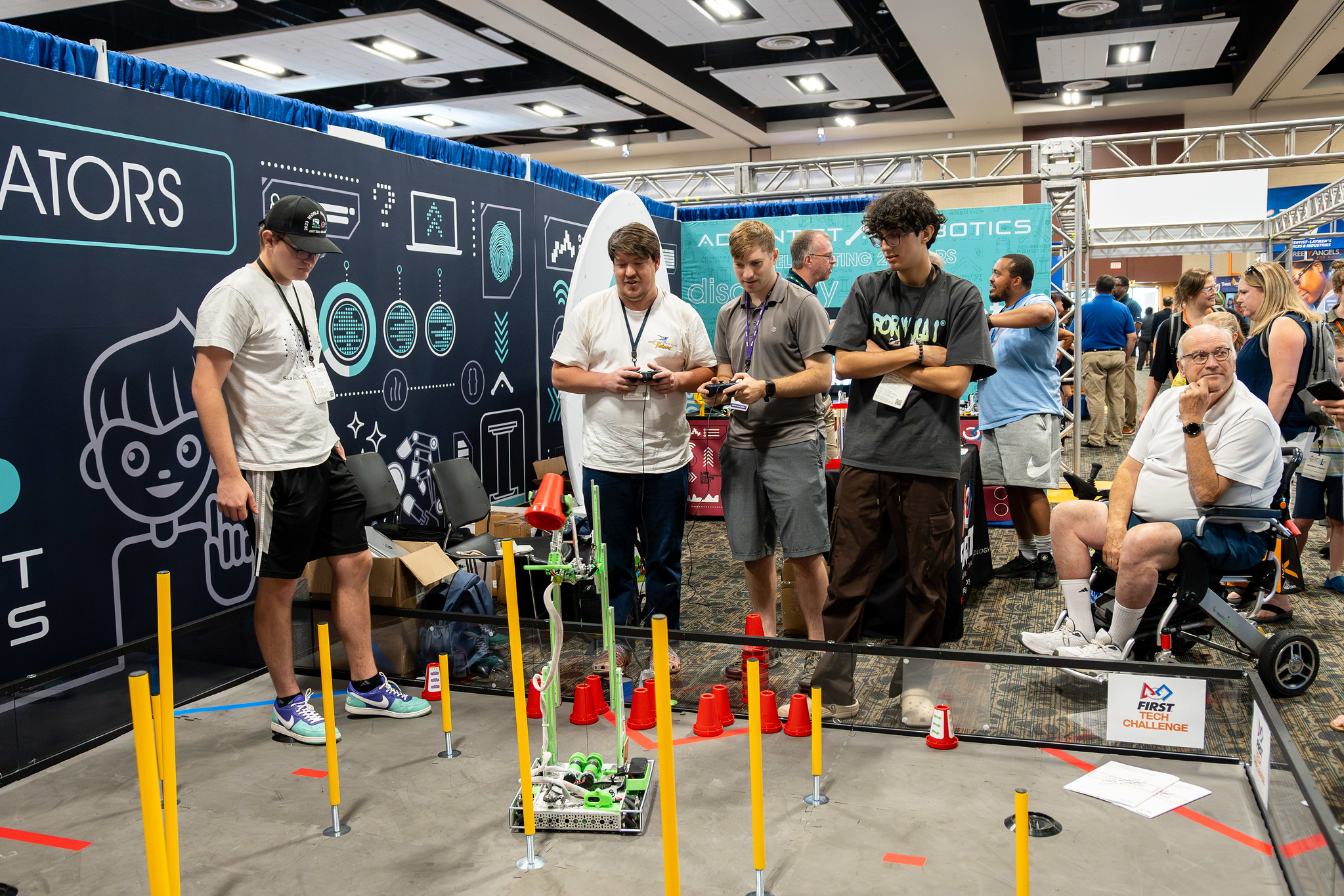 "We have thousands of free courses and resources specifically for Adventist educators," shares ALC director Adam Fenner, with each course, podcast, and video designed to "Connect with other teachers, collaborate on classroom projects, and utilize our SBL database." Across the aisle was another organization that spotlighted film. Sonscreen Film Festival rolled out the red carpet for attendees, sharing the booth with other NAD heavy-hitters such as Society of Adventist Communicators, and Adventist Journey. 
Adventist Education Technology, or AE Tech, showed off quality production equipment that could benefit educators, from studio-grade microphones and cameras as well as a recreation of a podcast set, complete with equipment for live episodes. Desmond Suarez II, a teacher for Richmond Academy (Virginia) and Columbia Union TDEC representative, commented "We really want to get teachers and schools excited about producing their own content on their campus whether its podcasts, school promo videos, or recording and broadcasting their live events, getting students to create films." 
Indeed, technology was a core presence for the exhibit hall through organizations such as AE Connect, NAD Cloud, and Adventist Robotics. Each fills a vital need within every aspect of education, whether helping create a student information system designed for Adventist education, or IT resources for Adventist institutions in the North American Division. Adventist Robotics incorporated tech development and interactive learning through two obstacle courses designed to test the skill set of robots made by high schoolers and middle schoolers. In the center of the exhibit hall was the STEM experience, a booth created to highlight didactic learning and new teaching methods for science and engineering for every age with small puzzles, prototypes, and engineering projects.
STEM Experience was one of many booths to offer an interactive experience for those milling around the hall. Multiple booths, sharing new children's curricula, new methods for early education, and more have found a way to capture the hands-on impact of teaching. Bursting with colors, treats, activities, and information quite a few organizations and ministries committed to making their booths as playful as possible, capturing the whimsy and curiosity of childhood as well as the youthful exuberance for God.
ADRA was one of the many interactive booths available in the exhibit hall, with multiple giveaways designed for teachers to use. "We are launching our ADRA community hub. It is a place where teachers will get to access resources we've put together to use in their classroom to bring the world of ADRA and its humanitarian work from around the world into their classrooms in a way that makes sense for students." Those visiting the booth were encouraged to take part in a virtual reality headset, immersing them in the environments ADRA serves. Committed to applying the ministry of Christ in practical ways, the humanitarian organization recognizes there is no better nor more practical application of the gospel than through education.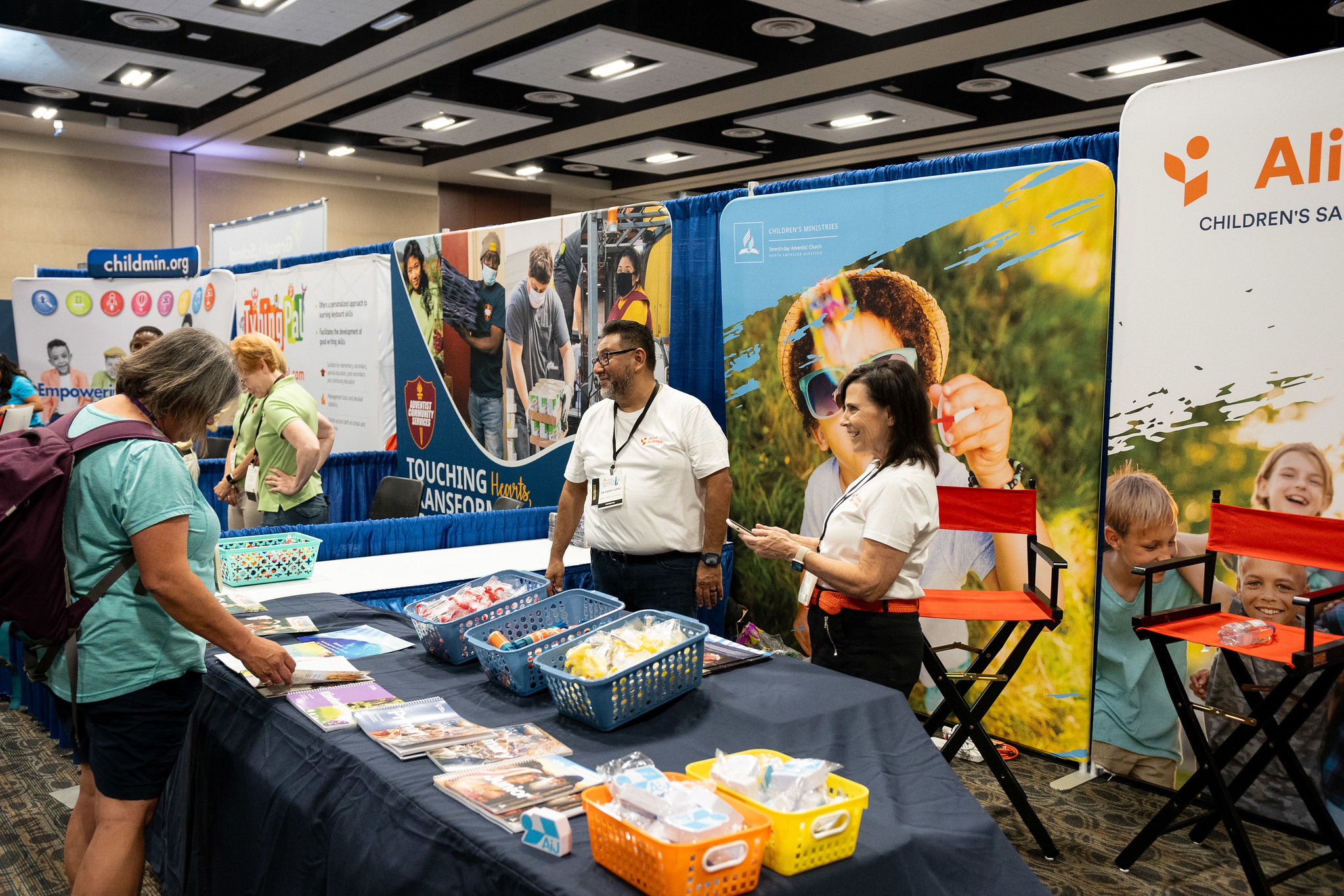 By the second and third days, enthusiasm was still high, with attendees getting the opportunity to visit the rest of the exhibits — including the Adventist Book Center run by Pacific Press, and a photojournalist gallery by ADRA — and browse, at the NAD Children's Ministries booth, the new Alive in Jesus children's Sabbath School curricula created by the General Conference Sabbath School Personal Ministries department. In addition to lots of practical giveaways such as pens, pencils, handheld fans, stress balls, and other fun items, many of the booths conducted giveaways throughout the course of the event. These ranged from an Amazon gift card, specialty video camera and equipment, to a new iPad.
For many of those attending, the NAD Educators' Convention has been a full-circle experience with the exhibit hall also serving as a place to fellowship. Former coworkers have gotten a chance to reconnect. Colleagues from different unions, conferences, and divisions are able to meet in person for the first time after connecting through the Adventist network. Old classmates are brought together again years after their graduation. And best of all, teachers who have been dedicated to their profession for decades have reunited with former pupils who went on to become teachers themselves.
When exhibitor Suarez was asked what makes the NAD Educators' Convention such a joyful experience, he said something that many attendees could wholeheartedly agree with: "The best part of any good conference is connecting with people."