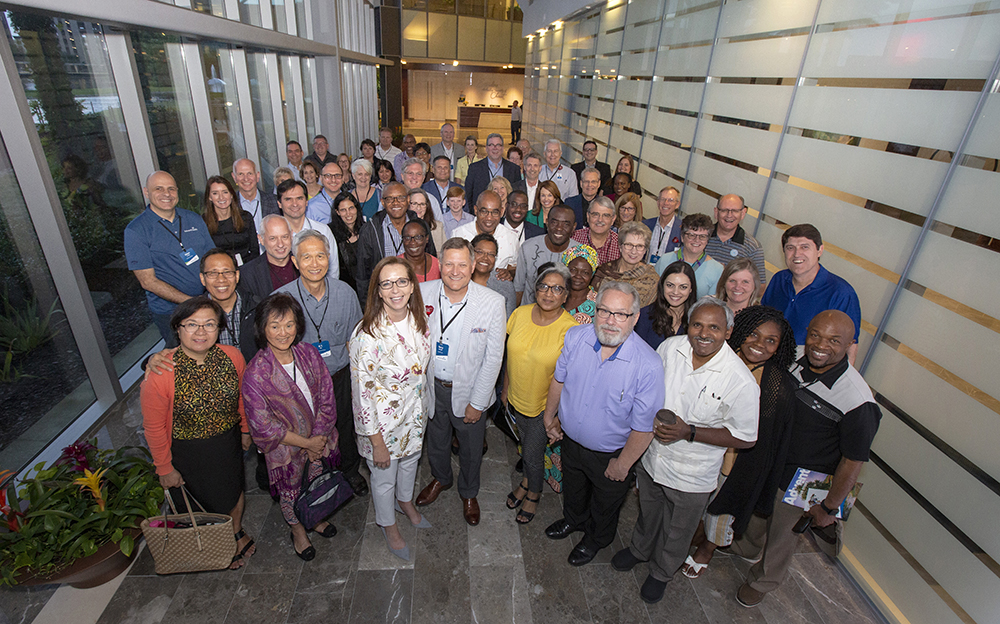 Seventh-day Adventist Church leaders from around the world witnessed mission in the North American Division (NAD) context when they visited several locations in the division during the 2019 NAD Experience held June 26 to July 7. General Conference executive secretaries and spouses joined the executive secretaries and spouses from the church's 12 other division offices as NAD leaders shared a glimpse of the territory's mission activity and ethnic diversity through touring four of nine union conferences: the Seventh-day Adventist Church in Canada, North Pacific Union Conference (NPUC), Pacific Union Conference, and Southern Union Conference. The recent division experience tours were held in 2017 in the Northern Asia-Pacific Division and Inter-American Division.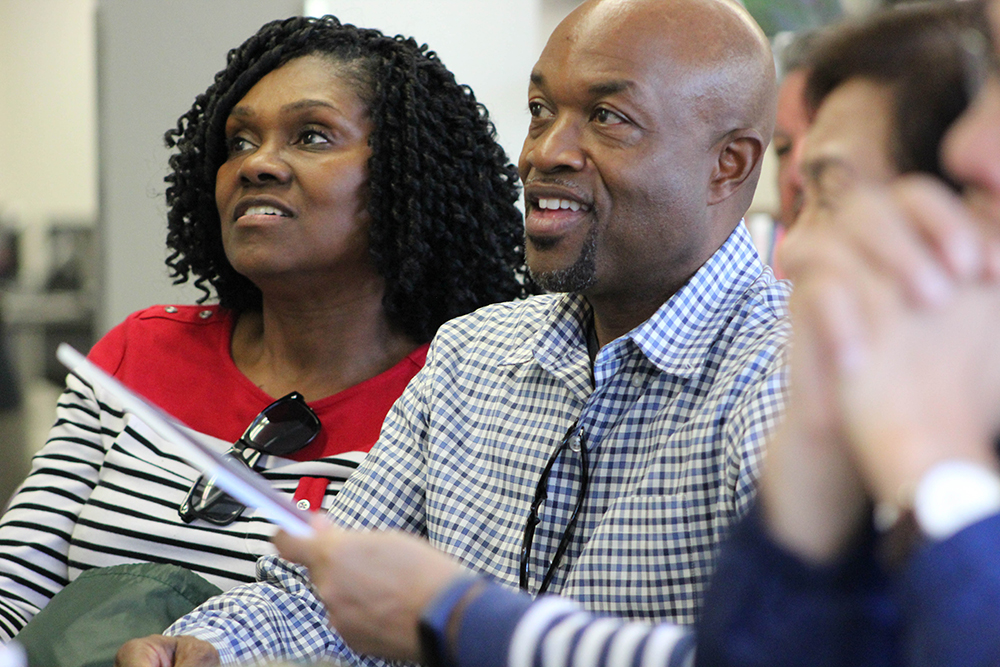 "Our goal is for them to see that the North American Division membership and leadership is passionately involved in the mission of the Seventh Day Adventist Church," said G. Alexander Bryant, NAD executive secretary. "We also want them to see that the context of doing that mission in our territory is somewhat different than other places around the world. We all have to have different methodologies in trying to reach the people in our territories."
Bryant shared that the tour's purpose also included displaying the division's diversity. "Many people look at us and they think that we're one ethnic group primarily, but we're a diverse group with no ethnic majority in our territory," Bryant said. "In each of those unions our guests will see the great [world of] diversity and how it is part of our mission to serve that world in our territory."
The tour is part of an initiative developed by world church leaders in an effort to cultivate understanding and learning of methods, programs, and activities that make the difference in each world division. "Since 2000, we have had this division experience," explained GT Ng, General Conference executive secretary. "Division leaders often cocoon themselves in their respective divisions, hardly having a chance to look beyond the horizon."
According to Ng, the experience is an educational trip for the leaders to see why divisions are successful in certain, specialized areas. For example, the South American Division tour features the study and experience of the success of the small group ministry. For North America, one highlight is community service.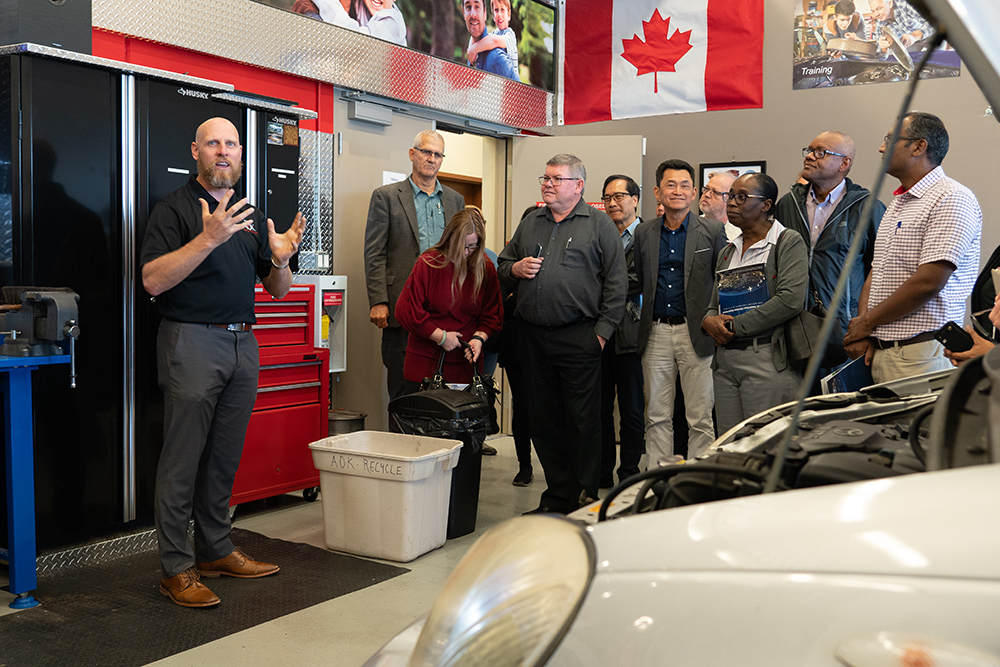 Are You A-OK?
In the NAD, the first stop of the tour was Church in the Vallaey, in Langley, British Columbia, Canada, a movement where reflecting Jesus through community service is the top priority. 
Mike Dauncey is pastor at this Seventh-day Adventist Church that focuses on their outward facing Acts of Kindness (AOK), a charitable initiative that aims to build community and cultivate better lives for area residents.
The initiative connects people — church members and non-members — who "have a heart for their community with the resources and tools needed to enrich the lives of their neighbors and friends. Since 1996, in collaboration with other local agencies, and through the generosity of major donors, Acts of Kindness has supplied food, education, shelter, support, and compassion to thousands of individuals in Aldergrove, Langley, and beyond," reads the AOK Facebook page description. Extreme Home Repair, Cars for Moms, summer day camps for kids, and kindness cards are just a few of the programs coordinated through the church's AOK.
"The Church in the Valley is a remarkable display of members and leaders with a vision and passion for the mission of reaching the people in their communities," said Bryant. "They are quite involved in community outreach programs such as doing oil changes for single mothers, and giving cars away to single mothers. They restore homes for people who need it. They do all kinds of youth outreach activities in the community." 
Bryant shared that it was " just breathtaking as the different leaders from around the world saw what one local church was doing. One of the things they said was while the Adventist Church is trying to plant centers of influence, that local church isthe center of influence in that community."
"Yesterday's experience was just stunning," agreed Ng. "That ministry offered by the Church in the Valley — a church that specializes in offering community services without string attached —is the highlight of the trip."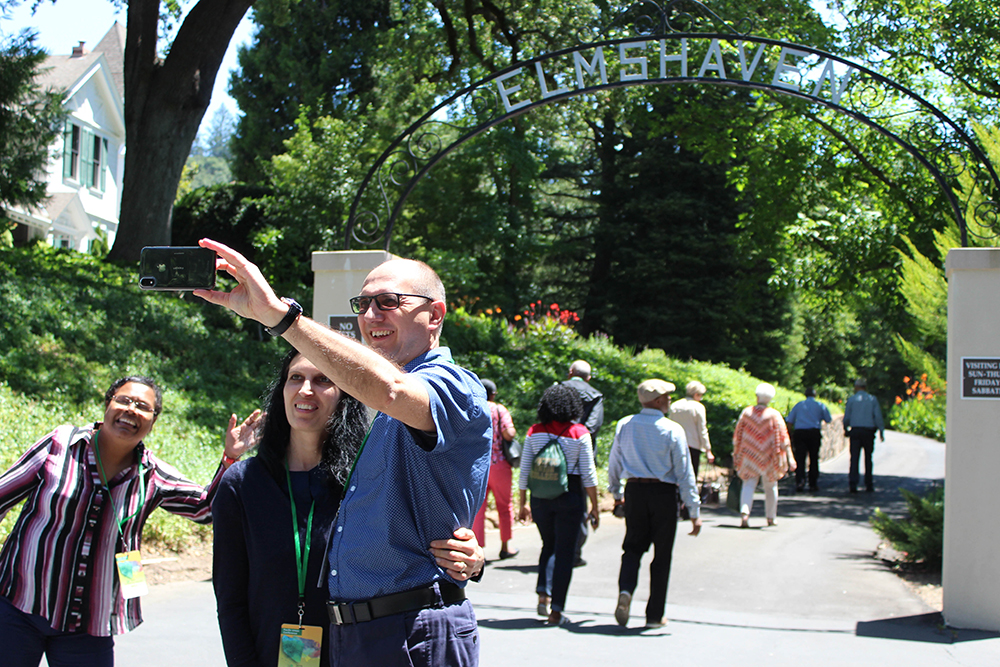 More Influencers
The next leg of the tour, through the North Pacific Union and Pacific Union conferences, echoed the NAD Experience themes of diversity and mission. Attendees made stops at the Washington Conference office, Walla Walla University (and its Rosario Beach Marine Laboratory), and Auburn Adventist Academy. Sabbath morning, June 29, was spent worshiping at the Samoan camp meeting at Auburn; themed "Fa'Ailoa Mai" (Show Me Your Way), and based on Psalm 25:4-5.
In the Los Angeles area, the tour group checked out Loma Linda University Health, its Gateway College initiative, and La Sierra University. They also experienced the El Monte Vietnamese Seventh-day Adventist Church and Evangelism Center, a "church of influence" in the local Vietnamese community where tutoring, counseling, summer camps, and language programs are just some of the activities run through the evangelism center.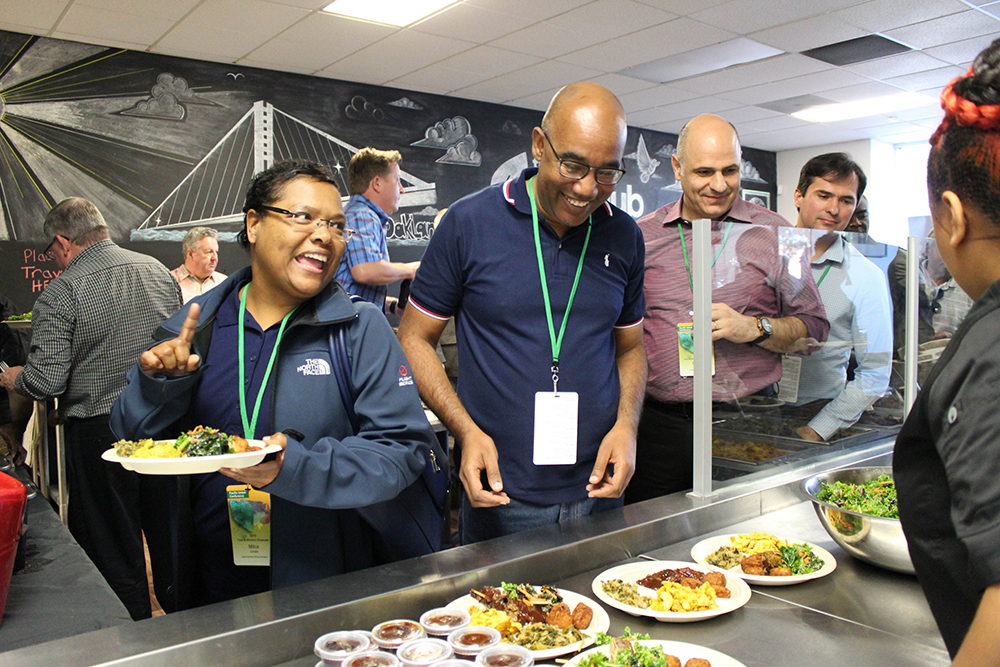 The group went up to the Sacramento/Oakland area where they met with entrepreneur and restauranteur GW Chew at the GC sponsored center of influence VegHub, a vegan restaurant catering to the Oakland community; and toured Adventist Health headquarters and Pacific Union College.
"This is a great opportunity for all of us to learn from each other," said John Freedman, NPUC president, as reported by Steve Vistaunet in a North Pacific Union Gleaner article. "We want our brothers and sisters from around the world church to witness firsthand that we are partners with them in the Adventist message and mission. Even with the unique challenges of each world region, we must be aligned in moving forward together on God's call."
More Fellowship and Interaction
The NAD Experience traveled to its final destinations in Florida, part of the Southern Union, wrapping up with three days of touring Adventist institutions in the Tampa and Orlando areas. This included North Tampa Christian Academy, Calvary Community Clinic, AdventHealth Celebration hospital, AdventHealth corporate headquarters, Florida Conference headquarters, Orlando Junior Academy and its Edible Schoolyard, and Haitian camp meeting (Sabbath worship).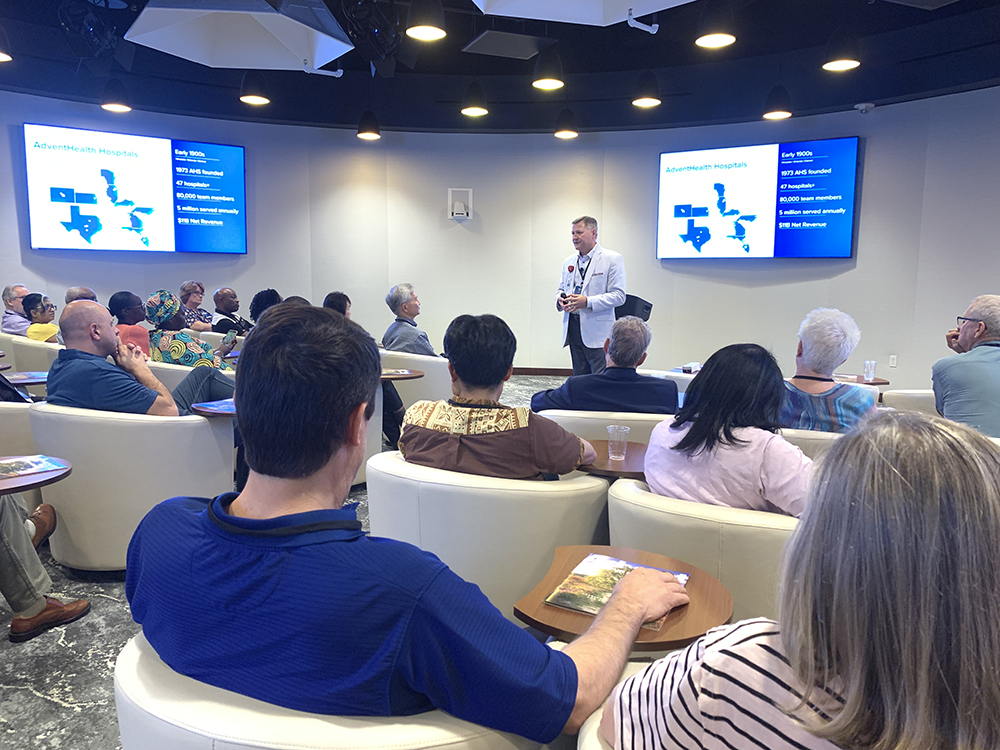 "There is nothing that brings understanding better than meeting each other in person and sharing our endeavors," said Lars Houmann, FACHE, AdventHealth chief corporate relations officer. "It was a great pleasure to show the group a sampling in Florida of what AdventHealth is doing to extend the healing ministry of Christ."
Robyn Edgerton, director of mission strategy for AdventHealth, said, "It was a joy and blessing to have embraced our brothers and sisters in Seventh-day Adventist ministry. This fellowship and interaction demonstrate our collaboration and shared experiences of bringing the hope and healing of Christ to a hurting world."
At AdventHealth Celebration in the Orlando area, the tour group witnessed how the church helps people in need of care create a life of "whole health." This is accomplished by "healing their bodies, strengthening their minds, and lifting their spirits," according to the published description for the 2019 NAD Experience. The extensive campus offers care for body, mind, and spirit.
"Having the leaders from the world church tour the AdventHealth Celebration campus was a blessing and honor," Juleun Johnson, director of Mission & Ministry for AdventHealth Celebration, said. "The healing ministry of Christ is extended from the pulpit to the bedside.  In the pulpit we share about Jesus' love and compassion through stories. At the bedside we demonstrate Christ's healing touch by restoring hope and wholeness through whole-person care. Both methods of service are needed to share with the world that Jesus loves them and is coming back again."
The mix of innovative educational facilities, dedicated community service hub (established by Mount Calvary Seventh-day Adventist Church), vast healthcare network extending the healing ministry of Christ across a large portion of the U.S., and the 26 hospitals and more than 100 extended service locations across Florida reach a diverse population with the Adventist mission and message of hope and wholeness.
"What an honor and privilege it was to host and tour the secretaries from the Seventh-day Adventist World Church," said Doug Harcombe, CEO of AdventHealth Celebration. He summed up the experience aptly: "At face value, our mission and outreach may appear different, but the core of what we do is similar in that we both take care of the whole person, and many times in their most vulnerable state."