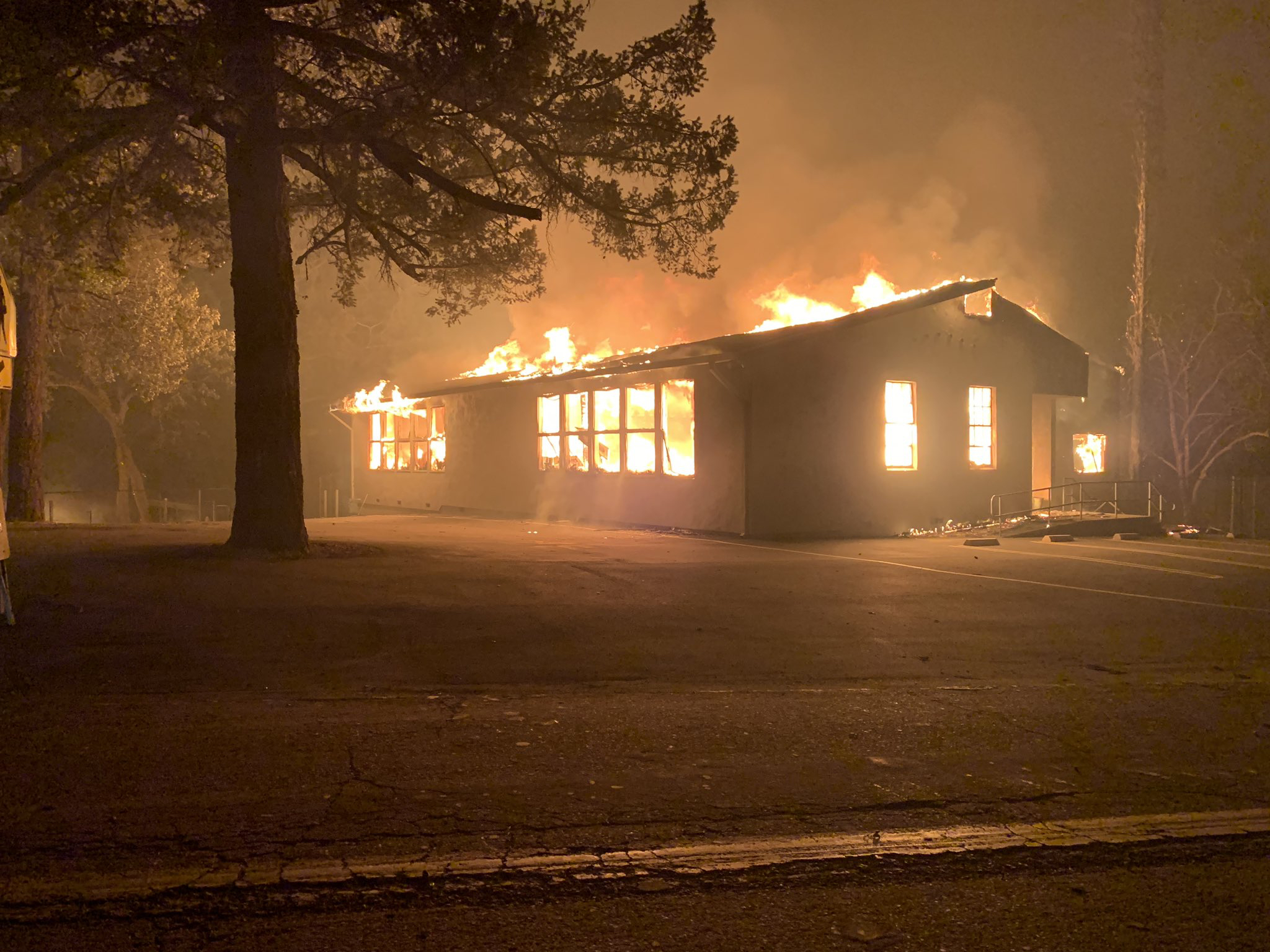 Only a few weeks after being threatened by wildfires, the northern California communities of Angwin and St. Helena are again facing fires that have caused thousands of people in those communities to evacuate. According to CALFIRE, the Glass Fire (#GlassFire) began at 4 a.m. on September 27, 2020, in an area to the west of Angwin and north of Deer Park and St. Helena. The fire quickly spread and now has encompassed more than 11,000 acres. The Glass Fire, combined with the Shady, Boysen, Zogg, and North Complex West fires are currently raging in this region.
Several well-known Adventist institutions have also been impacted by the fire and resulting evacuation order. According to the Pacific Union College Twitter feed, the college has evacuated the more than 200 students who were on campus, but the school is safe. The entire Angwin community has also evacuated the area as a precautionary measure.
Adventist Health operates St. Helena Hospital, the oldest Adventist Hospital in operation. The staff were able to evacuate all 55 patients and relocate them to other facilities. The fire came close to the hospital facility, but fire crews were able to control the flames.
The Northern California Conference has provided an update on the fire and the impact on local members and church employees. Reports state that several pastors may have lost their homes, but all members are safe and accounted for.* The Foothills Adventist Elementary School in Deer Park lost one of the buildings on its campus, but the rest of the school survived the flames. School principal Rob Ingram was quoted as saying, "Please pray for our students, our families, and our staff. Pray for us as we move forward to go where God is leading us." Pacific Union Conference Director of Education Berit Von Pohle reports that Ingram's first action this morning was to connect with his faculty who in turn reached out to make certain that all of their students were safe and their families out of harm's way.
The Haven Adventist Church Community Service Center, located near the Foothills Elementary School, was also destroyed in the fire, but the main church building located near the St. Helena Hospital was not damaged. Historical local Adventist landmark, Elmshaven, which was home to Ellen White before she died, escaped damage from the fire, at the time of this writing. More information can be found on their Facebook page.
The Glass Fire still threatens many homes and businesses, and local church leaders are soliciting prayers for the greater Angwin and St. Helena communities.
*UPDATE Sept. 30, 2020: Reports from Adventist community members with ties to Adventist Health St. Helena and Foothills Adventist Elementary School indicate that they, along with their neighbors, have lost homes and other belongings.