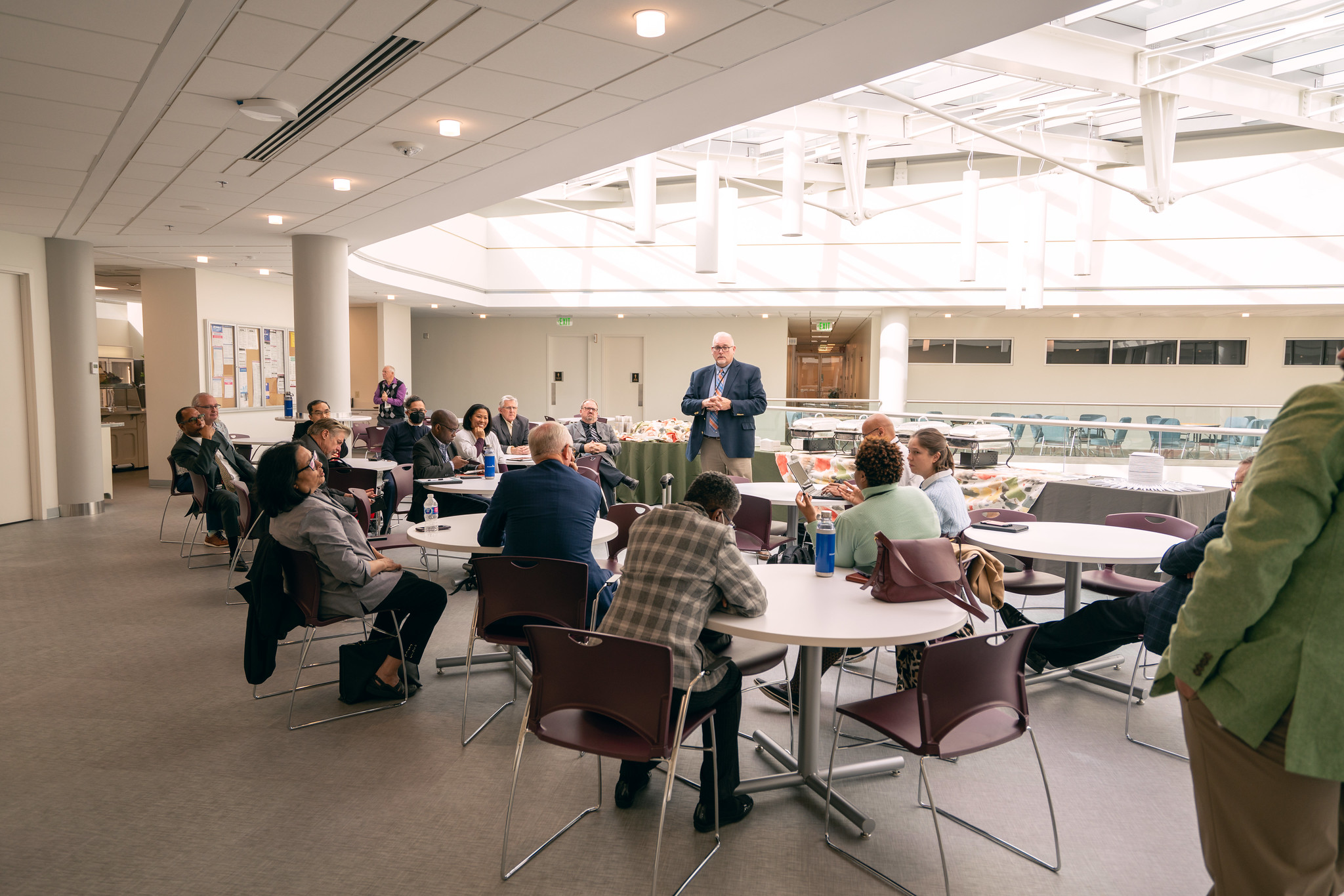 Over the course of the 2022 Year-End Meeting of the North American Division of Seventh-day Adventists (NAD), the executive committee comprised of church leaders participated in three breakout sessions on specific topics. They were divided into groups based on unions and tasked with responding to a few provided questions, then bringing back a summary of their main points to the group at large.
A Crisis of Education
Friday's breakout session on Oct. 28 focused on supporting and meeting some of the challenges Adventist education faces today. Leaders were tasked with addressing the issues surrounding the current national teacher shortage, and discussing ideas for recruiting and retaining qualified teachers in Adventist schools.
"When looking across the Pacific Union Conference, 20 percent of our teachers are over 60 years old. That's 200 teaching positions," shared Berit von Pohle, vice president of education for the Pacific Union Conference. "Each year, within our union, we graduate no more than 10 education majors. These numbers just don't add up."
G. Alexander Bryant, NAD president and chairperson of the meeting, acknowledged that "we may have to re-look at policy." He encouraged the groups to not leave any idea unshared. "Let's put everything on the table," he said, "so we can dream and envision what God wants us to do."
The two biggest factors to the Adventist teacher shortage, as identified by every single group, were compensation and working conditions. Solution concepts ranged from raising the percentage of tithe allowed by the division to go toward education, to marketing a career in teaching to students as young as elementary school.
"We need to be more intentional in recruiting young people by noticing and speaking into their lives," shared Sandra Roberts, executive secretary for the Pacific Union Conference. "We must journey with them long before they get to college, and if we sense they are being called to education, we should begin that recruitment as we notice how God has shaped and formed them."
The practice of loan repayment for medical and pastoral staff was mentioned several times, with a request that similar programs for teachers be considered. Increased subsidy for church employees was also a recurring theme, alongside giving teachers a 12-month pay structure rather than a 10-month structure.
Aside from financial issues, many unions also brought up the very real issue of teacher burnout.
"As a church, we preach work-life balance, but our accolades go to the workaholics," pointed out David VandeVere, vice president for finance for the Mid-America Union. "We have to own up to our need to address this issue for our teachers."
Paul Llewellyn, president of the Seventh-day Adventist Church in Canada, mentioned the huge disparity in Canada between retirement funds given to public school teachers ($92K/year) and Adventist teachers ($14-$17K/year). He added that Mamawi Atosketan Native School in Alberta struggles significantly to find teachers.
"Many of our students there go on to Burman University and get education degrees," he said, "but they are not allowed to return to their alma mater to teach, simply because they are not baptized members of the Adventist church. We should reconsider our policy on this issue."
According to Tracy Wood, director of Youth and Young Adult Ministries for the NAD, there is a significant recruiting ground for Adventist teachers right under every union's nose, as 60 percent of church employees have at some point worked at summer camp.
After hearing reports from each union following the one-hour breakout session for discussion, responses were reviewed and tabulated into the following four intentional focus areas for the next year:
Re-visioning the model for funding of Adventist education;
Developing teacher recruitment strategies to provide mentoring and to prepare for administration those who demonstrate potential;
Providing comprehensive whole-person care for educators; and
Providing student loan forgiveness for teachers.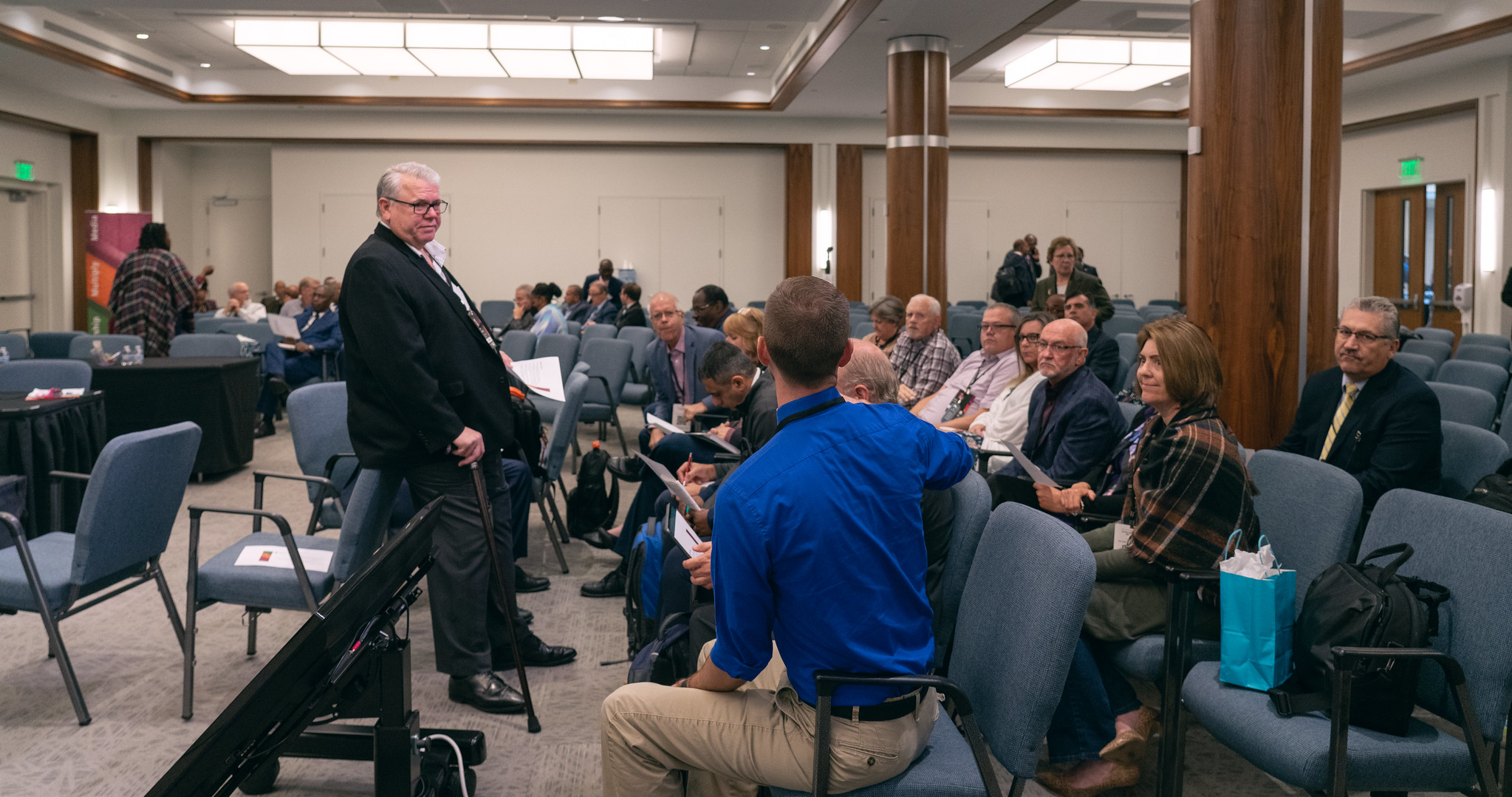 The Church of the Future Today
On Sunday, Oct. 30, breakout groups tackled the daunting and relevant topic of online churches. The pandemic brought to light the limitations but also the possibilities of hosting church online, and as a result, the post-pandemic world is looking at online communities entirely differently than they did pre-COVID.
"We need some direction in terms of trying to shape our future as we move in this direction," stated Bryant.
The five questions breakout groups were tasked with responding to were:
What does the ideal local church environment look like, and can these ideals be transferred to the digital environment?
What does the optimal church-conference relationship look like, and can this be transferred to the digital environment?
What are the positives and negatives of having an online church?
Should a new tithe paradigm be considered, and if so, what would it look like?
Should there be a new way to handle members?
Though the general consensus was that in-person church was still the best model, most unions acknowledged not only the necessity of online options, but also their value.
"The advantages to in-person services are many," commented Jim Davidson, executive secretary for the Southern Union; "but at the same time we realize that to leave no person behind means we have to continue a digital presence and format, especially for our younger people. For us, this was a pandemic solution; young people were doing it long before COVID changed our lives. We have to find a way to provide an online experience that is not only a worship service but an opportunity to fellowship and participate in all the kinds of things we do in person."
Defining the differences between "online presence" and "online church" remained a constant thread throughout the discussion, with several unions pointing out that creating an online church meant doing more than simply providing a live-streamed sermon each week. Another regular concern was ensuring accountability so not just anyone could start an online "Adventist" church.
"Membership really has never been confined to time and space," commented Ingrid Pierre, young adult delegate from the Northeastern Conference in the Atlantic Union, as she reported back from the breakout session. "Even in our local churches we commute outside of our own communities to attend church. Online church has a place, but it must be structured, defined, and outlined so that members and leaders of the online church are practicing appropriate policies just as they are in our brick and mortar churches."
Solutions to the challenge of online churches ranged from hiring influencers to establish and manage them, to creating a virtual reality church within the Metaverse, to placing digital strategists in each conference to assist with developing online communities. Unions also suggested a change in pastoral training at the seminary to include online churches.
Regarding a new tithing system for online churches, in general the responses were against this. Most unions felt the current system should continue to work, with tithe collected from online church congregations going toward supporting those online churches. It was also mentioned several times, however, that education of the general layperson on exactly how tithe works is necessary.
"Many, if not most, of our young people have no clue as to where a dollar goes when it's returned in tithe," commented Davidson (Southern Union). "We thought the church would get a lot more engagement in tithe if people really understood how those dollars are used."
Across the board, response to this conversation topic was positive, if a bit trepidatious. Several attendees stood to express their appreciation and gratitude for the discussion.
"A year ago this would have just been about streaming," commented Charles Tapp, president of the Potomac Conference. "We need more than that. When Jesus called His disciples, He told them to cast a net, and He's asking us to cast a different net today. We need to use it to God's glory."
Wood (NAD) also commented, "Online church offers us the privilege to connect with our young people whom we thought had walked away from the church. They didn't; they just moved into the virtual world. We have now been tasked with the honor of modifying our church structure and policies to make this thing called 'church' work for the next generation, and we cannot stop moving forward on this."
The four focus areas identified on this topic for the coming year were:
Establishing best practices for digital hybrid churches to allow for engaged, healthy, missional congregations;
Embracing the digital church strategically and with intentionality under conference or local church accountability;
Educating and creating guidelines to standardize membership, tithing, online attendance, and mission for online churches; and
Finding ways to engage each other and guests online to meet pastoral, social, and other needs.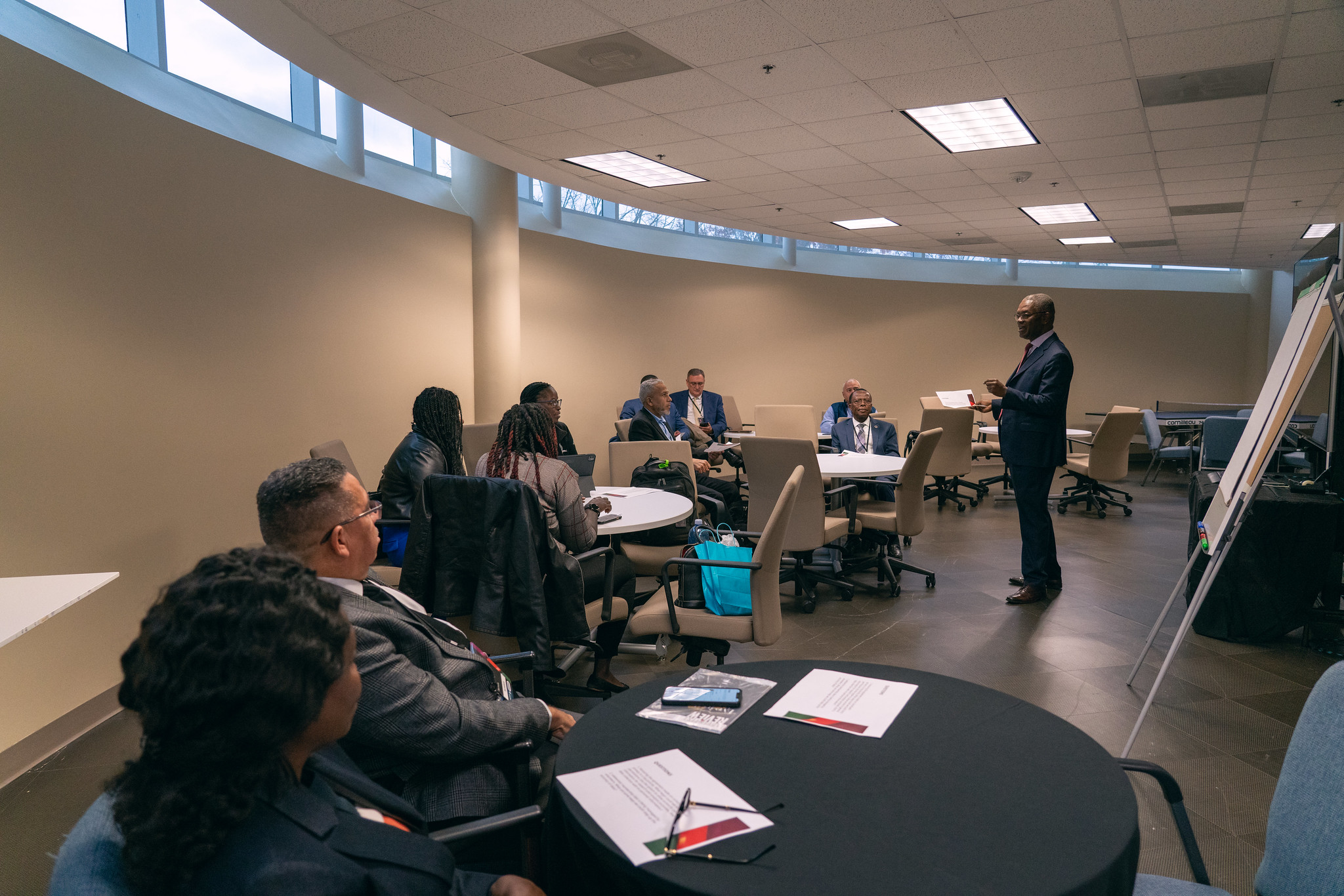 Primary Source or Privacy Concern?
Monday's breakout session centered on eAdventist, the church's platform for collecting data on church members across the NAD. Brian Ford, director of eAdventist Membership Services, presented on the current state of eAdventist and explained why it exists and how its data is intended to be used. During the breakout discussions, unions were tasked with responding to the concept of data mining with eAdventist, and discussing what they saw as advantages, best practices, and challenges.
Predictably, most of the conversations centered around privacy for personal information, and the desire for members to be able to opt-in before their information is collected and stored. Additionally, many unions requested a detailed application process for entities obtaining access to eAdventist data.
"Many members don't know eAdventist exists," said Ken Denslow, president of the Lake Union Conference, echoing comments from most of the union discussions. "Every member ought to know what it is, that it's possible to update their own info, and be able to opt-out of mailings, if not data mining totally."
The Southern Union specifically recommended obtaining legal counsel on what is private information and what isn't, so that applications to access eAdventist data could be addressed appropriately.
"There must be checks and balances to protect our members," stated Michelle Mota, a pastor from the Northeastern Conference. "Anyone requesting access to this data needs to explain fully the purpose of their search before they receive any information."
Every union urged additional training for church clerks; one recommended clerks be appointed by the board, not the nominating committee, and be expected to serve multi-year terms, and several suggested some sort of compensation for members serving in clerk roles.
"Perhaps we should charge a fee to anyone wanting to use this data," suggested Roberts (Pacific Union Conference) with a grin, "and use these funds to pay church clerks."
One unique suggestion on church clerk training was presented by the Southern Union, harking back to earlier conversations this week on mentorship in the church.
"There is no limit on the number of church clerks you can have or what age they have to be," David Freedman, treasurer of the Southern Union pointed out. "For many churches, clerks are often from older generations and may find this new platform intimidating or confusing. If that's the case, churches could find a younger member who is tech savvy, and invite them to learn the platform alongside the older clerk and help them become more comfortable with the process."
Though the overall sentiment was that eAdventist can be a useful tool, most unions felt that it could not become a primary source of reliable data until a larger number of members understand what it is and how to use it, and an intentional process exists for requesting access to said data. Some unions also recommended building a connection between eAdventist and AdventistGiving.
"Ongoing communication is incredibly important," summed up Roberts. "The average church member doesn't know how this works, and we need to communicate clearly its purpose and how it will be used, clearly outlining what kind of data will be gathered, and what safeguards are in place."
Reports from NAD leadership on the progress of each of these breakout session focus areas were promised no later than the 2023 year-end meeting, with earlier Zoom meetings for updates and guidance in the coming year.
— Becky St. Clair writes from Angwin, California.