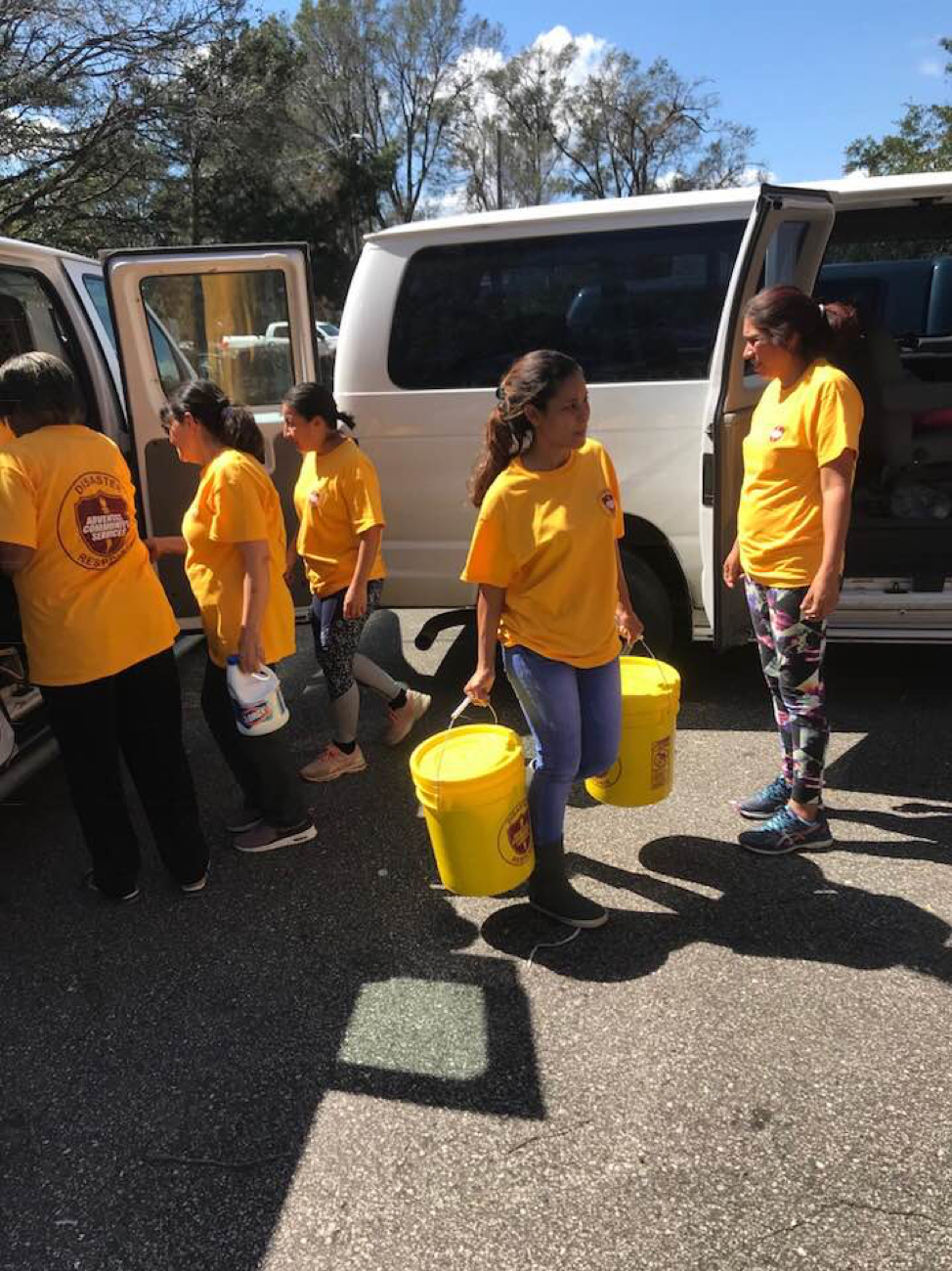 The relief effort as North Carolina residents recover from Hurricane Florence continues for Adventist Community Services Disaster Relief (ACS DR) as both South Atlantic and Carolina conferences work to assist communities across the state. In days immediately following the flooding, ACS DR set up five warehouses for distribution of water, food, flood buckets containing clean supplies, and Walmart gift cards — three warehouses, Fayetteville, New Bern, and Wilmington, are still open. Trucks from several conferences have delivered supplied from across the division; ADRA has pledged financial support; Country Fresh has donated water and non-perishables; and Fruit of the Loom has supplied under-garments, socks, and t-shirts for those in need.
W. Derrick Lea, director of the North American Division's ACS DR and associate director for ACS, shared the report below after spending the past several days with ACS DR conference and volunteer personnel in the flood-recovery region. This is just a glimpse into the team efforts and work occurring in several communities.
September 26
I left Wilmington, North Carolina, early on Sept. 26, 2018, to meet our ACS DR leadership in New Bern. South Atlantic Conference's Mark Best was the first to meet me at Ephesus Seventh-day Adventist Church parking lot before 9 a.m.  We spoke about the door-to-door visits that had taken place the previous day and Mark stated how badly the water had affected the homes in the surrounding community.
Neighbors were desperate for food after the high flood waters had washed through their homes and contaminated their products. With many stores still not open, people were unable to obtain necessities needed for daily living.  As we spoke, volunteers began showing up and asking how they could help get things set up.  This work continued into the morning and by 10 a.m. the church building, and parking lot were turned into a help center for the community.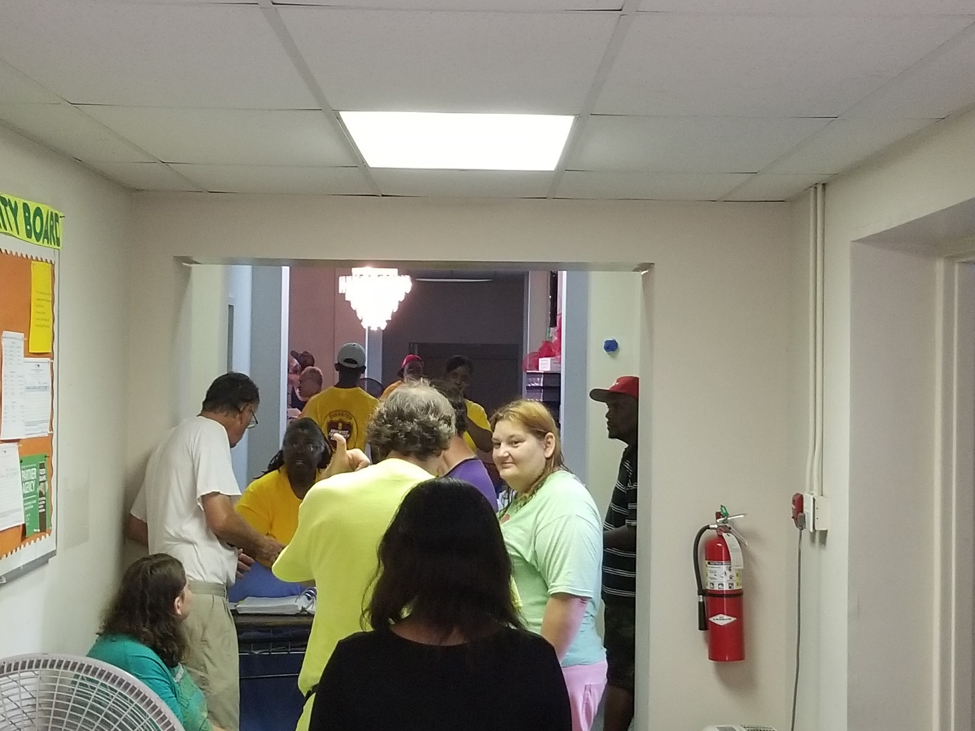 People from the neighborhood started arriving at the front desk and were accompanied by ACS DR team members as they were given food supplies and household items. For seniors and others that could not carry their own items, young volunteers had hand trucks and carried these items for them. Once finished securing these valuables, community members were offered a hot meal prepared by a local chef and served by ACS DR members.
By early afternoon the skies opened up and forced efforts inside the church annex, where operations continued.
In the late afternoon, Carolina Conference workers and I traveled across town and met with the English church of New Bern. David Graham and the local pastor and staff, discussing the work that was taking place for the community, expressed thanks for the support ACS had given days ago when their sister Spanish church had housed more than 200 people in their church — neighbors who had run out of food, and were apprehensive about seeking governmental help. The airplane delivery of food was used to sustain them during their initial recovery from Hurricane Florence.
We traveled to the church to view the devastation at the Spanish church, where water rose to more than six feet during the height of the storm. All of those who had been sheltering at the church had to be evacuated and now were spread out around the city.  The greatest need now, we discovered, was for shelter and cleaning materials for houses that had been affected. We listened to many stories of families that had lost everything, and the local ACS director spoke of support teams being put in place to assist families during the next few weeks.
Our warehouse in Winnsboro, South Carolina, will be involved in getting supplies to this community and both Ephesus and the English Church will work together to determine how supplies are delivered in the most efficient way for two communities that have experienced this traumatic event.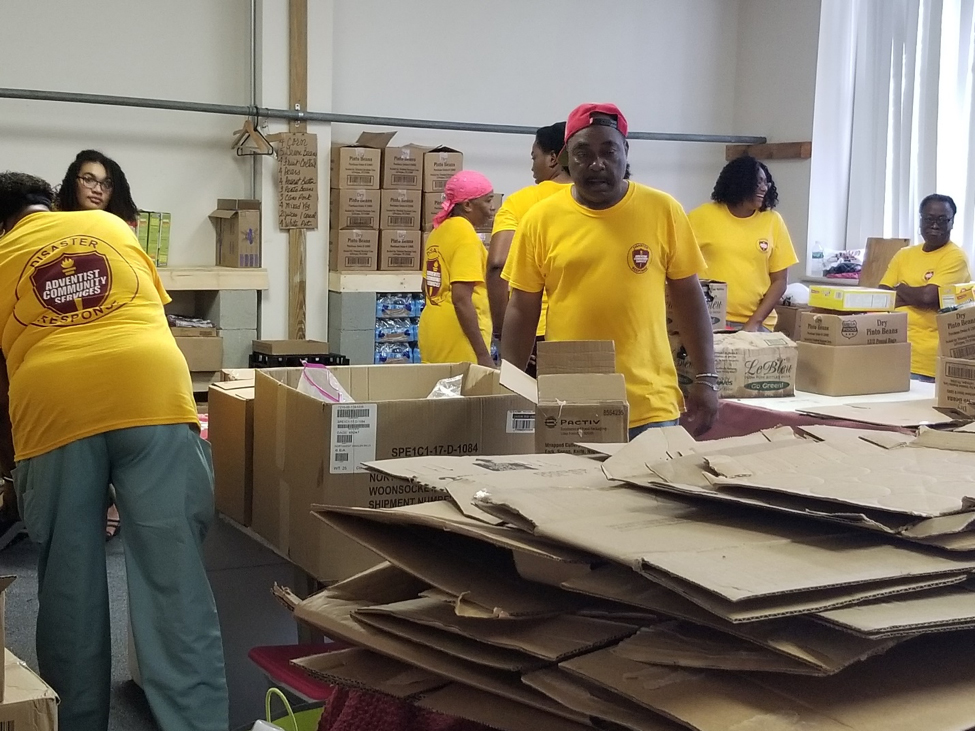 September 27
We continued our efforts back in Wilmington on Sept. 27. I learned that 500 flood buckets and other needed items were distributed the previous day.  As I arrived at South Atlantic Conferences Ephesus church at around 8 a.m. I noted two individuals were cleaning the parking lot.  I approached and spoke with "Brother Bryant," who said he wanted to ensure the lot looked good for those that were coming to the church for help.
One of our "muck out" teams from New York would arrive along with a shower trailer from Michigan, so that our workers could clean themselves after each day of work. We cleared a space in the parking lot for the trailer.
Shortly after working with Brother Bryant, I went inside where our team had stocked the room with supplies. … As I waited for our arriving team, I received a call from Carolina Conference Pastor George Wennerberg (Delco, New Bern, and Wilmington churches), whose team was cooking breakfast for the arriving team from Greater New York Conference.  We had previously agreed that Ephesus would provide housing and Wilmington would coordinate the feeding.
The New York team arrived with 16 people and two vehicles.  We met with Cheryl Sparks, the leadership of the distribution site, who explained the assessments that had been conducted over the previous two days.  This outlined who needed their homes cleaned and prepared for living.  By noon the troops were in the field arriving at homes where people met them as if they were family.
This work will go on for the remainder of the week as volunteer workers continue to bring an energy that appears infectious.
As a Red Cross instructor, I offer a course entitled Damage Assessment.  This course teaches the student how to categorize homes that have been damaged by weather events.  This enables us to designate help based on the level of damage to a person's home. A class was conducted around noon with both South Atlantic and Carolina conference team members in attendance; by 3 p.m. all were certified and could now begin assessing homes.
October 4
The work continues in North Carolina and ACS DR is working to coordinate the efforts of our teams around the division.  On Oct. 3, Chesapeake Conference delivered flood buckets, non-perishable food, and other items to the Ephesus church.  Then Tad Long of the Keene Seventh-day Adventist Church (Texas Conference) delivered more flood buckets, additional cleaning supplies, and food for the residents of New Bern.
Late tonight a delivery from Southwestern Union will arrive with more than 2,000 flood buckets and hygiene kits for those living in areas that have been ravaged by the hurricane. Another truck delivery is planned for Friday. And a team of 12 from Northeastern Conference (Atlantic Union) is scheduled to arrive on Sunday, Oct. 7, for a week of "muck out" cleaning.
Our combined efforts are leading to many being served and our local teams are now looking for ways to continue to stay involved in recovery efforts.
I am encouraged by the real spirit of togetherness that has been shown across conference, state, and church lines. ACS DR can be commended for the effort and work that is taking place.
CLICK HERE to read more NAD news.