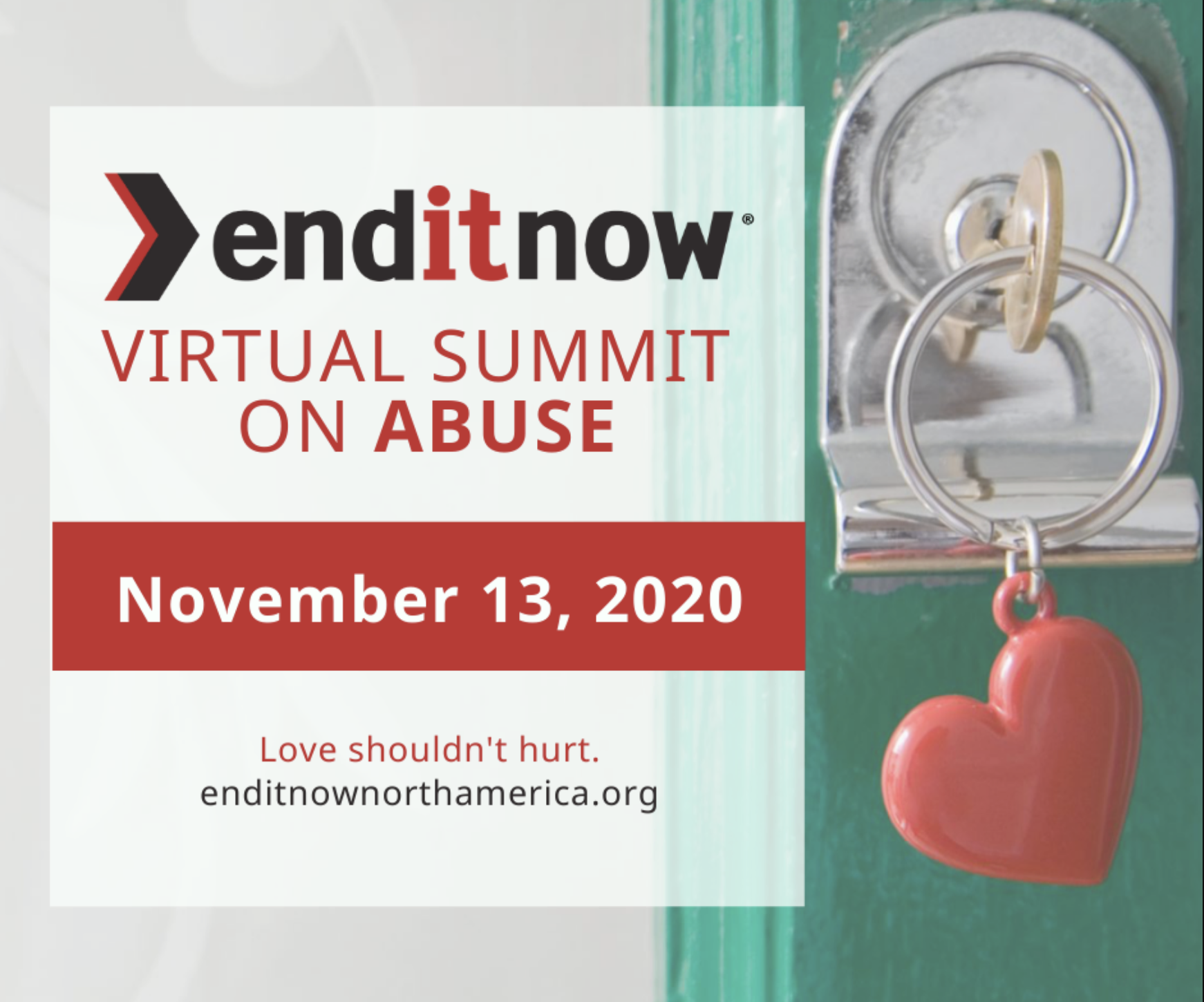 The North American Division of Seventh-day Adventists is preparing to host an event on November 13-14, 2020, that aims to raise awareness of violence against women and minors taking place in churches, homes, and schools. This year, the enditnow Virtual Summit on Abuse will place a greater emphasis on providing church leaders, pastors, seminary students, and schools administrators and teachers with practical tools to help victims of domestic violence, or intimate partner violence, receive the help they need in a safe, effective, and non-judgmental manner.
"We've built an awareness and engagement campaign over the years that has worked well. More and more people have expressed interest in our summit and resources, but now it's time to put more tools in people's hands," said Erica Jones, assistant director of NAD women's ministries. "Many ministry leaders are grasping that this is not just a women's ministries issue – it's a human rights' issue."
The keynote presenter of the summit will be Mary DeMuth, the author of "We Too: How the Church Can Respond Redemptively to the Sexual Abuse Crisis." Additional topics covered by thought leaders in this field will include protecting children and youth, and digging out of the pit of spiritual abuse – a topic presented at a previous summit that past attendees have requested to hear again.
The enditnow Summit on Abuse has been an annual event since 2017, and, as in years past, presentations will be given both in English (Nov. 13) and Spanish (Nov. 14).
The "Perfect Storm"
With the ongoing COVID-19 pandemic in the United States, continued quarantined conditions, deliberations about uniquely uncertain futures, and soaring unemployment rates have led to ubiquitous feelings of isolation, high stress, and financial strain. Unfortunately for women and children on the receiving end of abuse, their abusers are often triggered by those factors when inflicting pain physically, emotionally, spiritually, or financially. Thus, the quarantine conditions that have been imposed to help keep the public safe — limiting social interactions outside of the home, closing or limiting occupancy of shelters for victims of domestic violence — has been called a "perfect storm" against the vulnerable.
"It's a whole different level of isolation," said Jones.
The National Domestic Violence Hotline received a nine percent increase in calls during late spring and early summer in comparison to the same timeframe in 2019. More than 6,000 calls referenced COVID-19 as a contributing factor to the harm they received.
Since local orders throughout the country have restricted gatherings for religious services, and home visitations are risky due to the potential of spreading the coronavirus — leaving many interactions and opportunities for fellowship restricted to computer screens via video conferences — it may be difficult to assess a cry for help from a member. However, if a leader is made aware of abuse taking place within the scope of his or her influence, Jones recommends consulting the ministry's "Decision Tree" as a guide to properly intercede on behalf of the victim.
"It's one of the best resources we've made for this issue," said Jones.
Tips on how to access additional practical, free resources from women's ministries will be shared during the enditnow Virtual Summit on Abuse. Click here to register for the summit in English, and here to register for the summit in Spanish.