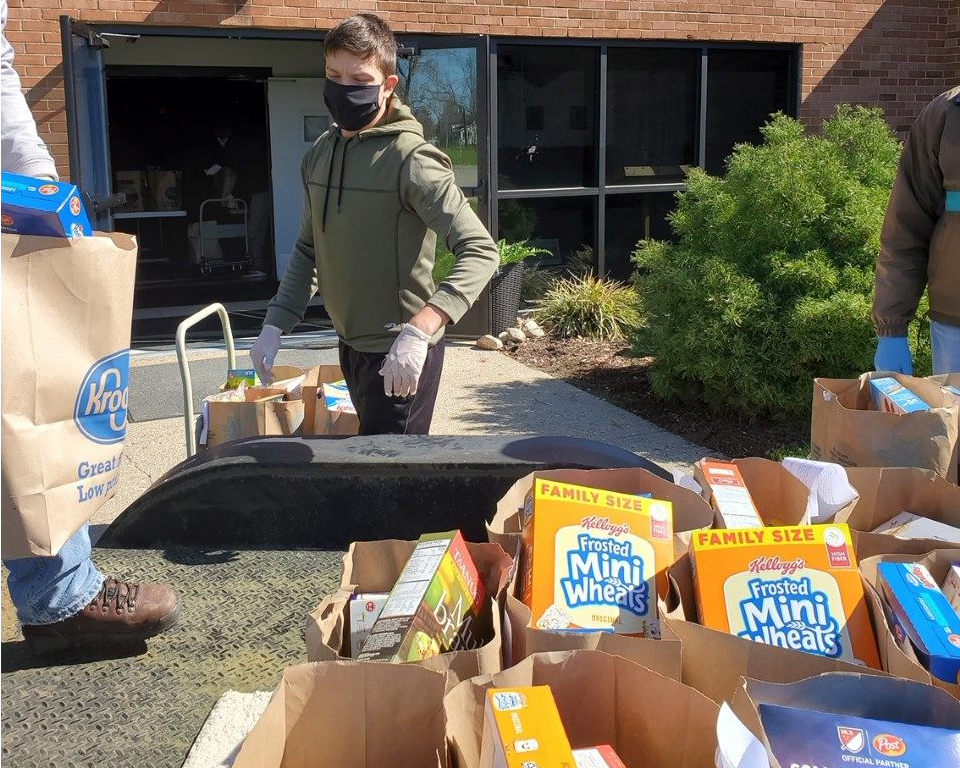 In late 2020, Dan Weber, director of communication for the North American Division of Seventh-day Adventists, noticed a question posed to the NAD Twitter account (@NADAdventist) that bluntly asked what the Adventist Church had done for people during the COVID-19 pandemic. The author of the tweet seemed to be unaware – and thus critical – of how Adventists have responded to the tremendous needs created by the pandemic.
"I shared several examples I knew of how local churches and ministries had stepped up in providing relief to those in need. This online interaction caused me to pause and reflect. I know many Adventist Churches have helped their local communities, but I, like the person who reached to out on Twitter, wanted to know more," said Weber.
The World Health Organization (WHO) declared the COVID-19 virus outbreak a global pandemic on March 11, 2020. Two days later, the president of the United States declared a national emergency as a result of the widespread effects of the novel coronavirus. It was around this time that many local counties, cities, and states began establishing mandatory quarantine protocols on non-essential services. This left many in employment limbo and dramatically impacted the economy. Disenfranchised communities were hit the hardest. In response, Adventist churches and ministries – including some of the 1,358 centers supported by Adventist Community Services – have sprung to action to serve the immediate needs of their communities.
"On behalf of the NAD administration, NAD ACS leadership would like to express sincere appreciation to the Adventist church members in North America for their diligence in supporting the ACS Food Relief projects regarding the novel coronavirus [response]," said Sung Kwon, NAD ACS executive director. "I would especially like to thank the ACS union/conference directors and volunteers for their self-sacrificial commitment to serve our communities in the NAD territory as we follow what Jesus said in Matthew 5:16: 'In the same way, let your light shine before others, so that they may see your good works and give glory to your Father who is in heaven.'"
Below you will find a few examples out of many that showcase how Adventists served their communities over the past 12 months during the COVID-19 pandemic.
March 2020
The pastor's wife of the Newport Seventh-day Adventist Church coordinated a sewing project that created masks for healthcare providers who had limited access to personal protective equipment (PPE): https://www.communityservices.org/newport-sewing-projects/
Through vigorous prayer, Janet Allen, director of the Jackson Community Service Center of the Jackson Seventh-day Adventist Church in Michigan, was able to secure immediate funding to continue operating the church's food bank when it seemed they would have to halt their operation: https://www.lakeunionherald.com/archive/articles/jackson-mich-community-services-center-steps-out-in-faith
By the end of March, more than 6.6 million people filed for their first week of unemployment benefits, according to the U.S. Department of Labor.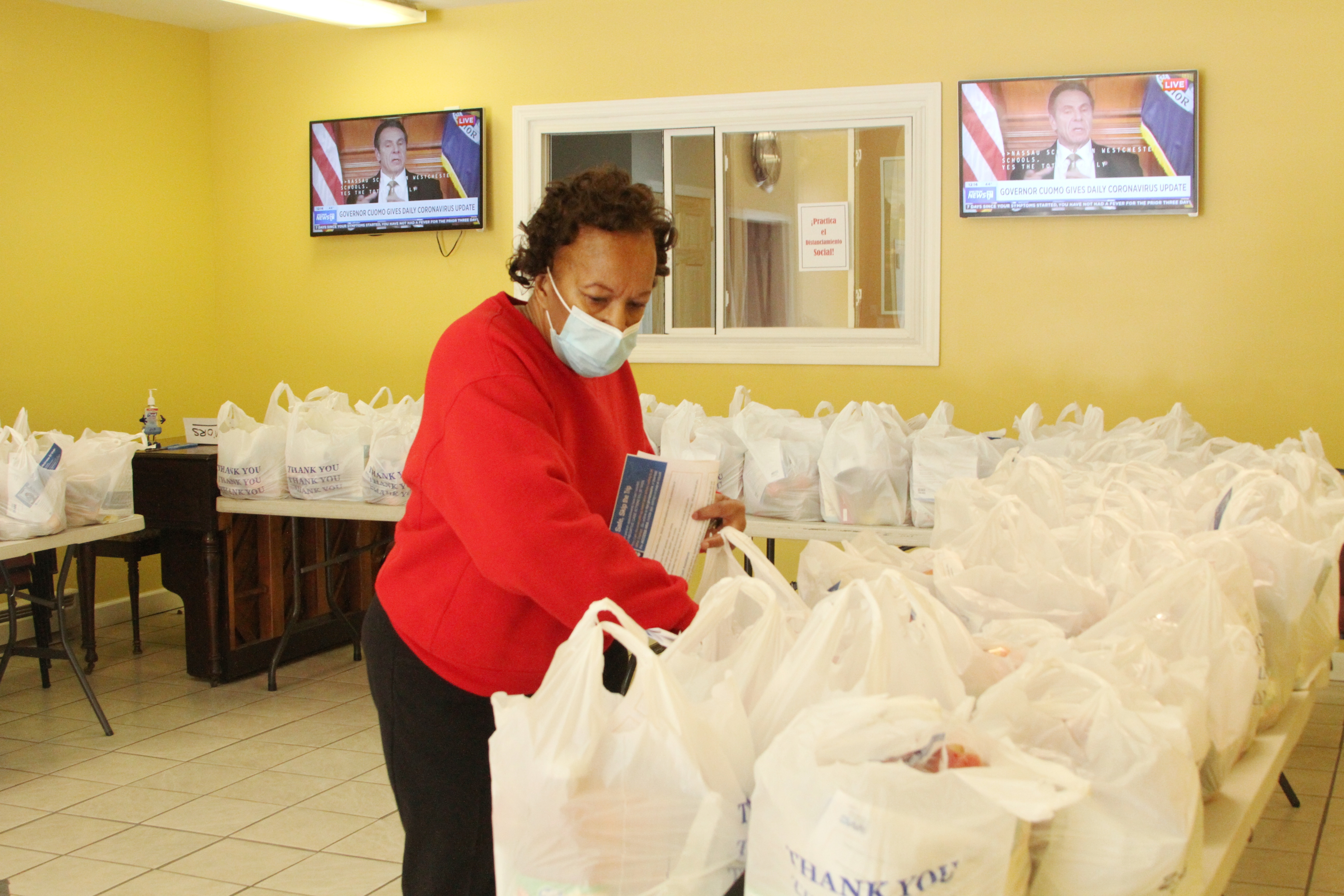 April 2020
Adventist Community Services of the North American Division invested $1.5 million – $25,000 per conference — for relief efforts. An additional $500,000 was provided for PPE and buckets: https://www.nadadventist.org/news/nad-adventist-community-services-commits-15-million-local-conference-food-pantries-covid-19
As a result of the grants, reports of service immediately came in from various regions of California; Queens, New York; Escanaba, Michigan, and the Tri-Cities metropolitan area of Washington.
The Seventh-day Adventist Church in Moab, Utah, planted 20,000 potato seeds in a lot near their property to harvest potatoes for the community: https://www.moabsunnews.com/news/article_3a8385ee-2aac-11eb-b786-5bff3bbeb9a6.html
The homeless ministry of the Omega Seventh-day Adventist Church in New Haven, Connecticut, was able to maintain its "warming center" and offer showers to its visitors through "Showers of Blessing" mobile shower unit operated by ACS Greater New York: https://www.communityservices.org/showers-of-blessings-during-covid-19/
By the end of April, there were more than 1 million confirmed COVID-19 cases in the United States, according to Johns Hopkins University.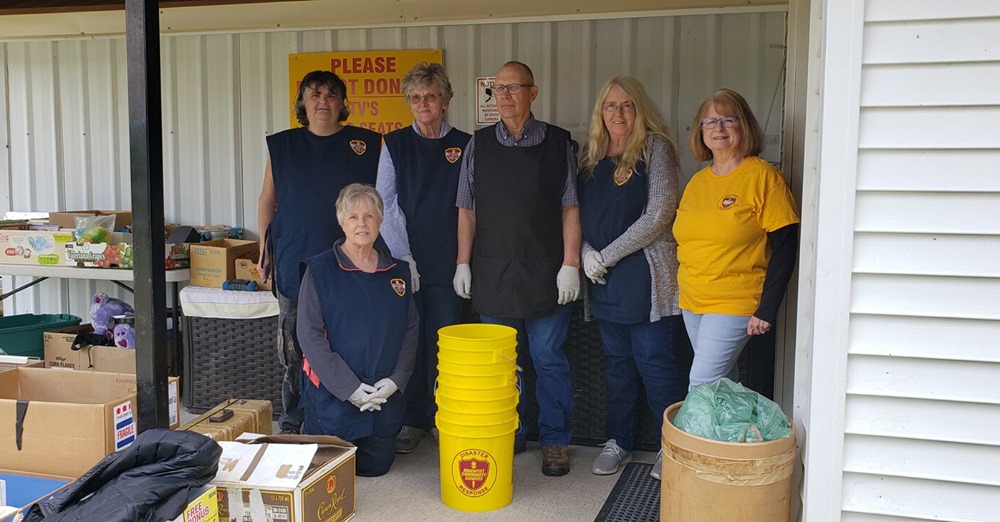 May 2020
The ACS Montana Conference's Hot Springs Thrift Store resumed operations in the small town in northwest Montana. Customers were able to peruse items outdoors in a safe, socially distanced environment: https://www.communityservices.org/acs-ministries-in-montana-respond-to-covid-19/
ACS Michigan Conference helped facilitate the delivery of rice, beans, and sweet potatoes to 420 Rwandan and Burmese refugees living in Grand Rapids, Michigan: https://www.communityservices.org/grand-rapids-refugee-food-drive/
June 2020
Volunteers of the Compassion Alaska Program, which is an extension of Alaska Conference's Artic Mission Adventure, sewed 1,500 masks and distributed hygienic products for residents living in seven remote villages: https://www.communityservices.org/compassion-alaska-progrm/
On June 26, the White House Coronavirus Taskforces addressed the alarming spike of COVID-19 positive cases in the country's southern states including Texas, Alabama, Mississippi, Georgia, and South Carolina.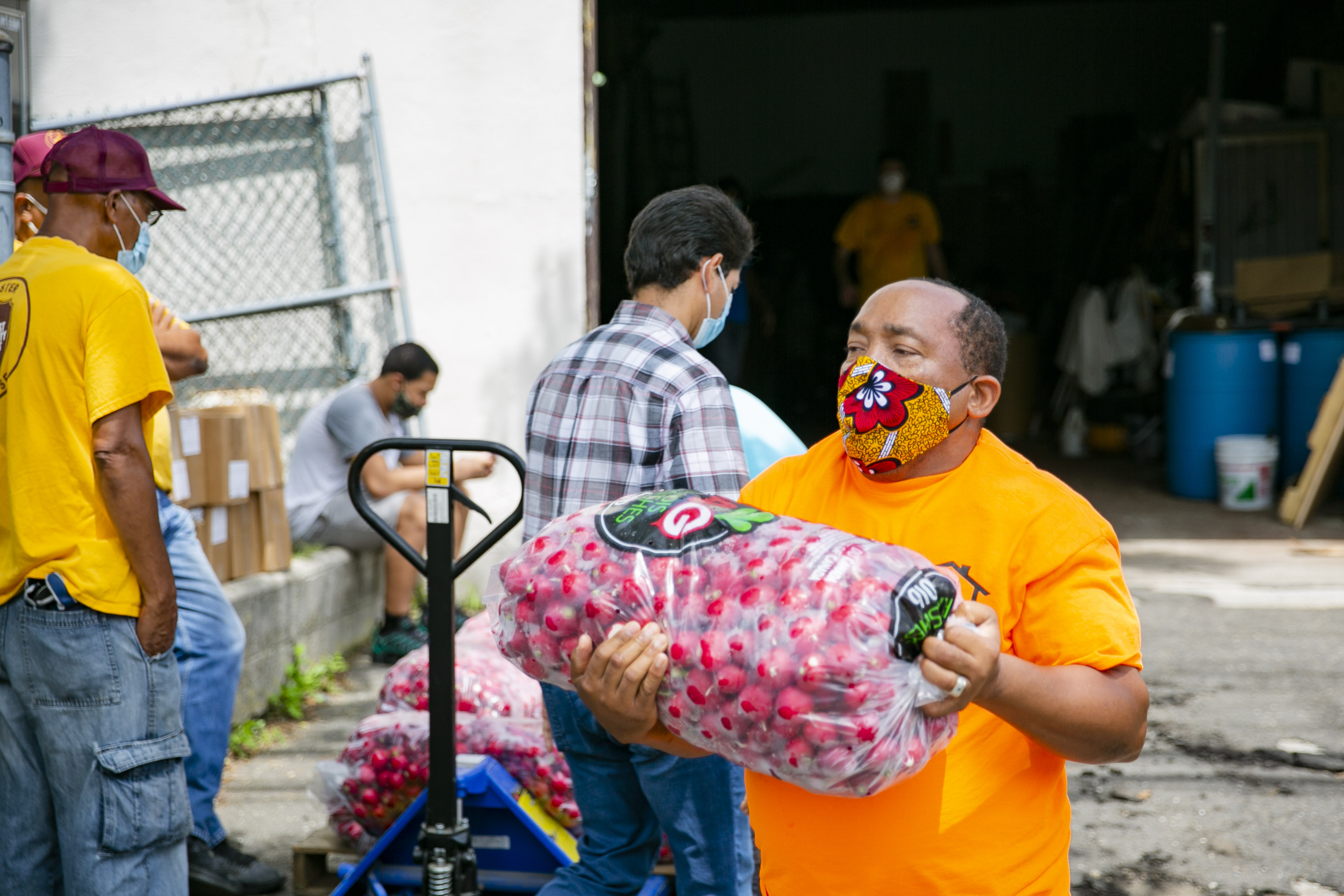 July 2020
ACS of the Greater New York and Northeastern Conferences entered a partnership with City Harvest, one of the largest food banks in New York, to provide food for their 100 ACS food banks to distribute throughout the state. City Harvest made its first delivery of 12 pallets of food on July 13.
August 2020
The parking lot of the Auburn City Seventh-day Adventist Church in Auburn, Washington, was transformed into a food distribution center and a designated COVID-19 testing site: https://nwadventists.com/news/2020/09/auburn-city-church-feeds-need
September 2020
Members of the St. Louis Central Seventh-day Adventist Church gifted local healthcare workers with notes of appreciation, healthy snacks, and fun decorations: https://outlookmag.org/st-louis-central-church-thanks-local-healthcare-providers-with-gift-boxes/
Westbank United Seventh-day Adventist Church in New Orleans, Louisiana, rose to the occasion when families who were already facing food insecurity due to the pandemic experienced the effects of Hurricane Laura, which struck the state of Louisiana late August: https://www.communityservices.org/westbank-united-sda-church-assists-the-needy/
U.S. surpassed more than 200,000 deaths linked to COVID-19 by the end of September, according to The Washington Post. Total number of COVID-19 cases climbed to 7 million.
October 2020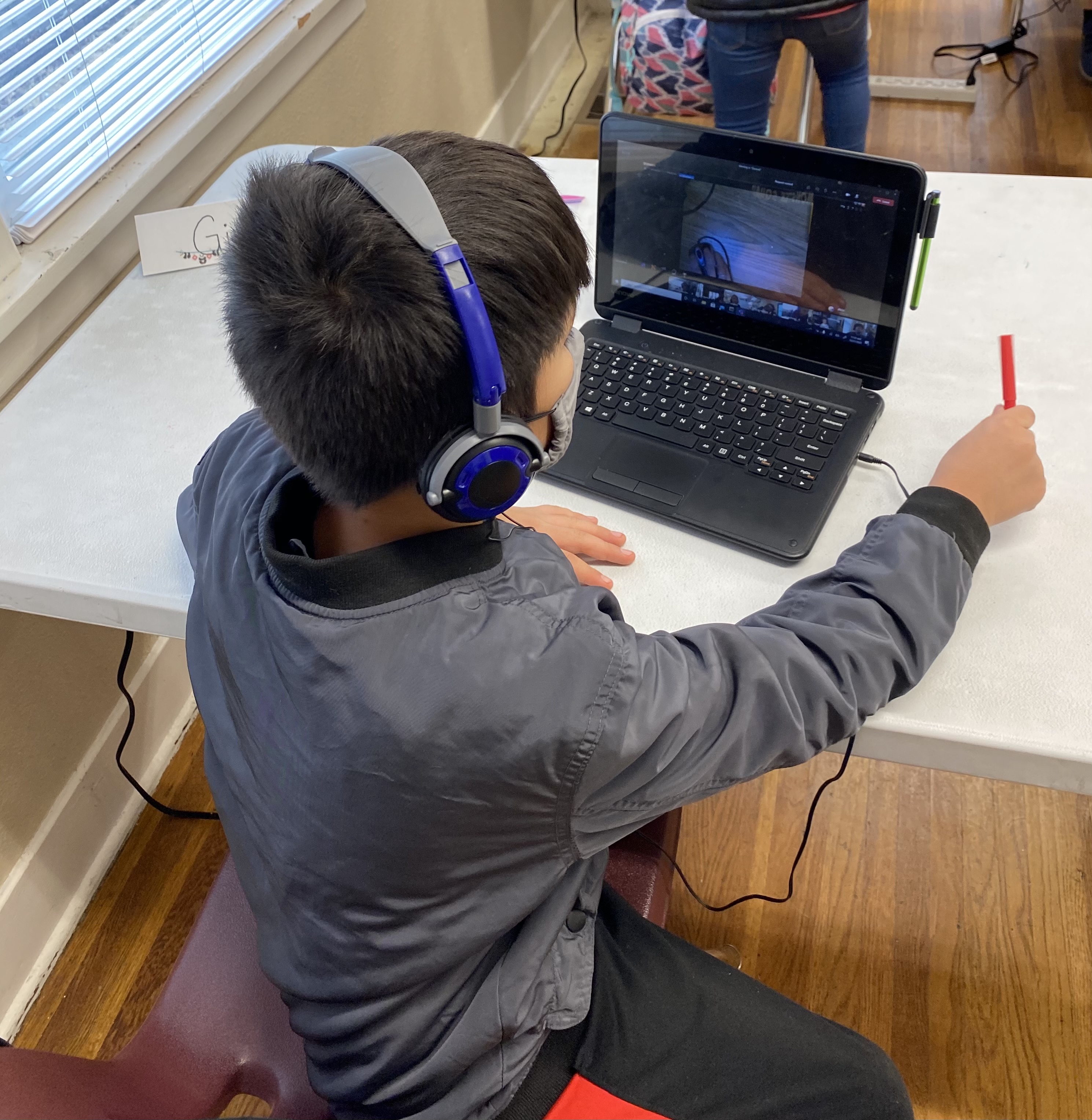 The Spokane Central Seventh-day Adventist Church relaunched its "STEAM Ahead @Discovery Junction" on October 21 as a safe space for up to 12 students who attend Garfield Elementary School in Spokane, Washington to connect to Wi-Fi in order to virtually attend school. Prior to the pandemic, "Discovery Junction" operated as an after-school enrichment program offering activities in science, technology, engineering, arts and math for low-income children.
Members of the DuPont Park Seventh-day Adventist Church in Washington, D.C., organized a back-to-school giveaway and collective baby shower for its surrounding community: https://www.communityservices.org/dupont-park-church/
November 2020
Adventist Community Services Greater Washington, located in Silver Spring, Maryland, distributed nearly 1,200 Thanksgiving Holiday Boxes containing Turkeys, non-perishable food items, and fresh produce.
December 2020
Student athletes of Orangewood Academy in Garden Grove, California, were able to carry out their annual "Holiday Hoops" event to serve children in their community: https://adventistfaith.com/pacific-sunrise/2020/12/22/orangewood-academy-athletes-volunteer-during-holiday-hoops-event/
The first doses of the COVID-19 vaccines by Pfizer and Moderna were distributed throughout the United States on December 14.
The first case of the COVID-19 UK variant was confirmed in the United States on December 29.
January 2021
NAD ACS received a $250,000 grant, then matched the funds in order to provide $500,000 to ACS food pantries in the NAD territory: https://www.communityservices.org/nad-acs-awarded-250000-grant-for-food-programs/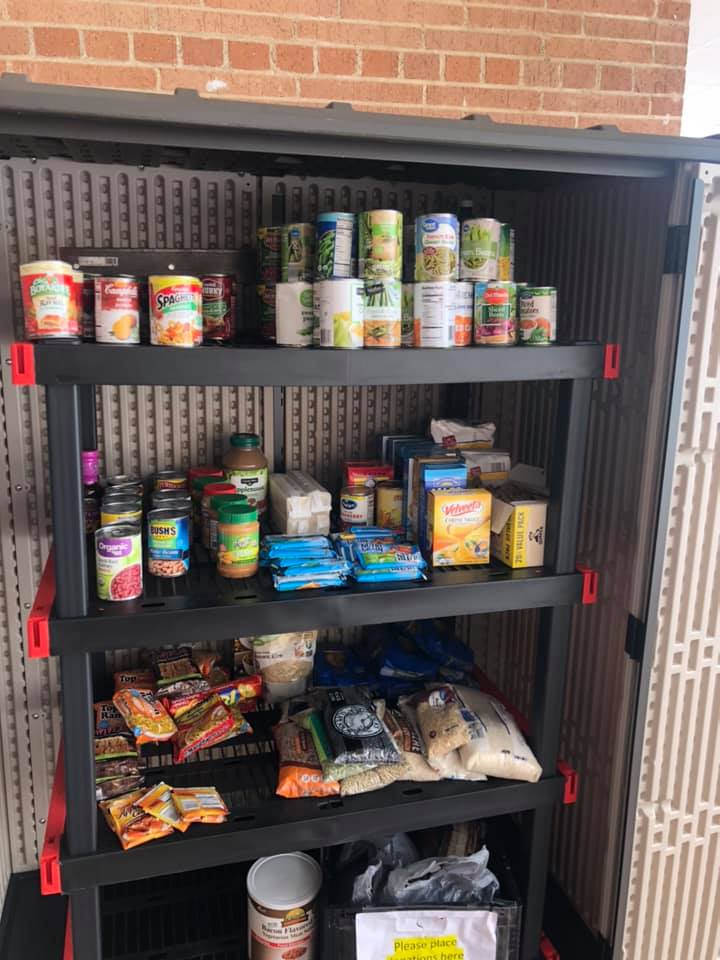 February 2021
In addition to its monthly "LIFT" community food distribution ministry, The Keene Seventh-day Adventist Church in Keene, Texas, started a 24/7 "Little Free Pantry" for its neighbors. The self-serve outdoor cabinets house non-perishable food items available for anyone in need.
The U.S. passed a tragic milestone of half a million deaths caused by COVID-19, according to Johns Hopkins University.
According to the Center for Disease Control, nearly 77 million vaccinations have been administered. Further, the Johnson and Johnson vaccine, which was developed by Janssen Pharmaceutical Companies, was granted Emergency Use Authorization (EUA) by the Food and Drug Administration on February 27.
--
Visit NAD ACS' website and Facebook page to keep up with stories of Adventists serving their communities throughout the pandemic.