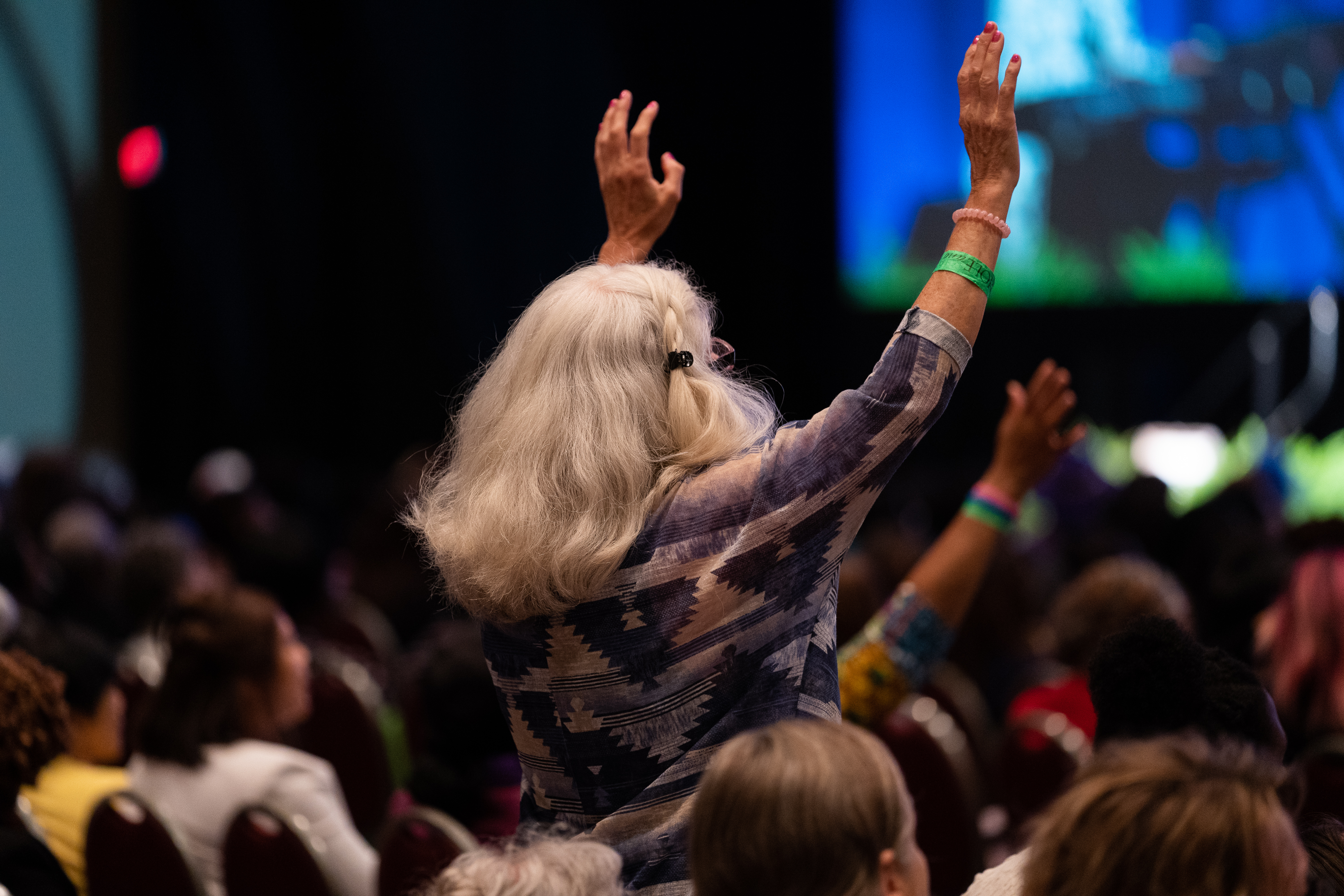 More than 1,000 women were given the opportunity to enrich their lives spiritually, mentally, and physically during the "Whole and Holy" 2019 North American Division Women's Convention. The four-day event, which included general sessions, breakout seminars, and worship services, was held at the Rosen Shingle Creek Convention Center in Orlando, Florida, September 26-29. The convention also featured a full day of community service activities, organized by the "God in Shoes" ministry, that took place across the city of Orlando.
"We've known for several years that we wanted this convention to be about women's health," said Carla Baker, director of NAD Women's Ministries, which hosts the convention every five years. "It gelled about a year ago when I read this wonderful text in the Message Bible paraphrase, 1 Thessalonians 5:23: 'May the God who makes everything holy and whole, make you holy and whole, [and] put you together – spirit, soul, and body.'"
"Health is like a 3-legged stool — spiritual, mental and physical health," said Baker during the convention opening. "If you are not healthy physically, then you won't be healthy spiritually or emotionally. And if you're not healthy emotionally, then you won't be healthy spiritually or physically."
Daniel R. Jackson, president of the North American Division, who was a featured speaker during the 2014 convention, also greeted the attendees and encouraged them to continue ministering to others.
"The work of God on earth would never succeed without women," said Jackson. "The work of the Seventh-day Adventist Church is the work of heralding the Gospel of Jesus. You must never escape from that reality into a notion that you don't count, because God is counting on you."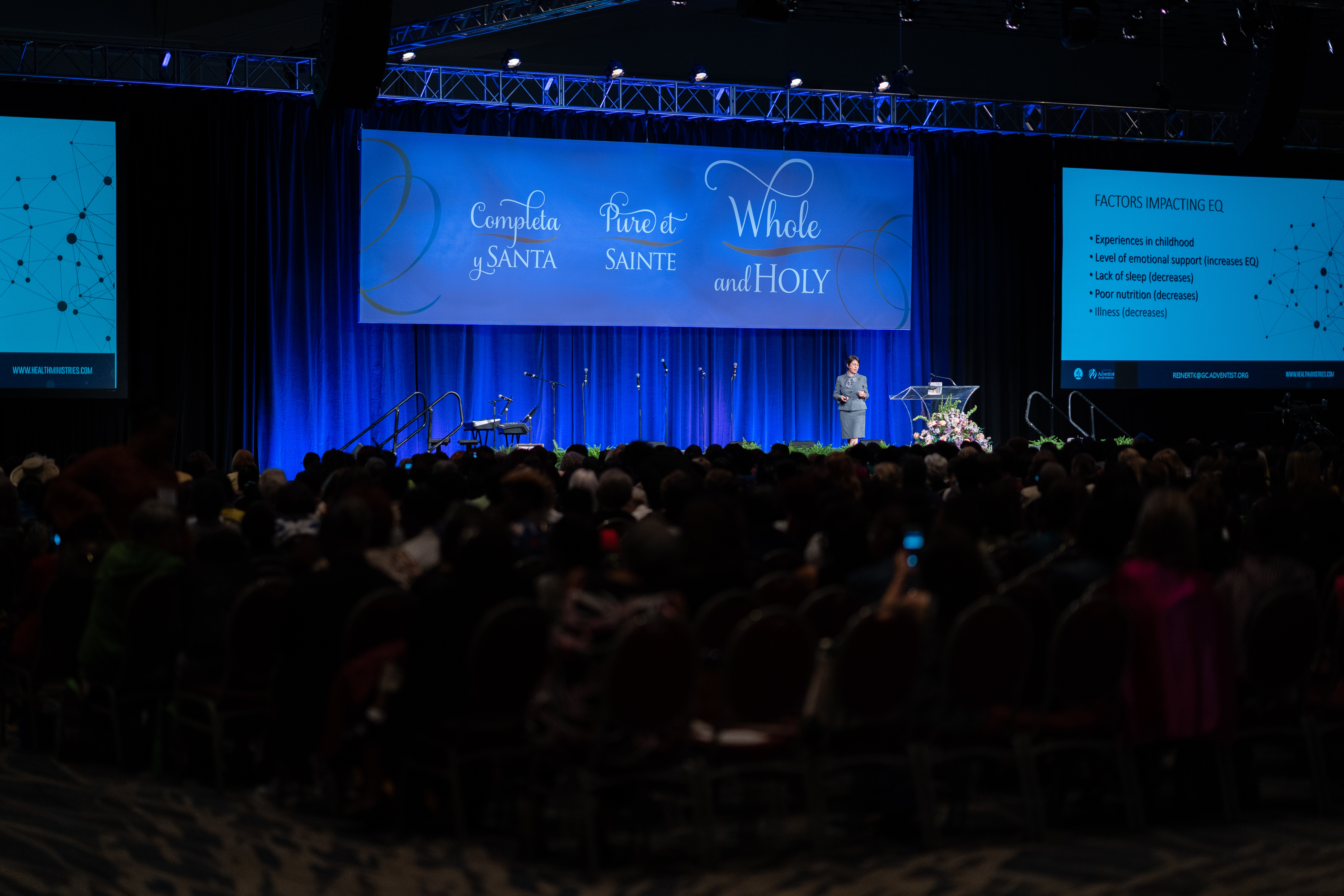 Relationships and Promises
A common theme highlighted by the general session speakers was the need for healthy inter-personal relationships. The speakers addressed the necessity through the lenses of their various disciplines and expertise. Kiti Freier Randall, an internationally recognized pediatric neurodevelopment psychologist, spoke on the powerful effect relating has on the mind and body; Katia Garcia Reinert, associate director of health ministries for the General Conference of Seventh-day Adventists and a family nurse practitioner, spoke on role emotional intelligence plays when relating to others; David DeRose, an internal and preventative medical physician, spoke about inter-personal relationships as one of the many ways that help promote long-term health; and Adly Campos, an international evangelist, and founder/president of Well-Being International, spoke on being mindful of the influence of others and how it's important to be transformed by God.
Hyveth Williams, professor and director of homiletics at the Seventh-day Adventist Theological Seminary at Andrews University, delivered the Sabbath morning message "Your Promise Is on the Way," based on the biblical story of Abram and Sarai — who would become Abraham and Sarah — and how God promised Sarai would get pregnant with a son even though Sarai was barren and well beyond child-bearing years.
"Sometimes to make us mentally, physically, emotionally, and spiritually healthy, God will push us beyond our narrow perspectives by putting promises in our hearts that don't make sense to our minds and seem impossible in our own bodies," said Williams. "A key to being whole and holy is to let the impossible seeds God plants in our mind take root in the depths of our soul and permeate the pathway of our heart in order to ultimately flourish and bear fruit. All we've got to do is believe, trust, obey, and be patient."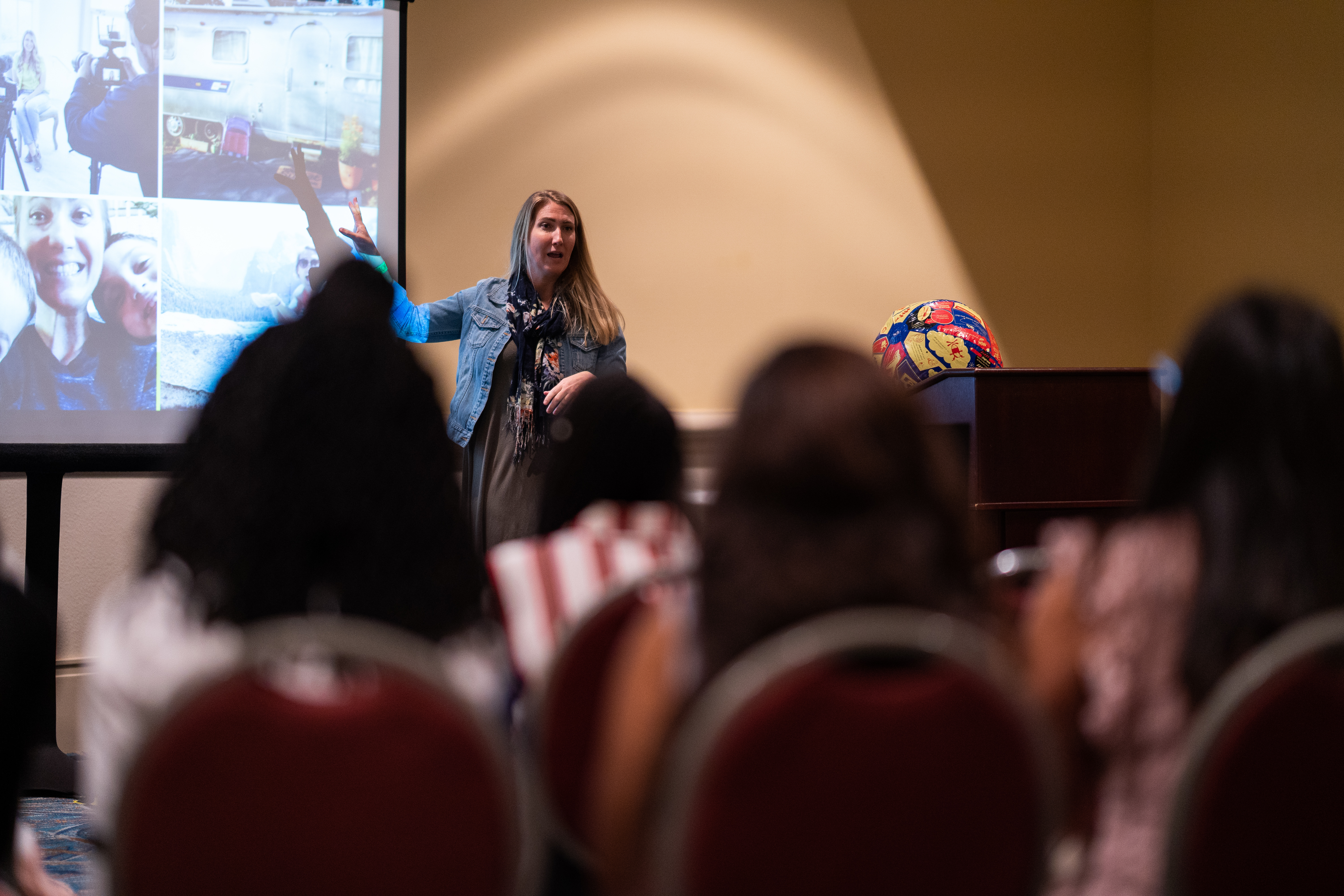 "Whole and Holy" Teen
A program specifically curated for high school girls was offered for the first time in the convention's history. Erica Jones, assistant director of NAD Women's Ministries, spear-headed the programming in response to the growth of Gorgeous2God, the ministry's teenage outreach initiative.
"Gorgeous2God has grown so much that when we started planning, it was clear teen ministry needed to be a cohesive part of the convention. Teen ministry is one of the things we should be doing best," said Jones. "Yes, it's important for the girls to be part of the general session during worship and praise time and to also have that intergenerational experience, but they also need to hear topics that are relevant to them and where they're living now."
Approximately 20 girls participated in the teen-track, which covered topics of dating, sex, identity, self-image, and experiences from their local churches. Sessions were led by three speakers, Novella Smith, a youth pastor who spoke on trauma and how the negative experiences they may have endured do not define them; Heather Thompson-Day, a professor, author, and speaker, empowered the girls to persevere through difficult times; and Amie Regester, a digital media evangelist, encouraged the participants to remember that Jesus will never hurt or abandon them, even then fellow church members cast judgement.
"One of the biggest things we see in our local church is the sad fact that a lot of girls feels judged based on what they're wearing. They do want to be in church, but they want it to be an authentic experience [without judgement]. A lot of times we fall short in that area, so this was a chance for them to engage and ask pertinent questions," said Jones.
"I hope [the teens] learned that their church, despite its flaws, really cares about them and loves them, and that they are mentors who are willing and want to journey alongside them," said Jones.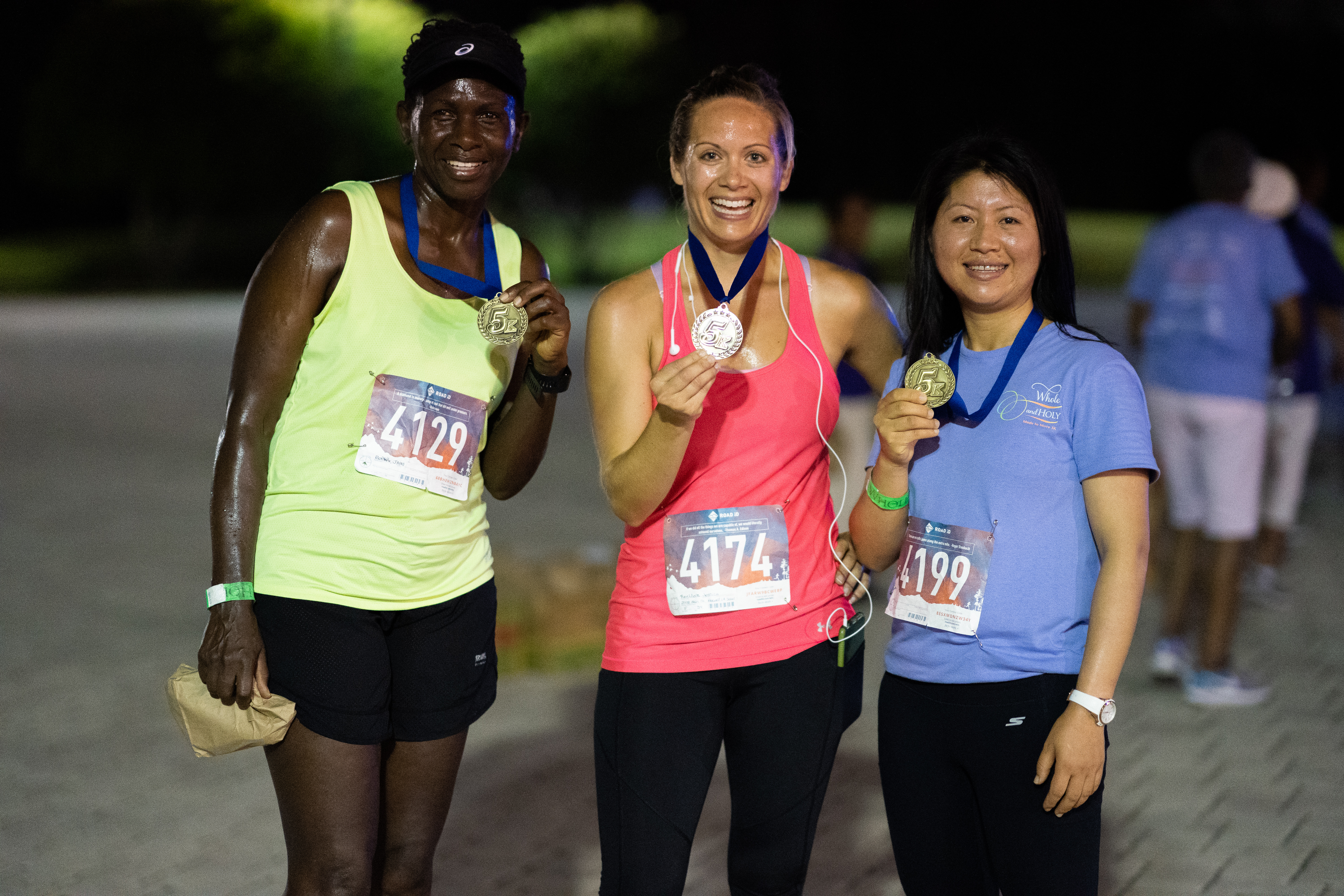 "Made to Move"
Angeline David, NAD Health Ministries director, gave a presentation on an alarming trend that's directly impacting physical health — obesity. David said the rate of obesity has tripled worldwide since 1975. Statistics also indicate that 13 percent of adults are obese, and 39 percent are overweight. In addition, 340 million children and youth are either obese or overweight around the world.
David explained that the problem began in the Garden of Eden after Adam and Eve ate from the Tree of Life. When sin entered the world as a result, it introduced brokenness to our physical stature, spiritual communion with God, the desire for relationship with an equal, and cognitive, creative, and leadership abilities.
"For some of us that brokenness is manifested as hypertension, diabetes, or anxiety. It can also show up in relationships that are hurtful, harmful, and damaging, and in emotions that drive us into despair," said David. "For some of us it's so much more obvious because we wear it. The bottom line is that we all have that same brokenness."
"When it comes to factors causing obesity and overweightness, it's very complex and there are severe and intimate situations involved in it," continued David. "But the message of God for each one of us today is, 'I have the power to make you whole, but I've given you some tips. Will you do your part so I can strength you?'"
NAD Health Ministries provided an opportunity to improve physical health by sponsoring the convention's first 5K race. The race was also the inaugural event for the ministry's "Made to Move" campaign that will unfold next year.
"We are here to give God glory," said David, a little before 6 a.m. on the convention's final day, to the 260 walkers and runners getting ready to start the race. Participants were categorized according to their ages and included seven high school participants, 28 participants ages 19 to 35, 80 participants ages 36 to 50, 103 participants ages 51 to 64, and 42 participants 65 years old or older.
Once the 5K concluded, David commented, "We all felt the Spirit of God. It was precious, beautiful, and sweet."
The first-place winner was Jayne Rop-Weller from the Ontario Conference, second place was given to Jessica Rochholz from the Iowa-Missouri Conference, and third place was given to Pateng Yang from the Minnesota Conference.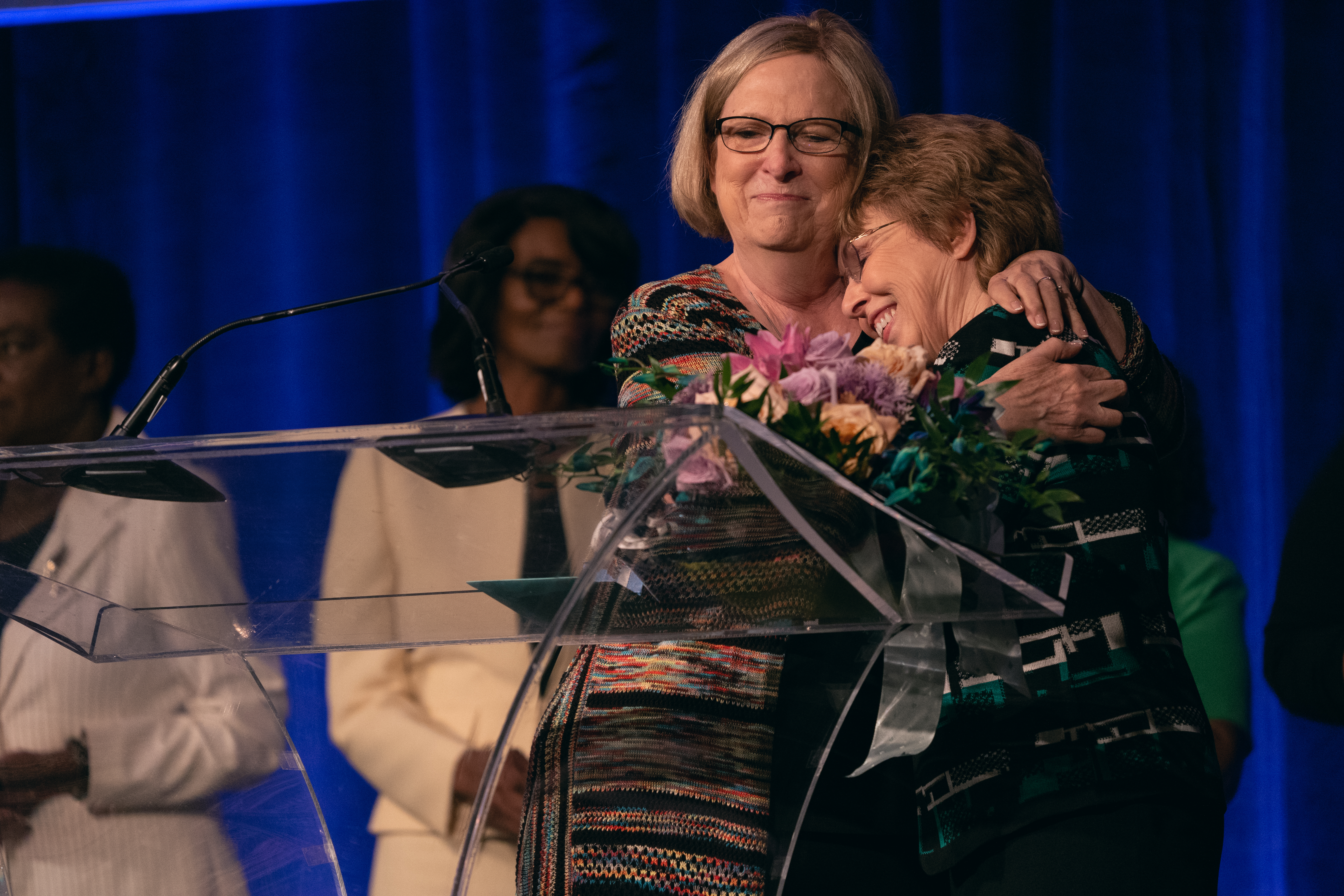 Fond Farewell
Another important highlight of the convention came during the Sabbath afternoon program, which featured a violinist, saxophonist, and vocal groups. Between the musical performances, Jones and the women's ministries leaders of the North American Division's unions, and the women's ministries directors of the Bermuda Conference and the Guam-Micronesia Mission surprised Carla Baker, who is preparing to retire next year, with a farewell ceremony. Each leader presented her with a gift, gave well-wishes, and thanked her for many years of service. Baker has been with NAD Women's Ministries for 14 years.
"We're all sisters. It's not work when you're working with such lovely people," said Baker after her colleagues finished their remarks. "I'm going to miss all the friends I've made all across the NAD, Bermuda, and Guam-Micronesia. It's been the best 14 years of my life. I thank God for giving me the privilege of serving North America with such a wonderful group of women."
Visit the NAD Flickr page to see photo coverage of the 2019 NAD Women's Convention.