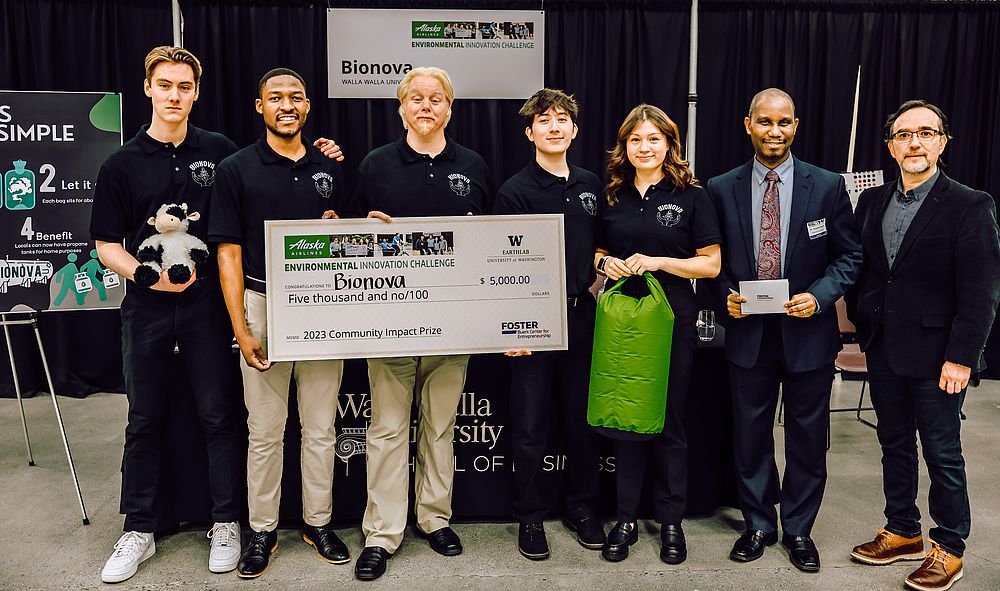 This spring, Walla Walla University's Enactus club entered the Alaska Airlines 2023 Environmental Innovation Challenge alongside 20 other teams, and took home the $5,000 Community Impact Prize for their project on energy innovation.
The team of five students is developing Bionova, a biogas production process to provide a sustainable and cost-effective alternative to wood and charcoal for cooking fuel. Nyasha Pazvakwambwa, a junior accounting and finance major, explained it was Zimbabwe's need for a cost-efficient and environmentally-friendly energy source that served as the motivation for the project. "We aim to utilize waste from animals to create a network of bioreactors producing biogas in nylon-coated bags and distribute it to propane tanks for local use in cooking stoves and generators" says Pazvakwambwa.
The Community Impact Prize recognized the project's priority of justice while providing an innovative way to improve community resilience in the face of climate change. Elizabeth Hernandez, a junior business major, said the $5,000 of prize money will go towards bringing the project to life.
To participate in the annual challenge, the WWU Enactus Club team traveled to Seattle to compete against 20 teams from the University of Washington. Pazvakwambwa said the competition was an eye-opening experience where he could apply the business communication skills he has learned in class and glean important feedback from the judges.
Hernandez had a similar experience. She said, "Not only did I get to interact with numerous students from the University of Washington, but I also had the opportunity to meet CEOs, entrepreneurs, angel investors, and individuals who were keen on supporting students and their ideas."
Enactus is a global network of more than 72,000 student leaders who are committed to using business skills to ensure that all people thrive in a sustainable world through social and environmental impact. The WWU Enactus Club offers students from any major the chance to be involved. Hernandez said she hopes other Hispanic students like herself will see the team's success and feel welcome in the club.
To learn more about the WWU Enactus Club, visit their website.
— Kayla Hastings is a Walla Walla University Relations student writer.