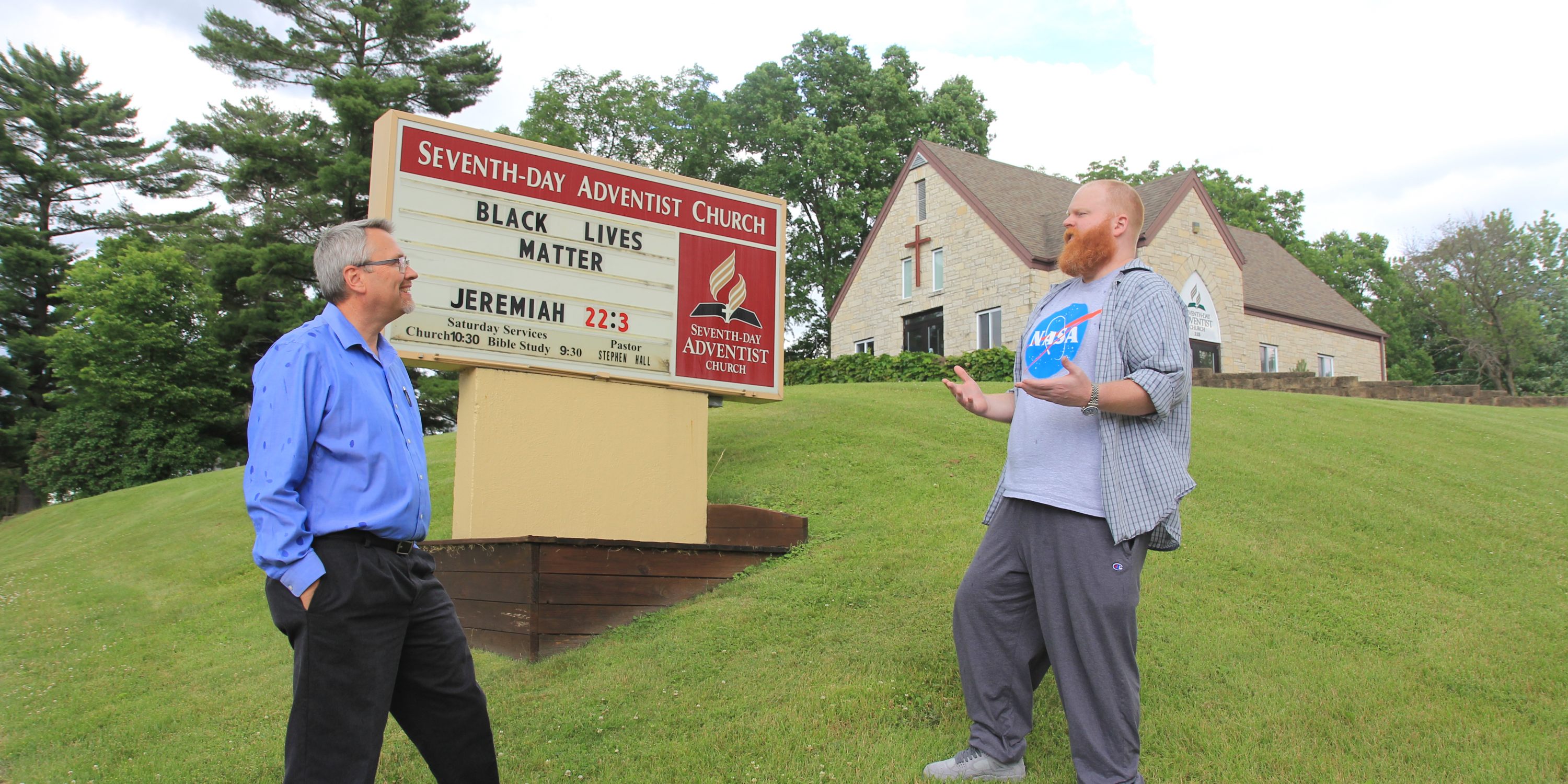 What can we do? That thought occupied my mind as I watched the nation again turn its attention to another senseless killing of a Black individual in America at the hands of the police. What could our churches do, in this moment, to address the continued injustice and oppression faced by the Black community?
I knew that some might try to make the case that addressing these issues might seem political, but it was clear that this wasn't a right or left issue; this was a right and wrong issue. This wasn't about politics; this was about the Gospel. Remaining silent wasn't an option in my mind, but what should we do to address these issues in a sincere and relevant way? How do we start having that conversation? Again and again these questions reverberated through my mind as I drove to one of my churches for a mid-week Bible study.
As I arrived at church, my attention was drawn to the sign that sits beside the road running past the church. This sign is usually adorned with short, often humorous, messages that hopefully will make you think as you pass by our church. Pulling into the parking lot, I felt the conviction of the Holy Spirit gently respond with the answer to my question: "Start with the sign."
After the Bible study, I reached out to the head elder of the church to ask if we could talk. I went over to his house and expressed my conviction and asked if our church would consider changing the message on the sign to simply read, "Black Lives Matter." After a thoughtful moment, he asked, "But don't all lives matter?" and asked why we should single out any one specific group. We had an earnest and genuine discussion on his front porch, lasting from 8 p.m. until midnight that night as we explored Christ's example of intentionally acknowledging His children in their moments of need.
Discussion on the Front Porch
The elder and I discussed that, in this present moment, intentionally acknowledging that Black lives matter would be following Jesus' example, and to respond otherwise would be to disregard everything our Black brothers and sisters are telling us about their experience. We then talked about how intentionally responding "all lives matter" in this situation comes across as dismissive to the Black community and ignores and minimizes what they have gone through and are going through in this struggle. We then discussed how we, as a church, should acknowledge that the experiences of those in the Black community are valid, and we should want to intentionally affirm that their lives matter. We agreed that, as a church, we have no desire to undermine their message, and that our desire is to stand with them in that fight and amplify that message.
As we explored biblical examples that show why saying "Black lives matter" is Christlike, I shared with my elder what I would be preaching on for the coming few Sabbaths across the district: the story found in Luke 8 of the woman healed when she touched the hem of Christ's garment. When she reached out to Him and all eyes were on her as she was in her moment of need, Jesus stopped and intentionally acknowledged her, showing her and the crowd gathered that she mattered. He noticed her in the crowd before anyone else and stopped everything for her, to the point of even being late for a different miracle He was headed to perform. 
We discussed how the Gospel reveals the truth, upon every examination, that all lives matter to Jesus. All the lives in that crowd pressing around Him when that woman touched Him didn't matter less than her life to the Savior. The daughter of the official that lay dying and would pass away as the Master stopped to address this woman: her life didn't matter less to Jesus. All lives do indeed matter to the Creator. It's why He came and lived a life of love and died an undeserved death so that we wouldn't have to die a deserved one. It's why Jesus rose again and, in so doing, it is why He is able to offer every life the hope that we have of forgiveness and salvation because He paid the price of sin in our place. We went over how all of that is true and still Jesus chose in this moment to intentionally acknowledge this woman in her greatest moment of need. We talked about how, if we as a church are to follow Jesus' example, we are compelled to do as He did for that woman.
We talked about how, in this moment, as the world's eyes are focused specifically on the systemic racism and abuse that Black people have suffered at the hands of police, the government — even sometimes the church — we want them to know what Jesus knew as He knit them together in their mother's womb; we want them to hear from the church what they hear as Christ calls their name; and we want to say what we, as a church and people, should have been saying this whole time, but we never consistently did: Black lives matter. 
I left that night with no answer to my request, and I returned home wondering if our little church would be willing to share with our community, in even such a simple action as changing a sign, the truth we professed to believe with our words.
A Loving Confirmation
I woke up the next morning to a text from that elder that read, "This morning I was thinking about our conversation last night on the porch. I appreciate the new perspective on the 'Black lives matter' message for our church sign. I think it would be very appropriate for us to put it up. Because it may have some perceived political connections, I will talk to the other elders and let them know what we will be doing with the sign."
I immediately lifted a prayer of praise to God! Everything that the churches in my district had shown me in my time here, that the love of Jesus was the foundation for all that they did, was evidenced in that one text message. 
Later that afternoon, my elder sent me a picture of the sign. It had been changed to read "Black Lives Matter" with Jeremiah 22:3 underneath, which was the perfect expression of God's love confirming that statement. I was so excited; I quickly posted a picture of the sign's updated message online.
During the next several hours and days, we received quite a lot of feedback and I have had several people contact me online and via phone expressing concern or disagreement with our decision to acknowledge this simple biblical truth. Thankfully, God has given me the chance to open a dialogue and pray with those folks, using each interaction to glorify His Holy name.
Our church also has had almost 900 people respond to us. We have been contacted by people from all around the U.S., Canada, the U.K., South Africa, Kenya, Zimbabwe, Indonesia, and many more locations, expressing joy and love. So many people responded with messages that they finally felt acknowledged and seen by the Church, many for the first time. We have had people express how our little church's willingness to speak in this moment is an encouragement to them in the midst of challenging times. Some have even written to let our congregation know that if they ever visit the U.S., or pass through from other states, they would like to come worship together with us. 
It's the Gospel
I don't share all of this with you to put a spotlight on our church. Make no mistake, I am thankful that the congregations here and, at each church in my district, are willing to do everything they can to show others the love of Jesus. I am thankful for the willingness they have shown to be genuine and authentic and real in addressing the pain and suffering that sin has unleashed in our communities.
But I want to be clear: this isn't a church getting political or taking a side with one group or another. Instead, this is about right and wrong. It's not politics, it's the Gospel. We are not speaking up because we want people to focus on us; we are lifting our voices because we have a responsibility to speak out about the issues affecting our community and live the example of what it means to love your neighbor.
Just as Jesus did, we as Christians must condemn the hypocrisy and cruelty of anyone who attempts to misrepresent the character of God. We need to lift up the name of Jesus in authentic worship, as described in Isaiah 1:16‒17. We need to use the voices of all of our churches and all of our people to speak out in boldness against sin, especially the sin of racism and prejudice against our Black brothers and sisters. This is a sin that many have experienced, not only in this country, but in the Seventh-day Adventist Church as well. Unfortunately, this is a sin that many in our church families face every single day. 
You may be asking yourself, "What can I do? Where do I start?"
To that I would say: "What better place than here and what better time than now?" We can start by listening. Listen to the Holy Spirit as we seek God's wisdom and mercy in prayer. Listen to the Black community, and what they are telling us about their experiences. Listen to each other as we come together in meaningful dialogue and action that gives evidence for the love of God lives in our hearts. As we listen, there will come moments when it will be appropriate to share what we have heard. When those moments come, we must be willing to have the hard, but vital conversations to address racism and prejudice in our hearts. We have to confess our sin and ask for a forgiveness and a healing only possible through the blood of Christ Jesus. Only with confession will we have forgiveness. Only through repentance and reconciliation will we find healing. To do anything less is selfish, sinful, and not of the Spirit of God.
We have a holy responsibility as a church to lift up our voices and speak this truth: we are the handiwork of the Creator God, made in His image, and we are loved by Him beyond our wildest imagination, no matter who we are.
— Stephen Hall is a pastor in the Lake Union Conference; this article originally appeared on the Lake Union Herald website.