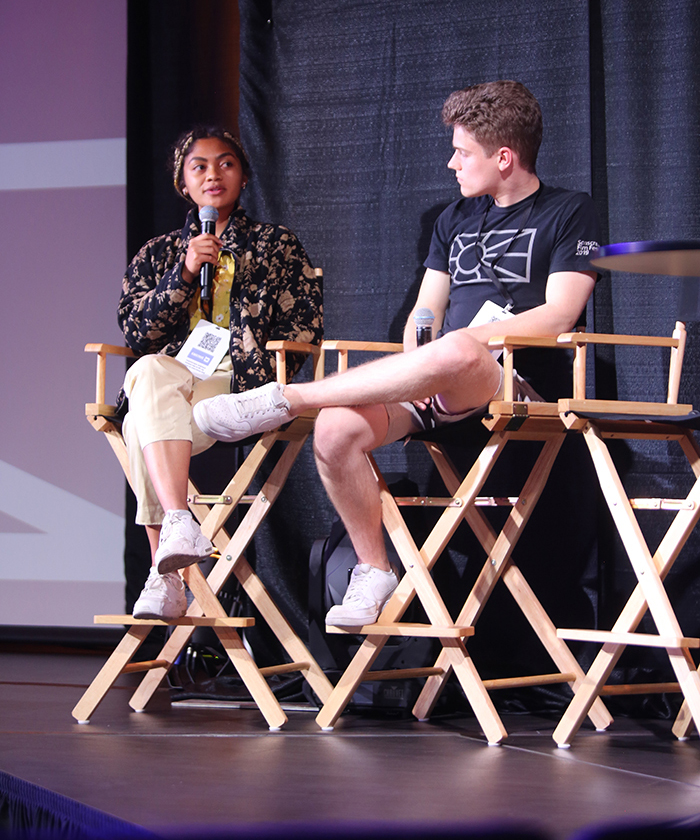 From April 7-9, student filmmakers gathered at Loma Linda University Church for the 20th annual Sonscreen Film Festival, which included the world premiere of Hope Media Europe's series. More than 150 attended the festival this year, with more than 300 attending the Friday evening premiere of Encounters. 
Festival organizers screened 28 student films from seven colleges/universities and academies, as well as several professionally-made shorts. Ryann Heim, from the Sundance partner Windrider Institute, attended the festival, showcasing several award-winning short films.
Because this was the first in-person Sonscreen since 2019, festival producer Tanya Musgrave encouraged students to socialize with one another through ice breakers and mixer games. "If they stay in film, they'll all most likely end up working together or getting a job from each other in some capacity" Musgrave said, expressing her hope that the mixer games helped students connect with filmmakers from other schools.
On Friday evening, Hope Media Europe presented the world premiere of Encounters, a five-episode TV series about college chaplains and the students who come to see them. Sven Fockner, executive producer, Adrian Duré, series director and Ivana Consolani, lead actress attended the festival and took questions from the audience. On social media, Duré shared his reaction to the premiere. "Seven years since I wrote on paper an idea that I carried in my mind and in my heart … I had the honor of and privilege of participating in the first premiere at the Sonscreen Film Festival."
The auditorium filled up for the screening, and the ushers asked people to move toward the center so those still arriving could find seats. Fockner and Duré announced that they are already looking forward to season 2. "The world premiere of Encounters, the series was the culmination of seven years of development by several media partners, including Sonscreen Films," said Sonscreen executive director Julio C. Muñoz. "We are so fortunate to have partnered with Hope Media Europe in producing a dramatic series that seeks to connect with people beyond our own Adventist community while exploring universal themes."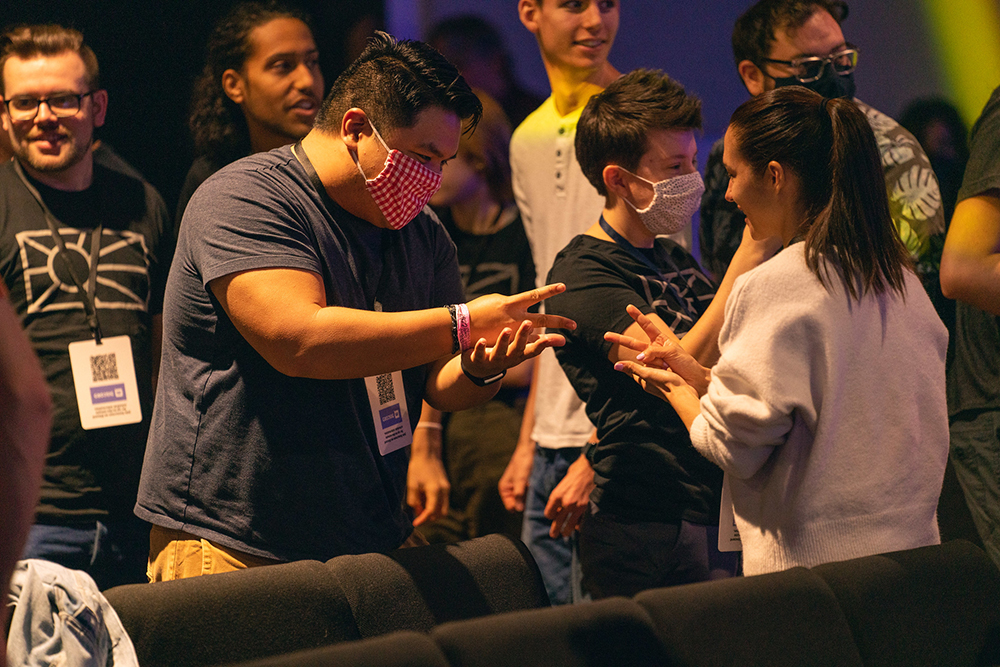 Sonscreen also introduced a new pitch competition this year, which Musgrave hoped would "nudge budding artists towards turning dreams written on napkins into tangible and viable presentations." Five finalists, students from three universities and a professional, pitched their film ideas on closing night of the festival, and three winners received funding for future projects. "The pitch competition was a highlight for closing night. … It will undoubtedly be part of our program again," Musgrave said.
"During the festival, I had several people tell me how much they enjoyed, and learned from, watching the pitch competition," said festival operations manager Rachel Scribner. "Kudos to Tanya for spearheading that portion of the event."
This festival concluded with a rooftop reception where students sampled ice cream flavors and dipped sweet treats into a chocolate fountain, and took photos on the red carpet. At the reception, festival organizers announced the awards for the films, and the pitch competition.
Third place in the pitch competition went to professional filmmaker Stephen Lemieux for his historical thriller concept, The Cold Quiet, which featured a deaf lead character. Second place went to Melody Park, a student at Pacific Union College, for her idea Radish Soup in which two Korean-American siblings attempt to reconnect with their Korean heritage. First place went to Michaela Hounslow, a Southern Adventist University student, and her concept for a female-led period piece, Redcoat.
The Best in Festival Award went to a World War II era film about love and loss. The film was titled Like Paper and was written and directed by Southern Adventist University student Michaela Hounslow. "Led by excellent writing, the piece had momentum and clarity that is rare to see at the student level, one jury member wrote. "It was well paced and structured well. I rewatched it several times, which is as high praise as I can give."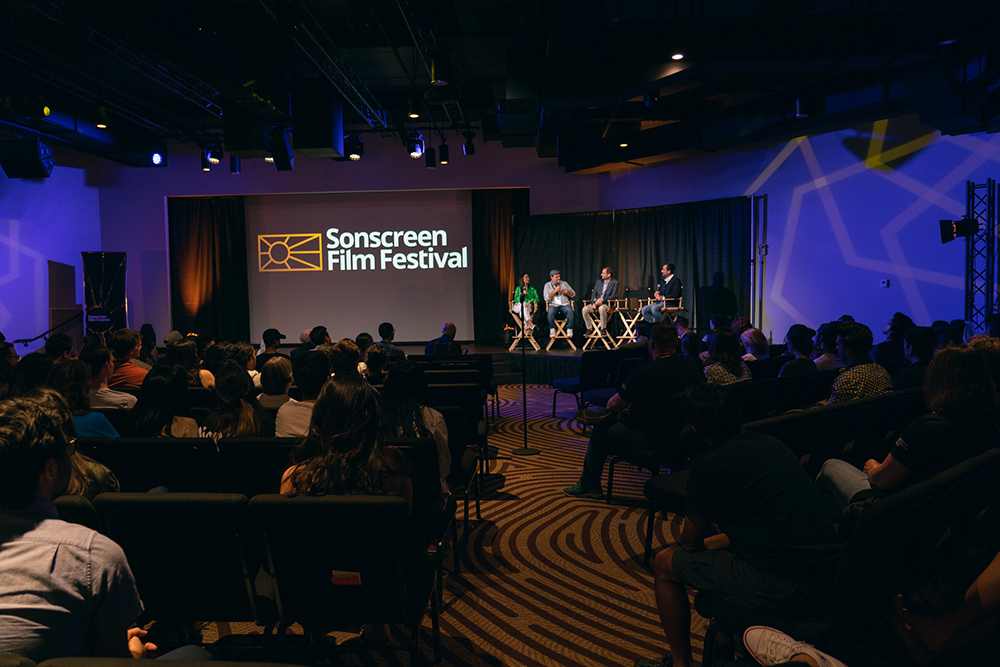 The Jury Selection Award — a film that the jury felt deserved special recognition — went to We Are People, by Southern Adventist University student Marcus Maynes, a documentary on the Romanian revolution. "The most compelling film," a jury member wrote of We Are People, adding that it drives home "the themes of political unrest and how things can escalate to life-altering circumstances at a moment's notice. It sticks with you, even days after viewing the film."
Sonscreen 2022 also marked the first year for a new festival nod: the Diversity in Film award. As Muñoz stated at the closing program, the new award "is chosen by the Sonscreen Film Festival organizers, to highlight a film that shows outstanding diversity and valuable perspectives in casting, crew, and storytelling." The first recipient of this award was Last Desire, by Pacific Union College student Miryam Andianarijaona, a film about a young woman who was born in Madagascar, and now lives in the U.S., apart from her family.
"Last Desire is a film that deeply impressed all of the festival organizers," Scribner said. "We were struck by the beautiful cinematography, emotional storytelling, and high-quality acting in this piece, along with the deeply personal story Miryam and the entire team have told. Telling stories from a variety of cultural perspectives is important. We are thrilled to present this film with the first-ever Diversity in Film award."
"When we look forward to future festivals, one of things we are increasingly aware of is our need to continue to address diversity," Muñoz said. "This is true of the film industry in general, and it's true of Sonscreen as well. By introducing the Diversity in Film award, and presenting it to the incredibly deserving film, Last Desire, we took one small step toward our goal of greater representation at our festival, and in the stories we share. We look forward to continued growth in future years."