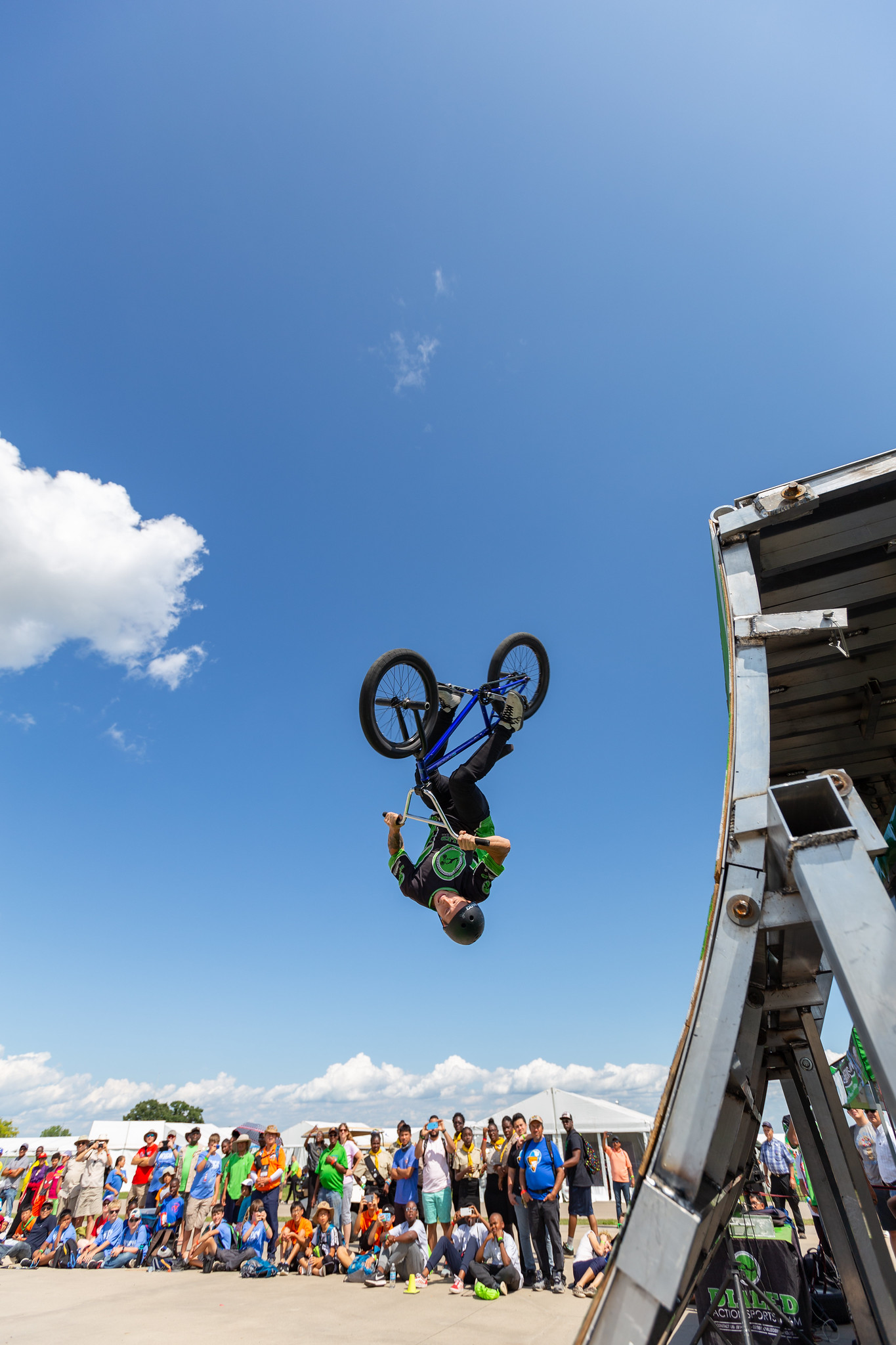 Visitors walking through the four hangars on the campus of the 2019 International Pathfinder Camporee in Oshkosh, Wisconsin, have the opportunity to experience a microcosm of Adventism — from bumping into Ted N.C. Wilson, president of the Seventh-day Adventist Church, to earning a one-of-a-kind humanitarian ADRA International pin, to completing a short list of requirements to obtain a special North American Division (NAD) pin from one of the three officers, to meeting recruiters from Seventh-day Adventist schools across the division, to praying with directors from the NAD's Ministerial Association.
Just through the entry in Hangar D, Pathfinders and staff lined up to meet Desmond Thomas Doss Jr., son of the famed Adventist who received the medal of honor for saving many of his fellow soldiers during World War II. Soldier Doss carried dozens of injured military men to safety while not carrying a weapon.
Yvonne Allen, from the Desmond Doss Foundation, who works at the Oshkosh booth, said that Doss Jr. and the foundation staff is attending the camporee to share his father's story of "patriotism, courage, his faith, his integrity, humility and conviction. We hope to provide that and continue his legacy to the youth of today."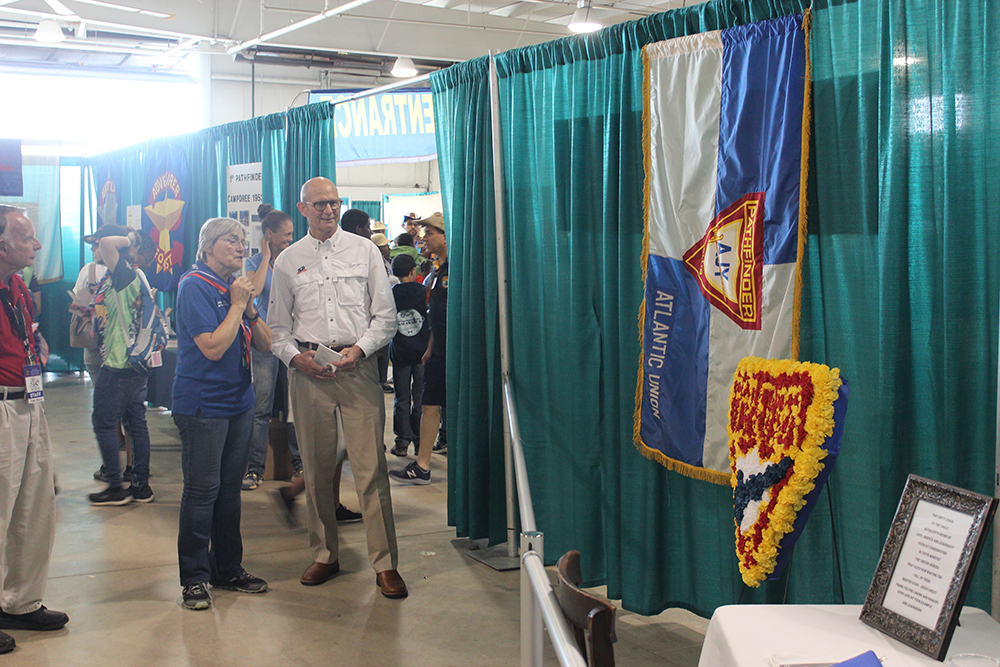 Outside and inside the hangers also lurk real dinosaur fossils, including Arty, a 16-foot-tall dinosaur in Southwestern Adventist University's dinosaurs, fossils and reptiles display in Hangar D. The area offers several honor class options, two live boa constrictors, around 60 fossils, including some they're giving away while supplies last. "We want [the Pathfinders] to see the perfection of God's creation, and we want them to understand the science behind learning that from the fossils we collect," said Andre Lujan, director of the university's Texas Through Time Museum in Hillsboro, Texas.
Building on Adventist History
As campers are make memories with old and new friends, Dixie Plata, one of the co-founders of the Adventist Youth Ministries Museum, hopes visitors will take time to remember Pathfinder events and milestones of the past. The exhibit, which takes up about half of Hanger D, contains Pathfinder artifacts including a completely handwritten Bible; manuals and handbooks from at least 1929; pins; honors; and more.
Plata started collecting Pathfinder items at age 10, with a soap and box engraved with the Pathfinder emblem, then a songbook autographed by "Elder" John Hancock, a youth director she admired. Forty years ago, she and her husband, Arnold Plata, who also collected Pathfinder manuals and handbooks, put their collections together to start the museum, which now also houses items collected from Pathfinders and youth leaders around the world.
"The goal of the museum for this camporee is to allow the young kids to have an opportunity to view the history of Pathfinders and the [Adventist] church," says Plata, who says that visitors often say they're amazed at some of the stuff they have, like a board of knots made of human hair.
Almire Saulo, a member of Potomac Conference's Filipino American Seventh-day Adventist Church in Beltsville, Maryland, is attending her first camporee in Oshkosh. She browsed the library, and hangers, and commented on the past generations of Pathfinders, "They must have had lots of fun doing the crafts and honors. Just like Pathfinders do today."
Plata hopes more Pathfinders will continue to share artifacts so future generations can enjoy them too.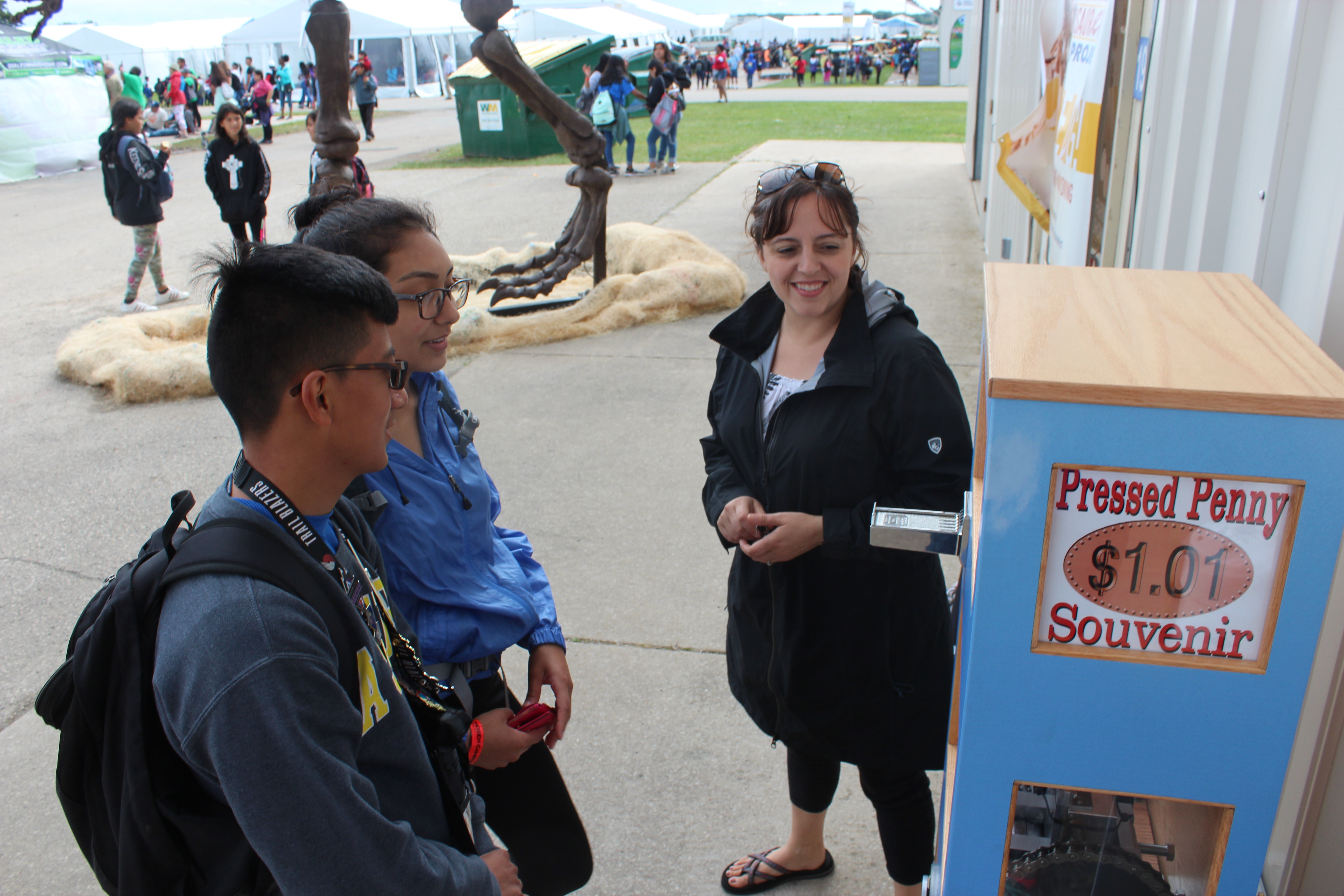 Pins and Prizes
Interspersed between exhibits from Seventh-day Adventist schools, companies, and ministries are opportunities for pin trading. Many of the booths, such as Christian Record Services and Adventist World Radio (AWR), offer special pins and interactive experiences that have attracted a lot of Pathfinder visits.
The AWR booth offers a game with various daily prizes, an interactive photo booth, a Guide edition of mission stories and more. "We would love to have people come by and share what Adventist World Radio is doing around the world … in hard to reach areas where we can't send missionaries, the radio waves can get there," says Sue Hinkle, outreach manager for AWR. "We want them to know that God is at work, using Adventist World Radio. [And] they can be involved with this."
— V. Michelle Bernard is an assistant director for Communication Services for the Columbia Union Conference, and Visitor magazine assistant editor.