On June 7, 2022, the Seventh-day Adventist Church General Conference in session voted to accept the seven names recommended to them for the positions of general vice presidents by the General Conference Session nominating committee. 
The seven names include five current vice-presidents, Abner De Los Santos, Geoffrey Mbwana, Thomas Lemon, and Guillermo E. Biaggi and two new names, Audrey Andersson and Maurice R. Valentine II. Andersson was serving as executive secretary in the Trans-European Division (TED) and Maurice Valentine was serving as a vice-president in the North American Division (NAD). 
"Although he hasn't been at [the NAD] very long Elder Valentine has served us very well. He has done an excellent job leading our media ministries here in the North American Division territory," said G. Alexander Bryant, NAD president. "He will serve the world church well, ... God has blessed his leadership at the union level, at the local conference level, and certainly since he's been in North American Division, and we pray for him as he takes on this new assignment."
The Voting Process
Ella Simmons, who came on stage to chair this portion of the business meeting, had announced her retirement prior to this year's GC Session. 
Lowell Cooper, chair of the nominating committee, offered a word of explanation as to why the vice presidents were being voted as a block, rather than individually. 
"We're going to present the report of a group of vice-presidents," he said. "We would ask the session to accept the report, rather than voting on individual names, to vote on the panel of names that is presented." 
"The nominating committee has discussed the matter carefully, recognizes the challenges that come from trying to balance depth of experience with breadth of representation." 
The motion passed with more than 96 percent of the vote.
The executive committee also voted to reelect Erton Carlos Köhler as executive secretary and Paul Douglas as treasurer.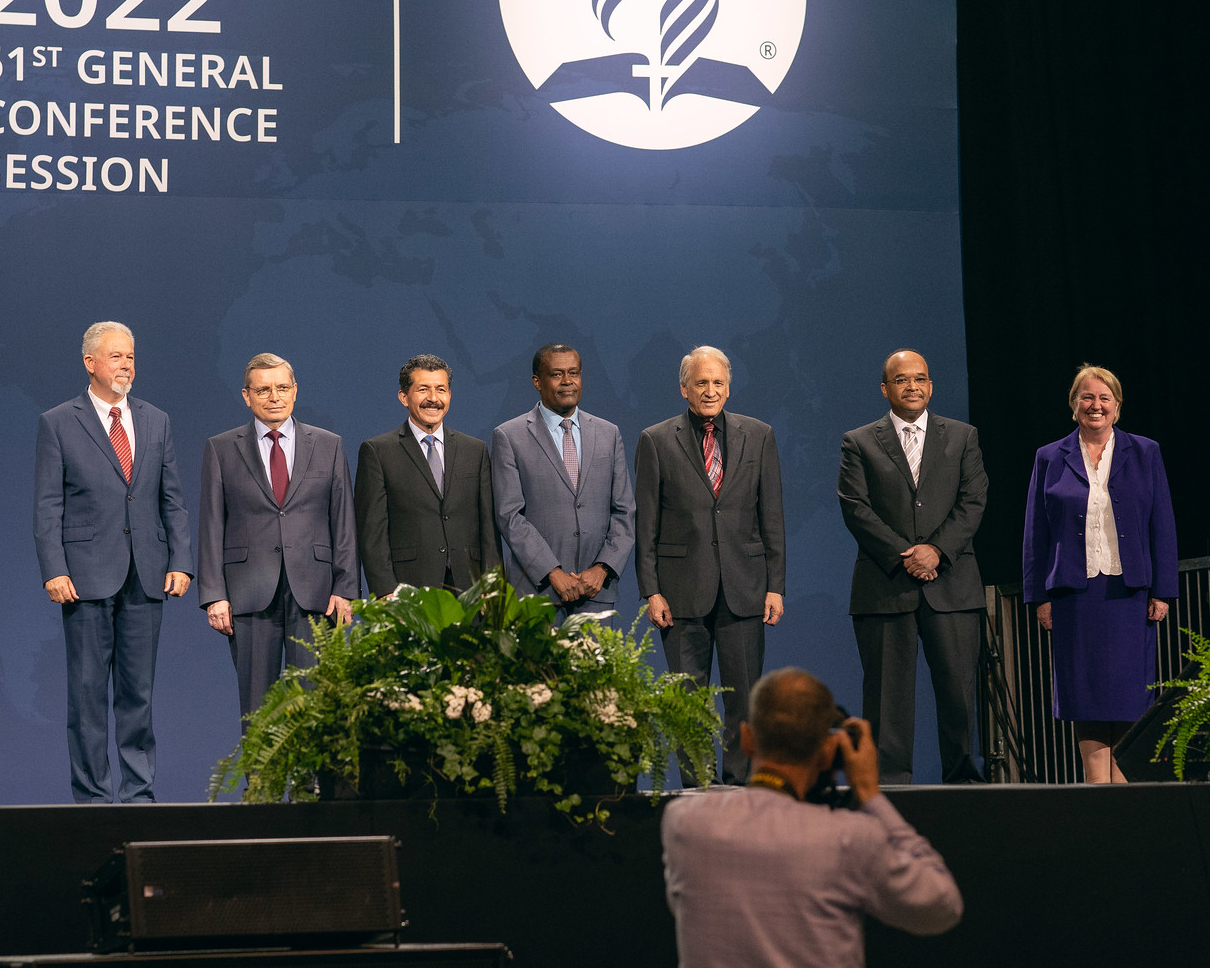 New Appointment for NAD VP
Valentine is one of two new GC vice presidents.
Upon learning of the vote, Valentine said, "I'm just in awe, thankful for what the Lord has allowed because I'm just a sinner saved by grace." Valntine shared that he was grateful for Bryant's trust in giving him the privilege of serving the NAD. "It has been a tremendous learning experience! I've grown immensely because of Dr. Bryant's graciousness to extend to me the opportunity to lead seven media ministries, and help them to stay focused on mission (and deal with the minutiae so that they could do their work with relish) — they're doing an outstanding job."
Valentine added, "I would have to say I'm very thankful to Elder Wilson for extending the call ... and ultimately I pray that it will all work out through the grace of God, to help us finish the work to proclaim the three angels' messages. My prayer is that all of us will have the heart of God."
Before his June 7 GC election, Valentine was elected on April 29, 2021, as the NAD vice president for media liaison, replacing the retiring Gordon Pifher, who was vice president of media ministries.
Valentine previously served Lake Union Conference as its executive secretary. Prior to the Lake Union, he served as president of the Central States Conference, where he began his pastoral ministry in 1985 (pastoring in churches in Colorado, Iowa, Missouri, and Nebraska), and vice president for administration of the Mid-America Union (2011-2012). He held the position of union ministerial director from 2006-2012.
He also organized a city-wide radio broadcasting network, and has served on the Breath of Life Ministries executive committee. 
Valentine received a B.A. degree in theology and an A.S. degree in communication from Oakwood University in 1985. He completed his Master of Divinity degree from Andrews University in Berrien Springs in 1992. Valentine and his wife Sharon have three adult children.