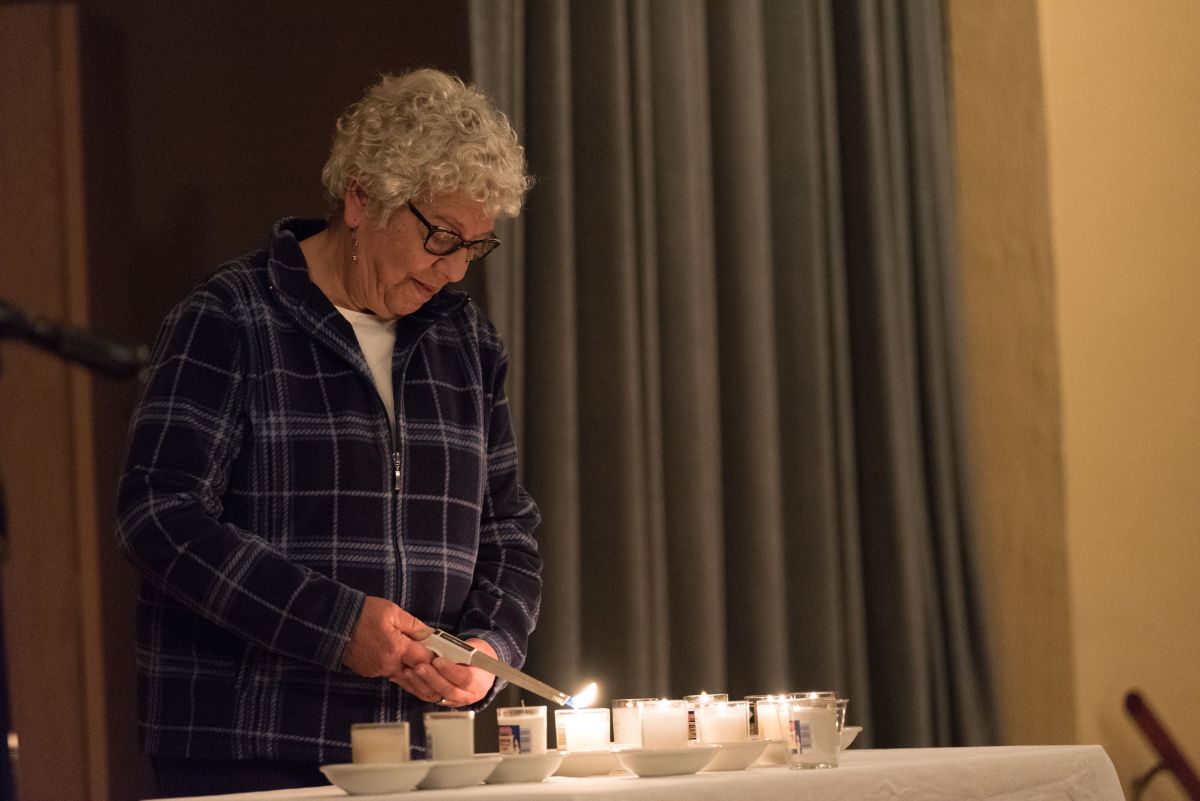 Congregants from various faiths gathered in Benton Harbor, Michigan, on Monday night, Nov. 8, 2018, to pray for unity in the wake of the Pittsburgh massacre which left 11 Jewish worshippers dead.
Before a standing-room only crowd of 150, faith leaders resolved to support Jews and other victims of religious hatred in the hopes of sending a clear message that love will triumph over hate.
"We stand up together and register our determined opposition to prejudice and religious hatred," said Terese Reeve, associate dean of the Adventist Theological Seminary at Andrews University and chair of a university committee engaged in deepening relationships with other local faith communities. "Your action here tonight, to express care and concern will take some of the momentum of hate which seems to be welling up around us."
Amidst a backdrop of rising anti-Jewish bias in the U.S. where incidents have increased 57 percent over last year, according to the Anti-Defamation League, a group that tracks and fights anti-Semitism, the interfaith service participants agreed more steps were needed to help stem the growing tide of hate.
Two members of the Temple B'nai Shalom and First Hebrew Congregation of South Haven read the names and ages of the 11 worshippers gunned down, and lit candles honoring these victims of the deadliest anti-Semitic attack in U.S. history. A portrait of grief emerged: the dead ranged in ages from 54 to 97 and included two brothers, a husband and wife, and a 97-year-old Holocaust survivor. A twelfth candle was lit for all other victims of hate.
Benton Harbor Mayor and member of the Nation of Islam, Marcus Muhammad, challenged the group to "use this moment as a new beginning where we come together in tragedy, but we exhaust all means and methods to work together in unity to make a new world, based upon freedom, justice and equity for all, regardless of class or color."
Barry Fidelman of the First Hebrew Congregation of South Haven said that as he wrestled with figuring out who should be held responsible for these acts of cruelty, he came to the surprising conclusion. "I discovered it was me," he told the audience. Each time bigotry was allowed to go unanswered, he realized it was a missed opportunity. "All these opportunities were wasted for 72 years and I did nothing," and he vowed to never let another teaching opportunity go by.
Congregants joined Rev. Susan Greenwood of the First Church of Christ in Coloma and Rodney Gulley, president of the Benton Harbor Ministerial Alliance in reciting a litany for healing, which said in part: "We seek to be a community of inclusion — one that provides a welcome to all, irrespective of who they are, what they believe, where they come from, or whom they love. We pledge the community to be a witness to love. Amidst the darkness of hatred, we advance the light of love. Amidst the threats of violence, we advance the balm of peace."
An Interfaith Committee Forms and Friendships Bloom
As news of the Oct. 27 Pittsburgh shooting filtered out, Reeve was home thinking about her Jewish friend, Diane Rapaport Yampolsky, who happened to sit on the Andrews University interfaith committee Reeve chaired. Although the group had formed during the 2016-2017 school year and had met just a handful of times, a budding relationship was developing. 
Yampolsky was at a Bible study with her phone off, as is customary on the Sabbath, and it wasn't until later that she heard the horrific news. When she opened her email on Monday, she received a pleasant surprise, a letter from Reeve, addressed to her and her husband:
Dear Diane and Bob,
We, your friends from the Interfaith Committee of the Andrews University Community Engagement Council, along with our wider University community, have watched with horror the events that took place yesterday on Shabbat at the Tree of Life Synagogue in Pittsburgh. We want to express our solidarity with you and to let you know that our prayers are with you and with the whole faith community at Temple B'nai Shalom. Events like this only sharpen our resolve to work together for interfaith understanding and for the shalom in which we all believe deeply.
Yampolsky was overwhelmed: "This is an affirmation that Jews are not alone." She responded by thanking Reeve and suggesting the group put together an interfaith service to shed light on anti-Semitism.
Although the committee was busy making plans for a January 2019 get-together where members of the group would share a meal and their faith stories, this idea immediately struck a chord. Reeve said she realized, "This is the right thing to do."
Plans were set in motion, involving other members of the committee, including Imam Mostafa Elsayed of the Islamic Association of Southwest Michigan, Rodlie Ortiz, associate pastor of Pioneer Memorial Church, and others who ended up participating in the service.
At the conclusion of the program, as the last guests left the building, a few committee members huddled to pray and give thanks for allowing God to work through them. 
"When someone is hurting, we are called as representatives of Jesus to stand and mourn with them as well, especially when the person is different from us," said Ortiz. "When we stand with 'the other,' we are proclaiming and witnessing that this is what God is actually like. He is a God who healed the untouchables, comforted the outcast, and defended prostitutes and Samaritans. And, ultimately, He sacrificed Himself for 'the other,' this rebellious planet, for the sake of saving as many as possible."
— Debbie Michel is associate director of Communication for the Lake Union Conference.