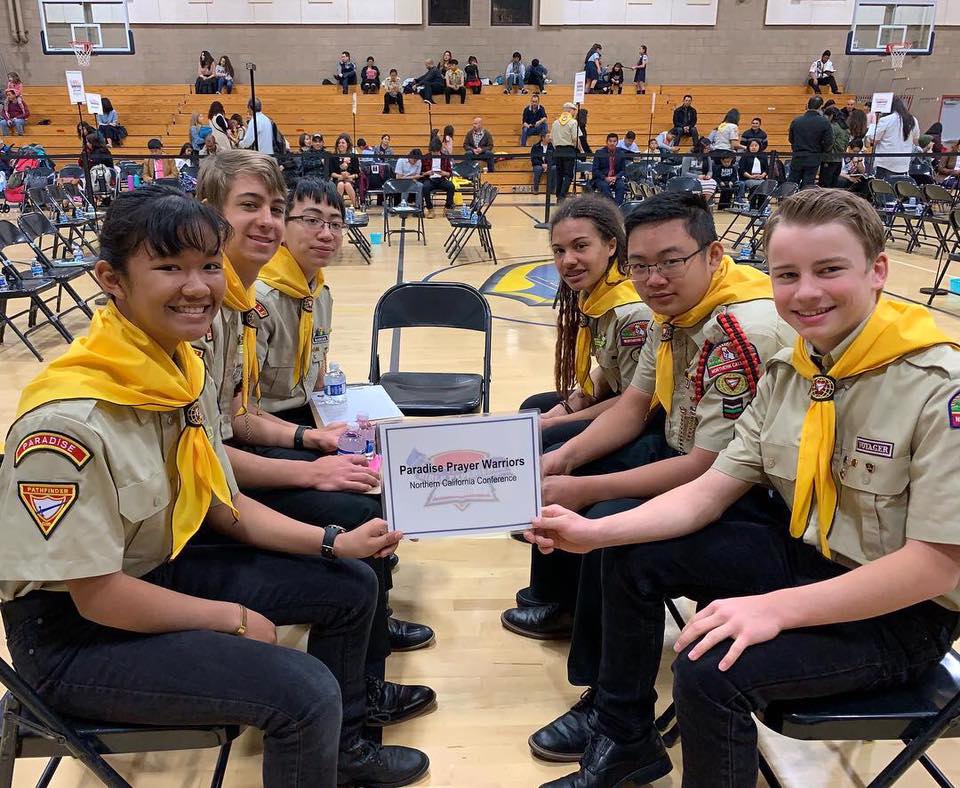 On March 23, 2019, the Paradise Prayer Warriors earned a first-place award at the Pacific Union Pathfinder Bible Experience (PBE) competition in Fresno, California. The only Northern California Conference (NCC) team to win a first-place award, they will now go on to test in the North American Division PBE in Rockford, Illinois, on April 26 and 27.  
Almost all of the club's 30 members and 13 staff lost their homes in the November 2018 Camp Fire. About a month after the fire, kids asked if the club could start meeting again. Leaders wondered if the PBE team should continue since they had lost so much preparation time. Each team member had to decide for himself or herself. "Everyone has suffered from the trauma, and we did not want to add to this strain," said Terry Parsons, club director. "With much prayer and encouragement, the team decided to continue." Not only did they have to study extra hard, they also had to assemble new uniforms in time for the competition.
"Our first-place finish is remarkable," said Parsons. "Our families are scattered across the state and they attend as they can and keep touch through Facebook and emails. ... The two months lost for study and practice revealed a practice score of 75 percent. The team needed a 90 percent need to pass. We also wondered: Could we get uniforms in time?"
Parsons shared that the uniform club crest came in the mail the day before testing. Belts were borrowed; pants and shoes purchased. The club passed inspection, went through the testing, and achieved scores giving them a first-place finish.
On the day of the event, the team asked God to help them remember what they had learned and to help them glorify Him. "To God's honor, they have qualified for the division finals," said Parsons.
"They could have quit, but instead they flourished," said NCC Youth director Eddie Heinrich.
— The original version of this article was provided by Stephanie Leal, Communication director of the Northern California Conference. Click here if you'd like to help the Paradise Prayer Warriors Pathfinder Club or other victims of the Camp Fire.