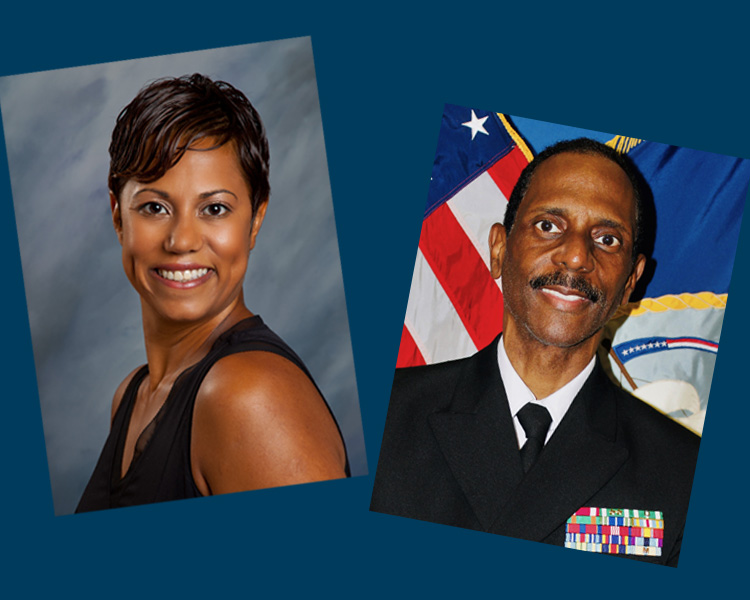 Two key positions, director and associate director, on the North American Division (NAD) Adventist Chaplaincy Ministries team have been filled with familiar names. On April 7, 2022, the NAD committee voted the name of Washington Johnson II to serve as director of Adventist Chaplaincy Ministries (ACM) for the Seventh-day Adventist Church in North America. Johnson, who has been serving as assistant director for ACM and regional field chaplain for the Southeastern United States and Puerto Rico, replaces Paul Anderson.* Gilda Roddy, ACM assistant director and regional chaplain for Columbia, Atlantic, and Lake union conferences, and the Adventist Church in Canada, was promoted to associate director.
Minner Labrador Jr., NAD Multilingual Ministries vice president, who also oversees ACM, shared his excitement about the promotions. "Chaplain Johnson's mission-focused leadership includes a dependence on the Spirit of God that leads him to build strong teams at the highest competencies," said Labrador.
"Chaplain Roddy brings a high level of professionalism and a heart for our chaplains and coworkers. She is an inspiration to work with and always brings excellence to ACM," he continued. "It's a blessing for our division and all of our chaplains to have chaplains Johnson and Roddy in their new roles."
Johnson and Roddy, along with several assistant directors, will continue serving more than 750 chaplains in the division, which is separated into four quadrants: Columbia, Atlantic, and Lake union conferences, and the Adventist Church in Canada; Mid-America and Southwestern union conferences; the Southern Union Conference and Puerto Rico, and the North Pacific and Pacific union conferences. William Cork and Angela Li also serve the NAD as assistant directors and regional field representatives.
Washington Johnson II
Regarding his new position, Johnson said, "I am humbled and confident in God that the assignment before me will be accomplished 'Not by might nor by power, but by [God's] Spirit,' (Zech. 4:6).
Johnson, D.Min., is an ordained Seventh-day Adventist minister and former editor in chief of Message magazine. His pastoral ministry has spanned the South Central and Northern California conferences. He has also served in campus, community, and military chaplaincy.
In 1998, Johnson was commissioned as a chaplain in the United States Navy Reserve and currently holds the rank of captain. He has held several senior leadership positions in the United States Navy Chaplain Corps, including Deputy Command Chaplain at Camp Lemonnier (Djibouti, Africa) during a one-year deployment; Deputy Chaplain of the United States Coast Guard, for reserve matters, Washington, D.C.; staff chaplain, North American Aerospace Defense Command (NORAD) and United States Northern Command (USNORTHCOM) Peterson AFB, Colorado; and currently serves as Deputy Region Chaplain for Navy Region Hawaii, Pearl Harbor, Hawaii.
Johnson is a Doctor of Ministry advisor and guest lecturer at the Seventh-day Adventist Theological Seminary in Berrien Springs, Michigan, and has published several articles on chaplaincy and related ministry topics. He is also the co-host of Service and Valor on WJOU FM 90.1 at Oakwood University, a program that explores a variety of military-related topics.
Johnson is an alumnus of Oakwood University in Huntsville, Alabama; the Seventh-day Adventist Theological Seminary; and the Reformed Theological Seminary in Clinton, Mississippi; receiving Bachelor of Arts, Master of Divinity, and Doctor of Ministry degrees, respectively. He is married to Joyce Johnson, Ph.D., an educator, and they are the thankful parents of Washington Johnson III, a medical student at Meharry Medical College in Nashville, Tennessee.
Gilda Roddy
"I continue to stand in awe as God opens doors to new opportunities for me to step through and serve," said Roddy about her new role. She will continue to serve the chaplains in Columbia, Atlantic, and Lake unions, and the Adventist Church in Canada.
Roddy is the first chaplain, and first woman, to be appointed as an associate director for NAD ACM. "ACM serves our chaplains through the endorsement process, professional training, pastoral care, and religious support to chaplains and families, and liaison within church structures," Roddy explained. "I look forward to working alongside my colleagues in this expanded role."
In 2019, Roddy joined the division after serving as associate pastor for the Loma Linda University Church in California from 2015 to 2019. She has served in several pastoral positions, as a conference ministry director, and chaplain, in the NAD and South Pacific Division.
Before serving at Loma Linda University Church as an associate pastor, Roddy worked as a mission leader scholar, helping to expand the pastoral care volunteer program, and serving on the executive committee overseeing the implementation of the Loma Linda University Health corporate strategic spiritual mission, vision, and deployment.
From 2009-2013, Roddy served as associate pastor of the Wahroonga Seventh-day Adventist Church in Sydney, Australia. During that time, she was also Institute of Worship director, Women's Ministries director, Sabbath School Ministries director, and Children's Ministries director for the Greater Sydney Conference.
In Florida, Roddy served AdventHealth Florida Hospital in Orlando as a senior chaplain and Celebration Health Seventh-day Adventist Church senior pastor. Before that, Roddy was an associate pastor for the Oakwood University Church as well as a hospice chaplain. She earned her master's degree in chaplaincy from Loma Linda University in California. She completed her clinical pastoral education residencies at the University of Alabama, and is a 1999 graduate of Oakwood University, earning a bachelor's degree in theology. She and her husband are raising four children together.
* Anderson, who started work at the division in 2015, was the first NAD director — previous leaders were assigned to the division from the General Conference's Chaplaincy Ministries personnel.