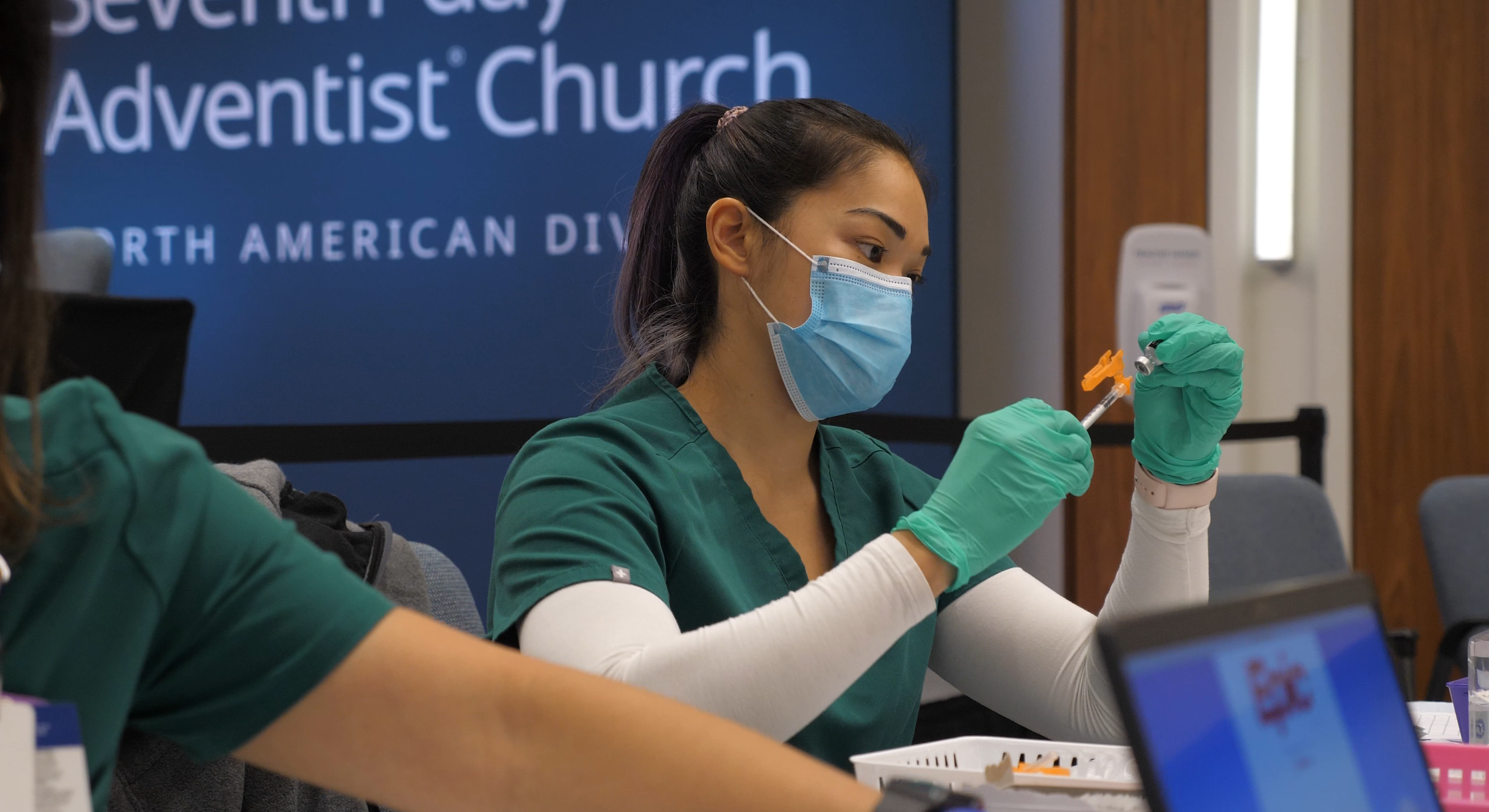 On Dec. 12, 2021, the sun beamed down on a crisp afternoon as a stream of personal vehicles pulled into the North American Division headquarters' parking lot. Once parked, people of all ages were welcomed and directed inside to the second COVID-19 vaccine clinic held this fall at the headquarters. The clinic, hosted by the NAD Public Affairs and Religious Liberty department in partnership with Howard County General Hospital, made use of the Charles E. Bradford Conference Center on the first floor of the building. For some, this was a return for a second shot after getting their first vaccination on Nov. 21. For others, this was either a booster or first time vaccination.
"On behalf of the Public Affairs and Religious Liberty department, a heartfelt thank you to our NAD family for making the vaccination clinics and produce giveaway a tremendous success," said organizer Melissa Reid, a PARL associate director.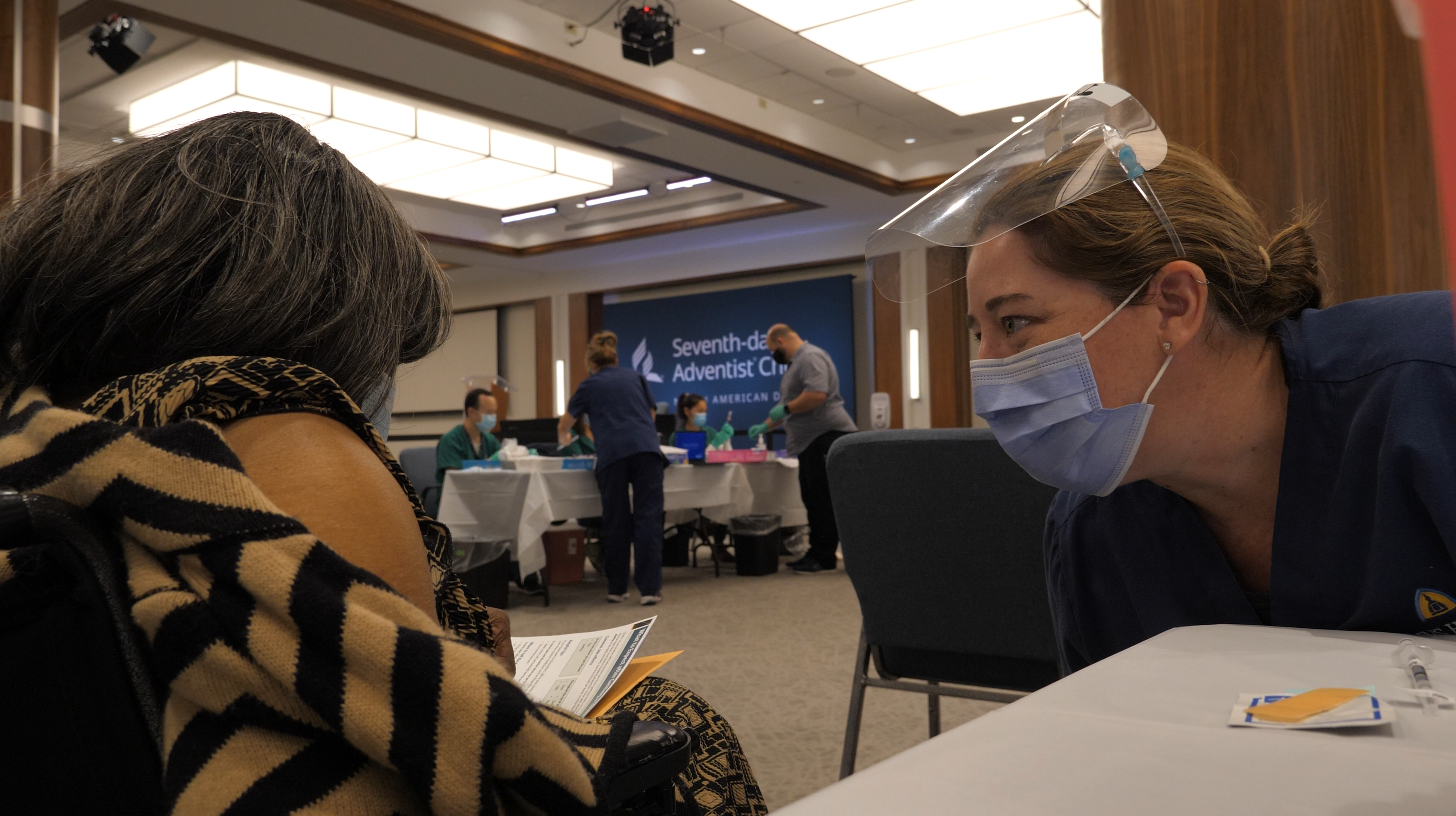 "Community events such as this one are key to helping us vaccinate as many people as possible, allowing us to take one more step towards ending the pandemic," said Ben Bigelow, director of the COVID-19 Mobile Vaccine Team, Johns Hopkins Health System. "This event was a tremendous success and we are grateful to NAD for allowing us to use their building."
During the first clinic a total of 255 community members received vaccinations (six first and second doses for adults; 131 third/booster doses; and 118 pediatric doses). In the first half-hour of the event, 75 people were served. We were also able to distribute a pallet of yams, Irish potatoes, squash, onions, and bananas to 100 families in under 90 minutes.
The number of people seen during the second clinic on Dec. 12 grew to a total of 415 (17 first and second adult doses; 228 third/booster dose; and 170 pediatric doses). Bags of produce were again distributed to 100 families.
As members of the community left the NAD, many expressed their thanks, pleased with the smooth and organized vaccination process. One patient, who declined to share his name, said he had been hospitalized in January 2021 with COVID-19 and was now getting boosted. "This is a lovely building and a really good location," he shared. "I'm glad I found out the clinic was happening here. It means a lot that a church organization would open their doors for the community."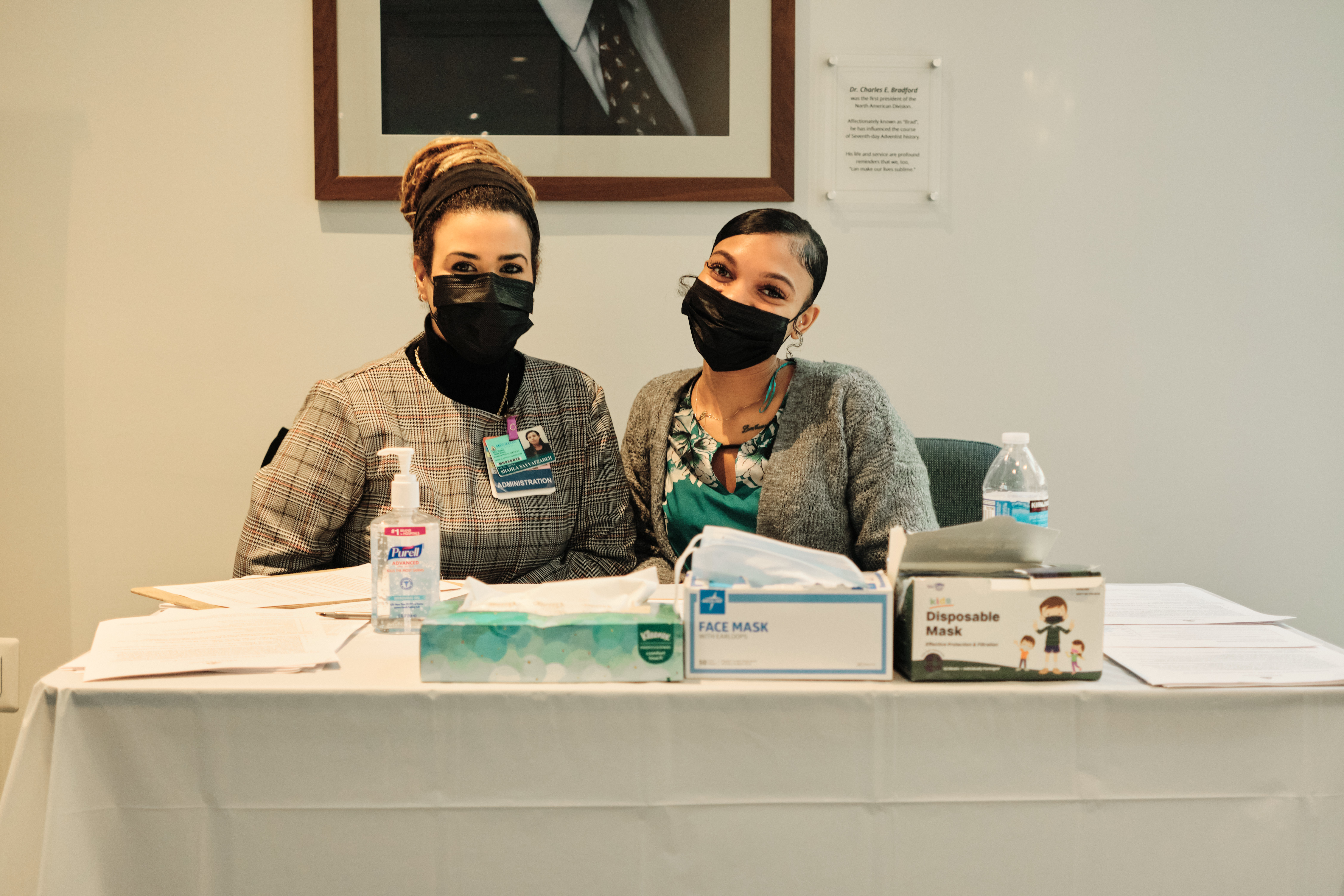 Felicia Ward, another area resident agreed, saying, "I live here in Colombia so I came here because it was convenient for us. And it was easy for us to get an appointment."
Ward, who came with another family member, added, "I feel it's important for us to get the vaccine to help slow this down and get back to really what life is normally about."
Mandy Leblanc, from Highland, brought her two children, ages 7 and 9, for their vaccination. "I think the clinic was great. It was quick. It was easy. It was good. The kids were a little a little scared, but it's important to help keep them safe and healthy and doing the things that they love."
Leblanc plans to follow up next month with the second shot. "I think it's great to be able to partner with the community and help build that relationship. Will see you guys [for] the next one," she finished.
In addition to Howard County hospital workers and volunteers, NAD staff members also participated, including assistance with set up and greeting visitors.
"We give special thanks to our incredible NAD administration, facility services team, custodial staff, security team, volunteer greeters and local church members who facilitated the produce giveaway," said Reid. "We even had help by some of our friendly staff kids! We are especially grateful to our ministry partners, specifically Adventist Community Services, Publishing Ministries, and Stewardship, for providing disposable bags, sharing literature, and children's activity pages.
This is not the first time the NAD has held a health clinic at its headquarters. The division has opened its doors to host health and wellness screenings, and has offered a place for people to receive flu shots. And with the help of volunteers, they've also distributed food to area residents at least twice.
"Volunteers responded positively, it really turned into friendship evangelism," Reid shared about one of the previous produce giveaway events. "God showed us that He doesn't always work in the same way, He just wants us to be consistent when it comes to our willingness to supply the needs of others."
"Thank you again for your partnership in ministry and for helping us reflect Christ's message of hope and wholeness to our Howard County neighbors," added Reid, regarding health partners and volunteers, as she looks forward to the next vaccination clinic on January 9, 2022.
"We are excited to be returning for a third clinic at the NAD," Bigelow said. "We have also partnered with individual Adventist churches in the area and we know that the partnerships we build currently will serve us after the pandemic as we continue to promote healthy practices in the community."