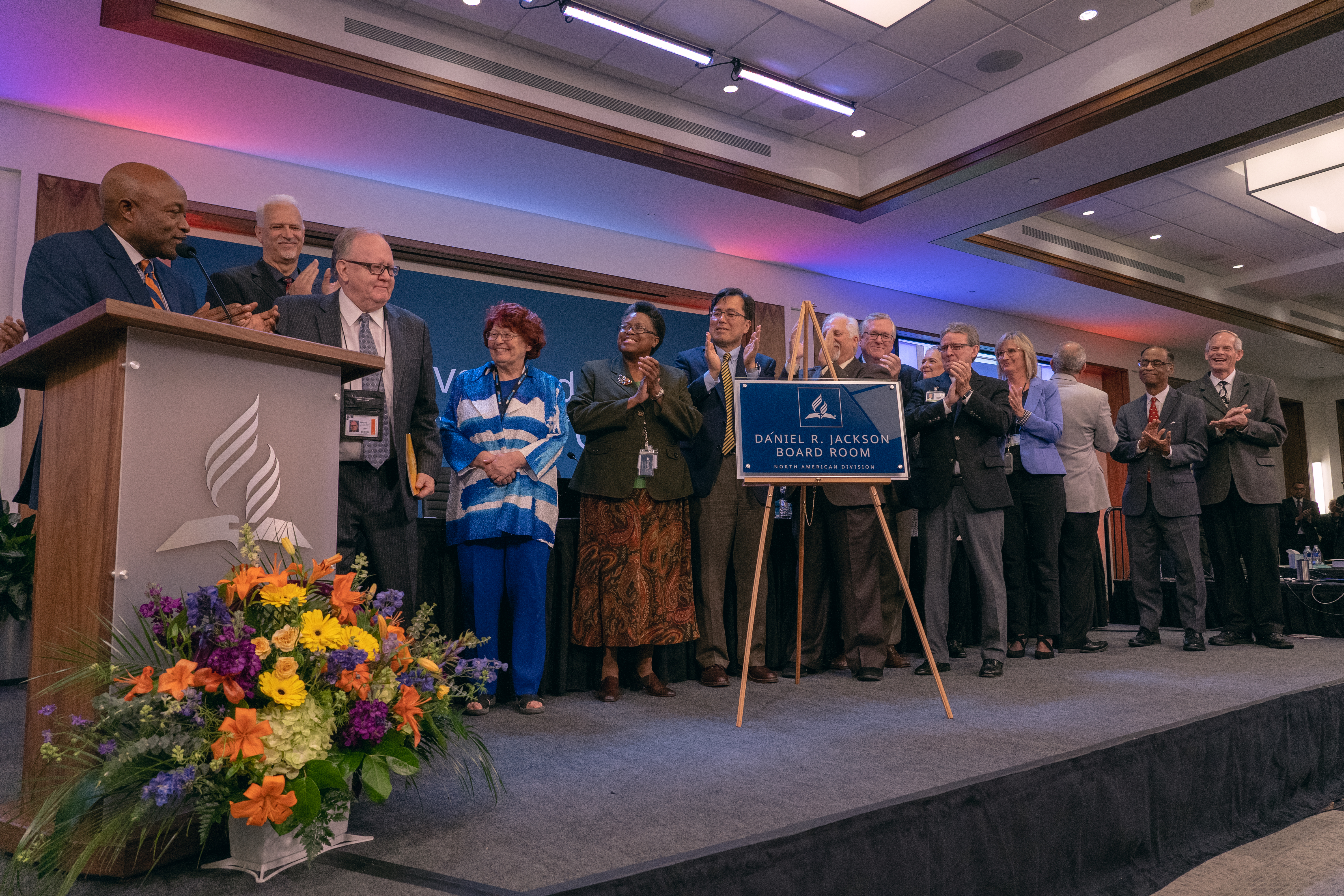 During a special presentation at the 2019 Year-end Meeting of the North American Division, the division's administrative team, which includes the executive secretary, treasurer, vice presidents, and assistants to the president, expressed words of appreciation for Daniel R. Jackson, NAD president, before unveiling a wall plaque bearing the new name of the building's executive boardroom — "Daniel R. Jackson Executive Boardroom."
"This is not a farewell to the Jacksons … this is, however, a special committee that will probably not reconvene in any capacity prior to Elder Jackson's retirement." said G. Alexander Bryant, NAD executive secretary, to the division's executive committee. "We wanted to do something that would capture the essence of his leadership, and that would live long after he's out the doors of the NAD that will remind everyone of the impact he has made."
During the special moment, Desiree Bryant gifted Donna Jackson with flowers in an engraved vase on behalf of the Ministerial Spouses Advisory that says, "Donna, thank you for being a flower in our garden of life."
"Everybody knows that Donna has a heart of gold. Even though we don't have a reveal of a room to name after her, the fragrance of her sweet spirit permeates this building — every hallway, boardroom, cubicle, office — because everyone knows and loves Donna," said Bryant. "In the [building's] café, she leaves beautiful, cut flowers to bring cheer to our dining space. She's always there with her bright smile, a warm hug."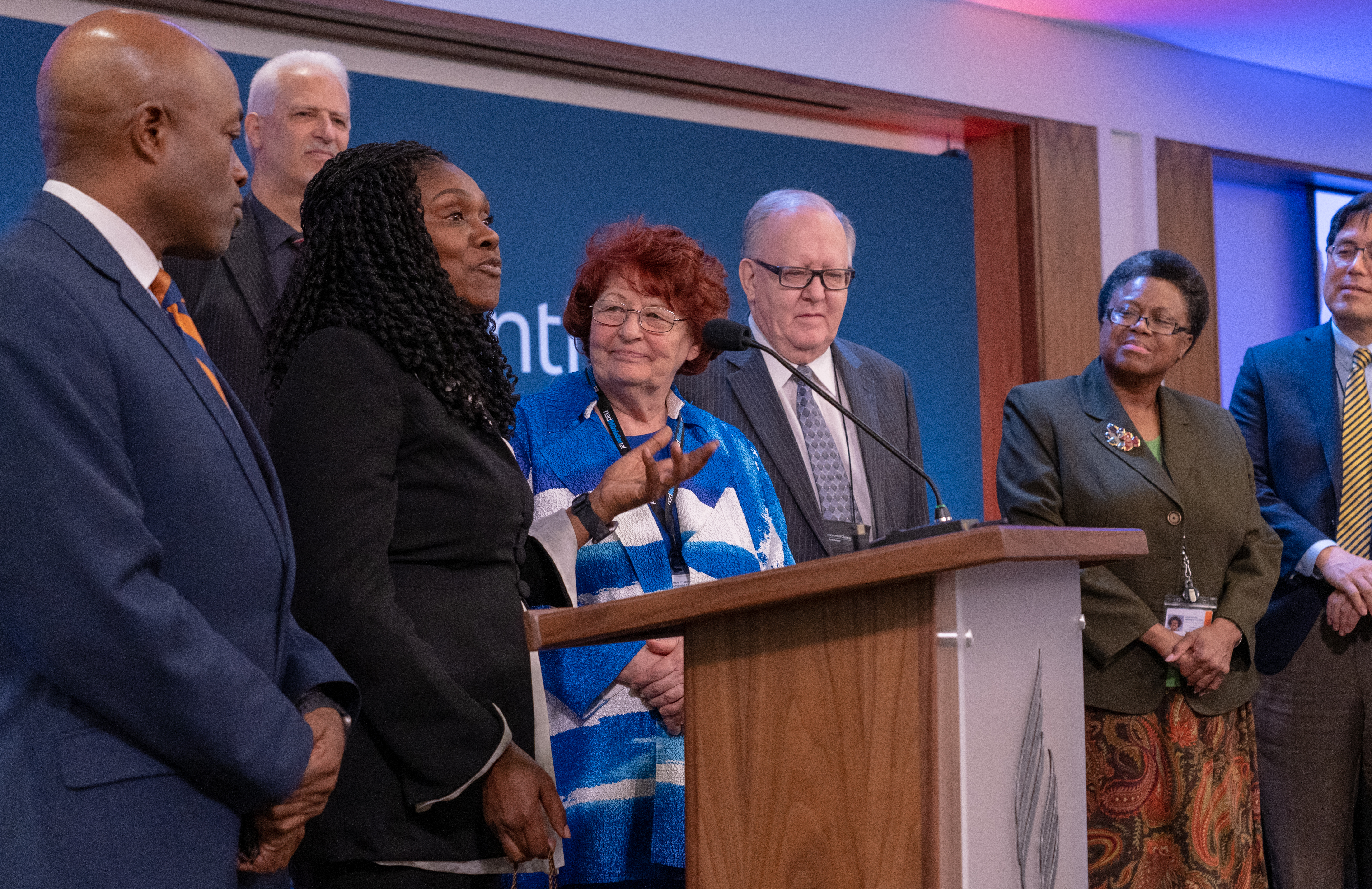 Bryant shared how she works tirelessly to create resources that help support ministerial spouses and families.
"She's one of the hardest working people I know," Bryant continued. "It's nothing to receive an email from Donna at two or three in the morning. She really puts her heart and soul into everything she does."
"We are so blessed by your remembrance of us," said Jackson after the gifts were presented to the couple. "I acknowledge the privilege of working for the NAD, and the privilege of working with these colleagues. Whatever has been done, it's been done together … I could not have ever asked to be part of another team, they have been a blessing to my life and the members of the NAD."
Jackson emphasized his respect toward Bryant who has led alongside him since his election in 2010.
"He has been the best partner that a president could have," said Jackson. "He has been a wonderful colleague. I will never forget it, Alex. God bless you."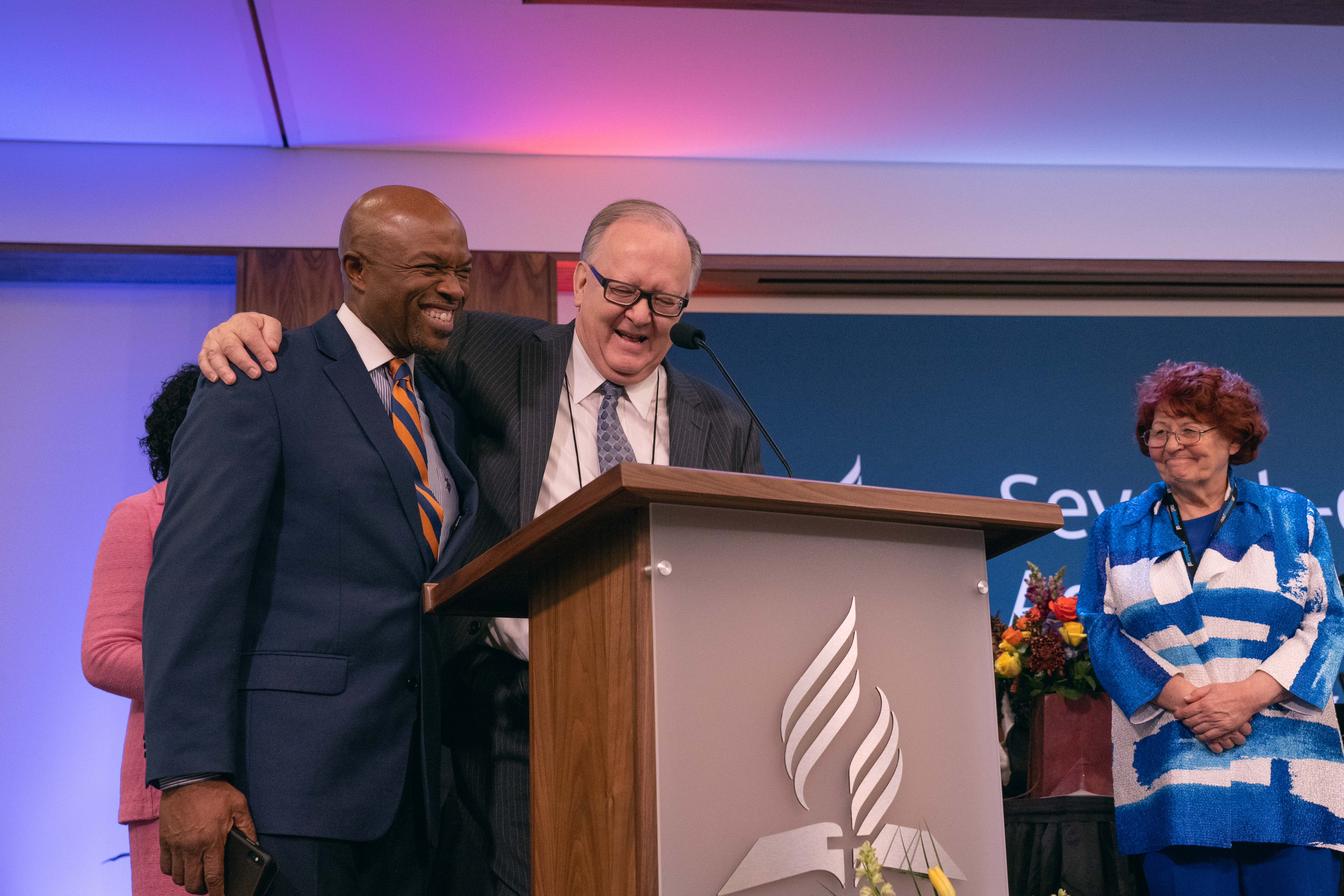 Acknowledging the Sacrifice
Bryant shared how shortly after the 2010 election, Jackson discovered a note in his desk that was written by Bob Dale, a former executive secretary of the division, that outlined a 70-year-plan for the division. The plan included moving the division's headquarters from the General Conference building into its own building.
"He started on a journey that seemed to be an improbable journey. In fact, many people even [in the NAD] did not believe it was possible," said Bryant. "And here we're now celebrating our third Year-end Meeting in this building. It speaks to Dan's leadership, courage, and it was not without bruises and pain. … But he moved forward anyway."
Juan Prestol-Puesán, treasurer of the General Conference, attending YEM as a representative of his office, also thanked Jackson for his commitment to serving the Adventist Church.
"I want to express to Elder Jackson, his wife, and family on behalf of the GC, our heartfelt thanks for your ministry," said Prestol-Puesán. "Working for the church is not for the faint of heart. It's one thing to be called to be part of the family of God, it's another to place your professional life in the hands of the family of God. God doesn't call everyone for that, there is a price that is paid."
"Thank you for being willing to offer yourselves in service," said Prestol-Puesán to the Jackson family. "It has [left] a deep impact on the church."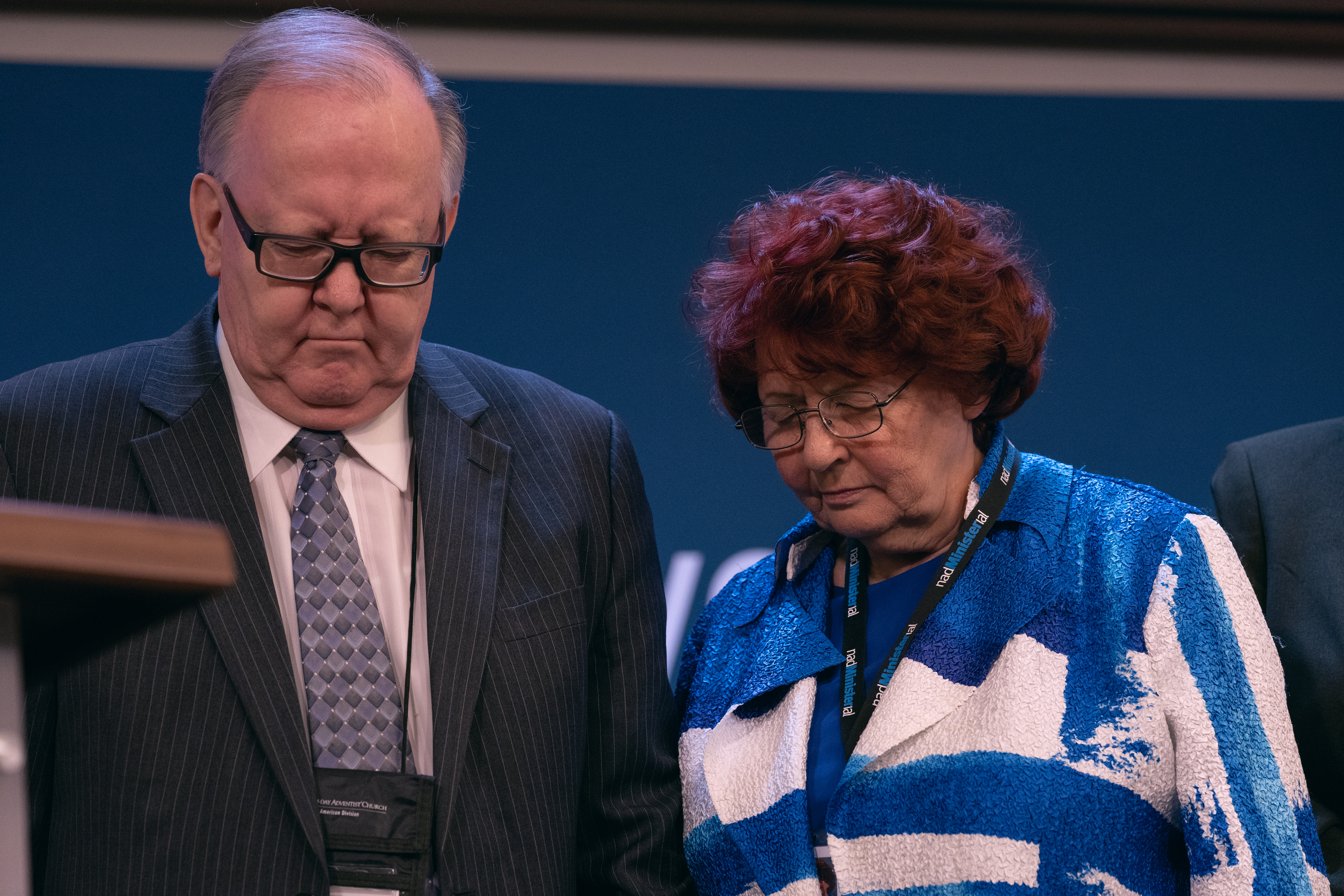 Ella Simmons, a general vice president of the GC, offered a dedicatory prayer. Following the theme of "Pursuing His Promises" for the meetings, Simmons prayed promises from the Bible over the family. One promise was a familiar passage from Ecclesiastics 3: 1-8, which begins, "There is a time for everything and a season for every activity under the heavens: a time to be born and a time to die, a time to plant and a time to uproot, a time to kill and a time to heal, a time to tear down and a time to build, a time to weep and a time to laugh…" (NIV)
"Lord, the Jacksons have lived through times such as these, but we know you have sustained them," prayed Simmons. "And because you have, we know that you will."