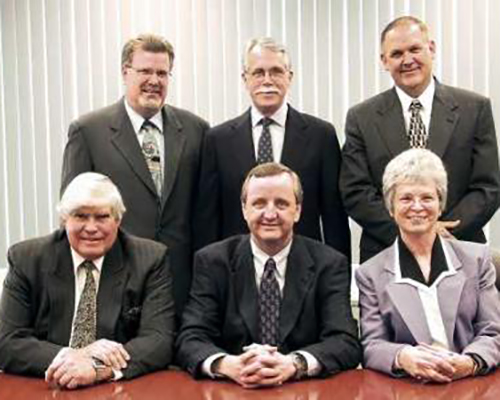 F. Martin Ytreberg, former vice president and CFO of Pacific Press Publishing Association, passed peacefully to his rest after a lengthy illness on Tuesday evening, Aug. 20, 2019, in Boise, Idaho. Ytreberg retired from Pacific Press in 2008; and after coming out of retirement in 2014 to assist Pacific Press as the North American Division and the General Conference reorganized the publishing association, he retired again in 2016.
Ytreberg was born on March 6, 1942, in Prince Rupert, British Columbia, Canada. He was a graduate of Columbia Union College (now Washington Adventist University) in Takoma Park, Maryland, and married Sylvia Long on July 2, 1967, in Kamloops, British Columbia, Canada.

Ytreberg's lifetime commitment to the church in the area of finance and treasury assignments began in 1968 in the British Columbia Conference in his native Canada. He served as treasurer of Georgia-Cumberland Academy before taking his first overseas assignment in the Guam-Micronesia Mission in 1973. Martin and Sylvia served in various positions in what was then the Far Eastern Division, including several years when Ytreberg was assistant division treasurer in Singapore. In 1980, Martin became the Southern Asia Division treasurer based in India. 

In 1983, Ytreberg returned to North America, taking a short assignment as treasurer for the Alberta Conference before joining Pacific Press. Ytreberg was an instrumental part of the management team that relocated Pacific Press from California to Idaho in 1984. Those were difficult days, financially, for the press, and Ytreberg was able to put into place a number of measures that enabled the publishing house to reach a position of financial strength and stability.

In 1990, he was elected associate treasurer for the General Conference and took on the heavy assignment of under treasurer in 1995. He later joined Adventist Risk Management as its Vice President and CFO. In 2002 Ytreberg returned to Pacific Press where he served as vice president and CFO until his retirement in 2008. He returned in that capacity again in 2014 to assist Pacific Press as the North American Division and the General Conference were reorganizing publishing. He re-retired in 2016.
Ytreberg is survived by wife Sylvia; two children, Marty Ytreberg, Ph.D., and Michaele Ytreberg Hamilton; and sister-in-law Clarissa Long Tall.

At his request, there will be no memorial service.