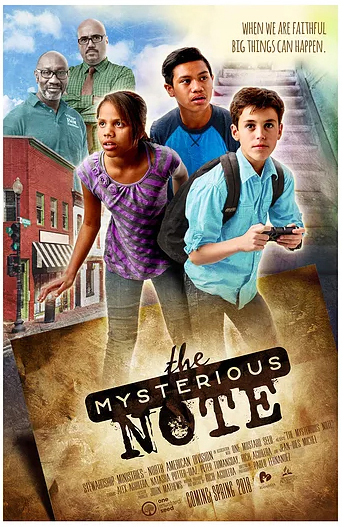 The Mysterious Note had its Hope Channel premiere on April 4, 2022, at 4:30 p.m. ET. This film was broadcast on DirecTV 368 and the Hope Channel website. Additional showings were scheduled for April 12, at 5 p.m.; April 21 at 4 p.m.; and April 28 at 11:30 p.m. ET.
The Mysterious Note is a feature film produced by the North American Division Stewardship Ministries department and One Mustard Seed. Written and directed by Rich Aguilera, "The Mud Guy," the film looks to teach parents and kids what it means to be a good steward of the things God has entrusted them with.
Hope Channel director of Planned Giving, Jason Millers shares, "The Mysterious Note is a great film because it takes practical principles of stewardship and shares them using a very unique way of teaching, a movie with kids in it. The movie is great for the whole family to watch and can either teach or help remind people of all ages how to take care of the things God has given us."
"I enjoyed watching the film and seeing the creative ways in which stewardship was discussed. Many times we think about 'stewardship' as a bit of an old-fashioned word but the film (The Mysterious Note) takes this word and brings it to 21st-century meaning," Miller adds.
"I wanted to present the topic of stewardship to a new generation by creating a movie without secular innuendos that might be harmful to children. I also wanted to create a movie that parents would find safe for their kids to watch," says John Mathews, executive director of The Mysterious Note, and a former Stewardship director for the North American Division.
"Seeing the film become a reality was one of those life moments that not everyone has. It was a tremendous privilege to be involved in its production," Mathews continues. "I don't know how many times people have asked me if I was Billy Hawkins in the movie. Yes, that was me — and my dog, Stewardship Jack. Jack even has a website that kids might want to check out. It was my intent to help kids and parents live a satisfied life by understanding and living the principles of stewardship."
Visit HopeTV.org or follow Hope Channel on social media to stay up to date on the latest information about The Mysterious Note. You can watch on DirecTV 368, https://hubs.la/Q0179kw20, Roku, Hope Channel App.