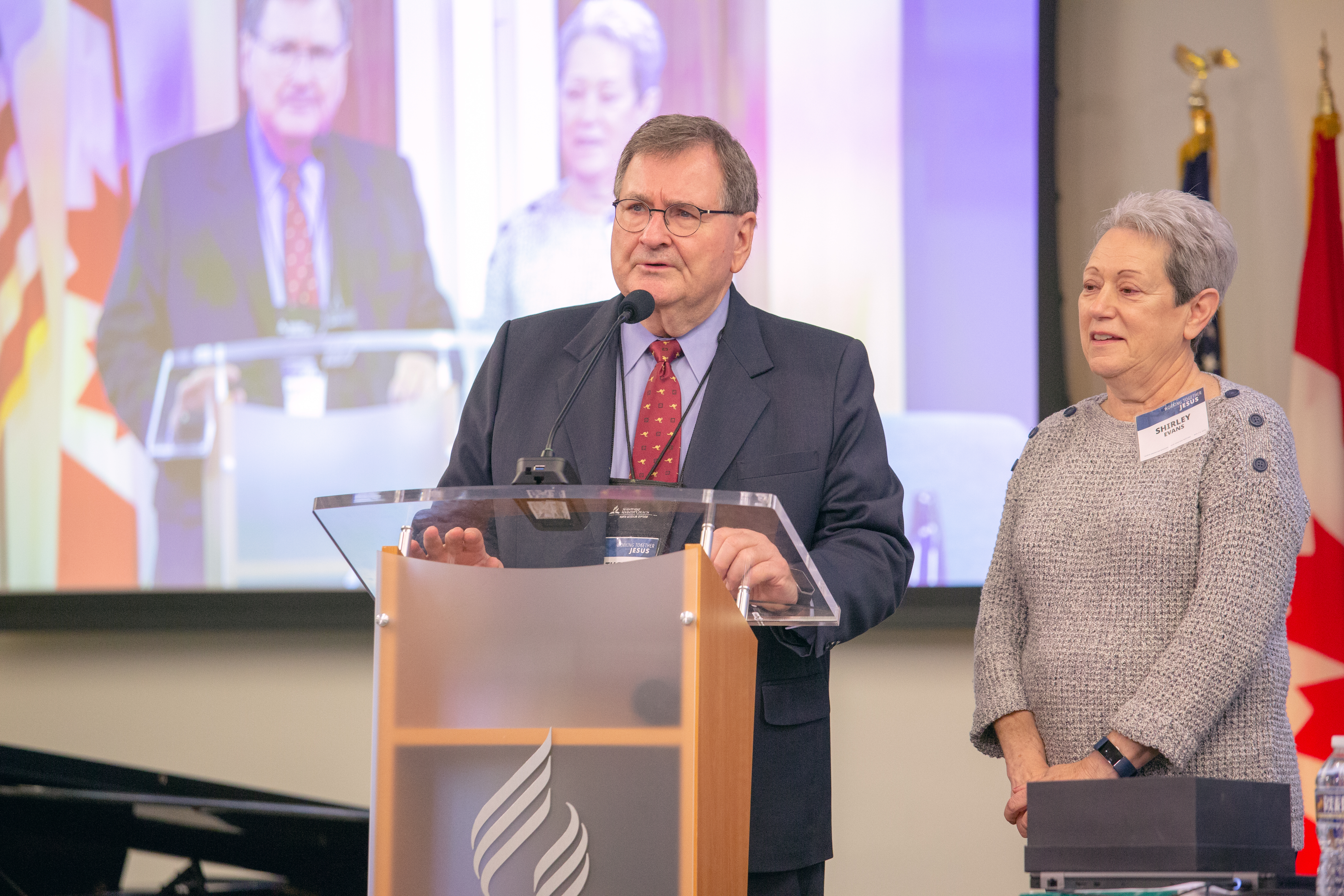 An officer of the North American Division, a vice president, and a ministry director gave their final respective reports during the division's 2018 Year-End Meeting this past week as they prepare for their retirements by the end of 2018 (Evans, Blackmer) or the beginning of 2019 (Matthews). Executive committee members seized the opportunity to thank the leaders for their service and lasting impact on the division and the Church's mission of spreading the gospel.
Tom Evans
G. Thomas Evans, treasurer of the North American Division (NAD), who has served the Church for more than half a century, delivered his final financial report to the NAD executive commitment on Monday, Nov. 5. The routine report outlined the division's consolidated financial statement, including net assets, tithe dollars received in 2017 — more than $1.020 billion — tithe dollars sent to the General Conference, mission offerings received, and investment portfolios.
Evans concluded his report with a quote from Ellen G. White: "Heaven is watching to see how those occupying positions of influence fulfill their stewardship. The demands upon them as stewards are measured by the extent of their influence. In their treatment of their fellowman, they should be as fathers — just, tender, true. They should be Christ-like in character, uniting with their brethren in the closest bonds of unity and fellowship" (Gospel Workers).
"It's been great to serve you," said Evans during the meetings. "I've served two terms plus one year here. It's been a joy and a delight."
Evans became the chief financial officer of the NAD in June 2007 and was re-elected in June 2010. He was previously the vice president for finance for the Southern Union Conference. Before being employed at the Southern Union, he held the same position in the Mid-America Union for 12 years. Prior to serving the union, Tom served as treasurer for local conferences and secondary academies.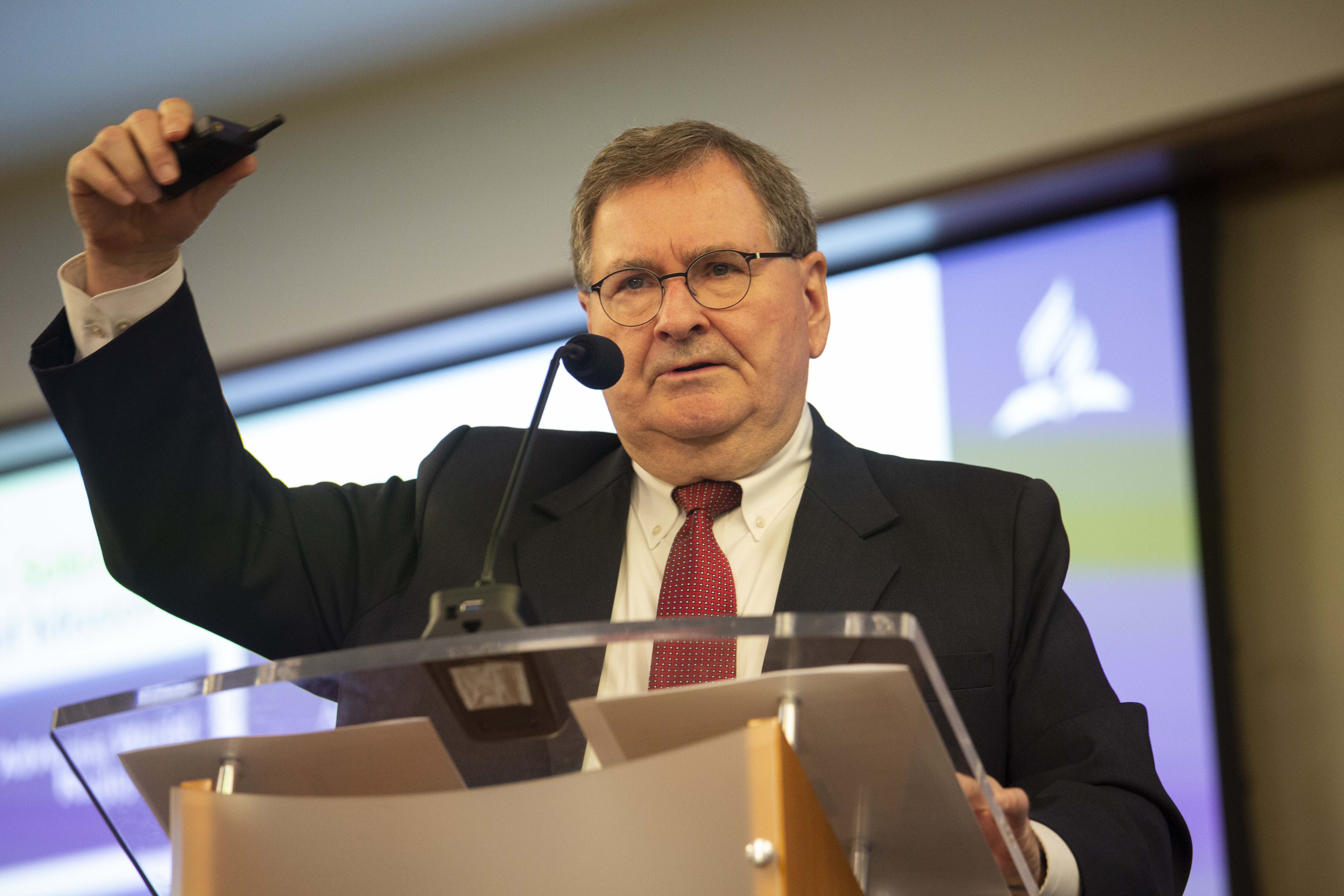 "He's in it for the right reasons," responded Michael Jamieson, NAD undertreasurer, after Evans delivered his report. "It boggles my mind that he has 50 years of service."
"[With] five decades to schools, conferences, unions, divisions, he's extended himself. He's given of himself. He's done all he could to advance [God's] work," said G. Alexander Bryant, NAD executive secretary during a special prayer over the officer and his wife, Shirley. "We just want to let Tom know how much he's been appreciated by his brothers and sisters in the North American Division … We will miss him, but we know that he will continue to work for You."
Before the prayer, Daniel R. Jackson, president of the NAD presented Evans with an award as an expression of gratitude. "We want to give this to you with our cherished memories, and with our love," said Jackson.
Juan Prestol-Puesán, treasurer of the General Conference of Seventh-day Adventists (GC), who also attended the division's annual meeting, and had previously served as the NAD treasurer, shared his appreciation for Evans' work throughout the years.
"When I was here as division treasurer, I always counted on Tom as the treasurer of the Mid-America Union. [He was a] provider of ideas and all kinds of things, fun included. Seeing him now moving away into retirement just doesn't [seem real]," said Prestol-Puesán." "Thank you, Tom, for what you have done. Thank you for your contributions in our meetings, both here at the division and later on in the other capacities that we have served in. Shirley worked for me for 19 years. We wish you many happy years in your retirement. … I wish you both many years of happiness."
The impact of Evans' commitment to the Church is deeply felt throughout the division, including within its headquarters.
"The treasury team has considered ourselves blessed to work with Tom Evans.  His dedication, hard work, and untiring devotion has been an inspiration to all of us," said Jamieson, after the conclusion of the meetings. "We will miss him greatly!"
Larry Blackmer
Larry Blackmer, NAD vice president for education, delivered his final educational report to the executive committee on Tuesday, Nov. 6. He highlighted the division's enrollment turnaround, the increased collaboration of Adventist higher education institutions, and the growing number of education course available through Adventist Learning Community.
"This is Larry's final report to the NAD. We did honor him at the [NAD] Teachers' Convention Chicago. But I really think we should give him an ovation of affirmation," said Jackson during the business meetings.
During the 2018 NAD Teachers' Convention, which took place two months prior in Chicago, Illinois, Blackmer was presented the Alumni Awards Foundation 2018 Excellence in Teaching Award. During the convention, a foundation representative acknowledged that, through 40 years of service, "Dr. Blackmer has earned the admiration of his students and colleagues. He has been recognized as a model educator who integrated professional excellence with Christian education." Support for the award came from both the NAD Board of Education and General Conference Board of Education.
Blackmer was also given the President's Award of Excellence. During the award presentation Jackson said, "The level of excellence that Larry spawns is incredible."
"Seventh-day Adventist education runs in my blood," said Blackmer during the Year-End Meetings, "[I've had] 17 years here …Thank you to each of you for your support and I ask you to support Arne [Nielson], and Leisa [Standish] just as strong as you've supported me."
"Larry has been both a mentor and a coach and a friend over the years," said Arne Nielson, NAD Education director of secondary education, who was voted by the executive committee to replace Blackmer on January 1, 2019.
"One of the things I've admired most about him is he's exemplified a very dynamic faith both in his professional life and his personal life," said Nielsen, "He's a very strong Seventh-day Adventist Christian. That's really what stands out, followed closely by the fact that he loves Adventist education. Whatever he does from his office is filtered through the lens of what's best for kids. I admire him for that."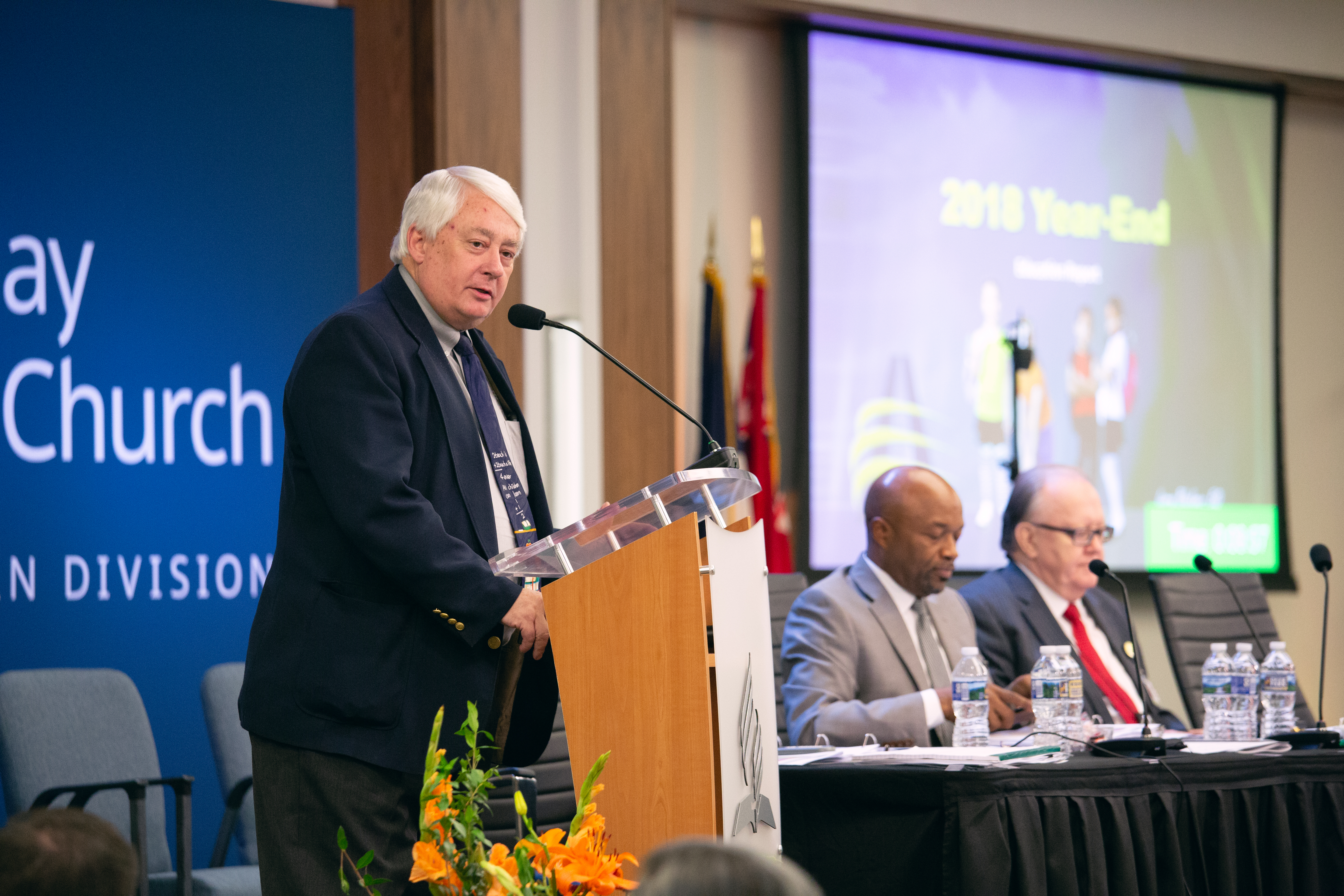 Blackmer was instrumental in the creation of Adventist Learning Community, Data Rollup (an Adventist education toolkit), T-Deck (the technology committee for the division that is used for education), and the Guam-Micronesia Mission education partnerships with NAD unions. He's been a strong advocate for accreditation for distant learning courses, seminary integration, and faith and science curriculum for higher education and K-12 education.
Lisa Beardsley-Hardy, director of education for the GC, addressed Blackmer after his report, and thanked him for strengthening the partnership between Adventist educators and pastors.
"I'd like to add my thanks on behalf of the world church for what you've done. You've not only helped develop K-12, and the numbers show that, despite a lot of pressures and the trends that are going the other way, but you've helped update what we're doing for the education of pastors," said Beardsley-Hardy "And now as a result of that, the new international handbook for ministerial and theological of education has a component that one of the competencies of pastors' need is to understand how the ministry of education is very much a part of pastoral work."
Blackmer has served at Grand Ledge Academy in Grand Ledge, Michigan, as both teacher and principal; at Adelphian Academy in Holly, Michigan, as vice principal and boys' dean; and as principal at Mount Pisgah Academy in North Carolina and Takoma Academy in Takoma Park, Maryland. Larry also served for seven years as associate superintendent in the Michigan Conference. He also served as superintendent of schools in the Idaho Conference. Prior to serving as the vice president of education for the NAD, Larry served as associate director of education for the Seventh-day Adventist Church in North America.
"He's been a huge proponent for us and our demographic, our presence, our voice, and our engagement. [He's consistently] intentional and active," said Rajesh Inparaj, president of the Adventist Intercollegiate Association (AIA), after Blackmer's report, who served as a delegate during the Year-End Meetings. "On behalf of AIA, thank you for being with us and being on our side."
John Matthews
John Matthews' final stewardship reports featured a glimpse of the creative footprint he's leaving on the ministry — two video series, and expanded features on the stewardship app.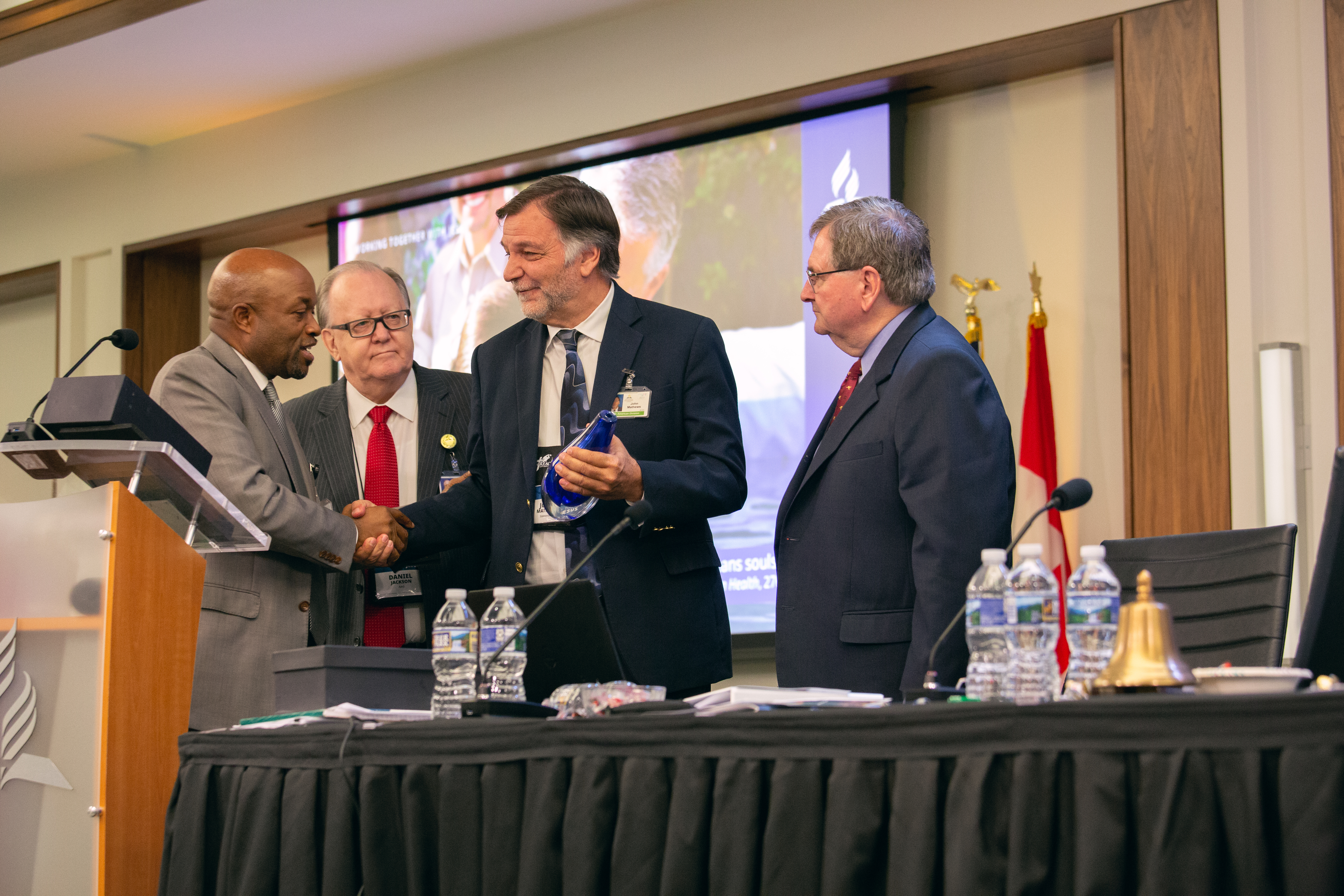 "John's got as many creative ideas as birds have feathers," said Daniel Jackson, NAD president.
"The only thing about his creativity is, since I've been in stewardship, I don't think he's slept. [I think it's] because he's just laying awake at night just thinking of new things to do," said Bonita Shield, associate director of Stewardship Ministries, who was elected to serve as director beginning in January 2019.
Matthews is the principle author of the First Quarter 2018 Adult Bible Study Guide, Live Stewardship...Live Happy, and co-authored with his wife, Janice, Smoky Mountain Rescue. He is also a musician, having recorded the gospel CD Keeper of My Heart. He's also produced the film, The Mysterious Note for the ministry, and has worked alongside labradoodle "Stewardship Jack," his canine companion who helps teach honesty and generosity to kids ages 3-7.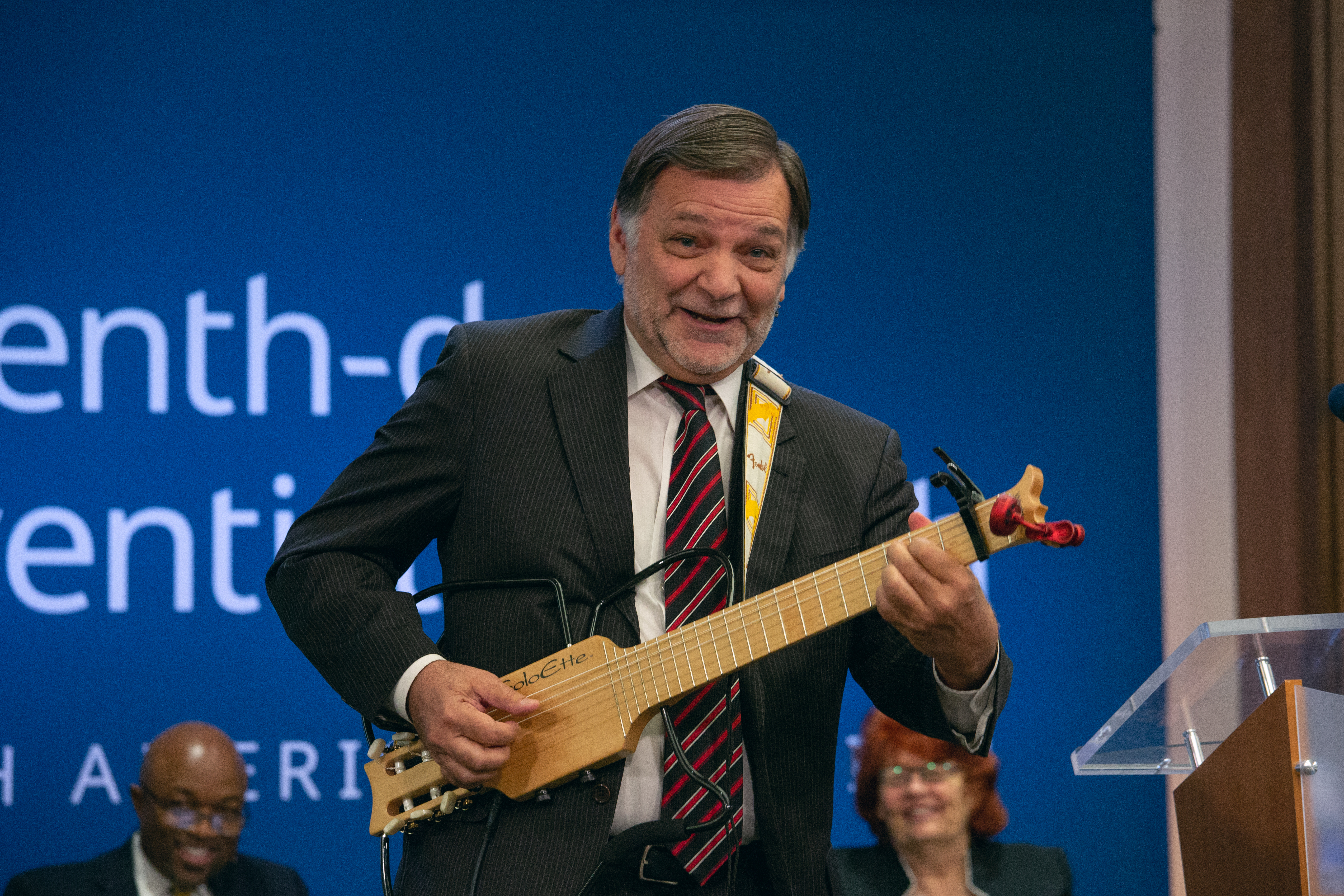 "It has been a valuable experience working for and with John Mathews in NAD Stewardship. His creativity and thinking outside the box have produced some unique resources. His passion and commitment for stewardship have been inspiring," said Shields, after the meetings. "I believe one of his greatest impacts in stewardship was the writing of the First Quarter 2018 Adult Bible Study Guide titled, Stewardship: Motives of the Heart.Following the release of this quarterly, tithe increased around the globe.In the North American Division alone, we went from a little over 2 percent tithe increase trend to over 8 percent through September 2018.Well done, John!"
His ministry has included serving in Florida, Alabama, Iowa, Missouri, Tennessee, and Nebraska. He has conducted stewardship and family finance seminars throughout the North American Division since 2010.
"Thank you so much for letting me work here at the North American Division," said Matthews. "It's the best place on Earth."