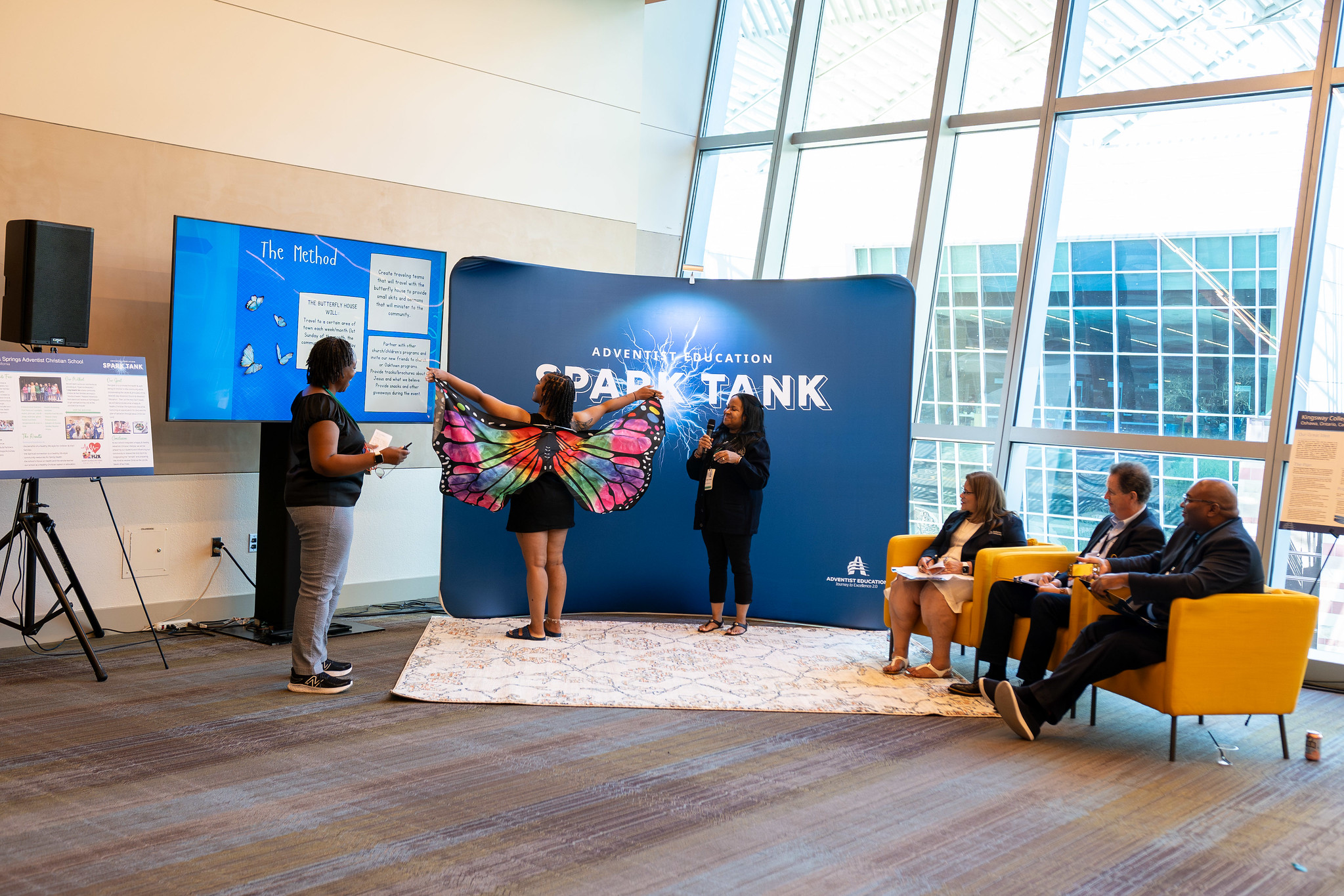 Spark Tank was held over two days during the North American Division Educators' Convention hosted in Phoenix, Arizona. The special event provided spiritual support and necessary aid through grant funding and feedback from three expert judges. Eight schools were chosen to pitch to the judges, presenting their ideas with a brief explanation of their projects. 
Organized by Leisa Morton-Standish, NAD Adventist Education director of elementary education and curriculum, the event showcased the schools' projects through a small art-styled gallery outside of the exhibit hall in the Phoenix Convention Center. Conference attendees previewed each display, which outlined the summary, plan, method, statistics, goals, and results. 
The Spark Tank presentations were split between Tuesday and Wednesday, allowing eight schools to make their mark and present to both the audience and the judges, which included Janet Ledesma, dean of education for Andrews University, Dan Houghton, president of the Hart Research Center, and Philip Baptiste, secretary/treasurer of Adventist-laymen's Services and Industries (ASI). The first four schools to present were Tualatin Valley Academy, based in Hillsboro, Oregon; Oakwood Adventist Academy in Huntsville, Alabama; Poulsbo Adventist School, in Poulsbo, Washington; and finally Ozark Adventist Academy in Gentry, Arkansas. 
Butterflies and Bible Stories
Tualatin Valley Academy eagerly detailed an evangelistic neighborhood outreach project aimed at sharing the love of Christ with their local community. Through the sole focus of sharing God's love, the program hopes to take many forms, such as door-to-door visitation, a community health fair, vacation bible school, an outdoor concert, small group Bible study, and a neighborhood block party where free haircuts, back-to-school equipment, and more could be brought to the community. By creating active partnerships, Tualatin Valley Academy is hoping to become a positive support to their area through practical evangelical outreach.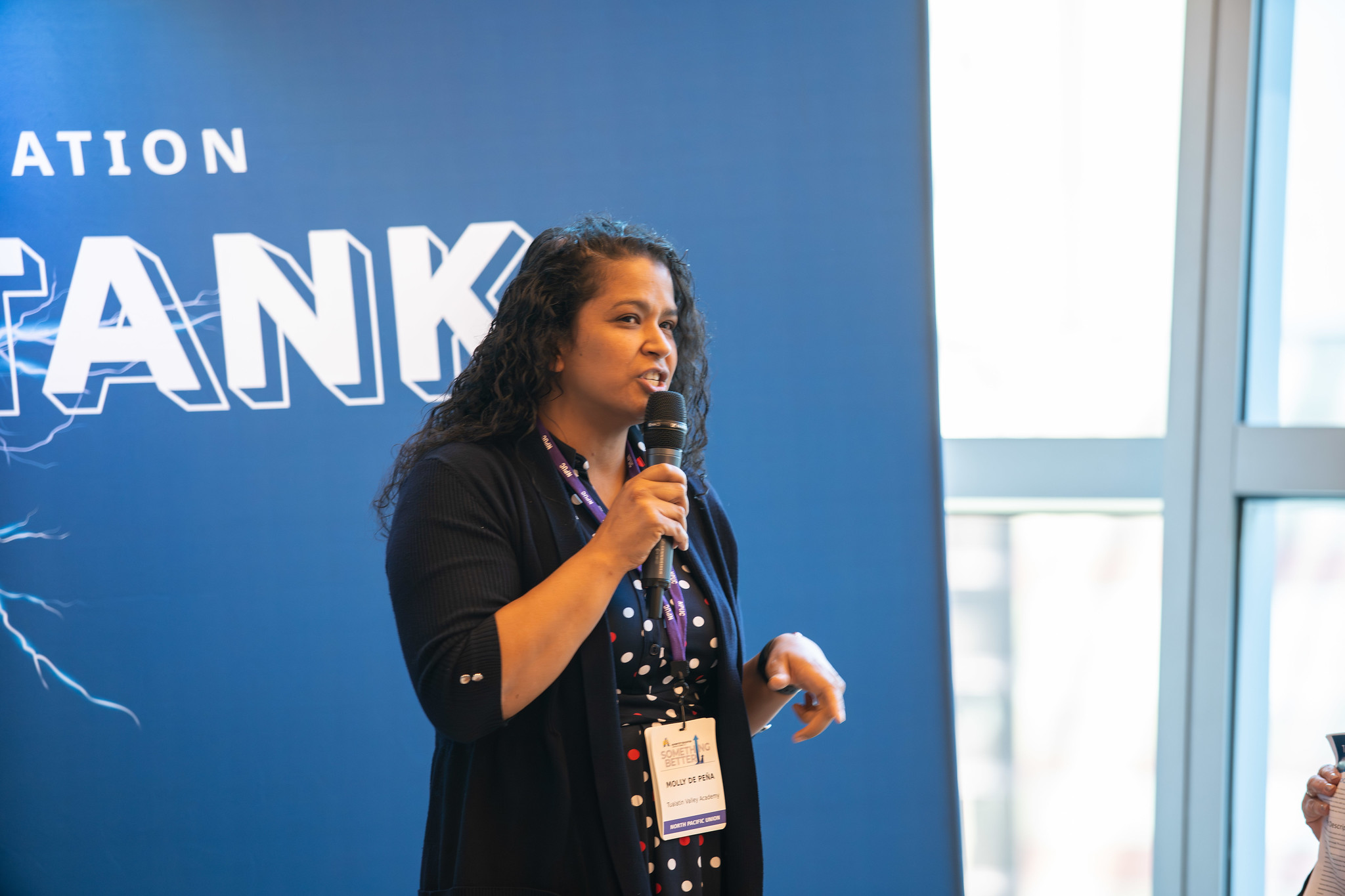 Carla Drake from Oakwood Adventist Academy pitched The Traveling Butterfly House with the aim of creating a shed that will contain a mobile butterfly habitat geared toward bringing nature to inner city areas and highlighting the example of the transformation we experience as Christian believers. Drake stated, "We believe in developing the whole child and bringing the community into our schools." The presentation ended with performing an acapella theme song in three-part harmony, singing "Like a caterpillar changes to a butterfly, Jesus brought a change in me."
Poulsbo Adventist School's school president Judelle McCormick followed, providing context and explanation for their plan. As a three-teacher school, the resources are few but the commitment is strong. Out of the student population, only 4 percent of the student body were Adventists with the rest playfully referred to as "pre-Adventist." With the majority of the students raised in non-Adventist homes, and only 55 percent of them attending any form of church, the school saw responsibility for educating students raised in Adventist homes and those who are unfamiliar with Bible principles. The school board gifted each school family a 10-volume set of Arthur Maxwell's The Bible Story, providing a reading plan for families to follow throughout the school year. They hope that all the families will be introduced to Bible stories and study for the first time, with McCormick hailing early results of the plan. 
Ozark Adventist Academy came together to pitch Youth Connect, a project designed to connect children to specific reading plans, starting with Three Angels for Today's youth curriculum that simplifies Mark Finley's iconic Three Cosmic Messages series. Within a four-year plan, Ozark Adventist Academy has big plans to educate and edify its students.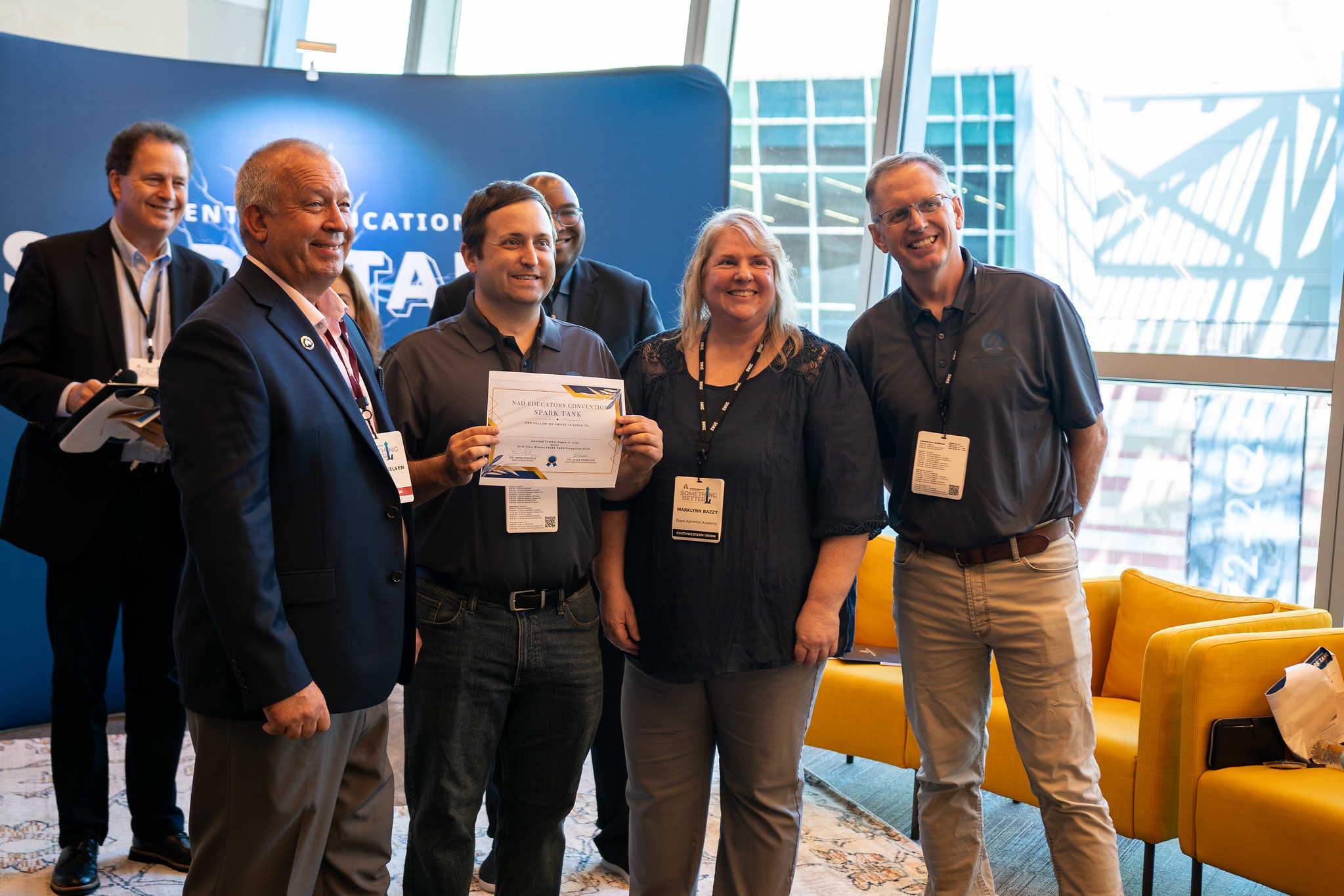 Ozark's planning and evangelistic intentionality paid off in the long run, earning them the first place price of $3,000 from presenter Arnie Neilson, NAD vice president of education. Poulsbo Adventist School came in second place, and both Tualatin and Oakwood earned runner-up status. The latter three all won the $2,500 prize money, and Loma Linda Academy Junior High in California, Beltsville Adventist Academy in Maryland, and Murrietta Springs Adventist Christian School in California each earned $1,500 in third place. 
Cooking Classes and Christmas Cheer
The next day, Spark Tank kicked off with presenters from another four schools. These included Orcas Christian School on Orcas Island, near Seattle, Washington; Ebeye Seventh-day Adventist School from Micronesia, Kingsway College in Ontario, Canada; and Madison Academy from Madison, Tennessee. 
The first to present were teachers from Orcas Christian School. As a small community, Orcas Island is known to be fraught with a stark class divide, causing many of the young people to fall through the cracks. By taking care of their needs and providing safe spaces for the prominently non-Christian student body, Orcas Christian School has hopes of developing a loving community. The school hopes to bridge the gap by supplying necessary supplies and hosting regular events.
The next pitch was one of the religious leaders for Ebeye school. Known as the most densely populated island in Micronesia, Ebeye contains a whopping 18,000 people on 89 acres of underdeveloped, overcrowded land with no sanitation or paved roads. The heartfelt context was shared, detailing the population's dependence on highly processed foods linked to a high mortality rate. Their program, Re-educate Your Tongue, was designed to teach their school and local families about a proper diet and the health risks of processed foods through cooking classes and educational courses.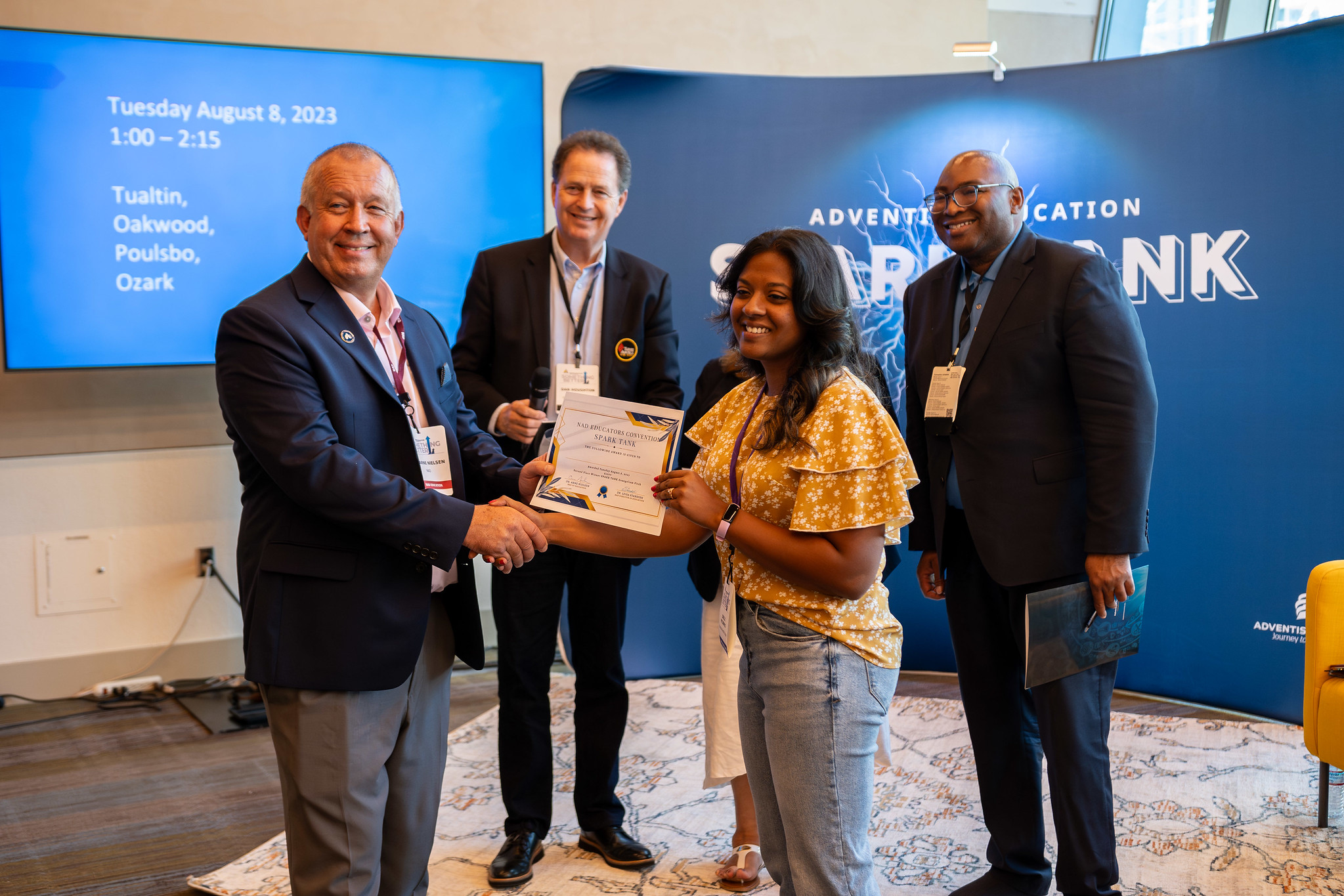 Kingsway College pitched a plan for a community garden with hopes for 100 planting spots by 2024. Eager to provide fresh produce and health education, Kingsway shared a three-year plan that would break down the seasonal initiative into its most efficient process, sharing its final goal towards a year-round greenhouse. As a result, the community would be engaged, learning agriculture, attending healthy cooking classes using the produce, and building a strong community network. 
Finally, Madison Academy flipped into the spotlight with flair, catching attention before sharing the devastating reality of having children and students in foster care, including the homeless epidemic. Through their school chaplain dressed as a Santa Claus with flashing glasses, they pitched the idea of hosting academy-led Christmas parties and events in the gym.
After the judges' deliberation, Nielsen awarded Worcester school $1,500 for third place; while Orcas Christian School, Madison Academy, and Ebeye school took second place with $2,500 each; and Kingsway College earned first place with $3,000. 
Organizers hope that Spark Tank's commitment to investing in its schools through sponsoring evangelistic innovation propels the special event to becoming a vibrant tradition.