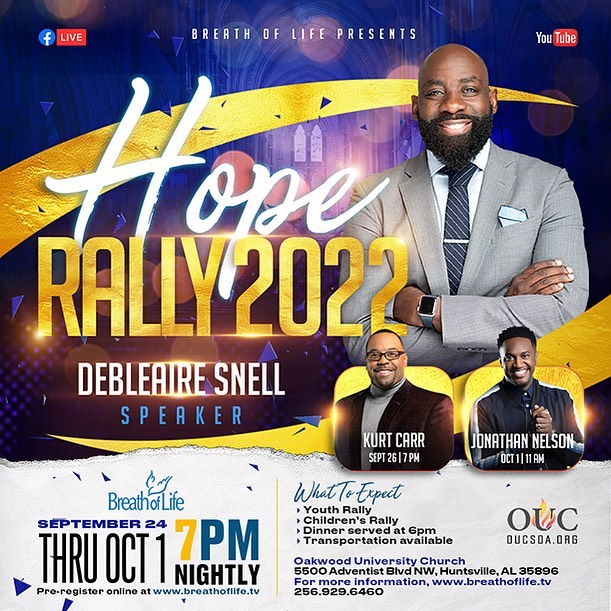 Each night, from September 24 - October 1, at 7 p.m. CT, Breath of Life TV will host its fall revival — Hope Rally 2022 — with Pastor Debleaire K. Snell, Breath of Life speaker/director. The meeting will be at Oakwood University Church, in Huntsville, Alabama, which is the home-base of Breath of Life Ministries. This seven-day revival will encourage, strengthen, and restore hope in God in spite of life's difficulties and trials.
On Monday, Sept. 26, Kurt Carr and the Kurt Carr Singers will minister in song and on Sabbath, October 1 at 11 a.m., Jonathan Nelson will be the musical guest. 
Activities are planned for all ages. Dinner will be served each night at 6 p.m., followed by a children's rally for ages 5-12 and a youth rally for teens. The services will also be streamed from the Oakwood University Church and Breath of Life YouTube and Facebook pages. We ask for your prayers for God to move in a powerful way in leading men and women to give their hearts to God!
Name badges will be provided to everyone who attends. To register, click here: https://breathoflife.tv/actavista_event/hope-rally-2022/.