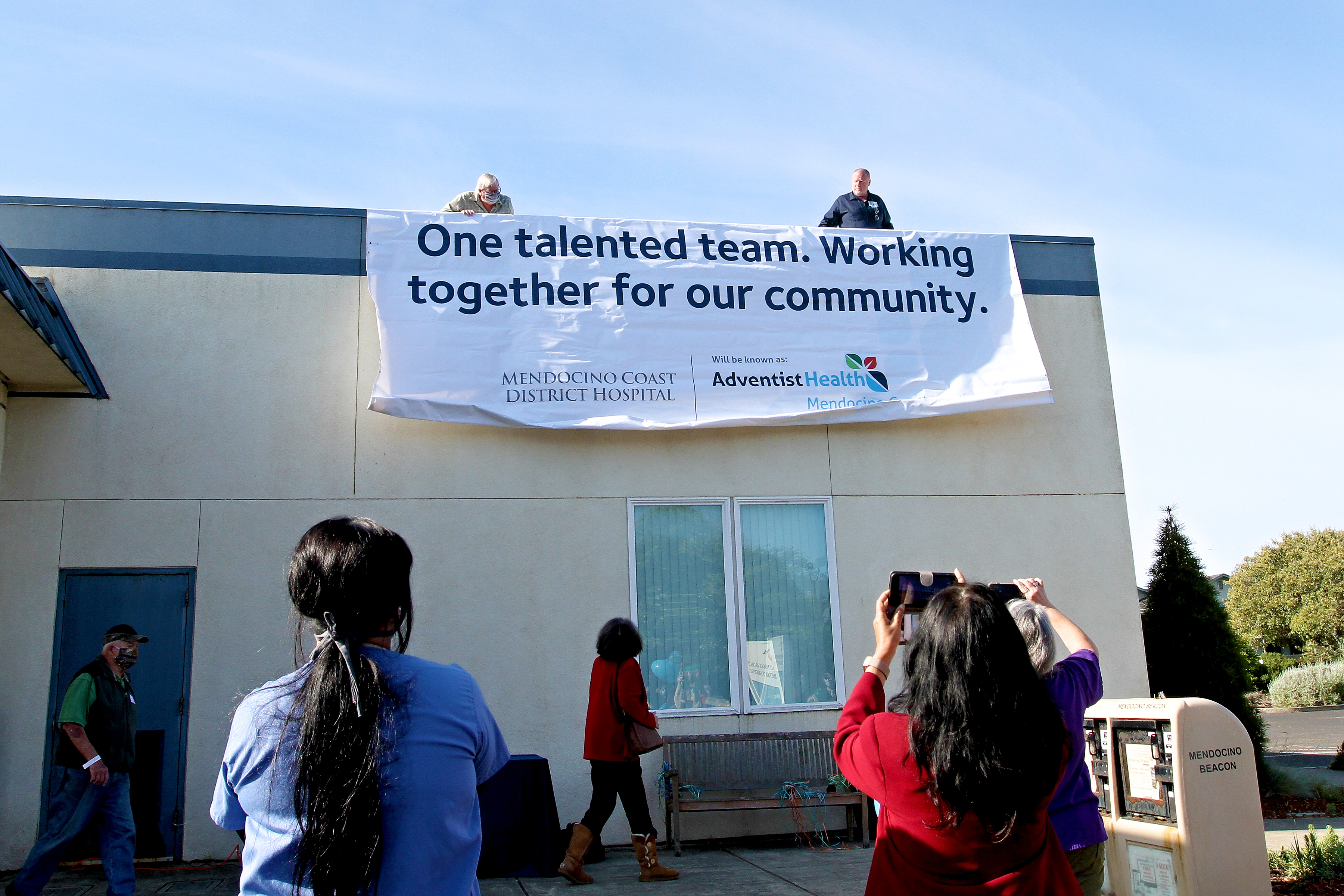 Mendocino Coast District Hospital and Adventist Health have signed a management agreement, announced Jason Wells, president of Adventist Health services in Mendocino County, in May 2020. The hospital will draw on Adventist Health's extensive experience, as well as its vast network and resources in Mendocino County, where Adventist Health operates two other hospitals, Adventist Health Howard Memorial in Willits and Adventist Health Ukiah Valley. 
"We are grateful and humbled by the community's overwhelming vote in support of affiliating with Adventist Health in March," says Adventist Health CEO Scott Reiner. "We value and thank them for their trust in our organization, and we look forward to building on the hospital's rich heritage in the community and expanding our mission throughout the Mendocino Coast and communities in the surrounding area." 
Adventist Health executive Judy Leach was selected as the new hospital administrator for Mendocino Coast District Hospital, soon to be known as Adventist Health Mendocino Coast. Leach is focusing on merging the organization's operations into a greater network of care within Mendocino County and Adventist Health to provide sustainable growth and a thriving culture of excellence.
Leach has more than 30 years of experience in healthcare, including nearly 15 years with Adventist Health. She most recently served as communications executive for the organization's 22 hospitals and hundreds of clinics. Prior to that role, Leach led strategy execution for Adventist Health's urban and rural hospitals and clinics in Oregon, Washington, and Hawaii while serving as vice president for strategic planning and communications.
"Judy has invaluable experience working at the community and system level and is the perfect fit to lead the hospital's transition into the Adventist Health family," says Wells. "Her leadership will ensure that the community experiences the benefits of this vibrant partnership while creating pathways for collaboration, innovation, and transformation. Judy's passion for authentically connecting with patients, caregivers and community stakeholders, paired with her strong strategic leadership, will greatly benefit the health of our coastal communities as well as all of our hospitals and clinics in Mendocino County."
Jessica Grinberg, president of the board for the healthcare district, says she is excited for a new chapter in healthcare for the Fort Bragg and coastal communities. "As a long-time resident of the coast and member of the medical community, I know how much this hospital means to this community and I'm glad we've found a great partner in Adventist Health who will bring their expertise and resources to build on a great foundation."
Throughout the COVID-19 pandemic, both organizations are already realizing the benefits of working together — collaborating and sharing resources, personal protective equipment and strategies in preparation for a surge. Wells adds, "We have been sharing best practices and coordinating our efforts so we can ensure we're ready to care for the community when a surge comes. We're confident we will continue to make great strides in improving clinical quality and patient experience by drawing on the combined teams' expertise and experience. I'm excited for what the future holds for healthcare in this community." 
- -
About Mendocino Coast District Hospital
Mendocino Coast District Hospital (MCDH) is a 25-bed critical cccess Hospital licensed by the State of California Department of Health Services and accredited by the Joint Commission on Accreditation of Healthcare Organizations (JCAHO). MCDH provides emergency, inpatient and outpatient services, and healthcare education to prevent, manage and treat chronic and acute conditions.
About Adventist Health
Adventist Health is a faith-based, nonprofit integrated health system serving more than 80 communities on the West Coast and Hawaii. Founded on Seventh-day Adventist heritage and values, Adventist Health provides care in hospitals, clinics, home care agencies, hospice agencies and joint-venture retirement centers in both rural and urban communities. Our compassionate and talented team of 36,000 includes associates, medical staff physicians, allied health professionals and volunteers driven in pursuit of one mission: living God's love by inspiring health, wholeness and hope. Together, we are transforming the American healthcare experience with an innovative, yet timeless, whole-person focus on physical, mental, spiritual and social healing.