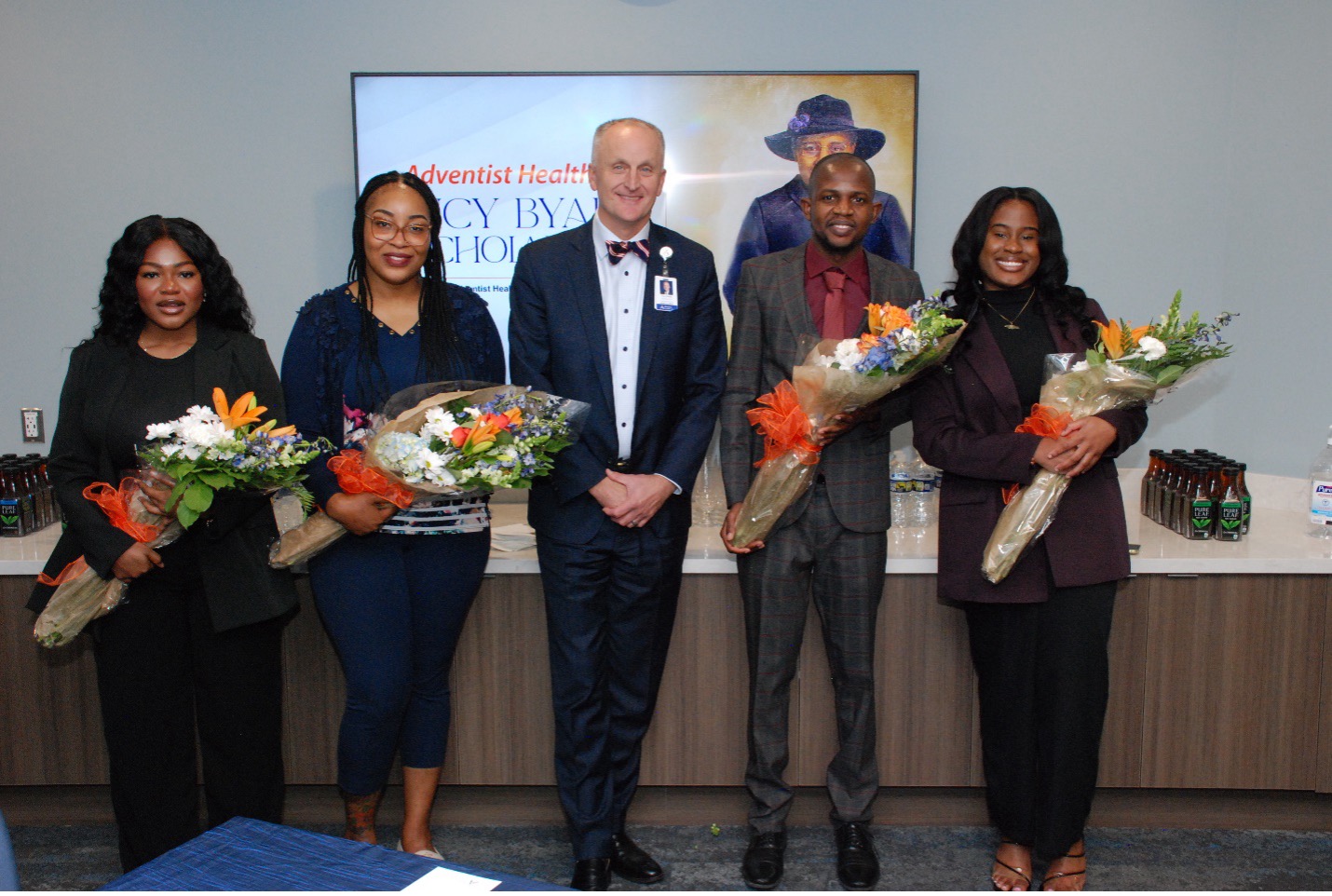 On Nov. 1, a luncheon was held in honor of the 2023 recipients of the Adventist HealthCare Lucy Byard Scholarship for nursing. Adventist HealthCare (AHC) leadership, along with church leaders, friends, family and colleagues, came to celebrate the four deserving students who received a total of $60,000 to complete their studies.
As Terry Forde, president and CEO, explained, the scholarship honors the legacy of Lucy Byard and reaffirms Adventist HealthCare's continued commitment to treat all people with respect and compassion. The scholarship is a need-based, merit opportunity for nursing students that helps address racial disparities and economic inequities.
This year, two new recipients were identified, and two previous scholarship winners were awarded additional funds to continue their studies. All four of the deserving nursing students have faced hardships with perseverance and grit to realize their dream of pursuing a career in medicine and providing compassionate care.
Cameca Anderson

(new) – A student at Washington Adventist University and student nurse in the emergency department at Shady Grove Medical Center, Anderson says that her passion for nursing stems from the fact that as a nurse, she "will be able to provide patients and their families with holistic care at their most vulnerable times and guarantee the highest standard of care."

Victoria Ofori

(new) – Growing up in rural Ghana, Howard University student Ofori was captivated by courses that deepened her understanding of diseases and explained ways to eliminate barriers to care. As a hospital volunteer, Ofori realized that she wanted to be a nurse to "engage in conversations to eliminate healthcare disparities" as well as "strengthen communication and relationships between providers and patients."

Tianna Lawrence

(continuing)

– Currently studying at Howard University, Lawrence credits her experiences as a home health aide in teaching her that "patients just want to be seen and treated with compassion. They want someone that they can trust ... and I am devoted to being present for these people and dedicating my time and life to service."

Junior Philogene

 (continuing) – In 2016, Philogene came to the U.S., and he has worked tirelessly to become fluent in English and excel in school, including currently at Washington Adventist University. Philogene has taken on many jobs to help support his family and shared that, "As a medical professional, I can ensure that people are healthy so they can have the opportunity to work toward their dreams, just like I have had that opportunity."
Blessings and remarks were offered by a number of AHC representatives and selection committee members including ­­Anthony Stahl, president of Adventist HealthCare White Oak Medical Center; Dwayne Leslie, who has been named general counsel for Adventist HealthCare in 2024; and Ann Roda, vice president of Mission Integration and Spiritual Care for Adventist HealthCare; as well as the chief nursing officers of AHC's four acute hospitals.
To learn more about the scholarship, please visit AdventistHealthCare.com/LucyByardScholarship.