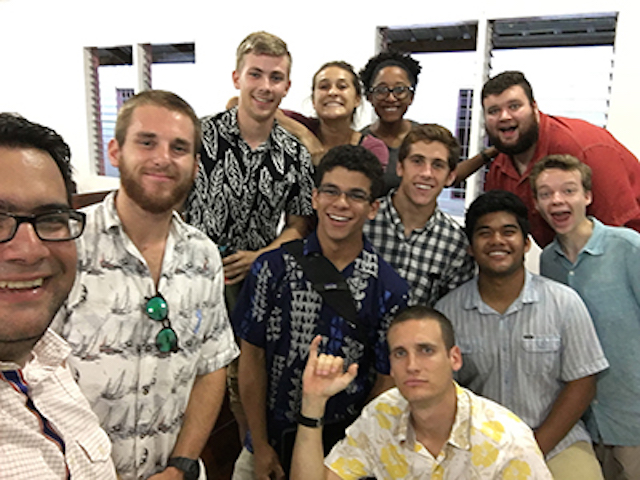 The young adults walked into the church. I could tell they weren't from Pohnpei (in the Federated States of Micronesia). At the end of the program, I introduced myself to them and found out that they were the new student missionaries at the Pohnpei Seventh-day Adventist School. From Southern University, Union College, and Walla Walla University, this group of Adventist young adults was ready to tackle a year of teaching and serving on this little island in the middle of the Pacific Ocean, far removed from their families.
The young missionaries were brimming with hope and an attitude that this was where God wanted them to be. They shared that some of them had been assigned to support the other churches on the island throughout the year — they were excited about that too. After setting up an appointment to go out to dinner together, we parted ways that Sabbath afternoon. I was left thinking about the way they handled themselves — and about the dreams and hopes they'd shared in that brief conversation.
I kept thinking about the unknowns and the circumstances that they would encounter throughout the year. Being a parent makes you think that way.
But I also saw it from their perspective: how they had taken a year out of their lives, and knowing this was important enough to do so. They're half the world away from what they knew to be normal, adjusting to a rhythm of life and culture that was so different.
I visited them during school hours one morning and saw them in action. Samuel was teaching computer class in a room with no functioning air conditioner. When I asked about it, he just said that they were going to fix it soon and that class must go on.
I asked Kim's students what Bible verse they learned that day — it was on the board — "You shall have no other God's before me." I saw Daniel and Jimmy in the middle of recess, children all around, laughing and playing with them. I saw the high school students listening and taking notes from the young teachers as they (the teachers) tried their best to teach the material and make sure that the students took notes.
In the evening, as we went off for pizza to the only local place where we'd all fit (one of only two options), we all piled up in the back of the school's truck. The missionary teachers were happy about the prospect of a good meal (they have to cook their own meals and many answered "cereal" when I asked what they'd eat).
As we sat down for dinner, I asked each why they chose to be there. One mentioned that this year would best help him prepare for what he thought God wanted him to do: "I am a business major with a religion minor. When I graduate, I want to be in the mission field. I already applied to go and work in Iraq, but I was denied three times. I want to be a missionary there and being a missionary here, learning about this, prepares me for what is to come."
Another one mentioned how her parents were not fully supportive of her choices, first of attending an Adventist university and, second, of her being a missionary and losing one year of school. She said that even though she did not exactly know what was going to happen, being here felt right. She is an education major, and this is definitely an experience where she will learn what it means to be a teacher.
Then there was Kayla, the only returning student missionary. This was going to be her second year on the island so the others called her "the local." Kayla shared with me that this year the student missionaries (SMs) will try to jump start the youth program on the island. "It has been hard," she said, "since most SMs leave after one year and there is no continuity." They are going to try to encourage more locals to lead, but getting them interested and invested is going to be a challenge. As we parted ways Kayla, with her voice breaking, thanked me for the dinner and asked me to remember the SMs and the challenges they face. The dreams and plans they have are big, and sometimes they feel all alone and helpless.
These brave young adults are taking the gospel to the other side of the world with courage and hope. They need our prayers and support as they embark on this amazing journey.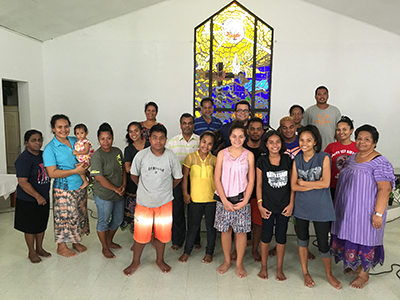 Fully Invested
"How long until you retire, Pastor?" I asked Walter John, the local church pastor in Pohnpei, serving two churches and one small group.
"Oh," he said, "about 3 or 4 more years."
I asked Pastor John this because after one day of full conversations, I learned that he had been in the mission field for more than 12 years. He and his wife had been on another island for almost all those 12 years and now they had a new challenge in Pohnpei.
"What are you going to do when you retire? Are you going to go back home to Sri Lanka?"
"No, we will probably stay in these islands and live here," he answered. "There is still so much to do that we would stay and volunteer."
The more I talked with Pastor John, the more I realized that he was a man of God who was fully invested in God's call. As we drove around the island in a 15-year-old van, the pastor mentioned that he was trying to get a newer one, same model and size. He said that he needed a similar van so that he could continue to bring a lot of people to the church and drive them to activities and meetings.
The pastor showed me the facilities where the two other congregations he was pastoring met. One church was meeting in a village in the middle of the lush jungle — in a structure with mangrove tree posts and no walls. He mentioned that this group was fast-growing and active.
Pastor John and I started dreaming about a group of volunteers coming from the North American Division (NAD) on a mission trip to at least build the walls for this group — and also support another small group, where he was having an almost daily Bible study, with a small building too! He was eager to plant another church there, the group was responding greatly to those Bible studies!
As we shared stories, Pastor John mentioned how he was the only Adventist in his family.
"A pastor from Oregon came as a missionary to Sri Lanka when I was younger," he said. "One day, he came to my house unannounced and asked me if I wanted to study the Bible. I was curious about this man. I wondered why he'd come to the other side of the world to study the Bible with me."
Pastor John's family had grown up Anglican, but after the Adventist pastor came to visit he joined the Adventist Church. As he was reminiscing about this, he mentioned the visit that this pastor made to his home unannounced, and uninvited, and shared this story: "I went to do a week of prayer in the United States and I asked the pastors there if we were going to go visit people. They mentioned that in the states it was different. You had to set up an appointment, . . . I could not imagine the complicated process to visit someone!"
The pastors mentioned that they could try someone who had not come to church in a while to go visit, so they headed out to the house of this family. At first, the family members did not know what to do, but invited them in. Pastor John and the local pastor visited with this family and he invited them to the meetings. "In the evening, this family was there in the church and it was not only them, they brought more people with them. This family did not miss a single meeting!" shared Pastor John.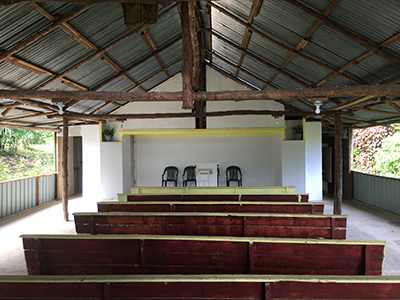 "Visiting the members is so important," he added. "There is no more intimate way to connect with them than in their homes; to share bread with them, and to speak outside the church setting in trust." The pastor has continued using this personal touch throughout his ministry.
We arrived back to the school campus with Pastor John explaining how he'd also been principal of a mission school for years. Now that he was on Pohnpei, he was looking forward to supporting the mission school in different ways.
As we walked through the campus, we started to dream again about what a group of volunteers on a mission trip could do to renovate and rebuild the school.
Pastor John is a servant of God who understands that there is so much to do and not enough time nor resources for it, yet still lives his mission completely. I was blessed to have spent just a few days with a pastor on a small island in the middle of the Pacific Ocean, with the great commission in his mind, embedded and lived fully.
— Armando Miranda Jr., associate youth director of NAD Youth Ministries and youth director for NAD club ministries, shared these experiences after a recent trip to the Guam-Micronesia Mission, which is part of the North American Division.