For several years the Paradise Valley Church, near San Diego, California, has been serving immigrant populations in several ways. The ministries include a food pantry, classes in English as a second language, a thrift store, and a community garden. Friendships For Hope, now charitable nonprofit corporation, grew out of the food pantry ministry. Below are just a few stories of people involved in Friendships For Hope that were shared in the organization's e-newsletter.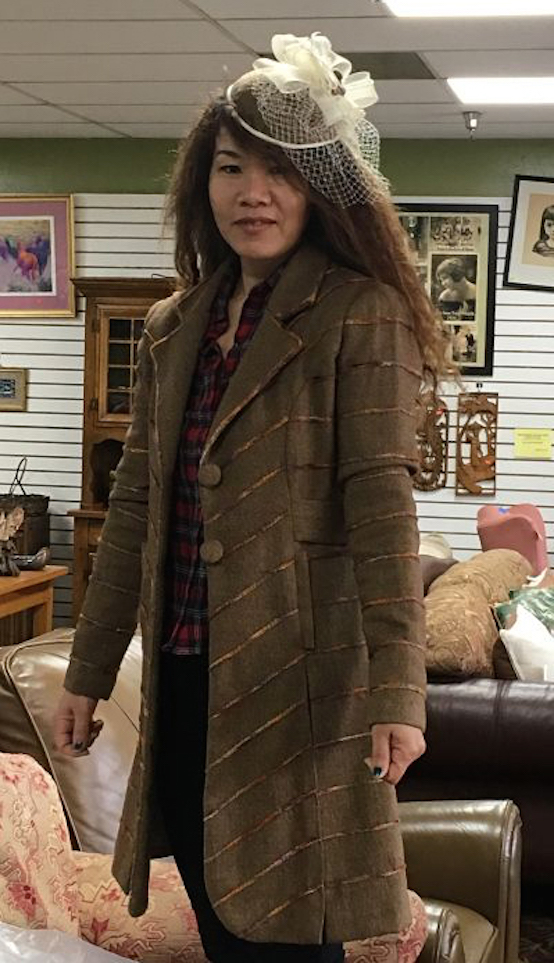 Juliet Sailo, one of Paradise Valley Church's former English language students, is part of the refugee assimilation project. She recently won two clothing design awards with a suit she made for a class project at San Diego Mesa College. Sailo and about 30 classmates examined several garments made in the 1950s, then chose one of them as inspiration for a modern outfit to be entered into a design competition.
Sailo was inspired by a striped suit, making hers in soft brown wool. She hand stitched yarn stripes on the fabric, and substituted shorts for the original suit's skirt. She also altered a blouse from the church's thrift store. Sailo made a fascinator-style hat to complete the outfit.
Sailo's creativity and hard work made her one of the class's four finalists. Her suit was displayed on March 3 at the San Diego History Center, where she was named top designer for "Fashion Redux! 2017," as well as winner of the People's Choice Award.
Sailo, her husband, Kap Pi, and their two children are refugees from Burma who, within the next year, will be eligible to apply for United States citizenship.
"Tharcisse," a thrift store worker, has been in the U.S. for a little more than one year. Originally from Rwanda, he and his wife, Francine, have 3 young children. Tharcisse has already learned enough English to be working as a clerk in the thrift store. The customers are enjoying talking with him as he assists them in finding that special treasure in the store.
"Nyota" has been in the U.S. less than a year. She and her large family had to flee for their lives from the Democratic Republic of Congo. She has just begun (March 2017) work in the thrift store, cleaning and hanging clothes. Nyota has a cheerful spirit and is bringing a lot of joy with her into the store.
Volunteer Jeanne Gifford is a retired firefighter who volunteers 5-6 days a week, picking up food from several stores, cleaning furniture, delivering furniture, and even helping with pick ups after estate sales. Without Gifford, and all the many volunteers, the organization's work with refugees would not be possible.
Thanks to Gifford and others, Friendships For Hope was able to give 40 pound boxes of food to their refugee students twice a week, in addition to the 500 families they help each Tuesday.