Did you ever meet Johnny Barnes? He died a few months ago where he lived all his life, on the beautiful island of Bermuda. Ruthie and I met him just a few months before his death.
A retired bus driver, Johnny Barnes left his mark on the world. By waving. By throwing kisses. By shouting, "God loves you ..." into traffic.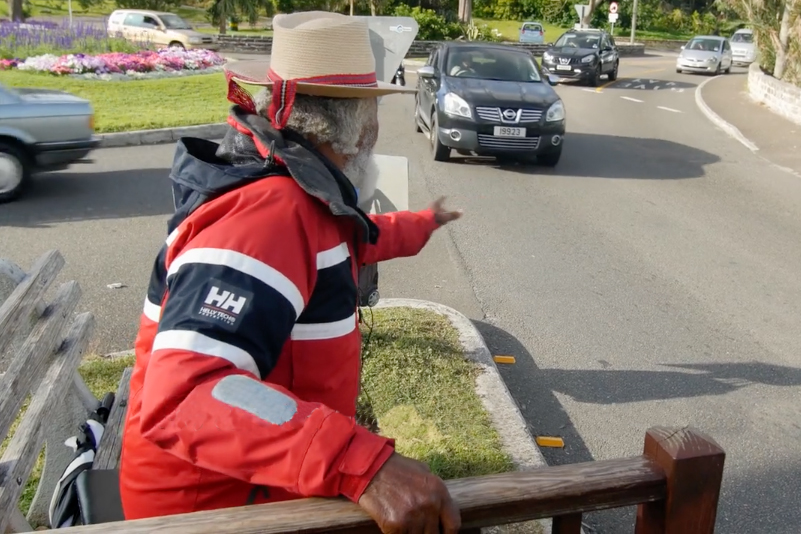 Let me tell you why his story blesses me. One morning years ago, Johnny woke up and decided the world needed more love. A devout Christian and a Seventh-day Adventist, Johnny began getting out of bed at 2:30 every morning and walking to the busiest traffic circle on the island. He stood in the center of the round-a-bout and started waving and blowing kisses to everyone who passed. (Click here for a video about Johnny Barnes.)
Johnny's good morning greeting caught on and soon nearly everyone who was headed into town looked forward to his wave and his smile. Sunshine or rain, he was there — every morning of every business day — for 30 years. If he ever missed, which was seldom, motorists would call the radio station or the police asking, "Where's Johnny?" He became the happy face of Bermuda.
One sunny morning (most of them are in Bermuda), a young woman and her husband rounded the traffic circle headed for the hospital where she would deliver her first baby. This being her first she was more than a little anxious, but she figured his smile and his wave would bring her some reassurance. As they passed his post, however, Johnny was looking the other direction and the woman missed his smile completely. Needing the reassurance she knew it would bring, she asked her husband to please go around the circle again so she could catch his eye. She did, and he did, so she said to her husband, "Go ahead; I think everything's going to be OK."
What if, every morning, every one of us burst out into our world wearing our happy face? Throwing a kiss to everyone we passed. Waving a greeting to everyone we meet. Assuring those whose lives we touch that God loves them.
What if we became the happy face of our communities? At the grocery store; at the Post Office. Over the backyard fence.
What if the radiance of our trust in God led people to say, "You know, I think everything's going to be OK?"
To read the news report of Johnny Barnes' passing, click here.
Don Jacobsen writes a message each week as part of the Hope Heals 2016-2017 NAD Prayer Initiate; this story is from the Dec. 18, 2016, email. His ministry partner and wife, Ruthie, is prayer coordinator for the North American Divison. Click here to subscribe to the weekly email message.