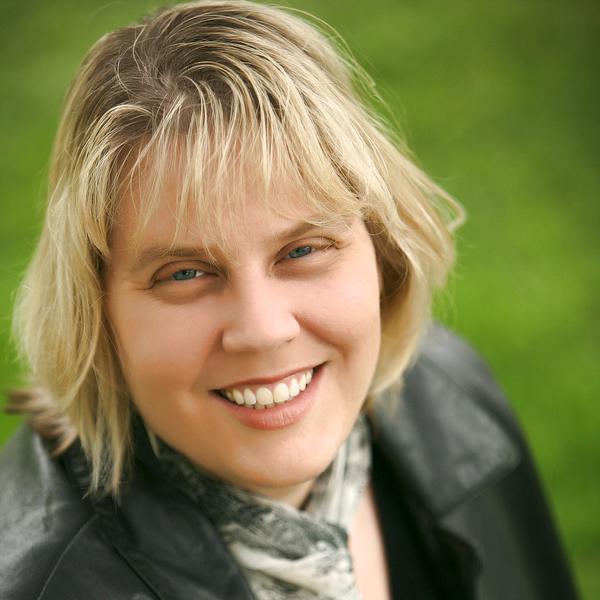 With prayers, tears, and a touch of humor, La Sierra University students, faculty, and staff gathered on Jan. 26, 2017, to recall the many ways Lisa Kohlmeier, associate professor of history, had affected their lives and hearts.
During an evening prayer service at La Sierra's Hole Memorial Auditorium they expressed their grief, comforted each other, and remembered Kohlmeier who passed away unexpectedly on Jan. 23 at age 47.
Kohlmeier arrived at La Sierra in 2005 and served as an associate professor of history where her specializations included American history, women's intellectual and cultural history, the history of disease and medicine, and the Harlem Renaissance. She was also engaged in a variety of committee and mentorship roles on campus.
Prior to La Sierra, she taught history at Atlantic Union College in South Lancaster, Mass. She earned two bachelor's degrees from AUC, graduating Summa Cum Laude. In 2009, she jointly earned master's and doctoral degrees in American history from Claremont Graduate University. Her numerous fellowships, travel and research awards include an American Association of University Women publication grant, two La Sierra research grants, and the Gilder Lehrman Institute of American History Fellowship. She gave a variety of engaging scholarly presentations at prestigious universities and conferences around the United States including "The Power of Photographs in Documenting the Complexity and Meanings of Alice James's Sickroom" at Yale University.
Kohlmeier had completed a book manuscript at the time of her passing titled "Women Creating Home: Stories of the Quest for Roots and Possibility." The work draws from her extensive research and analyzes the homes of female icons of social justice, reformation, literature and feminism such as escaped slave, abolitionist and author Harriet Jacobs and suffragist Alice Paul.
Her work outside of La Sierra included serving as a member of the American Association of University Women. Her contributions extended to the surrounding Riverside community where members of her class "Home and Homelessness" volunteered at a rehabilitation and recovery shelter.
To her La Sierra family, she was best known for her genuine concern and kindness, as well as a rigorous scholastic mind that challenged her students and opened up new perspectives. Many shared memories and spoke about the impact she had on their lives during the university prayer service on Jan. 26.
The event followed two days during which current and former students and colleagues expressed their shock and sorrow through various means, including on social media where a university Facebook post announcing the news had reached more than 13,700 people by the end of Thursday.
Leading the evening's service, Randal Wisbey, La Sierra University president, described the enthusiasm he and Kohlmeier shared for the work of abstract expressionist painter Mark Rothko, and how much his son, Alexander, enjoyed her classes.
"I will always be thankful for Lisa. Lisa was one of our son's favorite professors" while a student at La Sierra, Wisbey said. "He loved the books she assigned, … and he loved Lisa. Whenever she talked to me about my son, her eyes would light up.
"Tonight we are here to talk about our friend, our colleague, our teacher. We do so as members of this Christian community. This is what we do when we hurt," he told the gathering, "and when we need to most remember that God is present in this sorrow. In these moments of darkness his light still breaks through."
"I had the great privilege of being one of Kohlmeier's students," said Jonathan Mamora, a piano performance major who spoke before performing an arrangement of "Abide With Me." "She was always joyful. You would tell her something and she would truly care."
Student Association president Nikki Godfrey read Psalm 42 and later commented, "she's been such a part of La Sierra for me. She deeply cared about getting to know the students. She was a fighter for the students."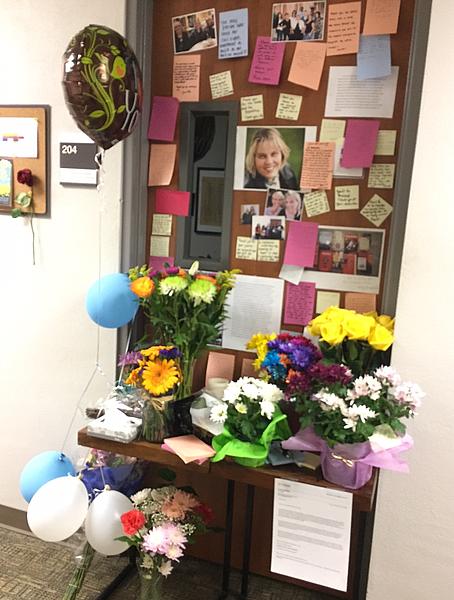 History professor Jeff Dupée brought a bit of levity to the occasion by describing the meals Kohlmeier enjoyed cooking for friends and students. "If you've been to one of Lisa's get-togethers at her house, it's quite an experience. The kitchen is filled with food," he said. Like Italian meals in "The Godfather" movies, "dinner or lunch is an event," he said. "I can't tell you how much I'm going to miss her, how much I cherished her and her smile, an incredible kind of warmth," Dupée said.
Iris Landa, former director of academic advising and orientation recalled Kohlmeier's interaction with Sylvia's Serenity Homes for recovery and rehabilitation, and the support her class gave to the organization. "Lisa, you have left a legacy here in Riverside with the poor. You will be greatly missed," said Landa.
Several current and former students of Kohlmeier's also talked of the deep loss they felt; and some described the impact of her teachings.
"She opened my eyes to new perspectives" surrounding the Civil War's history and its connections with the feminist movement, said one student. "When people think of the feminist movement they think of Susan B. Anthony. But for me, when someone says feminist, the first picture that will appear is Kohlmeier," he said.
Another student described Kohlmeier's class on the Civil War as one of his favorites. "Every time she talked to a student and listened to their opinion was an opportunity for her to learn more. She was a generous listener and a constant student of her students."
A memorial service for will be held Sabbath, Feb. 4, at 3 p.m., at the La Sierra University Church in Riverside. The family asks that in lieu of flowers, donations be made to Sylvia's Serenity, 9184 Hawthorne Ave., Riverside, Calif., 92505, or by PayPal at Myserenity1909@aol.com. The service will be streamed online at http://lasierra.edu/watchlive/#lasierra.
— This article combines a La Sierra Univeristy article published on Jan. 27 — click here for the original — and a La Sierra University press release sent on Feb. 1.