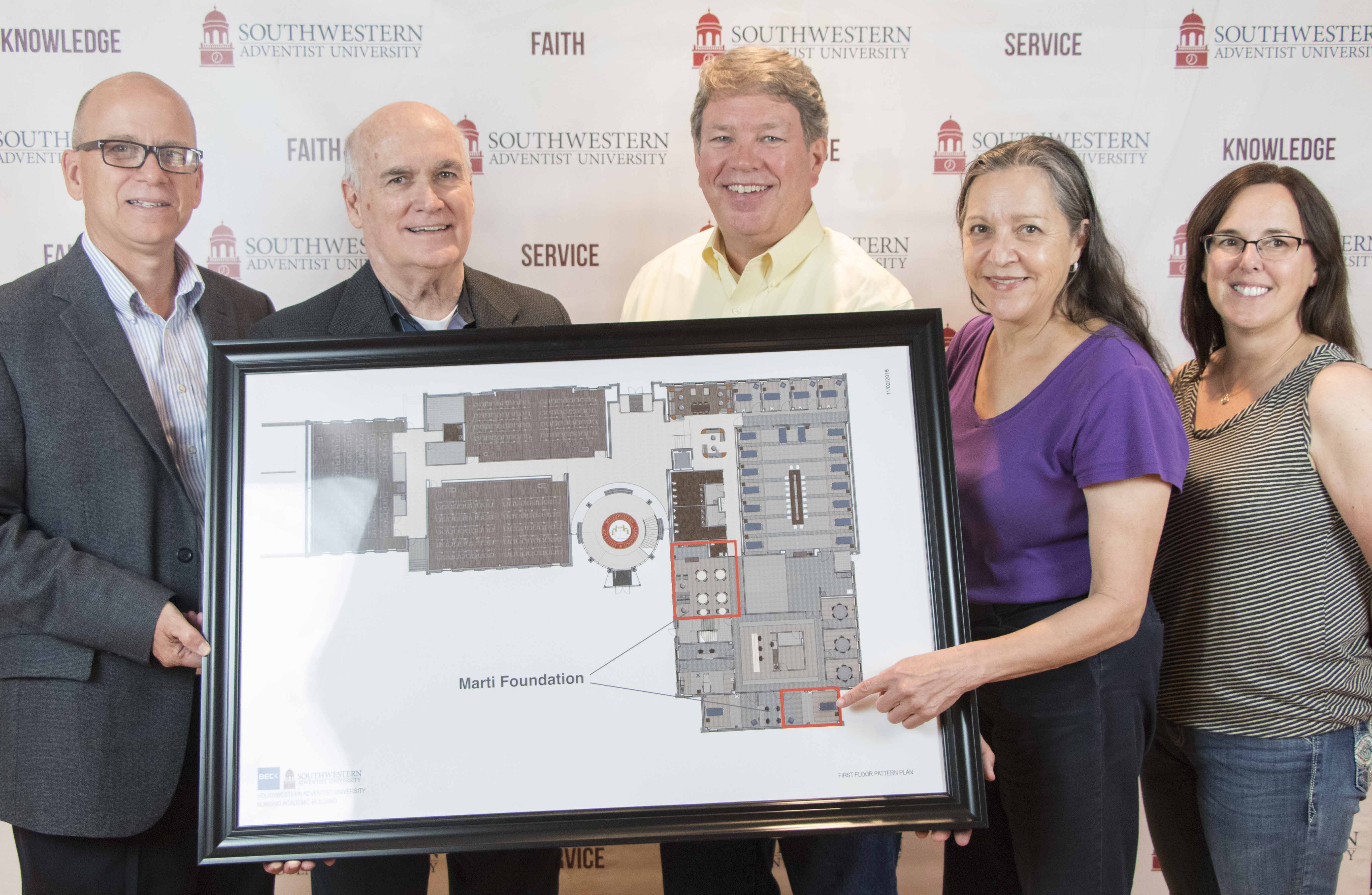 Southwestern Adventist University in Keene, Texas, is grateful to receive a major gift from the Marti Foundation towards the Larry R. Moore Nursing and Administration Building. Michelle Marti, and other members of the Marti Foundation Board, visited the university campus on May 18, 2017. During their visit, president Ken Shaw, chairman of the board of trustees Larry Moore, and members of administration were on hand to recognize and show appreciation for the $200,000 gift. The gift will make possible a student study lounge and a medical surgery simulation lab.
"We really appreciate partnering with Southwestern Adventist University for the benefit of education in Johnson County," shared Marti. "Southwestern has many good programs. We're so happy to support their nursing program with this gift. We also very much enjoy benefiting from their music program and their presence in the community."
The Marti Foundation is a non-profit founded in 1988 by George and Jo Marti, Michelle Marti's parents, to support education in Johnson County. The Foundation is currently supporting 220 Johnson County students with scholarships.
"We are so thankful to Michelle and the Marti Foundation for supporting this project and helping us make a difference in the community," said Ken Shaw, SWAU president. "We have many students from Johnson County attending our university so we're grateful to partner with a group of people who have the interests of these students at heart."
The new building will provide state-of-the-art space and equipment to continue to grow the nursing program and provide nurses for the community. Nursing students make up about one quarter of Southwestern Adventist University's total enrollment, a large portion of which call Johnson County their home. The funding for the Larry R. Moore Nursing and Administration Building has seen one miracle after another as friends and alumni of the university have shown support. Of the $16M total needed to build and equip the building, only $400,000 is left to match the latest challenge grant.
For more information, please click here or contact Dean Waterman at (817) 202-6233.