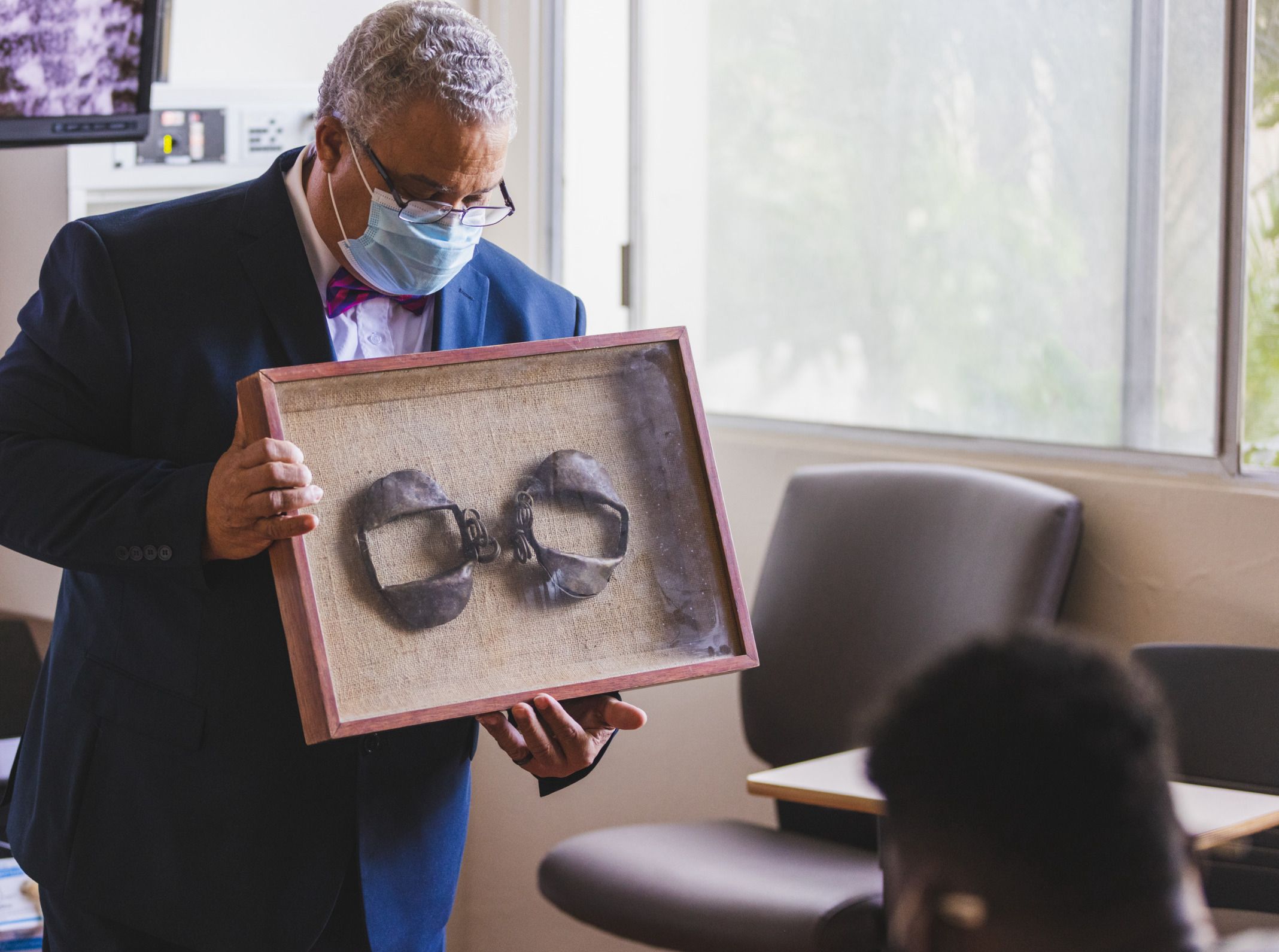 What Charles Dickerson saw in a shop in South Los Angeles, California, more than 20 years ago immediately grabbed his attention — rough iron shackles with square openings hung on a wall for display, darkened with age and forged generations earlier for enslaving human beings most likely from Senegal, West Africa.
The shackles were unavailable for sale, but after some haggling with the shop owner, Dickerson purchased the historic objects and took them home so visitors could see them, his children could touch them, and he could have a visceral, daily reminder of the circumstances from which his life and his ancestors emerged.
On a Thursday afternoon this fall quarter, students in Dickerson's Introduction to Black Studies class, a new offering at La Sierra University, got an up-close look at the shackles carefully displayed in a shadow box frame. For some it was an emotionally powerful moment.
"It's incredible, and infuriating, to know that people were subject to these not that long ago," said third-year biomedical sciences major Julio Rubio. He lingered after the class to take a closer look at the riveting objects in the box frame, "to observe and absorb what was really shown," he said. "It's crazy, the idea of shackling people for the profit of oneself."
The afternoon discussion surrounding the shackles exhibit and a film on Reconstruction and the peonage system were part of a comprehensive journey this fall in the Introduction to Black Studies class that explores Black history from ancient Sub-Saharan Africa forward into the transatlantic slave trade, the Black American and wider African diaspora's fight against colonialism, persistent anti-Black racism and its roots, economic exploitation, political violence, and gender oppression. Led by Dickerson, a noted composer and conductor with former careers in government, law, and politics, the class launches the university's new Black studies curriculum in the Department of History, Politics & Sociology.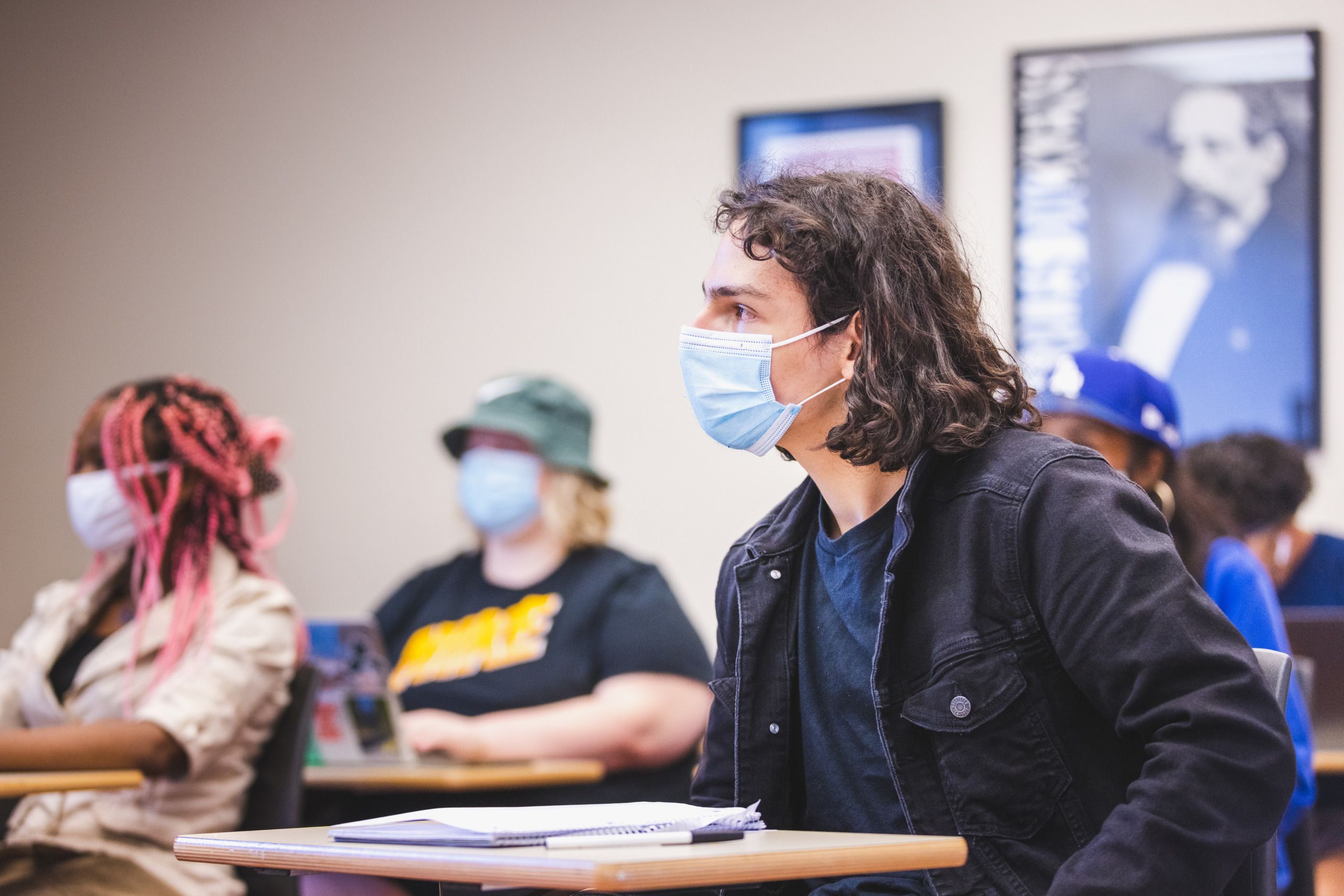 New and Revised Classes
In total, six new and revised classes cover a wide range of issues in various contexts, including African-American history; Black cinema; socioeconomic struggles and inequalities resulting from legal frameworks; and race, class, and gender in American history. In addition to Dickerson, instructors from the legal field and from regional University of California and California State University campuses will lead classes.
The new curriculum is the latest step in a process that began about 10 years ago as the History, Politics & Sociology department expanded courses specializing in the African American experience to cover such topics as the Harlem Renaissance and the civil rights movement.
"In addition to these specialized courses, all our American history courses take an honest view of racial and gender inequality, and recenter the stories of Asian, Latinx, and Black struggles," said Ken Crane, associate sociology and anthropology professor and chair of History, Politics & Sociology. "It was the pandemic and the tragic deaths of African Americans at the hands of police in 2020 that re-focused the lens on the persistent and gaping inequalities in our society, and called for the university to do more. A series of factors coalesced to renew our efforts to grow the African American studies curriculum," he said, including the university's attention to student voices, the encouragement of university administration as well as a commitment of funds for adjunct faculty. "We listened to our students and alumni, sought counsel from La Sierra faculty and staff as to what courses should be added to the existing curriculum that would help the university better speak to racial inequality in America."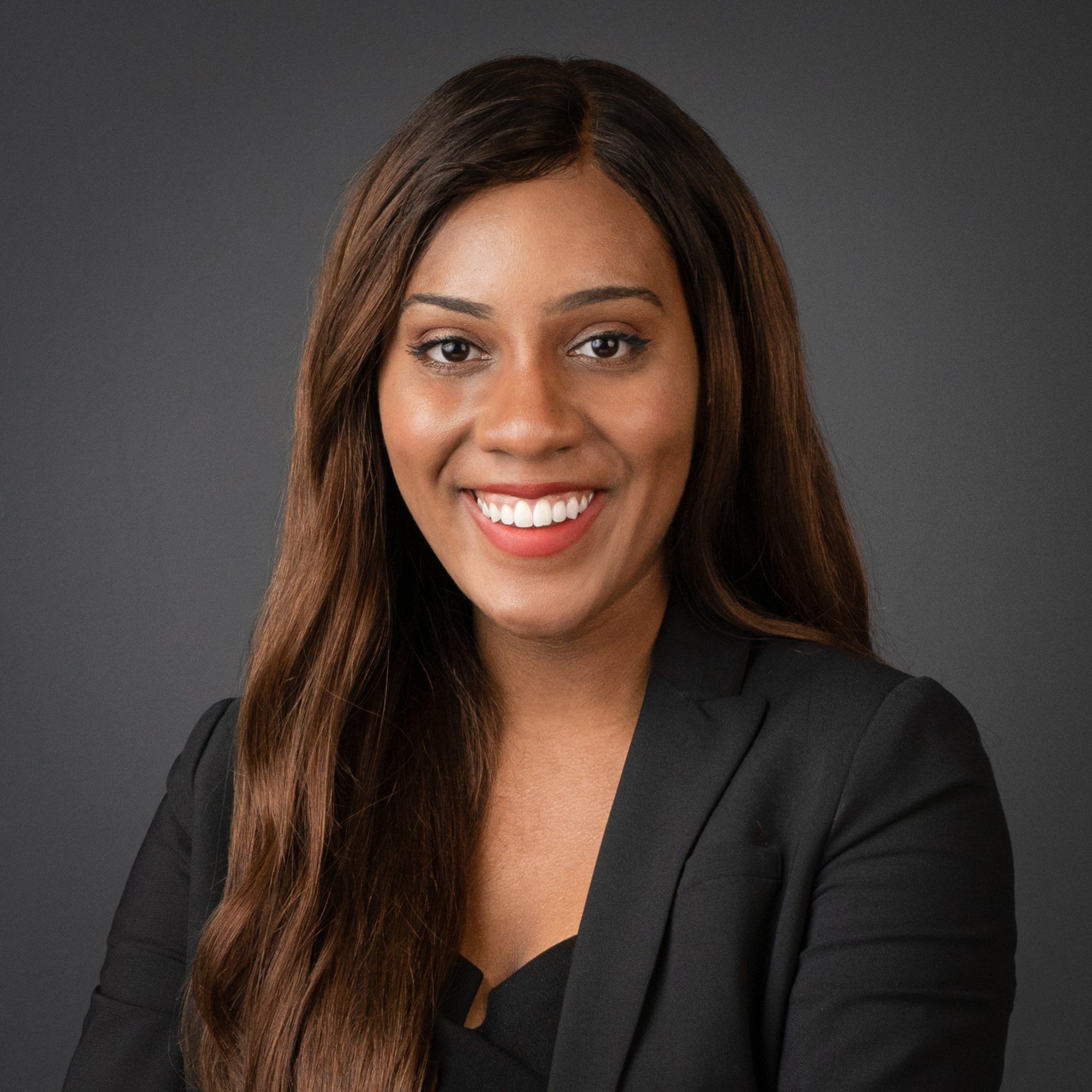 The course lineup continues with Intro to African American History offered in January for winter quarter by Cecelia Smith, a current researcher in African American historical topics and graduate student at Cal State San Bernardino. The class Law & Society will also be rolled out in winter quarter and taught by attorney and La Sierra University alumna Monique Gramling. Additional future classes will cover Social & Critical Movements in Film, taught by UCLA doctoral ethnic studies candidate Brian Stephens; and Race/Class/Gender in American History, taught by Cal State San Bernardino history graduate student Jacqulyn Anton.
Smith's class will provide a general introduction to the history of African Americans in the United States from the era of slavery to the 1970s Black Power movement. "[The class] examines the lives of the enslaved and the manner in which African Americans have helped shape American history," Smith said, noting she plans to focus on women's experiences in conjunction with historical narratives that are typically told from a male perspective. She plans to incorporate movies, guest speakers, photographs, discussions, and a game approach in her teaching. "I don't believe requiring students to just read material and answer a question is an effective way for comprehending often tedious subjects," she said.
The previously existing Law & Society class has been re-framed to take a harder look at socioeconomic struggle, diversity, racial, class, and gender inequalities as consequences of legal frameworks. Gramling says she will engage the class heavily in discussion and debate pursuant to designated readings and films. "We will study selected portions of the law in comparison to current societal events as depicted in the media, specific to minority communities," she said.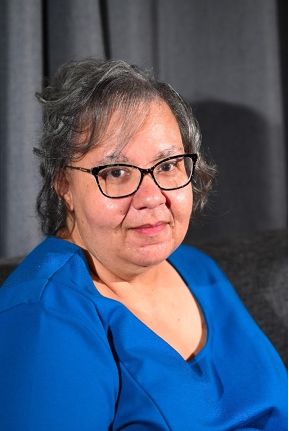 In winter quarter Dickerson will also teach a class on current issues impacting the Black community such as housing discrimination and property devaluation through redlining, significant gaps in income equality between African Americans and others, sentencing inequalities, the Black Lives Matter movement, definition of and controversies surrounding critical race theory, the highly disproportionate impact of COVID-19 in the Black community, Jim Crow 2.0 and current practices of white supremacy in the U.S. First, he hopes to break ground with broader general knowledge and insights offered in fall quarter's Introduction to Black Studies class.
"I want them to have a much better understanding of the entirety of African-American life, with the hope that they will walk out of this class better informed about why Black American are in the condition that we are in today," Dickerson said. "My objective is for them to have as broad a knowledge and understanding about the subject material, so that their lives will change."
In previous years Dickerson held key positions in municipal and national government. Among several current leadership roles he directs the Center for African Diaspora Sacred Music and Musicians at Cal State Dominguez Hills where he is a professor of conducting and orchestral studies.
Instructor Backgrounds
Dickerson is also the founder, executive director and conductor of the Inner City Youth Orchestra of Los Angeles, a 501(c)3 nonprofit which he launched in 2009 and which is now the official orchestra for Cal State Dominguez Hills. He also leads the South Side Chicago Orchestra, a group he formed in 2019 as a first aspirational step toward bringing ICYO's programming and orchestral performance opportunities to Black youth of the nation's cities. Both groups recently resumed operations following more than a year of closure due to the Covid-19 pandemic. ICYOLA has also begun a youth orchestra program in Tsakane, South Africa.
His noted compositions include the choral and orchestral work "I Have a Dream" after the landmark 1963 speech by Dr. Martin Luther King, Jr. A new work based on Amanda Gorman's Inauguration Day poem "The Hill We Climb" is slated for a debut performance on Jan. 15 at the Skirball Cultural Center in Los Angeles.
Dickerson attended La Sierra as a music major in 1970-71 when the school was part of Loma Linda University, then earned a Bachelor of Science in psychology from Howard University. He also holds a Juris Doctor from American University in Washington, D.C., and a Master of Music from California State University, Los Angeles in conducting and African American music.
Dickerson is a graduate of the former Los Angeles Union Seventh-day Academy School and Glendale Academy, and he later served as board chair for Glendale. He has also served as counsel to the General Conference of Seventh-day Adventists. His two adult children from a previous marriage, Cherie and Charles Dickerson IV, respectively attended Oakwood University in Huntsville, Alabama, and La Sierra University. His son graduated from La Sierra in 2011 with a degree in communication. His daughter also attended Loma Linda University's medical school and is a physician.
Smith, who holds a bachelor's degree in history, served as an instructor and 9-1-1 police dispatcher in Los Angeles for 29 years. She is completing a master's thesis in history which focuses on African American women who were victims of lynching, a difficult subject to tackle, she notes, but important to study and understand. She hopes her class at La Sierra "will start a conversation or spark an interest. I want students to understand that African American history is not just about slavery. African Americans have made many important and impactful contributions, all worth reflecting upon and celebrating."
Gramling, a 2013 La Sierra University history graduate and occasional instructor with the university's criminal justice program, serves as a litigator with law firm Kahana & Feld LLP's Irvine office. She holds a law degree from the University of La Verne College of Law. The objective of the Law & Society class she will teach will be to "understand the integral role that race, gender and class play in society by building a framework of what that means, what it looks like, and why it takes place," she said.
"Race is a social construct that has been a means of identity from the beginning of time, and that is something that is not going to change," said Gramling. "Therefore, it is imperative that we be cognizant of how we are perceived due to this classification and work toward solutions of solidarity, and the eradication of implicit bias."
Going forward, Crane aims to grow the Black Studies program further. "We hope this is the nucleus for a fully-funded and permanent program [or] major," he said, "most desirably the essential component of a future political science major."
— Darla Martin Tucker is the director of pubic relations for La Sierra University; read this article for the La Sierra University website.