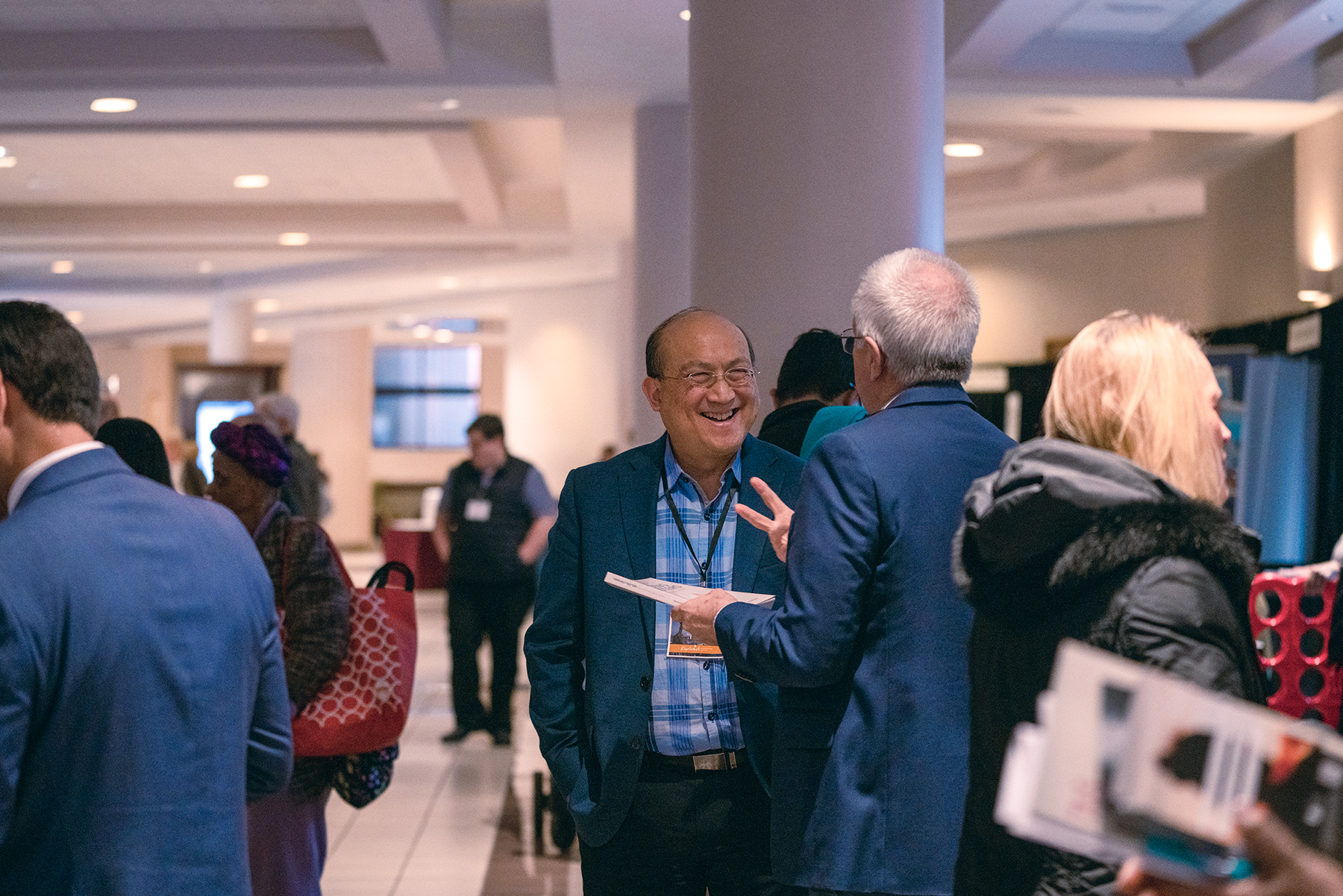 At any major convention, the exhibit hall is a hotspot with lots of activity. The exhibit hall open throughout the North American Division's (NAD) Adventist Ministries Convention (AMC), held January 8 to 11, 2023, in Greensboro, North Carolina, was no exception. There, visitors could meet old friends, play Jenga or the "Heroes" Bible trivia game, take a selfie with the Adventist Journey logo, or purchase ministry resources from the AdventSource pop-up. And then there was the swag — recipe cards, wireless cell phone chargers, full-color illustrated Steps to Christ, pens, first aid kits, stuffed camels, magazines, and more.
Ministries that Change Lives
But the heart of the exhibit hall was the 45 ministries represented, including NAD departments, ministries of the global Seventh-day Adventist Church, and independent ministries. Several ministries shared their stories of changed lives. Attendees fresh off the escalator, coming from the AMC's general sessions, were greeted by Tammy Mapes, a literature evangelist with Home Health Education Service whose motivation for selling, whether the new Bible Story set, the illustrated Conflict of the Ages series for children, nature, or health books, is personal.
"My dad had an Adventist coworker who tipped off a literature evangelist. There were six of us kids. He said, 'Go see that family. They have kids.' My parents bought the Bible Story books, and the colporteur passed our name to the pastor, who followed up with Bible studies. I was old enough that I remember life before, the drinking and smoking, then my dad becoming a gentle, godly man. Desire of Ages changed him."
Mapes added that at big conventions, she remains a while after the exhibits have closed for the night. "I'm afraid to leave because, what if I miss an appointment right there?"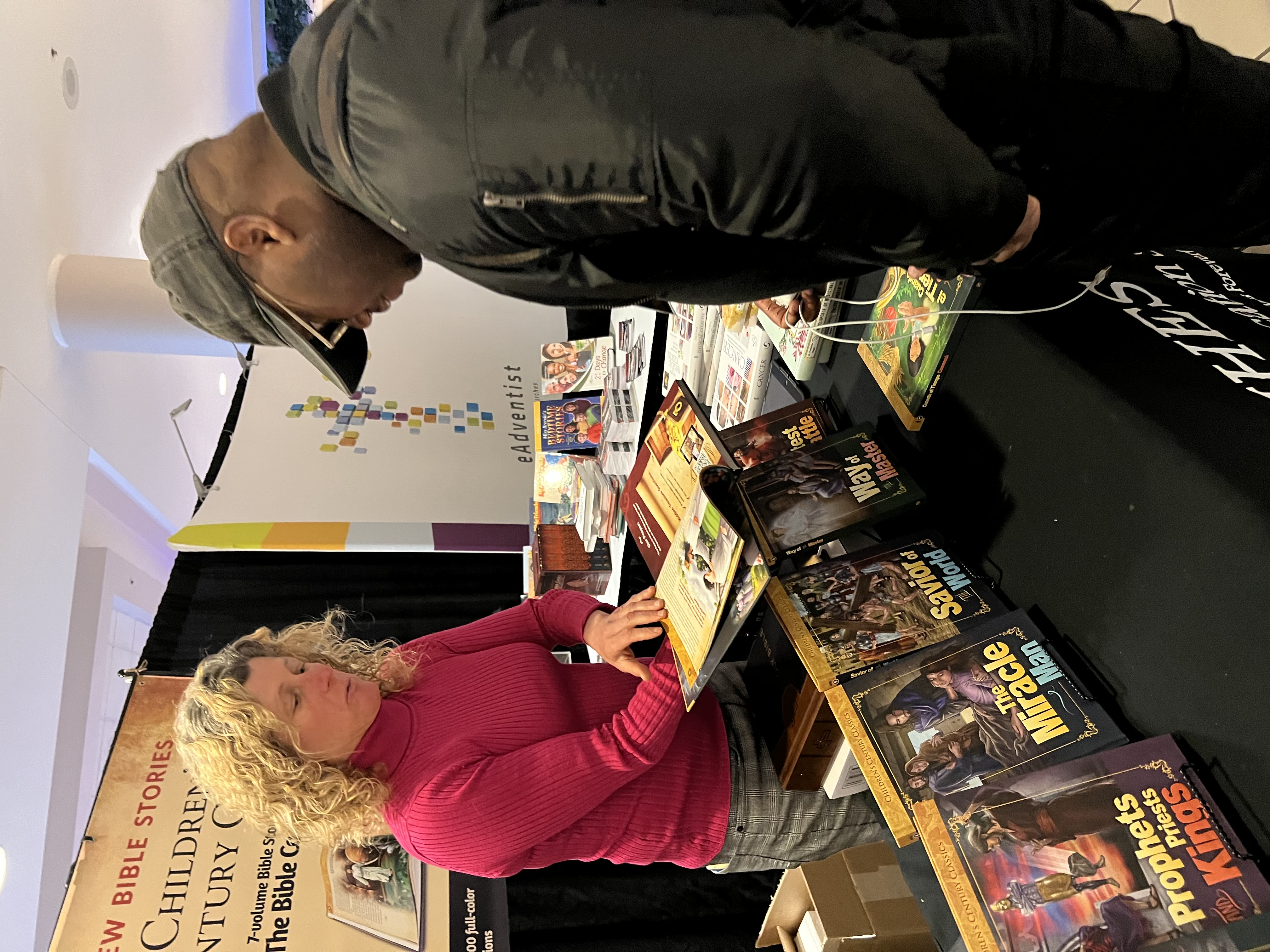 Another featured ministry was Faith for Today, a television ministry. Three years ago, when Roy Ice became Faith for Today director and the "Lifestyle Magazine" television show host, he realized "Lifestyle Magazine," then a mid-level health talk show, needed rebranding. After consulting with the team, he rebranded it as a life coaching show. Today, "Lifestyle Magazine" is the number one life coaching program on broadcast television, with 4 million weekly viewers.
"Lifestyle Magazine" targets five areas for living your best life: attitude, wellness, activity, relationships, and existence. From there, it brings in celebrities, professional athletes, authors, and experts who have overcome relatable obstacles, such as anxiety or relationship issues. Faith for Today is also shopping a new show on blue zones to different outlets, promoting Adventist communities as centers where people can live longer, healthier lives.
"Life coaching lets us talk about religion," Ice continued. "Life coaches like Tony Robbins and Jack Canfield say that to reach your highest levels of success, you [must] have a direct connection with the divine." However, while those coaches explore eastern mysticism, "Lifestyle Magazine" connects viewers with Jesus Christ. "We help people understand your purpose as a divine purpose. If you want to know your purpose, we can help you get to know the Divine."
He concluded, "We work outside the funnel, where people aren't attracted to Christianity or Seventh-day Adventism. We're the ambassador ministry showing them the Adventist Church cares about them. Ultimately, [the church is] the center of compassion in their community, helping them live their best life possible."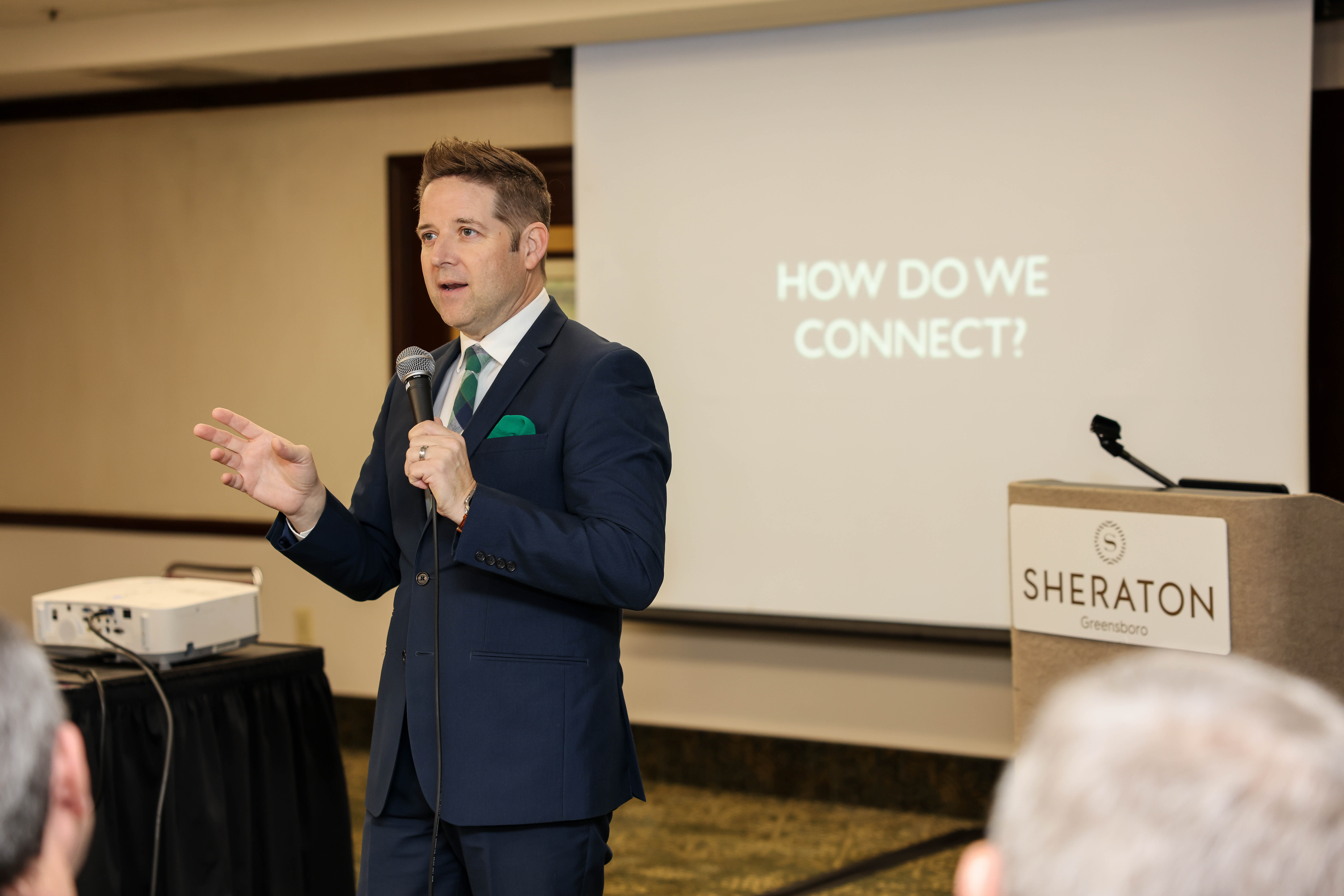 More Than Meets the Eye
Several exhibits introduced visitors to lesser-known facets of their ministry. For instance, visitors learned Adventist Learning Community (ALC) is more than a database of Adventist trainings. Their table featured wide-ranging podcasts such as How the Church Works, on the Church's history and practices; Faith Reconstructed, on core Adventist beliefs; and Reflexión, theological conversations with professors and pastors in Spanish.
The ALC exhibit table also showcased Picture of God, a Bible study website based on the 28 Fundamental Beliefs that incorporates video and audio and connects learners with an Adventist Information Ministry's (AIM) digital evangelism team member. "It's the most popular thing on there," said James Gigante, media manager. He added that the ALC's top three resources boast 20,000 combined interactions. And the best part, Paola Oudri, associate director, concluded, is "everything [from podcasts to trainings] is free!"
At the NAD's Public Affairs and Religious Liberty table, Lori Bryan, administrative professional, also shared an out-of-the-box offering. "We've developed a new television show called 'Faith and Politics.' The Hope Channel picked it up, and we're in talks with PBS. We're excited to see what the Lord is going to do with this show."
I Will Go
Finally, "I Will Go," the world church's call to mission was an undercurrent throughout the hall. Visitors to the Adventist Community Services (ACS) table heard, from Colette Newer, the NAD's ACS associate director, "We're a network of church members reaching out into their communities to show the love of Christ … and you are more than welcome to get involved." And on Monday, Jan. 9, W. Derrick Lea, the NAD's ACS director, invited exhibit hall visitors to engage in a community service project packing snacks and personal items for distribution.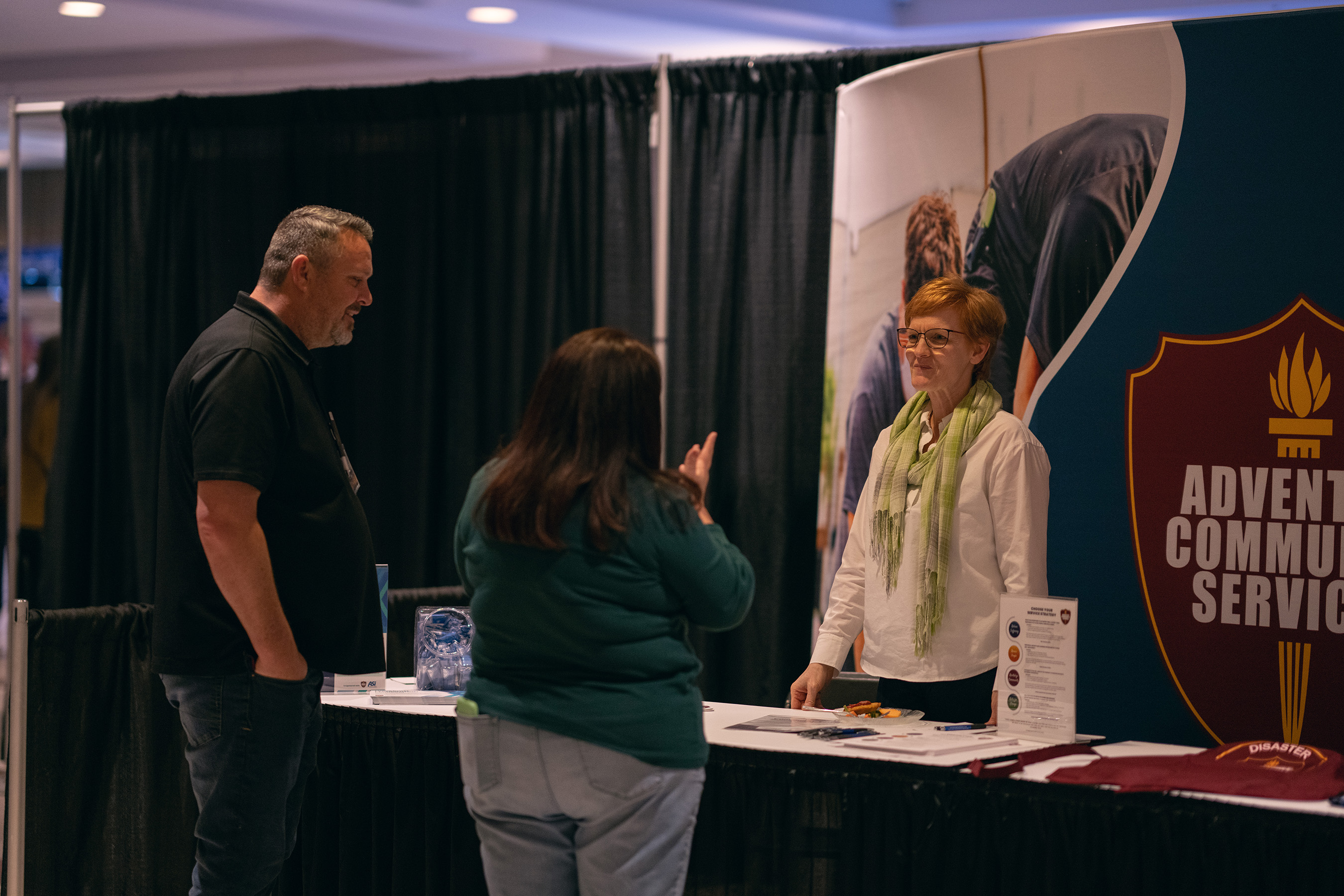 Mario Augustave, director of ACS and ACS Disaster Response, Northeastern Conference, noted ACS's endeavor to meet the needs of the whole person, such as assisting with immigration issues via partnerships with Homeland Security and FEMA. He also lauded his first ministries convention. "It's been wonderful meeting leaders from across the U.S., Canada, and Bermuda and networking with other ministries throughout the NAD, learning what they're doing, and how we can partner in spreading the gospel."
The world church's Office of Global Mission table highlighted the unique mission opportunity of tentmaking, particularly in unreached areas like the Middle East and North Africa (MENA), where "you can keep your career and [still be a missionary]." Rick Kajiura, Communication director, said, "Your life is your mission. Christ's method. You mingle with people as you work with them."
Howard Scoggins, Total Employment director, noted that mission work isn't limited to being a pastor, doctor, or teacher; current tentmakers include a tennis coach and spa manager. He asserted that supporting tentmaking is critical because "so many people, [especially] young people, don't want to [just] be something. They want to do something."
One young adult keen on making a difference is Akehil Johnson from Ontario, Canada, who helps coordinate Adventist Christian Fellowship (ACF), post-secondary public campus ministries, at the NAD level as student association president. He came to the ministries convention to "promote ACF and get as many conferences and unions on board as possible. But I've also been able to connect with ministries that can support ACF and its vision." These included Adventist Education, Women's Ministries, and the Center for Online Evangelism. He said, "I've been blessed to hear stories and discover new ministries. It's been amazing."