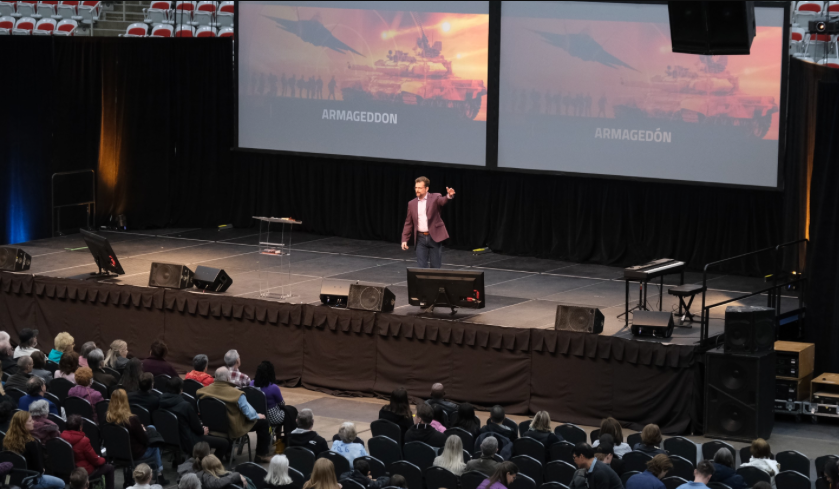 After three years of planning, the opening weekend of Revelation Speaks Peace Calgary did not disappoint.

More than 900 people flooded through the doors of the WinSport Event Centre on Friday evening, April 14, 2023, in Calgary, Alberta, Canada, as Shawn Boonstra, speaker/director of Voice of Prophecy, presented the first lecture of the Bible prophecy series, titled "A New World Order."
The following night, more than 1,000 attended as Alex Rodriguez, associate speaker and evangelism director at Voice of Prophecy, gave a study of end-time signs titled "Planet in Upheaval."
According to VOP representatives at the event, the spirit of attendees and the volunteer staff was warm and positive. "Several guests mentioned how appreciative they were that the seminar had come to Calgary and what they were learning," said a VOP representative.
Organizers are hopeful that even more guests will attend in the coming days, as churches have been encouraging their members to go out in their community to invite their neighbors, friends, and families.
According to the Revelation Speaks Peace website, this event is designed for people with a busy lifestyle, regardless of their knowledge of biblical prophecy. "It won't matter if you've been studying this kind of thing for decades, or if you've only just started thinking about it. … You're going to get something out of this. Most people tell us that they learned more about Bible prophecy in a few nights than most people learn in a lifetime," claims the website.
For more than 90 years, the Voice of Prophecy has been bringing the world simple, easy-to-understand Bible teaching. And for more than three decades, Boonstra, a pastor who has shared the gospel on six continents with hundreds of thousands of individuals over the past three decades, has been presenting Revelation Speaks Peace to audiences all around the world. At this most recent series in Calgary, Boonstra is joined by Rodriguez, a former police officer and firefighter who went on to acquire postgraduate training in systematic theology and church history.
"If you've been paying attention, you know this world is starting to feel like it's coming unhinged with wars, pandemics, natural disasters, and unrest. And it turns out that Bible prophecy actually talks about this stuff, and shows us where we're headed," said Boonstra in a recent video post on the VOP Facebook page (and series website) focused on encouraging people to register for a seat at the event.
Each evening for several days of the week the presenters go through different prophecies in Revelation, including the end of time, the four horsemen of the apocalypse, and more. Through this series attendees will be able to understand why the world seems to be changing so quickly, grasp God's plan of hope for humanity, learn how to read Bible prophecy for themselves, and discover that Revelation offers assurance.
The event is still ongoing, and organizers ask for prayer for all involved.