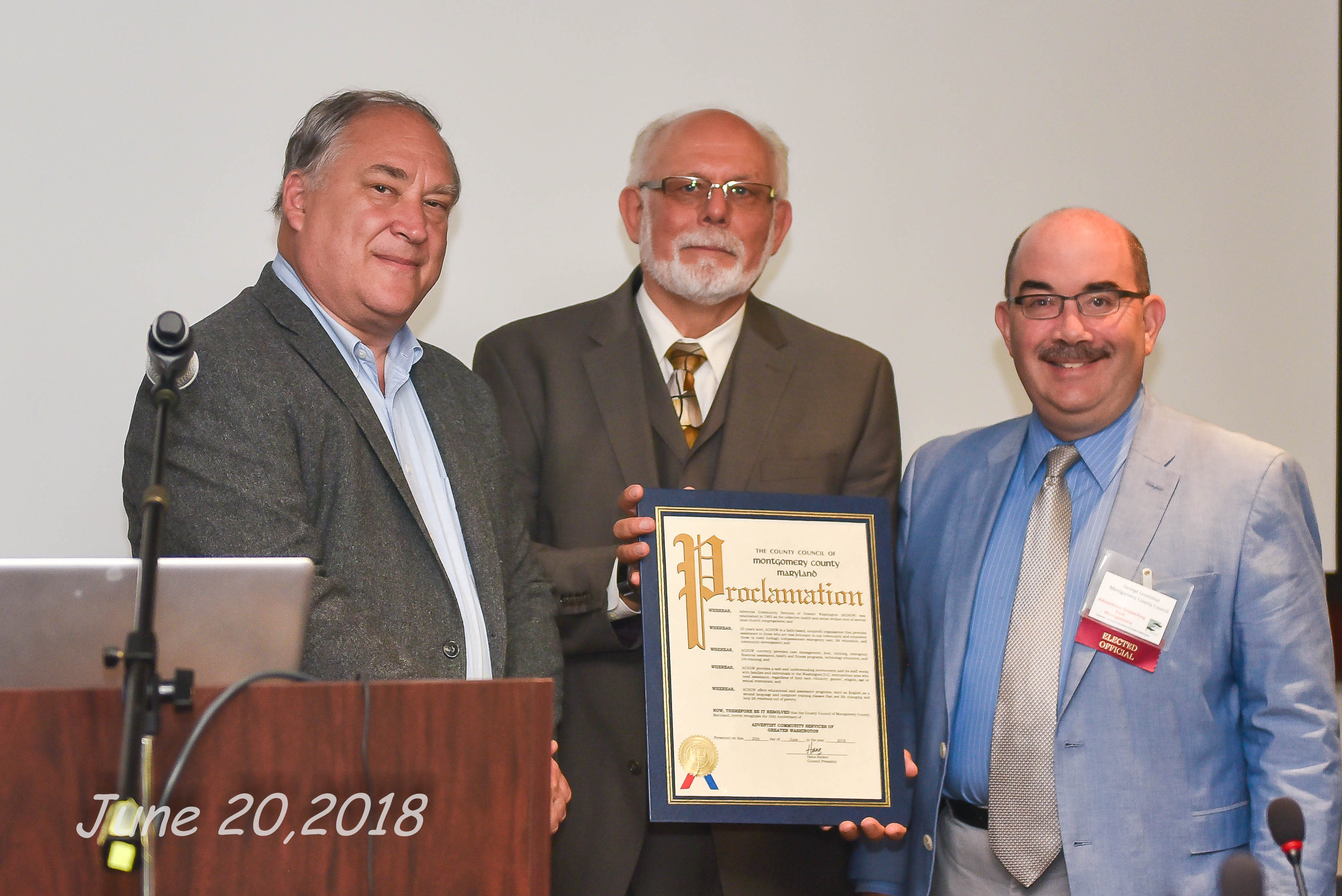 On June 20, 2018, Adventist Community Services of Greater Washington (ACSGW) joined Montgomery County Executive Isiah Leggett, Montgomery County Council representatives, local Seventh-day Adventist church pastors and other leaders to celebrate community service center's 35th anniversary. The gathering, hosted by the Adventist Church world headquarters in Silver Spring, Maryland, also raised awareness of the rapidly expanding social/economic challenges of east Montgomery County. Almost 70 attended.
Ken Flemmer, ACSGW's executive director, who also serves on the East Montgomery County Advisory Board, spearheaded the event, which was titled "Impacting East Montgomery." 
At the event, ACSGW presented a certificate of appreciation to the county executive and county council. In addition, ACSGW was recognized by the county with a proclamation of congratulations for its 35 years of service.
Flemmer informed the crowd that ACSGW's 35 years of community service includes service to East County. According to research that Flemmer shared, the most serious poverty and food insecurity in Montgomery County is concentrated in this area. He said that "40 percent of ACSGW's clients are from East County and that ACSGW is already having an impact with the academic enrichment summer camps it hosts in that area."
The county council provided a statistical presentation titled "East County Neighborhood Analytics." Flemmer said, "ACSGW can use this in-depth information to design more collaborative and effective programs."
Flemmer followed the presentation with an appeal to church leaders and administrators to work closely together so the needs of east Montgomery County can be addressed with more effectiveness and efficiency. "The County Council is already doing a lot in addressing the concerns of East County," he said. "We need to develop partnerships and connections that can help us all do more. We could use professional volunteers and help with fund raising."
Flemmer said he was pleased with the event's success in raising awareness. "Some church leaders have already expressed surprise and the need to start a dialogue," he said. When asked why he combined the event with the anniversary celebration, he replied, "I have lived in this area over 30 years and wasn't aware myself of the realities that many Montgomery County citizens experience every day. I wanted pastors and other leaders to also be aware."
Besides the county executive, council members George Leventhal and Marc Elrich; Craig Tucker, Maryland State senator; Terry Seamens, Takoma Park City Council member and ACSGW board member; Steve Brennwald, ACSGW board chair; other ACSGW board members; and Jewru Bandeh, director of the Montgomery County Eastern Regional Office attended the event along with representatives from Seventh-day Adventist ACSGW-founding churches and ACSGW staff and volunteers.
ACSGW was founded in 1983 by Sligo, Silver Spring, and Takoma Park Seventh-day Adventist churches. It is located in an 8,000 square foot facility at 501 Sligo Avenue near downtown Silver Spring and the City of Takoma Park. ACSGW provides food, clothing, holiday meals, workforce skills training, youth development programs and other services to struggling families in the community. In 2017, enough food for more than 160,000 meals was distributed to 6,260 families in need. CLICK HERE for more information.