Giovanni Santos, fresh from the thrill of directing the U.S. Naval Academy Band in a Washington, D.C., premiere of his own composition, is now in high-gear prep mode for Carnegie Hall.
As La Sierra University's director of wind and percussion studies, Santos leads the university's Wind Ensemble of more than 40 musicians, a group that spent the first portion of last summer in a whirlwind tour of the Czech Republic, Austria, the Republic of San Marino, and Italy. The group gave invitational performances at two international new music festivals with repertoire that included European premieres of compositions by Santos and La Sierra music students.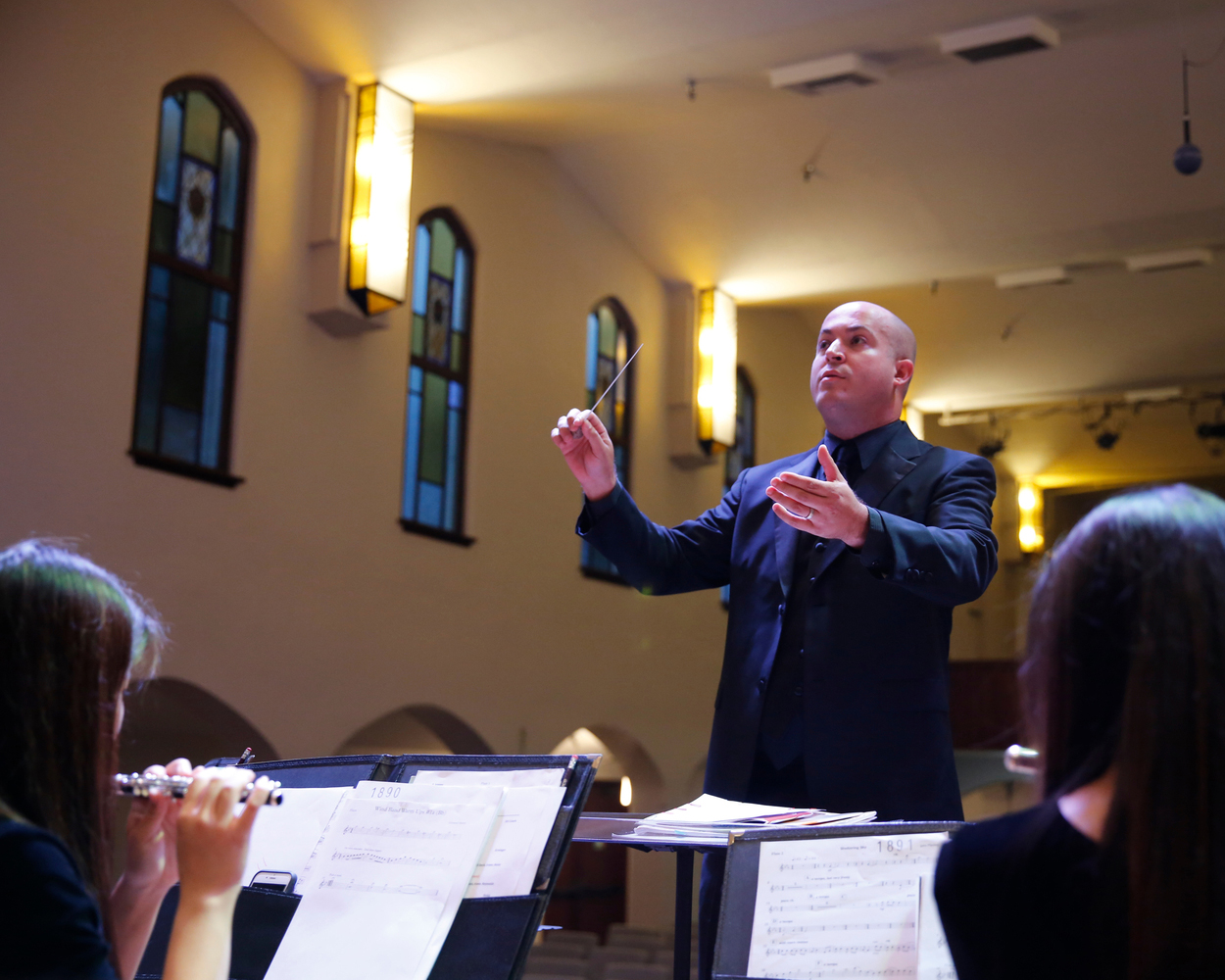 Now the Wind Ensemble is rehearsing for its debut performance at New York City's famed Carnegie Hall on Thurs., March 15, and Santos is transcribing his composition "Voyages" for the event. He directed the U.S. Naval Academy Band Brass Ensemble in a first performance of the work on Jan. 28 at the John F. Kennedy Center for the Performing Arts in Washington D.C. Santos connected with the academy band through his friend and band trumpeter Matt Harriman who soloed under Santos' direction of his composition. The two attended the University of Southern California together.
"It was a pleasure and honor to spend time working with one of our premiere military bands," Santos said. "Our performance at the John F. Kennedy Center will be an experience I will never forget. The musicians, who are some of the best brass and percussion players in the world, were a pleasure to work with."
In addition to Santos' work, the Wind Ensemble's upcoming Carnegie Hall concert will include the world premiere of a composition titled "Fighters of Fate" written for the ensemble by La Sierra adjunct music faculty member Gary Kuo, a violinist and six-time Emmy-winning composer. Additionally, the group will perform the American premiere of "Tus Ojos" by award-winning tenor and La Sierra music student Anthony Leon as well as "Foolish Fire" by California composer and jazz trumpeter Greg Simon. They will also play "March from Symphonic Metamorphosis" by 20th century German composer Paul Hindemith.
"This is a great opportunity for our music department, university, and community to showcase our ensemble in a venue of such renown," Santos said.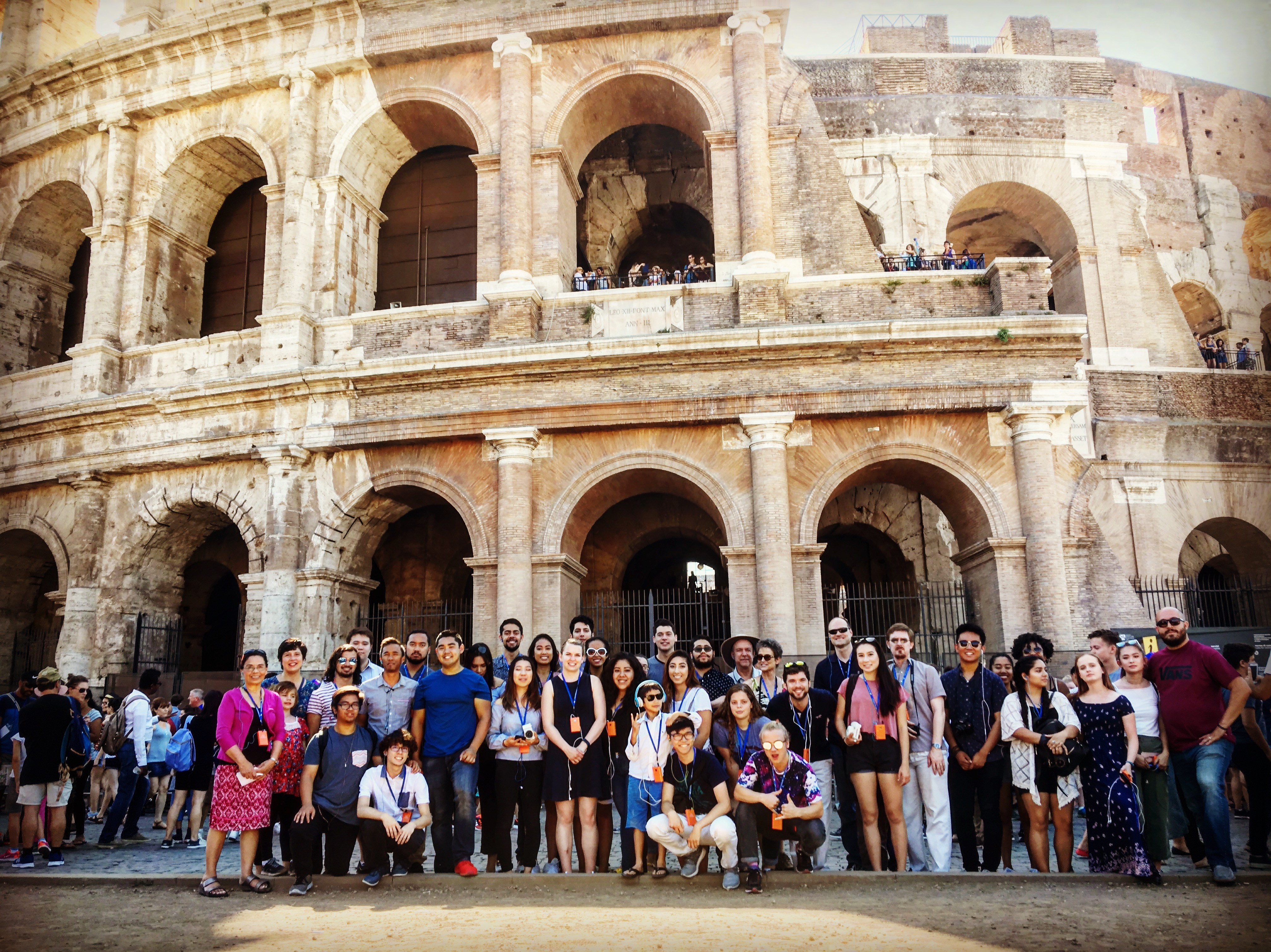 Santos, a La Sierra University alum, received his master's degree from USC in 2007 where he was also a scholarship trumpet student. For seven years prior to arriving at La Sierra University in 2015, Santos led the band department at Loma Linda Academy and conducted the LLA Wind Symphony in performances across the United States and Europe. He has directed concerts in venues such as the Notre Dame Cathedral of Chartres and the Walt Disney Concert Hall in Los Angeles.
When not on tour, the La Sierra University Wind Ensemble performs in a variety of venues around Southern California. The group has received several honors and awards over the years including a performance in 2004 at the national conference of the Christian Instrumental Directors Association in Tennessee. Under former director Ken Narducci, now director of theory and composition studies, the Wind Ensemble participated in the California State University, Fresno Collegiate Wind Festival, appeared among featured ensembles at the College Band Directors National Association West/Northwest Division Conference in Reno in 2010, and shared a gala evening concert with CSU Fresno at the 34th Annual Dr. Lawrence R. Sutherland Wind Festival in March 2013.
While preparing for the New York City and Kennedy Center appearances, Santos' plate this year has included additional performances for the Wind Ensemble, the university Big Band, a conducting workshop and other events. "I'm going 100 miles per hour," he said.
The Wind Ensemble is currently raising funds to cover travel costs for their trip to Carnegie Hall. Click here to find out more.